Healthy and Easy Pumpkin Recipes for Kids
In this Article
Pumpkins often make people think of Jack-o'-lanterns at Halloween, but there is more to pumpkins than just being a part of Halloween décor. Pumpkin dishes are quite common during fall, and there are many dishes that can be made with it. Pumpkins are rich in vitamins and minerals and low in calories, which makes them an excellent choice of food for good health.
8 Simple and Delicious Pumpkin Recipes for Children
Your child may not like eating masala pumpkin but you can always add pumpkin in their meal sneakily by making tasty pumpkin recipes. Your child can benefit from the minerals and nutrients that they provide, so try these delicious pumpkin recipes.
1. Pumpkin Halwa
Filled with nutrients, this dessert is one your kids will love.
Ingredients
Two cups, chopped yellow pumpkin
Quarter cup jaggery
Three tablespoons of ghee
1/8th teaspoon, cardamom powder
¾th cup water
Six cashews
One teaspoon, raisins
Method
Heat a tablespoon of ghee in a pressure cooker on a low flame and then add chopped pumpkin to it.
Sauté well on a low flame until you see water oozing out from the chopped pumpkins.
Pressure cook the pumpkins with water for two to three whistles.
Turn off the flame and allow the cooked pumpkins to cool. Once it cools, mash them well.
Take a tablespoon of ghee in a pan and fry cashews and raisins till they turn golden brown.
Add the mashed pumpkins to a pan fry it for two minutes.
Add jaggery and powdered cardamom to it and mix well. Keep sautéing the mixture.
You can add ghee to it and when the mixture is nice and thick (and not sticking to the pan), turn off the flame.
Add cashews and raisins and give the halwa a nice stir.
Serve warm.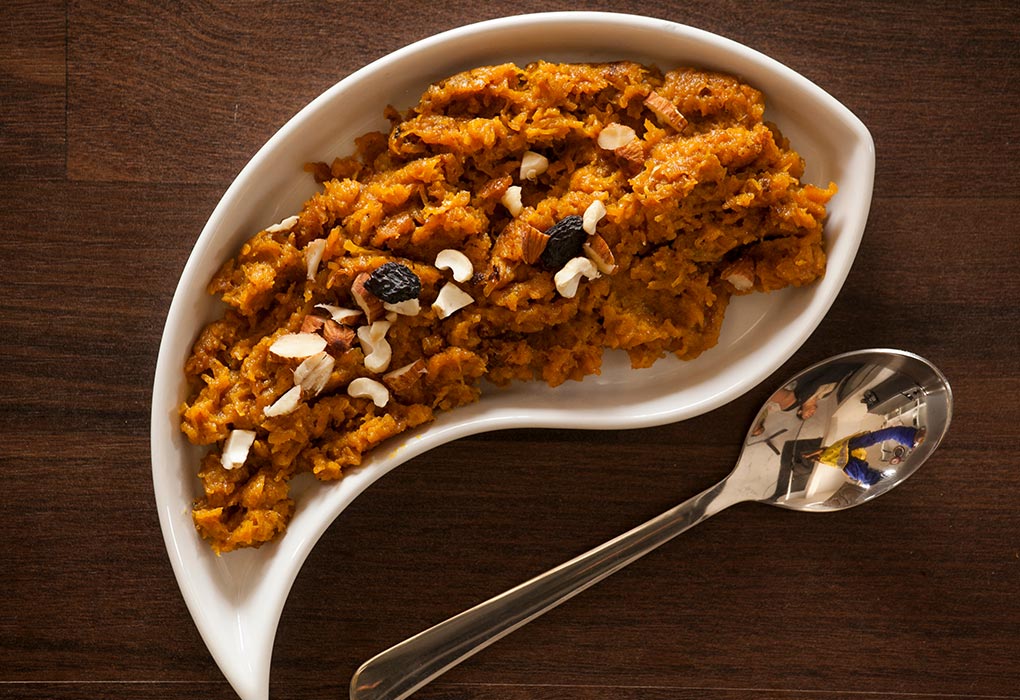 2. Pumpkin Kheer
Pumpkin kheer is loved by people of all age, particularly by toddlers. Bring a smile on your kid's face by surprising them with pumpkin kheer.
Ingredients
¼ cup of pumpkin cubes
Milk, boiled
4 almonds
1 tablespoon, ghee
2 tablespoons sugar
¼ teaspoon cardamom powder
Water
Method
Steam pumpkin cubes for about fifteen minutes until soft.
Soak almonds in a ¼ cup of warm milk.
Blend the steamed pumpkin cubes, soaked almonds and some milk to make a fine paste.
Heat some ghee in a saucepan on a low flame and boil the pumpkin puree for about three minutes.
Add the remaining milk along with the cardamom powder and boil for another five minutes.
Allow it simmer and then stir.
Once its consistency is as per your liking, turn off the flame and serve warm.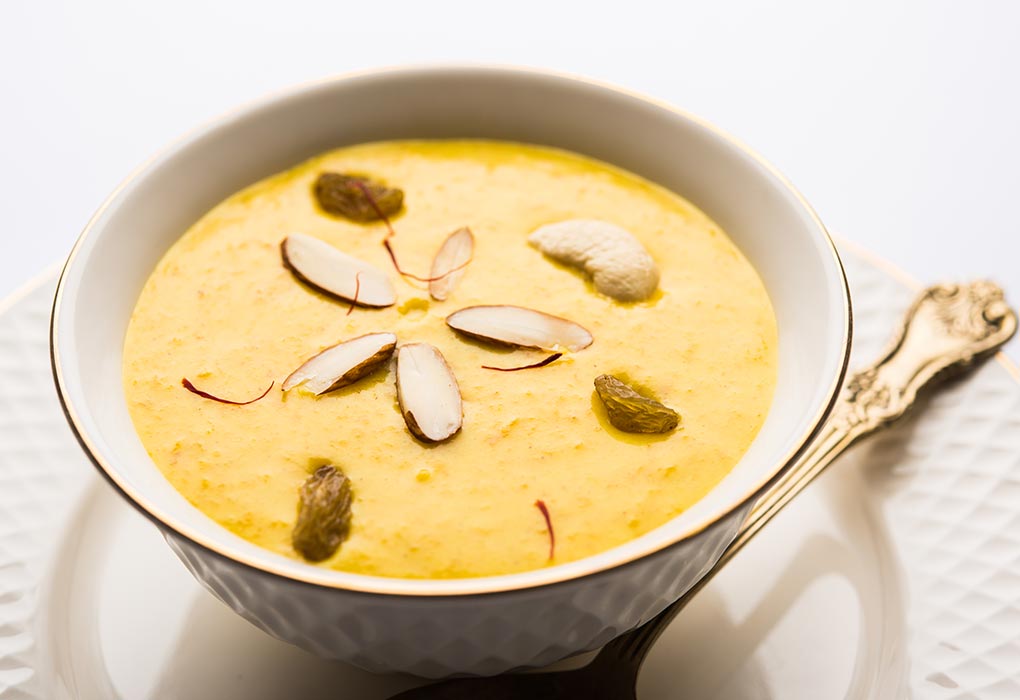 3. Pumpkin Pancakes
Kids love pancakes, and this pumpkin recipe is bound to delight your little one.
Ingredients
1 and a half cups flour
1 tablespoon sugar
2 teaspoons baking powder
A pinch of salt
1 cup of milk
½ a cup of pumpkin puree
1 egg
2 tablespoons of butter
Method
Take flour, sugar, baking powder, and salt in a bowl and mix it well.
In another bowl combine pumpkin puree, egg white, butter, and milk and whisk.
Add the above-stated pureed ingredients to the flour mixture and mix it thoroughly.
Take a large pan and pour out a ladle of the pumpkin and flour batter and cook it well from both the sides.
Cook until it is golden brown.
Serve with honey or maple syrup.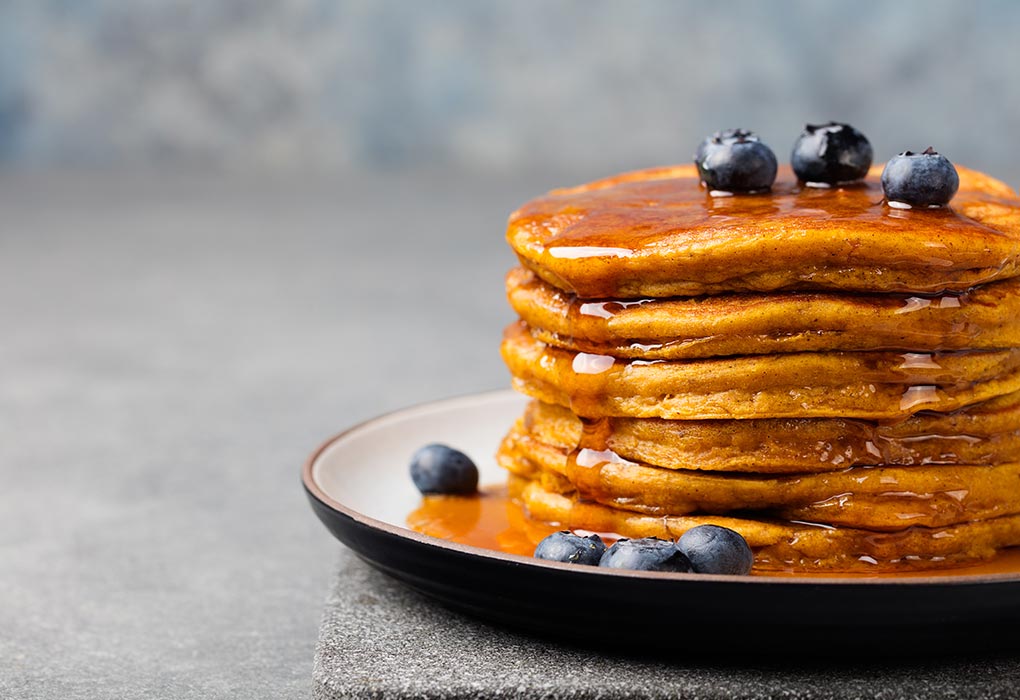 4. Pumpkin Smoothie
A quick and nutritious option for when you have less time that can serve as a great and healthy start to yours and your little one's day.
Ingredients
1 cup of pumpkin cubes
1 cup milk
½ a frozen banana
Pinch of pumpkin spice
Method
Blend pumpkin cubes, milk and frozen banana together. You can also add a pinch of pumpkin spice if you like.
Pour it in a glass and refrigerate it for some time.
Give it to your kid once chilled.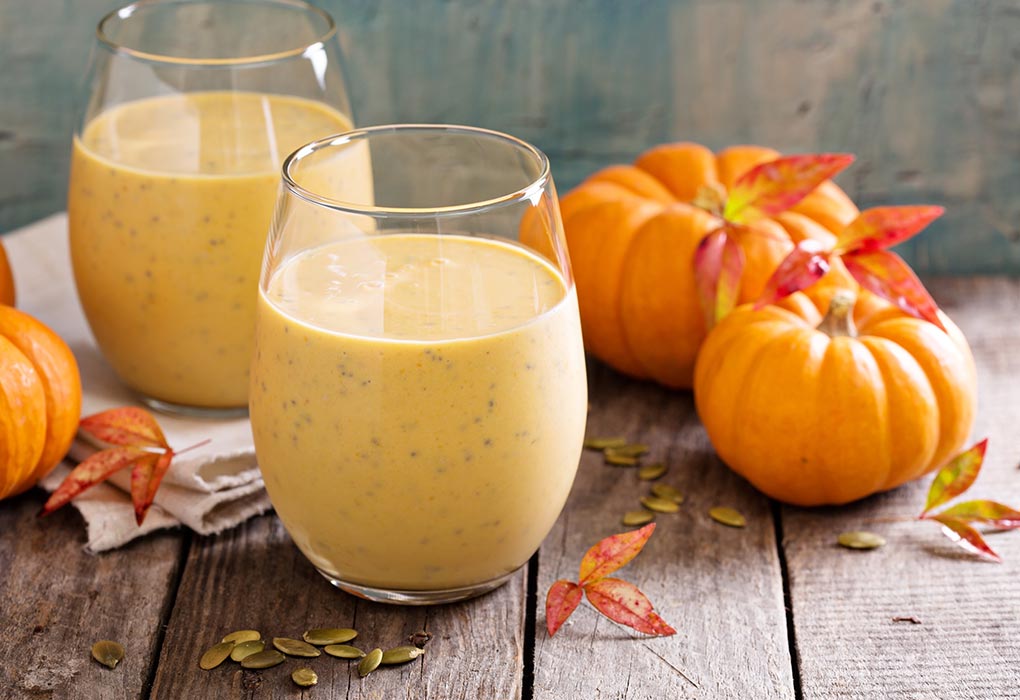 5. Pumpkin Soup
This pumpkin soup recipe is perfect to keep your child warm on a chilly fall night.
Ingredients
1 cup of pumpkin cubes
Two tablespoons of finely chopped onions
Two almonds
Two walnuts
Salt
Pepper
Water
Olive Oil
Method
In a pressure cooker, heat some oil and sauté onions and garlic.
Add the pumpkin cubes and stir, then add chopped walnuts and almonds to it and mix well.
Add water and salt to taste.
Pressure-cook everything for two whistles.
Once the steam is released, open and sprinkle some pepper powder.
Once it cools, blend it with water and serve warm.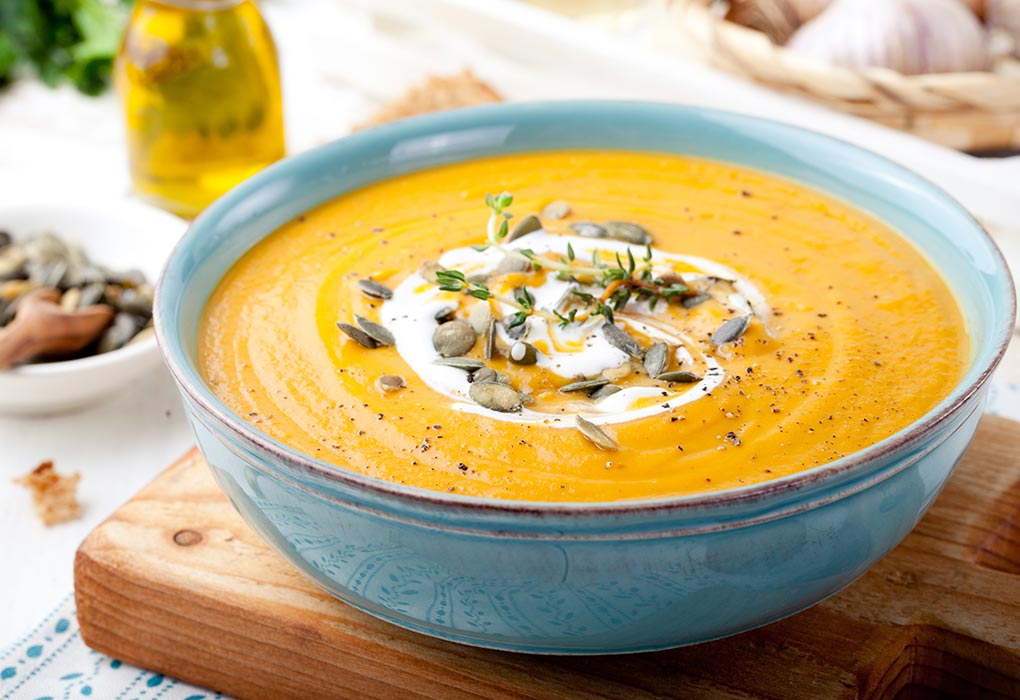 6. Pumpkin French Toast
Pumpkin French toast makes for a delicious breakfast meal; you can serve it plain or with toppings.
Ingredients
¼ cup of pumpkin puree
1 teaspoon ground cinnamon
Four eggs
1 pinch nutmeg powder
Eight slices of bread
Butter
Method
In a bowl take pumpkin puree, cinnamon and nutmeg powder, egg whites and mix well.
Dip the slices of bread into the mixture.
Put some butter on a pan and pan-fry each of the bread slices.
Your homemade pumpkin French toast is ready to serve.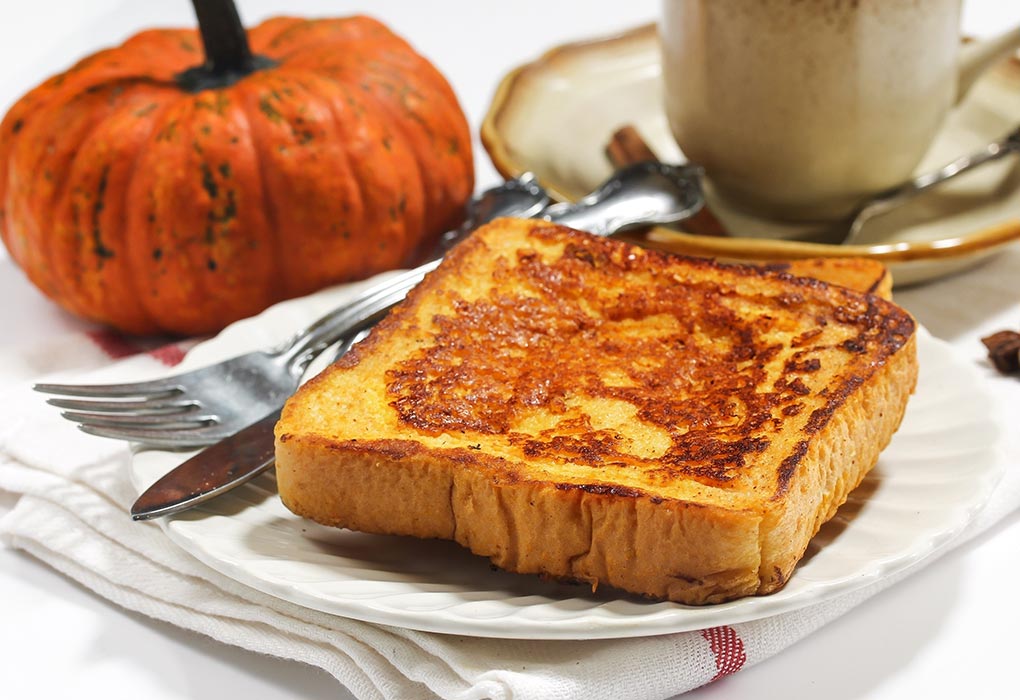 7. Pumpkin Pie
This pumpkin pie recipes for kids will surely make them happy.
Ingredients
1 and a half teaspoon of pumpkin pie spice
¾ cup sugar
½ teaspoon salt
2 cups pumpkin puree
2 eggs, beaten
1 ¼ cup evaporated milk
1 readymade pie crust
Method
Preheat the oven to 218°celsius.
In a bowl, mix all the ingredients together.
Pour the mixture into pie crust and bake for 45 minutes.
Allow it to cool and serve.
8. Pumpkin Dosa
Healthy south Indian breakfast that can be served with sambhar or chutney.
Ingredients
1 cup of raw rice
¼ cup of urad daal
3 red chillies
Ginger, peeled
1 cup of chopped pumpkin
Salt
Method
Soak urad daal and rice overnight.
The next day, drain the water of the daal and rice and grind them to make a paste, adding water as required. Once done, pour it in a bowl.
Grind pumpkin, ginger, and chillies together into a paste.
Add this pumpkin, ginger and chilli mixture to the daal and rice mixture.
Add water as required to obtain the dosa consistency.
Add salt to the dosa batter.
Heat a non-stick pan on a low flame. Once the pan is hot, pour a ladle of batter spreading it in a circular motion.
Cook it well from both the sides.
Serve warm.
Everything from the leaves to the seeds of pumpkins can be consumed, and are healthy. Pumpkins are a great source of beta-carotene and fibre and can protect against certain cancers, heart diseases, asthma, and constipation. So, the next time you are at a fruit and vegetable shop, grab some pumpkins and try out some of these recipes. Your kid will love them all!
Also Read: Healthy & Easy to Make Potato Recipes for Children