50 Family Feud Questions For Kids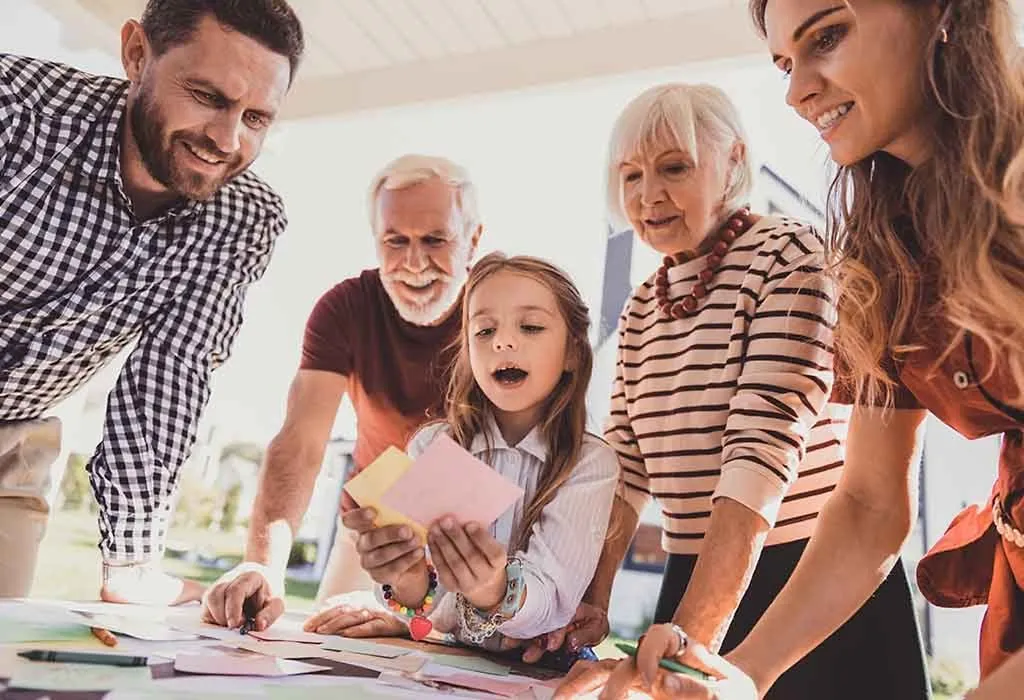 Family feud as a team game is an enjoyable indoor game that involves teamwork. It is a perfect choice to spread laughter and fun at a family get-together and house parties. This game requires people to support one another, and that makes it an ideal game for kids. It creates a strong sense of community and mutual respect. Another good thing about this game is that you can customize it as per your convenience. Customization increases the engagement level of the participants, which is good for the game. Your version of the game will be a big hit. All you have to do is a little bit of planning and getting the questions just right.
How to Conduct a Family Feud Game with Kids?
Here is everything that you need to know about this game. Make this family feud kids version for the next party. Try to frame questions on topics that are related to the family, and easy guesses can be made as far as answers are concerned. Ensure that the game remains exciting and fun with your questions. Playing the game is easy, and you can explain it if anyone is playing it for the first time. Also, before you start the game, take a little time to figure out how exactly the game will be played. It will lead to the uninterrupted flow of the game, which is vital to maintain the interest of the participants.
Things You Will Need
3-5 players per team (two teams)
A bell or gong
A poster panel
Scorecard
List of questions
How to Play
Start with preparing the family feud survey questions with multiple answers.
You may opt for a survey to grade answers from the most to the least popular ones.
After reading out a question, let the leaders from the team answer.
The team, whose leader gives the highest scoring answer, decides if they will go through the survey or pass it to the other side.
The members from the playing team will guess the other answers on the board. No consultation is allowed. On every wrong answer, their team gets a strike.
Reward points based on how many players chose a particular answer.
If any team gets three strikes, the opposing team receives the survey and their points upon providing a correct answer.
Decide the number of rounds at the start of the game. Once those predetermined rounds are over, the team with maximum points wins the game.
Amazing Family Feud Questions For Kids
Try to add questions that add to the fun of the game and yet involve a little bit of thinking on the part of the players. Also, ensure that you should include only kid-friendly family feud questions. For playing this game with the kids, frame simple questions for them. The excitement of the game is solely dependent on the questions. Therefore, you can be a little careful while framing it. You can have a few questions, specifically targeting the participants as well. It is necessary to make the game enjoyable.
1. What makes you like summertime?
Eat ice creams
Sunny weather
Ample time to play
Time to visit grandparents
Sufficient time with friends
2. What would you find on women's arm?
Tattoo
Scar
Hair
Bracelet
Watch
3. What kids hate doing the most?
Bathing
Homework
Cleaning
Exercise
Mowing
4. What do kids often lose?
Toys
Books
Pencils
Money
Napkins
5. Say a word that has 'key' in it?
Keychain
Keyboard
Keystone
Monkey
Room key
6. Name something that is cold?
Ice cream
Pudding
Ice
Water
Snow
7. Ingredients in a salad?
Tomato
Lettuce
Cucumber
Chicken
Nuts
8. Things that kids throw at each other?
Toys
Food
Pillows
Paper
Balloons
9. First thing you do upon waking up?
Brush your teeth
Shower
Open eyes
Rub eyes
Check the watch
10. Places where you are not allowed to touch anything?
Zoo
Antique shop
Gift shop
Museum
Club
11. Another word for 'restaurant'?
Café
Eating Joint
Cafeteria
Diner
Coffee Shop
12. What will you cut with scissors?
Paper
Ribbon
Cloth
Hair
Grass
13. Name a huge animal?
Lion
Elephant
Rhino
Bear
Hippo
14. When do dogs bark?
Upon strangers
At other dogs
When hungry
Without reason
At cats
15. A Fruit-bearing tree for the backyard?
Mango
Grapes
Orange
Pears
Lemon
16. Topics of discussion at family get together?
Sports
Politics
Food
Travel
Old times
17. Products made of milk?
Tea
Cake
Butter
Cream
Yoghurt
18. Name a popular dessert?
Ice cream
Cake
Cookies
Pie
Pastry
19. Name one colour of the rainbow?
Blue
Red
Green
Yellow
Purple
20. What will you find under your bed?
Shoes
Slippers
Toys
Books
Clothes
21. Name a type of ball?
Soccer
Rugby
Baseball
Basketball
Tennis ball
22. Name the things that come in pairs?
Shoes
Socks
Twins
Mittens
Stationery
23. Things that kids should not touch in the kitchen?
Stove
Knife
Oven
Utensils
Firelighter
24. Something you do right before bed?
Brush your teeth
Read
Eat
Drink water
Say prayers
25. Something that you may see at the ocean?
Ships
Boats
Whale
Surfer
Dolphin
26. A quiet animal as a pet?
Fish
Turtle
Snake
Lizards
Iguana
27. Place where you should be quiet?
Church
Library
Doctor's clinic
Home
Movie theatre
28. What will you find in a messy room?
Clothes
Shoes
Books
Toys
Food
29. What is good for the environment?
Hybrid cars
Recycle
Less water usage
Volunteer
Don't litter
30. Type of dinosaur?
Tyrannosaurus
Allosaurus
Pterodactyl
Triceratops
Stegosaurus
31. Things that you may find in a deserted house?
Mites
Spiders
Rats
Pigeons
Owls
32. Most popular car colour?
Red
White
Blue
Grey
Silver
33. Most popular family pet?
Dog
Cat
Fish
Rabbit
Turtle
34. Name a popular breakfast food?
Toast
Omelet
Buns
Fruits
Milk
35.Most popular dog names
Bruno
Leo
Dixcy
Tiger
Luna
36. What do you use to write?
Pen
Pencil
Crayon
Keyboard
Paintbrush
37. Subjects that students find difficult in school?
Mathematics
History
Economics
English
Science
38. What kids hate the most in school?
Homework
Maths
Teacher
Bullying
Getting up early
39. What do kids eat the most but is not good for health?
Burgers
Candies
Chocolates
Ice creams
Chips
40. What do kids brag most often?
School
Toys
Pets
Family car
Home
41. Who gives the best advice?
Mom
Dad
Friends
Grandparents
Teachers
42. People to call when in trouble?
Police
Friends
Parents
Relatives
Ambulance
43. Something that you find in a park?
Benches
Flowers
Grass
Birds
Swings
44. Things you do when tensed?
Sleep
Music
Movies
Eat chocolate
Games
45. Things to find in a picnic basket?
Sandwiches
Napkins
Cutlery
Juices
Cakes
46. Something that spread fast?
Butter
Rumours
Infection
Jam
Cream
47. What do people do when they cannot sleep?
Browse social media
Read a book
Chat with family or friends
Drink juice
Take a walk
48. Common punishments at home for kids?
No dessert
No playtime
No television
Grounded
Time out
49. Name things that people donate?
Food
Clothes
Books
Toys
Shoes
50. How do people travel to work?
Here is how your family feud game gets ready for your next family reunion. Be prepared for a time full of fun, laughter and frolic. With your sensibly drafted family feud children's questions and answers, your game will get even better. You can add customization to these questions keeping in mind the participants. Your parties for kids will no longer be the same again, and so will be family reunions. This game will turn into a fantastic way to bring laughter and enjoyment in moments spend together. Have a great blast together with full-on entertainment for the family, including the kids. The good thing is there is no wrong way to play this game. Therefore, get everyone together and let the fun begin.