5 Simple Pet Rock Crafts Ideas For Kids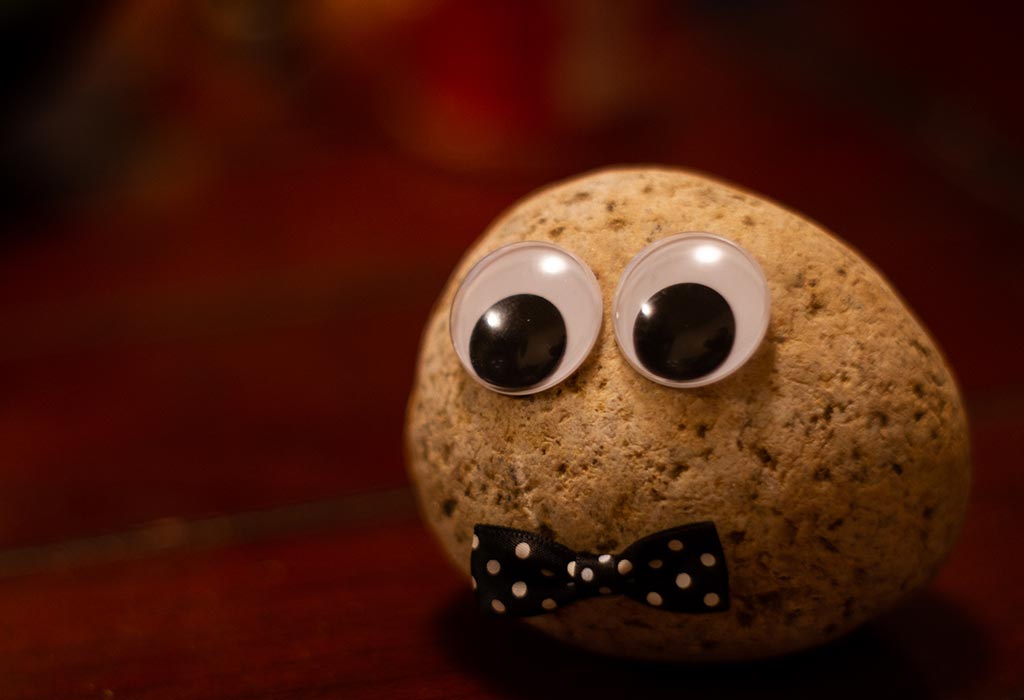 In this Article
Be it rock gifts, rock animals, rock-based imaginative play, or rock pet crafts, help your kids connect with nature and promote their all-round development.
Cute DIY Pet Rocks Crafts for Children
Pet Rocks don't need to be taken care of and can be your trusted companion for years, unlike real pets. As far as rocks go, you can buy them at a craft store, online, collect them from the roadside, or even the seashore. Naturally formed, there is no end to possibilities on what can be made out of versatile, eco-friendly, and reusable rocks. Small stones and uneven surfaces are not the easiest to paint, especially if kids have to draw fine details. Start with a bigger-sized rock, preferably smooth and flat. Chose a simple design and once they've gained some experience, upgrade to smaller stones. For kids who crave crafting, doing pet rock craft is a wonderful way to find unconventional and fun crafting 'tools' right out of their own garden. Needless to say, that the rock hunting craze will catch the fancy of the kids, who will turn rocks into treasured pieces of craft. Here is a beginner's guide to the best-painted pet rock ideas for children to emulate and practice during their weekly craft activity time or summer break.
1. Pet Rock Mouse Craft
Whether your kid loves animals or loves crafts, this easy activity will have them excited about mice for sure! This activity will go well with nursery rhymes like Three Blind Mice or Hickory Dickory Dock as well.
What You Will Need
Rocks

Paintbrush

Scissors

Pink Yarn

Small Googly Eyes

Hot Glue Gun/Craft Glue

Grey and Pink Felt

Acrylic Paint (Pink, Grey, Black)
Instructions
Look for rocks with a flat bottom and round top that resemble the shape of a mouse's body.

Paint the rocks grey. Let them dry.

Cut two grey ovals and two smaller pink ovals from the felt paper for the ears.

Stick the pink ovals to the grey ovals with glue. Then pinch the bottom of the ovals and stick it with hot glue to form ears.

Glue the ears to the sides of the rocks.

Stick the two googly eyes to the front of the rock.

Use a toothpick or a thin paintbrush to draw the nose, whiskers, and a small mouth for the mouse.

Attach a small piece of pink yarn at the back for the tail.

Label it at the bottom with the kid's name.
2. Pet Rock Monsters
This super simple, easy pet rock crafts ideas for preschoolers is also a fine motor play activity that promotes brain development and prepares them for school. You can hide them around in the garden and set the kids off on a treasure hunt to find the monsters.
What You Will Need
Hot Glue Gun/Craft Glue

Pompoms

Eyelash Yarn Threads

Permanent Black Marker

White Paint

Paintbrush

Googly Eyes
Instructions
Paint prime rocks with white paint as a base colour.

Add details like stripes, spots, and wings with a permanent marker.

Stick the pompoms for ears and the eyelash yarn threads for the fur or hair of the monster.

Add the final touch with the googly eyes.
3. Snake Rock Puzzle
In case you're looking for a summer fun activity, this activity gets a touch of finesse by adding the classic charm of a puzzle that you can reuse.
What You Will Need
Rocks (White)
Pink Felt paper
Hot Glue Guns
Rocks
3 black pompoms
Acrylic Paint (Green, yellow, black)
Googly eyes
Instructions
Use pink felt paper to make a tongue by cutting a small rectangle and cutting out an inverted triangle at one end.
Lay out the rocks in the shape of a snake. Use the biggest rock for the face of the snake.
Paint the body of the snake. Use a combo of green, yellow and black to draw multi-colour circles. Leave them to dry completely.
Fix the googly eye to the biggest rock (face of the snake) and attach the felt paper tongue using hot glue.
Add the 3 tiny pompoms to the last rock for the tail.
4. Flower Rocks
Help kids make a garden of their own by transforming their pet rocks into pretty flowers. These can be considered as a colourful spring or summer-themed craft project.
What You Will Need
Acrylic Paint (Green, yellow, black)

Flat stones

Pencil/Marker
Instructions
Paint the flat stones white.

Outline a flower with a marker/pencil on the rocks.

Fill in the petals and the centre with your favourite colours.

You can even use yarn, beer caps, etc., to make 3D flower rocks.

Get creative with different colour combinations to make a flower garden!
5. Rock Cakes
Be it tea parties or birthday parties, and kids surely love cakes. Help them to create delicious-looking rock cakes to add to their pretend play games.
What You Will Need
Rocks

Sparkles

Nail Polish/Acrylic Paint

Hot Glue Gun/Craft Glue
Instructions
Paint the icing of the cake on the rock top with a colour of your choice using nail polish/acrylic paint.

Let them dry, and then apply a second coat.

Add glue and sprinkle with glitter or sequins to make them look extra glossy.
There are no limits to a child's imagination, and arts and crafts help turn that endless imagination into a productive hobby. Art and crafts come with endless possibilities and choices. Kids learn to try different combinations and use their creativity to make something unique that they feel proud of. Doing craft activities with other kids also creates a common ground to socialize. Since children are naturally curious, they learn from each other, start thinking critically while exploring their imagination. So, encourage your children to participate in arts and crafts activities to gain a better insight into their thought as they might use visual ways to express their emotions.
Also Read:
Amazing Bird Crafts for Children
Halloween Craft Ideas for Children
Newspaper Craft Ideas for Children