40 Best Kindergarten Graduation Quotes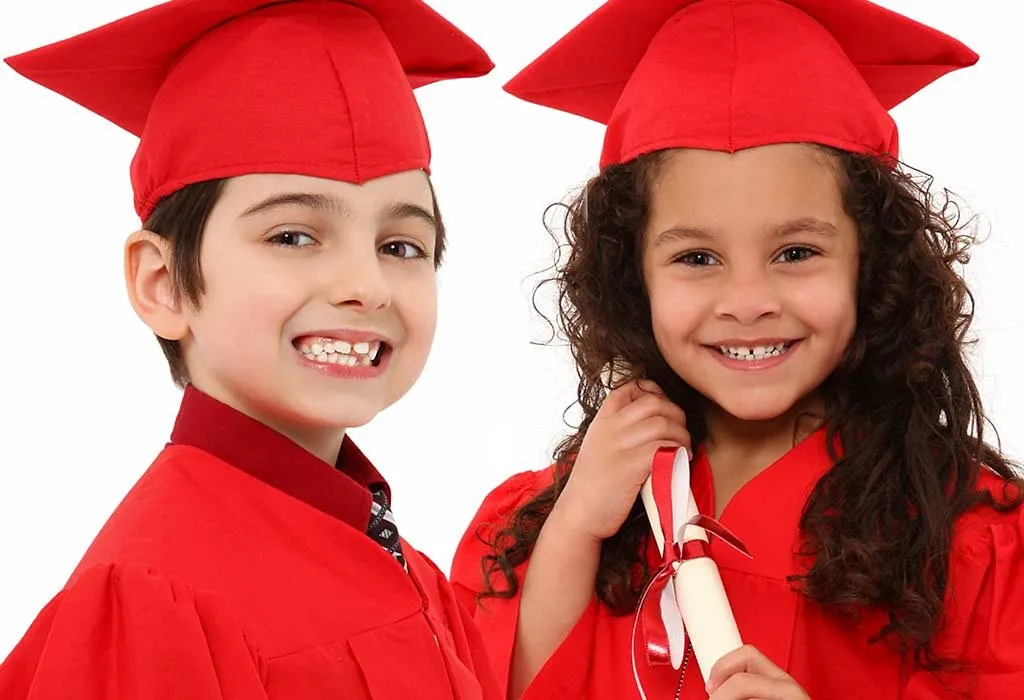 Graduation, whether it be from kindergarten or college, is a significant milestone in every child's life that all parents want to celebrate. A kindergarten graduation celebration is a way of conveying to your child that education is valuable and worth commemorating and enjoying. Since it is most likely that your little one will not remember their graduation day, giving memorabilia in the form of a graduation card can be something that they can look back on.
What Should You Write in a Kindergarten Graduation Card?
A card for your little graduate is very meaningful and finding the right things to write in it can be very challenging. Here are a few ideas about what you can include in your kindergarten graduation card:
There are various congratulations kindergarten graduation quotes, kindergarten convocation quotes, and moving up quotes for kindergarten available, so you can pick a momentous one for the body of the card.
See to it that the graduation day quotes you use have an underlying positive and inspirational message.
Next, you can add your own personal touch and write something heartfelt and encouraging for your child.
Add a powerful conclusion that is inspiring to your little one, showing them how big an achievement they have accomplished and how proud you are of them.
You should see to it that your young one understands the writing and can also cherish it in the future. For instance, you can choose a cute quote from one of their favorite storybooks.
Other Places You Can Include Graduation Quotes
You can also give memorabilia other than cards to commemorate your precious one's achievement. Here are some ideas for such items where you can include graduation ceremony quotes for kindergarten:
Photo Book
You can make a scrapbook or collage of your child's journey through kindergarten, leading up to the day of the graduation, commemorating all their school events and milestones.
Name Plaque
You can have a graduation day name plaque made with a picture of the graduating class or your child's graduation photo alongside a graduation quote engraved into the plaque.
Personalized Cup
You can give your little one a monogrammed cup or have their graduation day picture or a family graduation day picture printed on it, along with a cute graduation day quote.
Inspirational Graduation Quotes for Kindergarten Kids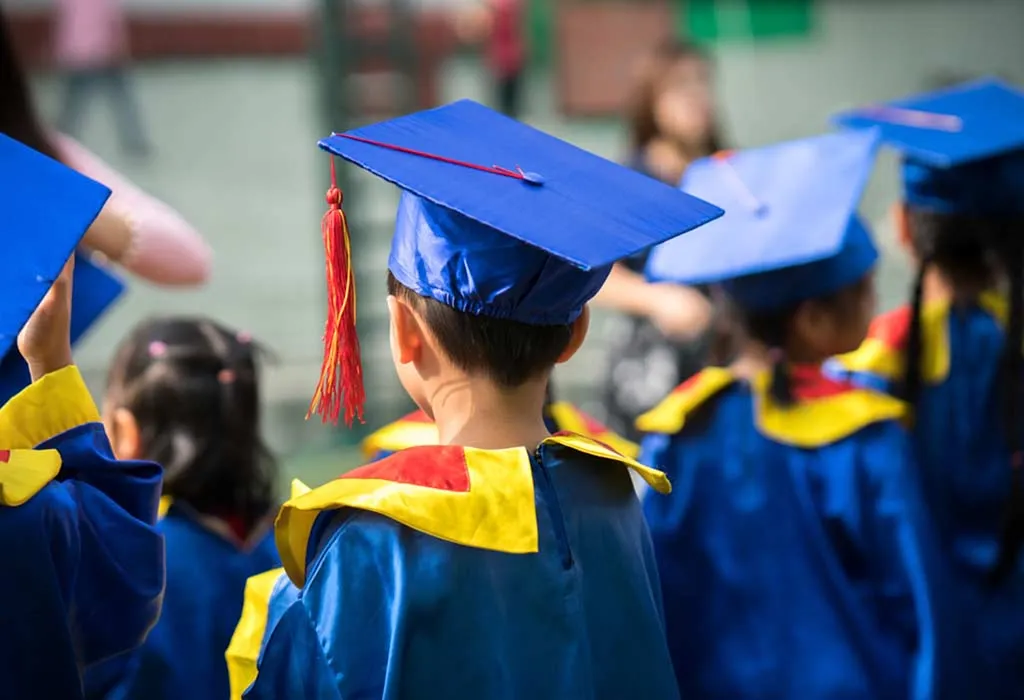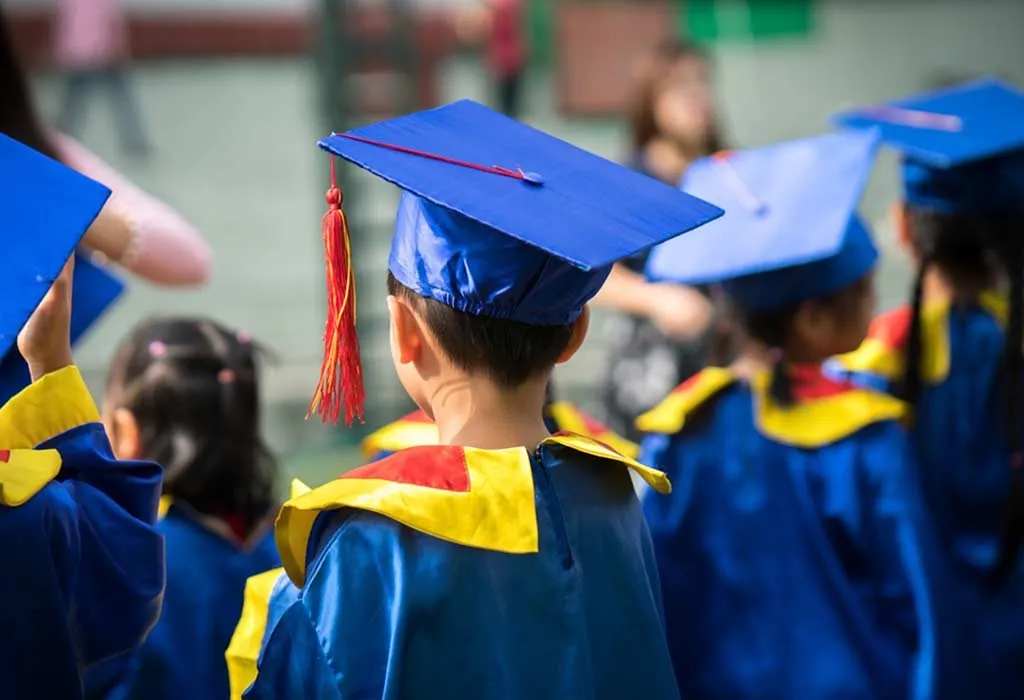 Kindergarten graduation sayings can be anything, ranging from quotes from famous people or books to inspirational words of wisdom. Find below a list of the 40 best kindergarten graduation quotes for kids:
"You're off to great places! Today is your day! Your mountain is waiting, so… get on your way!" – Dr. Seuss.
"The more that you read, the more you learn,
The more that you learn, the many places you will go." – Dr. Seuss.
"The beautiful aspect of learning is that it can't be taken away by anyone." – B.B. King.
"Reach high, as stars lie in your soul. Dream deep as it precedes the goal." – Pamela Vaull Starr.
"The moment you doubt if you can fly, you cease forever to be able to do it." – J.M. Barrie.
"If you dream it, you can do it." – Walt Disney.
"Be bold, be courageous, be your best." – Gabrielle Giffords.
"Never bend your head. Always hold it high. Look the world straight in the eye." – Helen Keller.
"Believe you can and you're halfway there." – Theodore Roosevelt.
"The future is based on what you do today." – Mahatma Gandhi.
"Wherever you go, go with all your heart." – Confucius.
"Creativity is intelligence having fun." – Albert Einstein.
"Do what you can with all that you have, wherever you are." – Theodore Roosevelt.
"Today you are You, that is Truer than true. There is nobody who is Youer than You!" – Dr. Seuss.
"You're braver than you believe, stronger than you seem, and smarter than you think." – A.A. Milne.
"You've got brains in your head. You've got feet in your shoes. You can lead yourself in any direction you choose. Kid, you'll move mountains." – Dr. Seuss.
"Your life is your story, and the adventure ahead of you is your journey to fulfil your own purpose and potential." – Kerry Washington.
"I've learned my ABCs and 1,2,3's, to tie my shoes and when to say please
It's time to move on, I've had lots of fun!
But look out grade one!
Here I come!"
"Dream big and dare to fail." – Norman Vaughan.
"I don't love studying. I hate studying. I like learning. Learning is beautiful." – Natalie Portman.
"When you have a dream, you can choose to grab it and never let go," – Carol Burnett.
"What you get by achieving your goals is not as important as what you become by achieving your goals." – Zig Ziglar.
"You define your own life. Don't let other people write your script." – Oprah Winfrey.
"You should be the change you hope to see in the world." – Mahatma Gandhi.
"Your education is a dress rehearsal for a play that is yours to lead." – Nora Ephron.
"Imagine with all your mind, believe with all your heart, and achieve with all your might."
"No one can give you your goals. No one can dig for you. This is your journey." – Warren Phillip Gates.
"Don't let what you can't do stop you from doing what you can do." – John Wooden.
"Don't read just the easy stuff. You can be entertained by it, but you will never grow from it'" – Jim Rohn.
"Always chase your dreams instead of choosing to run from your fears."
"Congratulations! You didn't eat enough crayons or paste. Have a sticker and happy Kindergarten Graduation."
"This is just the beginning. You are a star in the making, shine on!"
"Accomplishing the small things is the first step in achieving greatness – graduating shows that you're well on your way!"
"Remember this day, the sense of pride and accomplishment that you take from it. Use that to move toward your next big goal."
"Congrats graduate, you have really outdone yourself! Your family and friends wish you nothing but the very best."
"Many dream, some try, but only a few achieve. You have achieved it! Good luck and happy graduation!"
"You're now about to find out what learning really means. Wishing you all the best on this special day and good luck for the future."
"The man who moves a mountain begins by carrying away small stones." – Confucius.

"Sometimes you win, sometimes you learn." – John Maxwell.
"You're only given a little spark of madness. You mustn't lose it." – Robin Williams.
Your child's graduation from kindergarten and their move to grade school is a momentous occasion to celebrate. Do include these motivational and thoughtful quotes in your memorabilia for your little one's kindergarten graduation.
Also Read:
Inspirational & Motivational Quotes for Kids
Exciting Friendship Quotes for Children
Thought of the Day and Quotes for Children