30 Pregnancy Affirmations to Help You Through Your Pregnancy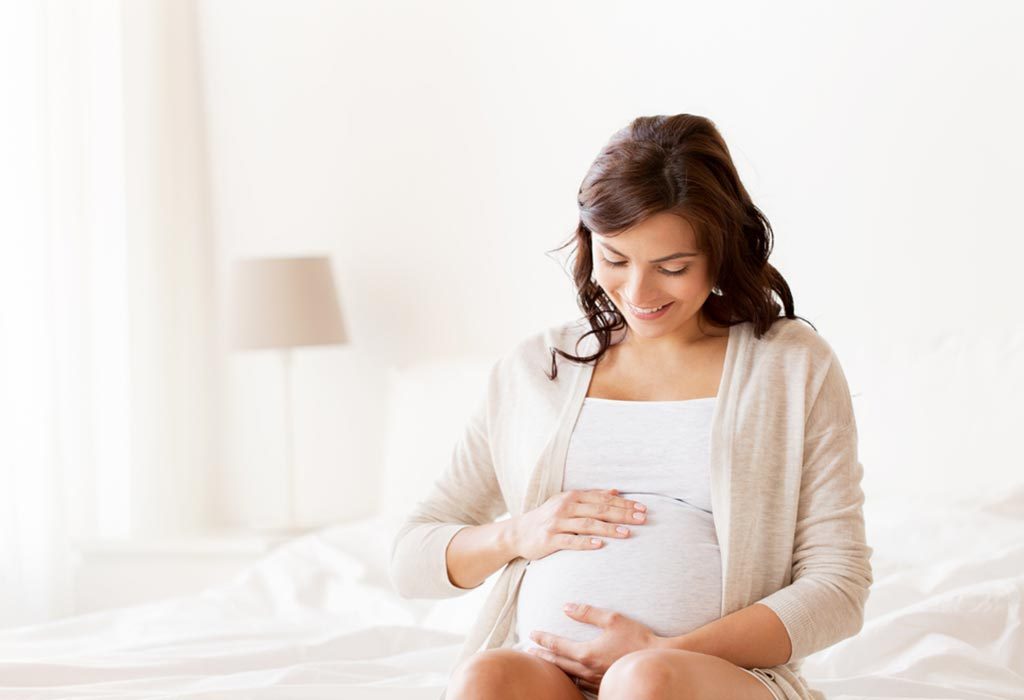 Pregnancy can be an overwhelming experience for you, especially if it's your first time. While you couldn't be more eager (and excited) to welcome your baby, but your mind is bound to wander and think about the things that can go wrong. Now that you're pregnant, you're likely to feel happy and nervous at the same time! If only, there was a book or a guide that you can follow to stay happy and think positive all the time!
What if we tell you, there's something that can help you? It's your thoughts! If you feel anxious often while pregnant, remind yourself of these positive affirmations – these should help you stay happy and have a healthy pregnancy.
How Can Positive Affirmations Help Pregnant Women?
Pregnancy can be a physically and emotionally taxing time for a woman. Some days bring joy, the other days, when you are nauseated and struggle to get up from the bed, can be shaky and make you nervous. Think about positive things and reminding yourself of positive birth affirmations on a daily basis can set the tone of your mind to cope with the feelings of worry and anxiety that are bound to arise. Unchecked negative emotions and thoughts can lead to real harm in the form of depression and stress, pregnancy can bring with it. Therefore positive affirmations can greatly help by well regulating your mental health and let you enjoy your pregnancy.
20 Positive Affirmations for Pregnancy
Here are twenty positive affirmations for baby in the womb will surely help you relax and let you enjoy one of the most memorable experiences of life.
I am blessed to be able to have this baby inside of me.
Everything I need to take care of this baby is already within me.
Every week is a step closer to meeting my bundle of joy.
There's beauty in the growth of my belly and the rest of my body. My baby is getting healthier and stronger!
My body is accepting my baby and my pregnancy will be just fine. I will have a safe birth and a healthy baby.
My baby is in the perfect position to come to the world healthily and smoothly.
I will cherish every little toe, finger, bone, face expression, and more.
I can endure all and will endure all that comes my way.
My baby and I are working together to prepare for her birth and we are both grateful for this wonderful experience.
I was divinely chosen and called to be the mother of this child and I am good enough to care for her.
I trust my body to help guide my baby into this world and into the safety of my arms.
My baby is developing normally and will be born healthy, whole, safe, and at the perfect time.
Any day now, my life will change for the better with you in it my dearest child.
I release the discomfort of pregnancy. I let go of the worry, tension, and the fear of birth. I am focused on the joy of meeting my child.
My baby is loved and she senses my love as our bond and connection grows stronger every day.
My most important job in pregnancy and childbirth is to simply relax, stay centred, serene, and balanced, and to allow my baby's birth to happen.
I love my pregnant body; it is radiant, beautiful, and blissful because it is equipped with everything I need to take care of my baby.
My baby knows how and when to be born and I will patiently wait for her arrival.
I allow myself to see the beauty and joy in my pregnancy. I want to enjoy this precious time with my baby and to be empowered by all it brings.
My love for you will grow every day just like you will.
10 Positive Affirmations for Labour and Delivery
Here are positive affirmations for the unborn baby just before you go into labour.
Birth is normal and natural. I will go through it in peace and joy.
I look forward to my wonderful birthing experience. I am going to have a healthy and happy baby.
I have the strength to handle the pain of delivery. It's going to be alright.
I accept this pain with an open heart and welcome my baby into the world.
I will go through this delivery one contraction at a time until I have my baby in my arms.
With each wave that comes, I breathe easy and flow with it.
I am blessed with this pain so my baby can come into this world in good health.
Today is the day I finally get to hold my baby.
I can make it through this, the calm is just on the horizon.
Pregnancy, labour, and delivery are all-natural. Everything is going to be just fine!
Positive affirmations have the power to lower anxiety and boost confidence. Quietly affirming these words in the mornings right after waking up, and whenever you feel anxious can bring a sense of relief and calm. Write down these positive affirmations and keep reading them often, and you will have a wonderful pregnancy and a healthy baby!
Also Read:
Positive Pregnancy Quotes and Sayings
Encouraging Quotes For New Moms
Quotes on Miscarriage and Pregnancy Loss