30 Unique Gift Ideas for 6 Year Old Girl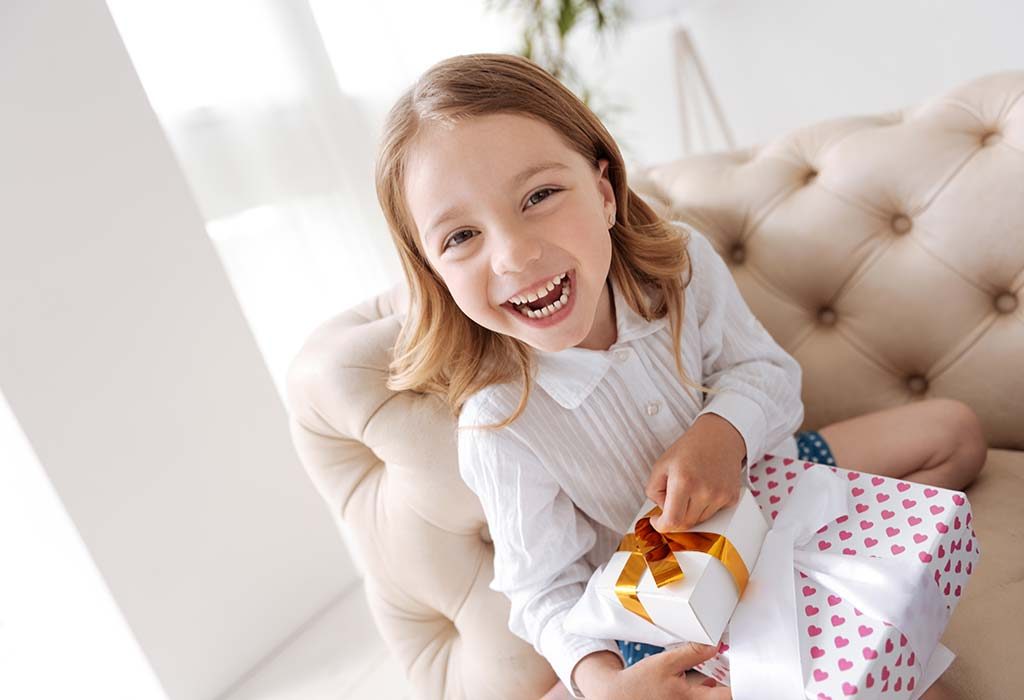 A 6-year-old girl likes to play with pretty toys or things, but she also wants something which includes some activity. Parents also want the little one to play with some toy which in engaging and lets her develop a specific skill. Though as all girls are not the same, so the same toys won't suit or make them all happy. Toys for 6-year-old girl have to be as per her personality and the things she enjoys. So never limit your gifts for a 6-year-old daughter to regular toys, instead, try to find unique gifts to help her develop her personality.
Things to Consider While Choosing a Gift for a 6 Year Old Girl
There are certain things that you must consider when looking for a gift for 6 year baby girl. Let's read!
1. Interest
Buy a gift that aligns with the child's interest so that they enjoy and appreciate it more.
2. Age-appropriate
Don't buy too advanced gifts as the child is still too young. Go for age-appreciate gifts.
3. Educational Value
Make sure the gift you are buying can help the child to develop their motor skills, reading skills or problem-solving skills.
Gift Ideas for a Six-Year-Old Girl
The parents not only have to think of for their little girl but also for her friends. As she has started school and goes out to play too, so her friend circle is also large with same-age girls. So, parents, these days are not only buying birthday gift or Christmas gifts for their 6-year-old princess but also for her friends. To make the tedious task simple, we have here the list of best gifts for 6-year-old girls for you to choose from. Choose any one for them, to make the little ones happy.
1. Pretend and Play School Set
The perfect gift for a 6-year-old girl which will inspire her imagination and with which she can play with her friends. The school set comes in vibrant colors and has a whiteboard, working school bell, crayons, hand pointer and hall passes. She can role-play as teacher and students with her few friends.
2. Fashion Plates Deluxe Kit
A pretty gift for the little princess who likes to dress up. This would be her first introduction to the fashion world and her first design book. The kit has a carrying case, numerous stencil fashion art material, sheets of drawing paper, colored pencils, a drawing tablet, and interchangeable fashion plates. The kit comes with an idea booklet to give her inspiration.
3. DIY Scrapbook
Gift your princess a scrapbook to stimulate her creativity and enhance her free-thinking. She can use her imagination and creativity to record her special moments. Scrapbooking can also become her hobby as she grows up. The DIY kit comes with a hardcover scrapbook, stickers, ribbons, gems, glue, papers and other scrapbooking materials. So she can create a scrapbook as per her choice and imagination.
4. Interlocking Plastic Disc Set
This easy to use interlocking disc set is a perfect gift for a little girl. It's colorful to attract her, and the creativity involved lets her use her imagination too. The numerous plastic discs can be interconnected to build any shape, so as to foster imagination and creativity in the little ones. The easy to assemble and disassemble disc enforce hand-eye coordination, spatial intelligence and fine motor skills to construct a design.
5. Kick Scooter

A perfect gift for the active little girl to cruise around. The kick scooter preferably in pink color with delight her. The streamlined lightweight body with urethane wheels and springless shock-absorbing system and a strong wheelie bar is good enough to support her. The gift will encourage her to go out and play, and it is easy to store too.
6. Stick n Style Bangle Kit
This cute kit is perfect for any 6-year-old to learn and make her own style of bangles. The bangles kit comes with numerous bling jewellery stickers, bangles, etc. She can create her bangles by following the instructions given for decorating designs. It is also exciting to play with her girlfriends, and they all can decorate bangles with the stickers. The kit is perfect as a party gift too.
7. Pooping Pup
This real-like pooping pup is perfect for teaching your little one how to take care of a pet. She can play with the puppy, take him for walks, feed him, clean him and take him to the bathroom. The toy comes with a detachable leash, treats, clean up package and instructions and behaves just like a real puppy.
8. Creative Suitcase Building Kit
Perfect gift for girls with an active imagination. With the building kit consisting of bricks, wheels, etc. she can build buildings, houses, vehicles etc.
9. Glitter Nail Art Kit
All girls love to play grownup, and the best way to do so is to apply nail polish. So instead of letting her use your nail polish, gift her glitter nail art kit. The kit comes with water-based nail polishes, carrying bag, application station and glitter pots. She can use her imagination to apply nail polish and decorate her nails with glitter paint. She can even have a tea party with her little friends and be a manicurist.
10. Draw Like a Pro Kit
This beginner drawing kit is perfect for a 6-year-old as she starts to learn drawing. She can draw pictures for hours with the help of markers and pencils. The pre-printed slides with the help of the projector will allow her to create pictures easily. The drawing set comes with numerous pre-printed slides, markers, papers and easy to follow directions. She can store all the materials in the inbuilt drawer.
11. Doll and Dollhouse

All little girls love to play with their dolls. So what better gift than a dollhouse with her favorite doll. She can role-play her doll living in the house, doing various activities. And even her friends can join in the fun.
12. Fairy Garden Set
The fairy garden set is a perfect gift for little girls. The set includes tree hollow, seeds, watering can, bunny, willow fairy etc. She can water the plants, create a magical garden and do other gardening activities with the set.
13. Kitchen Set
Gift the plastic kitchen set to your little girl to make her learn cooking. She can role-play to act as a chef with the help of many utensils, plastic food products, etc.
14. Kids Camera Toy
The lightweight and simple to use camera will let your little girl click pictures of her favorite things and learn photography. The camera comes with a memory card and is made of sturdy material.
15. Walkie Talkies

Good gift for the little girl to play grown-up. She and her friends can have loads of fun while talking through the walkie talkies.
16. Board Games
Classic board games like snakes and ladders, monopoly, scrabble, guess who etc., for kids to understand instructions and take turns playing.
17. Basketball Hoop
An easy to use and adjustable height basketball hoop for her to play with her friends. The hoop can be set up anywhere as it comes with a stand and adjustable height makes it usable as her height increases.
18. Wooden Plank Blocks
With the help of numerous plank blocks, she can create any structure. The perfect toy for her to use her imagination and creativity.
19. Bicycle

Six years is the perfect age to start cycling, so what better than her own cute bicycle to roam around.
20. String Art Set
This string art set comes with pre-set patterns, where the kids can put the pins and create designs using the strings.
21. Doctor's Set
A perfect activity gift for the little girl to play with her friends. The set comes with plastic medical equipment like a syringe, stethoscope, etc. to help her play doctor and patient.
22. Fairy Tales Books
What better gift than a fairy tales book for the little girl as starts to learn reading. She can read and learn the different stories as she grows up.
23. Play Tent
Let your little girl and her friends have a tent party with this durable play tent. The roomy tent has windows, curtains, etc. They can have a picnic in the backyard or pretend they are in the jungle. The roomy tent can accommodate many children, so they all can play, sleep or do other activities without the danger of tent collapsing. The tent is easy to store and assemble.
24. Emoticon Jewelry Kit
This cute jewelry kit lets your little girl create her own necklaces, bracelets, friendship bands etc. with the help of given instructions. The kit comes with a storage case, numerous beads, threads, etc. to create bracelets and necklaces. The beads are of different colors, shapes and designs with which different styles of jewelry can be made.
25. Karaoke Player

Buy the karaoke player for your singing diva. The toy comes with a set of microphones, in-built speakers, volume control, remote control and preloaded songs. The little princess can call her friends, and all of them can have a karaoke party. One can play a CD or use a USB stick or SD card to play or record songs. The set comes with LED display and disco effects to create the party environment.
26. Lego Set
A lego set is just perfect for a girl with an extremely active imagination. The lego building activity can help the little girl build creative skills while playing.
27. Marble Painting Kit
Children love to do artwork with those colourful paints. A marble painting kit makes for one of the perfect gifts for girls age 6. Remember that the child will be required to layer the paint, smear it, and transfer the paint onto paper!
28. Glitter Hair Clip
A little glitter can never go wrong! You can gift glitter hair clips to a girl, and we bet she'll be wearing it to the next birthday party she attends!
29. Bicycle Helmet
Kids are generally very active when it comes to outdoor activities like bicycle riding or skating. Therefore, it is important for children to wear safety headgear while doing such sports activities. And a bicycle helmet makes for a perfect gift for a six-year-old who has just learned or is learning to ride a bicycle.
30. Puzzle Set
Jigsaw puzzles can help children improve their visual-spatial reasoning, short-term memory, and problem-solving skills. So, why not gift a puzzle set to the little girl!
A gift for a 6-year-old girl should be attractive and useful for her development. So any toy should be chosen, keeping in mind that it makes her use her creativity and skills. At this age, it's important to develop her fine motor skills and confidence. So toys and gifts which help in these are the best for her.
Also Read:
Best Activities for 6-Year-Old Kids
6 Year Old Child Behaviour Problems
Birthday and Festive Gift Ideas for Kids
Budget-Friendly Return Gift Ideas for Kids