30 Beautiful Onam Wishes and Quotes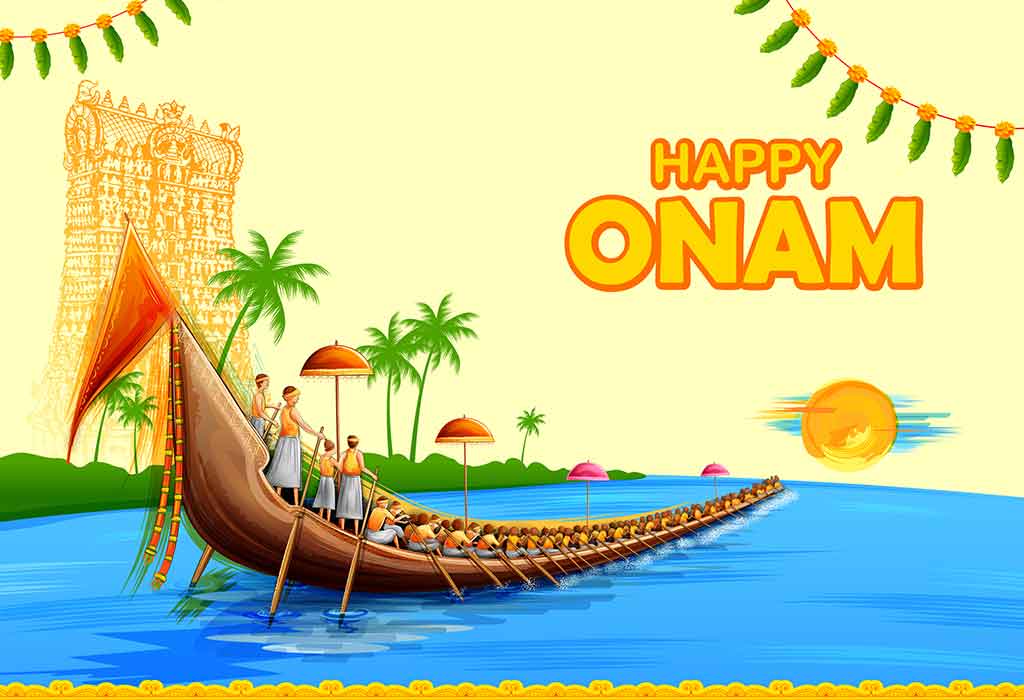 In this Article
Onam is one of the main festivals of all Malayalis living in and outside Kerala. It is celebrated with enthusiasm and festivities throughout Kerala and all Malayalis. Thiruvonam Nakshatra day, which comes in the Chingan Malayam month, is celebrated as a Keralite festival. This day is normally observed in August or September. Onam is the first day of the Malayali calendar, and it is also observed as the Malayali New Year. It is often regarded as a harvest celebration. As per the legends, Onam is celebrated to commemorate the homecoming of the spirit of Emperor Mahabali.
It is believed the spirit of Emperor Mahabali visits the state of Kerala on this auspicious day. So on this joyous and colourful festival, family members and friends come together to celebrate togetherness and spread joy. The Onam celebrations include a lot of fun and other activities such as Vallam Kali (boat races, Pookkalam (flower Rangoli), Pulikali (tiger dances), Onathappan (worship), Tug of war, Onam Kali, and Kummattikali (mask dance).
Happy Onam Messages and Wishes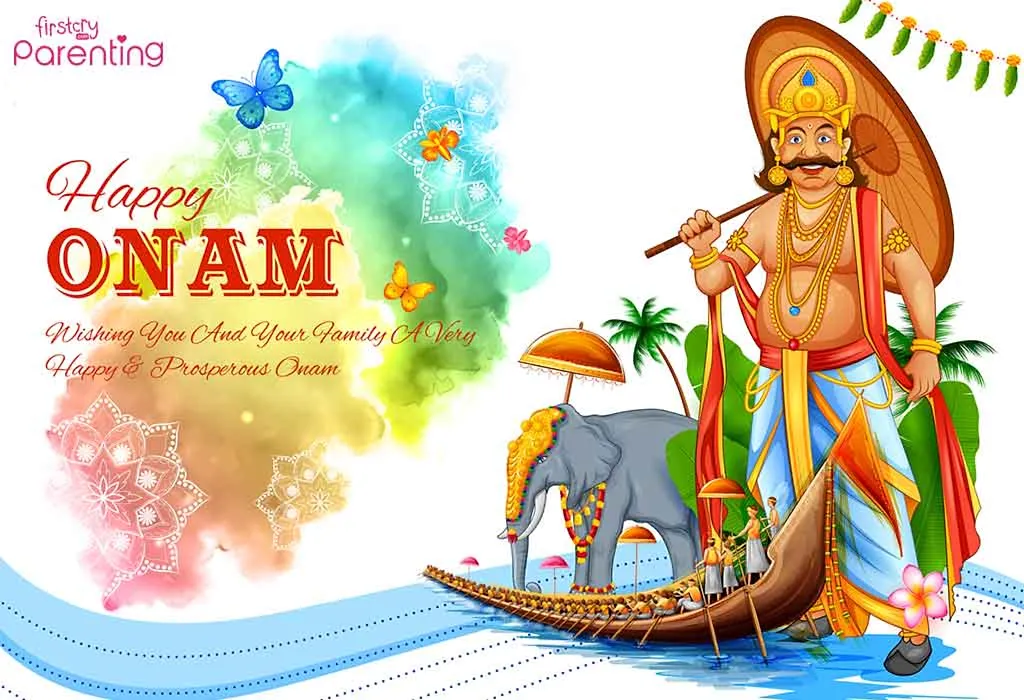 The beautiful festival of Onam brings together everyone to celebrate it every year with a lot of enthusiasm and festivity. However, it happens one is not able to meet all family members or friends on this day, so one can wish them by sending Onam ashamsakal or happy Onam wishes.
Some beautiful messages as Onam festival wishes for your near ones are:
On this merry event, I stretch out my warm wishes to you and your family. May all of you be honoured with bliss and well-being in your life. Onam greetings to you and your family!"
Like the brilliant blossoms of pookalam, may your life be loaded up with splendid and delightful tones. Like the boat races of Onam, may you arrive at your objective with full assurance. Like the intricate gala of Onam Sadhya, may you appreciate great food consistently. Happy Onam!
On the cheerful event of Onam, may you have a plenitude of delight in your life, great wellbeing, and monstrous thriving. Wishing you and your family a cheerful Onam.
The air is loaded up with satisfaction and energy. It's brilliant all over. Homes are decorated with brilliant embellishments. However, I trust that Onam isn't just about that. I trust that the soul of Onam makes you feel blessed.
We observe Onam to recognise a great past. We all long for a period like that of King Mahabali, when thriving, happiness, and love mixed. However, to understand this fantasy, we need to invest imaginative and supported energy. Giving, sharing, cherishing, and celebrating together – that is the embodiment of Onam. May the current year's Onam festivity carry more enjoyable to you and your loved ones. Happy Onam!
May God favour you and make you pleased and gratified. May the tone and lights of Onam fill your home with bliss and delight. Happy Onam!
May Maveli Thampuran visit your home and favour you on this propitious day. May you have the most magnificent Onam festivity with your loved ones. Cheerful Onam!
Vivid Pookalam, vivacious melodies, and flavorful dining experience. Complete it with supplications to have a favoured year ahead till the following Onam celebration. Happy Onam!
The Onam celebration is an event for individuals to help themselves to remember the all-inescapable nature of the heavenly. I wish you and all your near ones, a Happy Onam and Tiruonam!
Air is loaded up with satisfaction and enthusiasm. It's brilliant all over the place, homes are enhanced with beautiful embellishments. Yet, I trust that Onam isn't just about that. I trust that the soul of Onam makes you exuberantly pleased and satisfied.
May your life be adorned like Pookalam, sail incongruity like a snake boat, and give you an assortment like the food at local area lunch get-togethers.
May this festival of Onam be a harbinger of good luck, cheer, prosperity, and peace that lasts the whole year. Wish you a happy Onam!
Onam is a festival of the homecoming of Emperor Mahabali. May you get the chance to appreciate the affection and bounties of nature by imparting it to your loved ones.
Onam isn't only a celebration to treasure, however a second to resurrect a past of flourishing and goodness. Happy Onam!
May Lord Vamana favour you with a great collection of your deeds consistently and on this bubbly event, may you procure an awesome gather of harvest, relationship and satisfaction.
Expect this Onam favourable luck and proliferating satisfaction to you! Wish you and your family a Happy Onam!
Wish you a prosperous, vivacious, and healthy Onam! I hope this Onam festival brings good luck to your family. Have a blessed Onam 2023!
May the joy of Onam 2023 remain with you till next year's Onam!
Let us celebrate the spirit of the harvest festival in all its glory. Happy Onam!
Sending my warmest wishes to your family this Onam festival. Have a happy and wonderful Onam!
Best Onam Quotes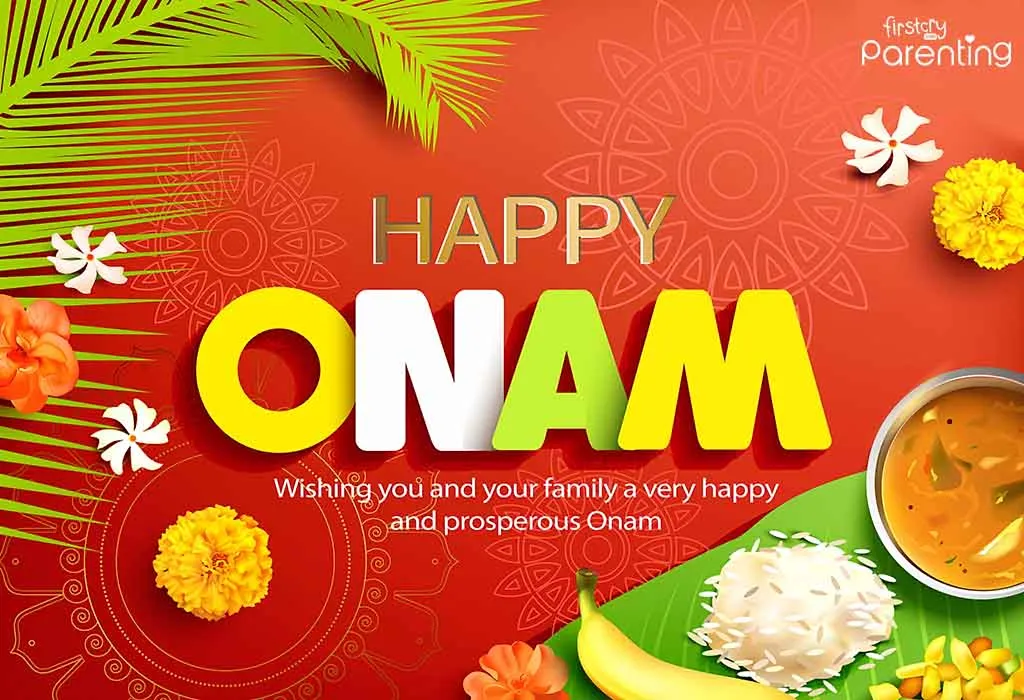 Nowadays, wishing near ones is not limited to phone messages. You can also wish your group of friends and acquaintances by posting Onam quotes or Onam captions on social media, or you can put Onam status on your Whatsapp. This way, a large group of people get to receive your wishes through a single post.
Some of the best Onam quotes are:
1. "In the evolutionary order of the incarnations of Lord Vishnu, we find that Vamana is the first incarnation with a human body. By now, the animalistic features are discarded and Human Being is born. Here we have to note that Vamana is not born outside but in the mind of Rakshasa or Demon King Mahabali, who has changed his Rakshasa nature and sticks to truthfulness and charity. He rises prepared to sacrifice his everything. To Vamana he not only gave all the three worlds he possessed but also allowed the boy to place his foot on his own head. Thereby Mahabali made the greatest sacrifice – the absolute sacrifice of his own ego. " – Mata Amritanandamayi
2. "Life becomes a festival when gaiety and culture blend. Onam delivers the message of both." – Anonymous
3. "We celebrate Onam to commemorate a glorious past. All of us yearn for a time like that of King Mahabali, a time when prosperity, joy and love blended. But in order to realize this dream, we need to put forward creative and sustained effort." – Anonymous
4. "We have lost the true spirit of Onam. Let each of our actions be a yajna for universal good. May the new clothes we wear be that of Dharma and faith. May our hearts be united in love and joy, and make life an everlasting Tiruvonam. Thus we can retrieve the lost Onam." – Anonymous
5. "When Maveli, our King, ruled the land,
All the people had equality.
And people were joyful and merry;
They were all free from harm.
There was neither anxiety nor sickness,
Death of the children was never even heard of,
There were no lies,
There was neither theft nor deceit,
And no one was false in speech either.
Measures and weights were right;
No one cheated or wronged his neighbor.
When Maveli, our King, ruled the land,
All the people formed one casteless race."
(Translation of popular quote: "Maaveli naadu vaanidum kalam..")
6. "Onam is the time for pookalam on the floor;
Children on swings; tiger clad men with hunters behind them;
People enjoying sadyas with family…" – Anonymous
7. "Onam is a time to cherish our glorious past and strive for a future filled with prosperity, joy, and love." – Anonymous
8. "Let the spirit of Onam illuminate our hearts with unity, love, and compassion for all." – Anonymous
9. "As the fragrance of flowers fills the air, let us fill our hearts with gratitude and happiness this Onam." – Anonymous
10. "Onam is not just a festival; it's a celebration of harmony and togetherness." – Anonymous
Spread the goodwill and joy of Onam to all your near ones through a beautiful Onam wish. You can send Onam wishes as a message or social media post, or even a WhatsApp message.
Also Read:
Onam – Celebrating the Essence of Kerala
Diwali Wishes for Your Loved Ones
Best Dhanteras Wishes, Messages & Quotes for Your Family and Friends