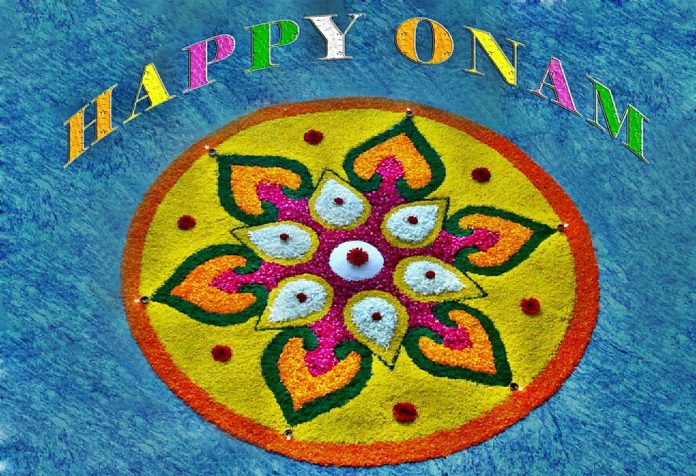 Last Updated on
Onam, originating from the Sanskrit word "Shravanam" or constellation, is celebrated with great fervour in Kerala and is the state's biggest and most awaited festival. This year, Onam will be celebrated on September 4. The importance of Onam celebration is such that holidays are declared across various organisations well in advance!
Every year, Malayalees in Kerala and across the world celebrate Onam to mark the homecoming of the Great King Mahabali. It also marks the harvest season for Kerala. The festival lasts for ten days, with the tenth day celebrated as Onam. With the year's festive season kicking off across the country, why not find out just how you too can join the celebrations?
The Mythology Behind Onam
Onam festival history is the perfect blend of mythology and tradition – the kind that makes great Indian legends. According to myths, Mahabali was a well-loved king and the greatest to have ever ruled Kerala. It is believed that he was sent to rule the underworld by the Vaman avatar of Lord Vishnu. Every year on a fixed day, he visits his subjects. His homecoming is celebrated as Onam or Thiruvonam.
Onam Celebration in Kerala – 5 Majestic Sights!
1. Flower Rangoli – Pookolam
Pookolam is the art of making beautiful designs with different types of flowers in the entryway of homes. During the ten days of the festival, a different flower layer is added to the Pookolam each day. Pookolams are made to give a beautiful welcome to Mahabali. Flowers such as marigold, rose and lotus are used to create stunning designs in yellow, orange, white, pink and purple. While new designs trend every year, traditional diyas, flowers and geometric patters are evergreen.
2. Banquet Lunch – Onasadya
A grand meal is prepared on the day of Thiruvonam and served on banana leaves. It is a nine course vegetarian meal with at least four vegetables. Some restaurants in Kerala offer as many as thirty dishes as Onasadya! For many families around the globe, Onasadya is a way to connect with friends and family. Not to forget, they get some lip-smacking pappadams (papad), payasams and uppilittathu (pickles)!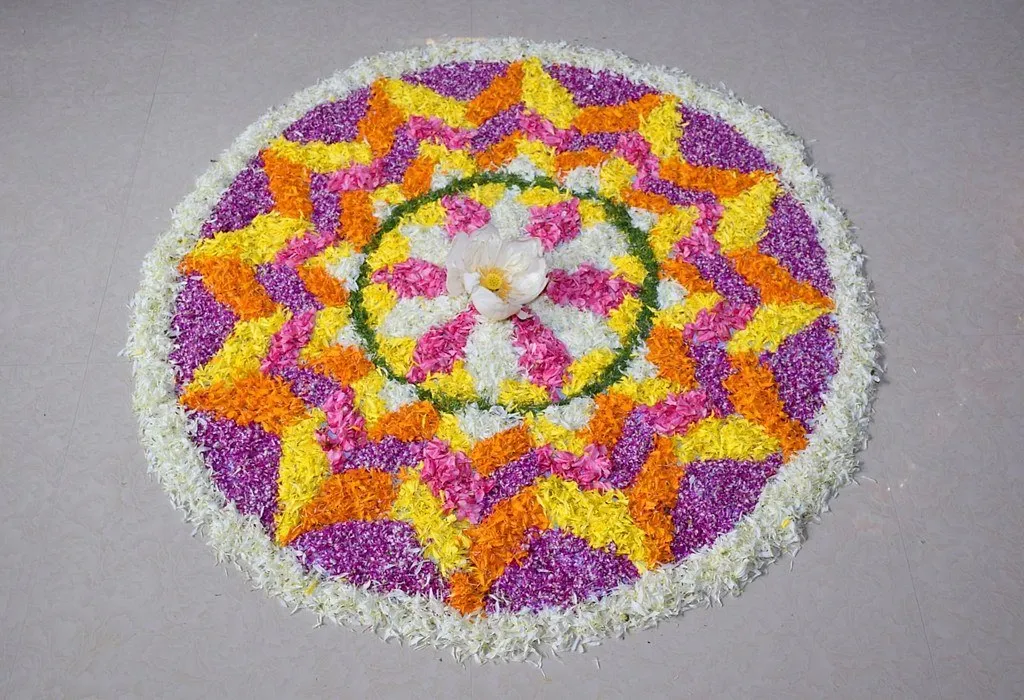 3. Snake Boat Race – Vallamkali
The Vallamkali or the snake boat race is a fun and entertaining way of celebrating Onam. Boat teams participate in the competitions organised across the state with about 150 men on each team. Trophies and prizes are distributed to the winning teams. Young men train and practise for the Vallamkali months in advance. After all, it is also considered a mark of strength and valour!
4. Folk Dances
Kerala is famous for its vibrant and expressive dance forms. The dance tradition gets infused with new life at this time. Kathakali and Kaikottikali are performed with renewed vigour to celebrate Onam. Thumbithullal – a dance performed by women in praise of their King Mahabali – is also very popular.
5. Elephant Procession
Elephants are an intrinsic part of Onam as a mark of royalty and richness. They are decorated in gold, flowers and other ornaments and taken around in a majestic procession around cities. People from all over the world gather to watch the spectacle. This is one thing that gets the kids really excited too!
The specialty of Onam is that the festival is celebrated by one and all in Kerala irrespective of their religion. The widespread global population of Malayalees comes up with unique Onam celebration ideas each year to cherish their tradition on this beautiful day. If you have been planning a trip to God's own country, there is no better time than Onam – a spectacular celebration of secularism and rich culture!