18 Exciting Winter Activities For Kids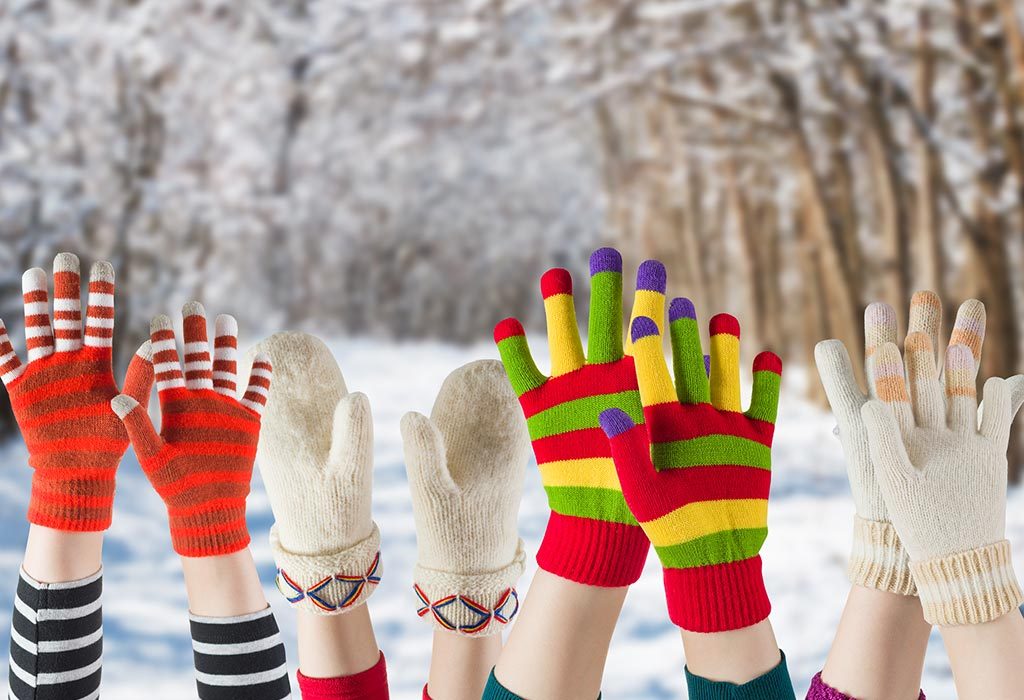 In this Article
Winter holidays are a time when parents look for various activities and ideas to keep their kids fruitfully occupied, especially ones they do not get easily bored with. If you are looking for interesting winter activities for kids, you've come to the right place! In the following article, we will acquaint you with exciting indoor and outdoor winter activities for kids that they will surely enjoy.
Fun Winter Activities for Children
Children always look for fun and exciting activities to keep them entertained. However, winter months may dampen their spirits. Worry no more, as here we have fun-filled winter activities for preschoolers and kids to keep your little ones all pepped up and entertained!
Outdoor Winter Activities for Kids
Following are some entertaining outdoor activities for your kids.
1. Dodge Ball With Snow
This is a fun snow game that kids (and adults) thoroughly enjoy! Make sure that you are there to supervise as your little ones play.
What Your Child Needs
How to
Make two teams.
Give a bucket full of snow to each team.
Ask them to make snowballs and throw at their opponents. The team with the most hits wins!
The idea is to dodge the balls and hit the opponents.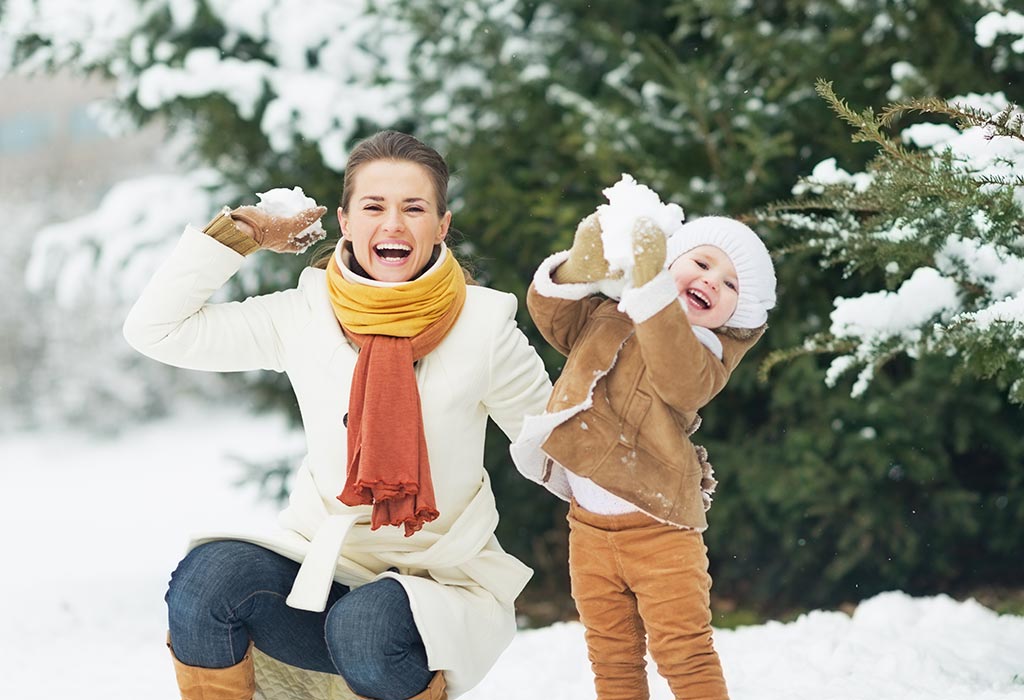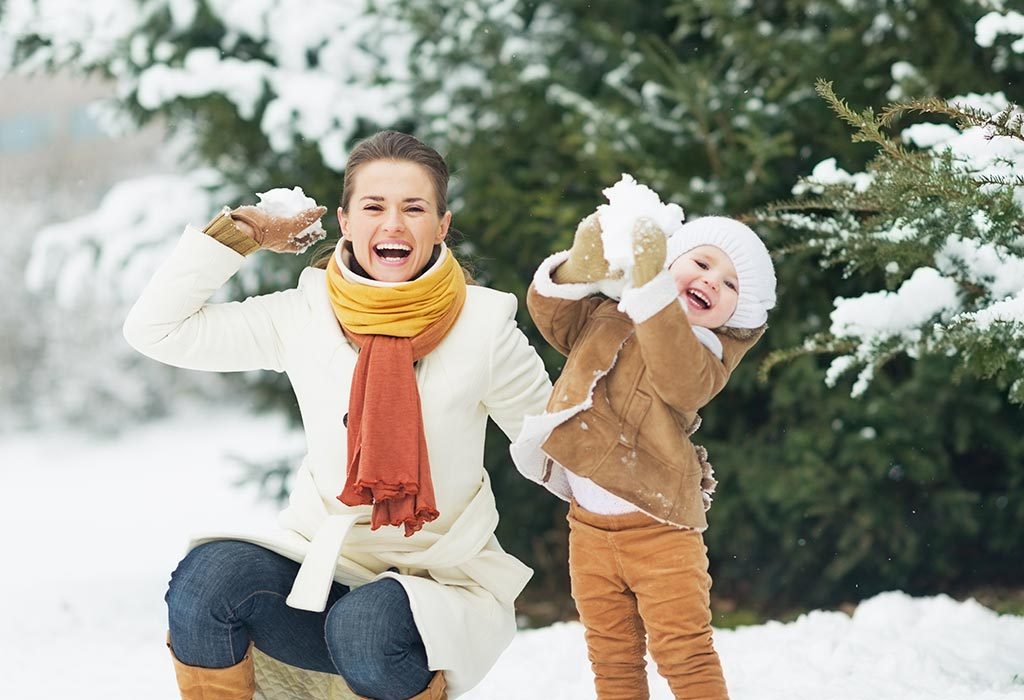 2. Hat on the Snowman
As cliché as it may sound, making a snowman during winter months is one of the most thrilling winter activities for kids. However, you can use your creativity to enhance the snowman's features. In this activity, we will be placing a hat on the snowman as a fun winter game for kids.
What Your Child Needs
A snowy day (of course)
A hat
You may use any interesting accessories that you have to dress up your snowman.
How to
Build a snowman of your kid's height by making different-sized balls out of snow and placing one on top of the other.
Now, line up your kids (in case playing with family or friends) in a line, approximately 5 to 6 feet away.
Give three chances to each participant to put the hat on the snowman from a distance.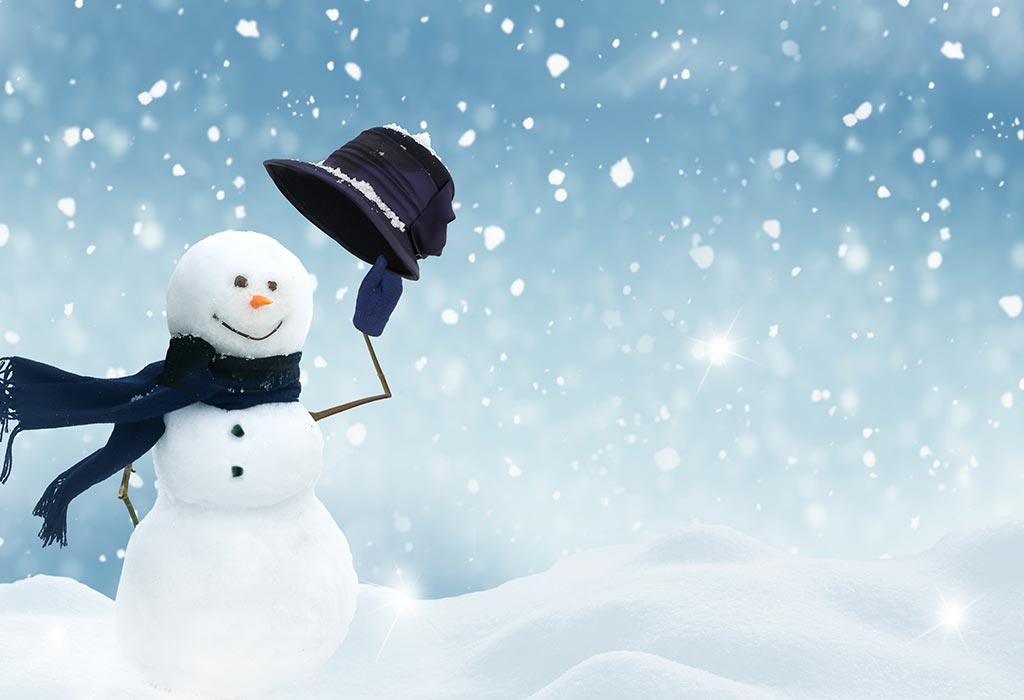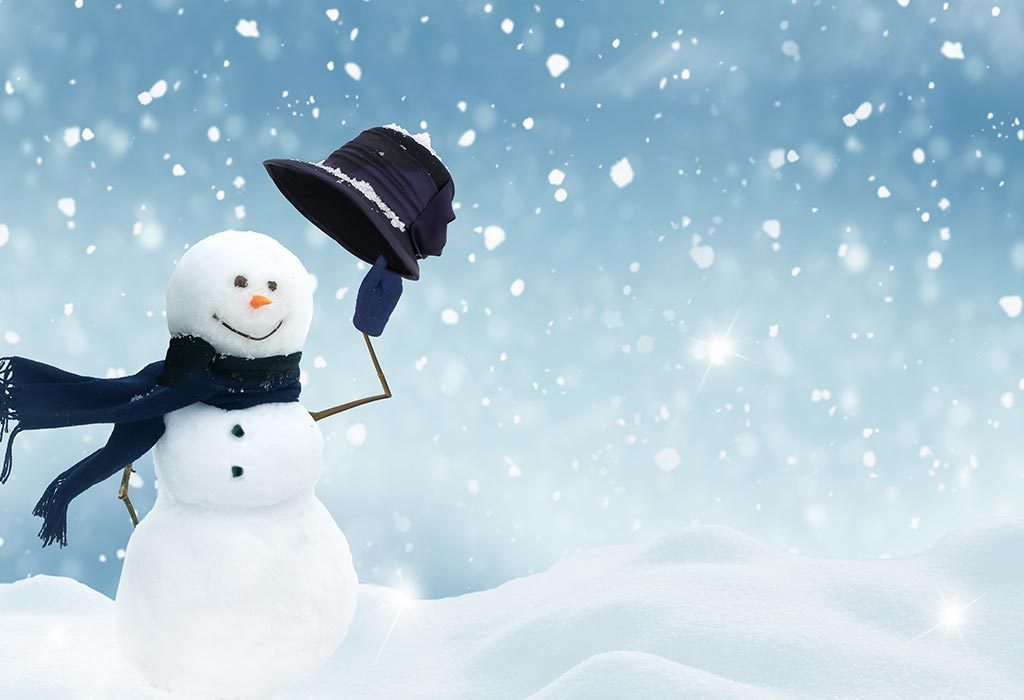 3. Treasure Hunt
Treasure hunt during the winters? This is one of the most thrilling winter games for kids that will keep your little ones entertained for hours!
What Your Child Needs
Pieces of paper with clues written on them
Objects to hide in the snow (take bigger objects)
How to
Hide the objects in the snow, in your yard, or your garden.
Leave clues for the kids to follow. You can describe the object, give a memory associated with the object as a hint, etc.
Keep a time limit and let the kids find their treasure.
The one who finds the maximum objects will be the winner.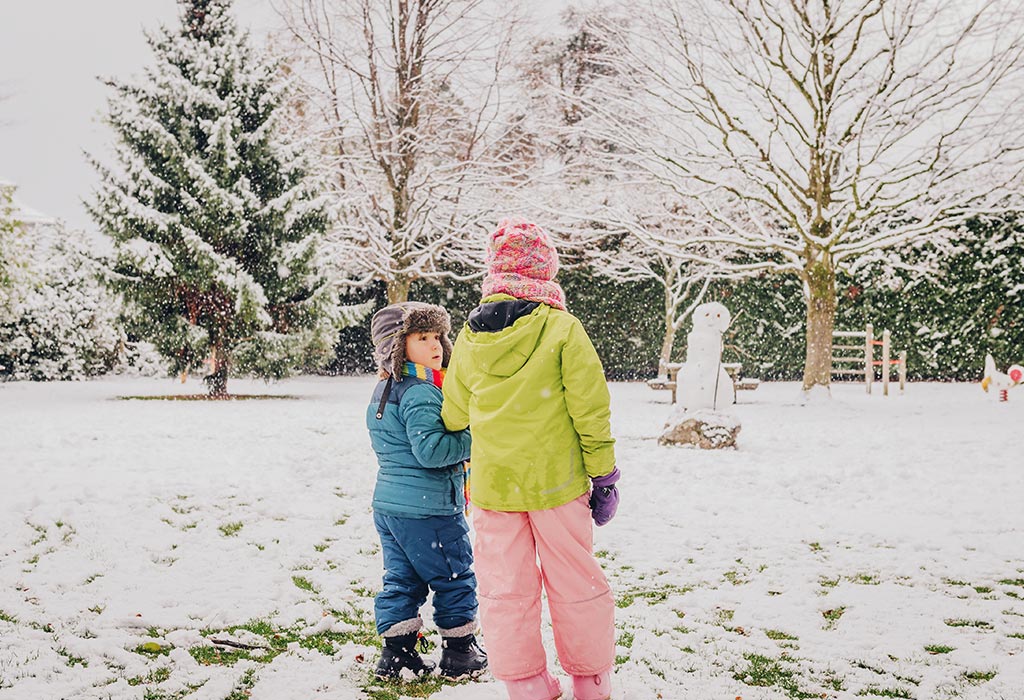 4. Pass the Snowball
This is an exciting group game and a fun snow activity for toddlers that can make boring winter afternoons more fun.
What Your Child Needs
A bucket filled with snow for each team
How to
Divide the kids into two or three teams (depending on the number of children)
Give a bucket filled with snow to each team
The team leader has to make snowballs and keep passing it on to the teammates. The team with the maximum number of snowballs by the end of the game wins!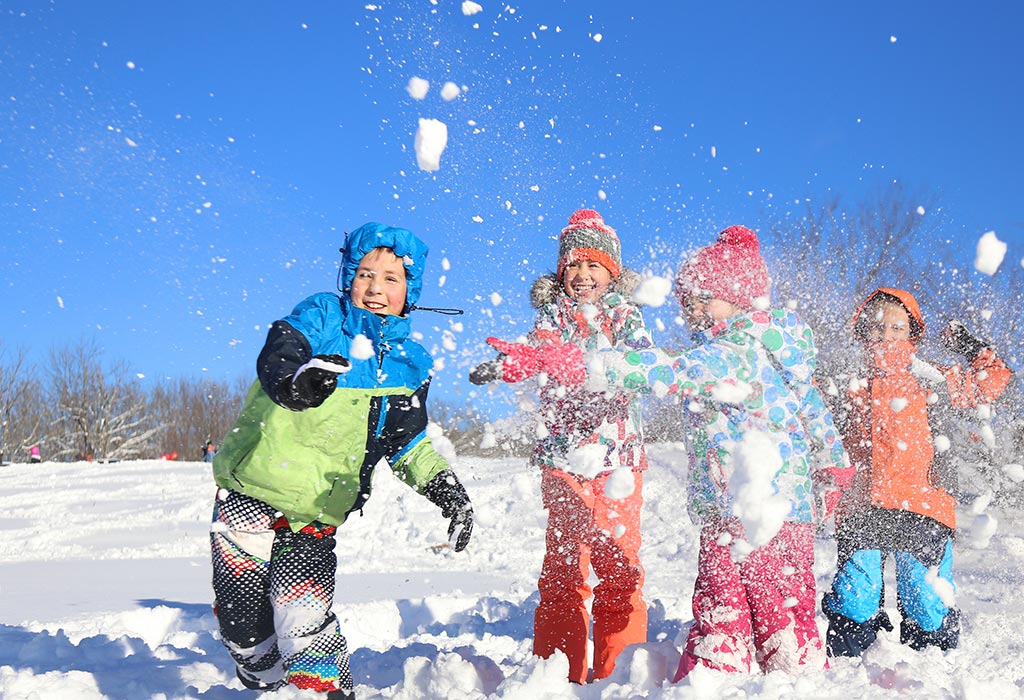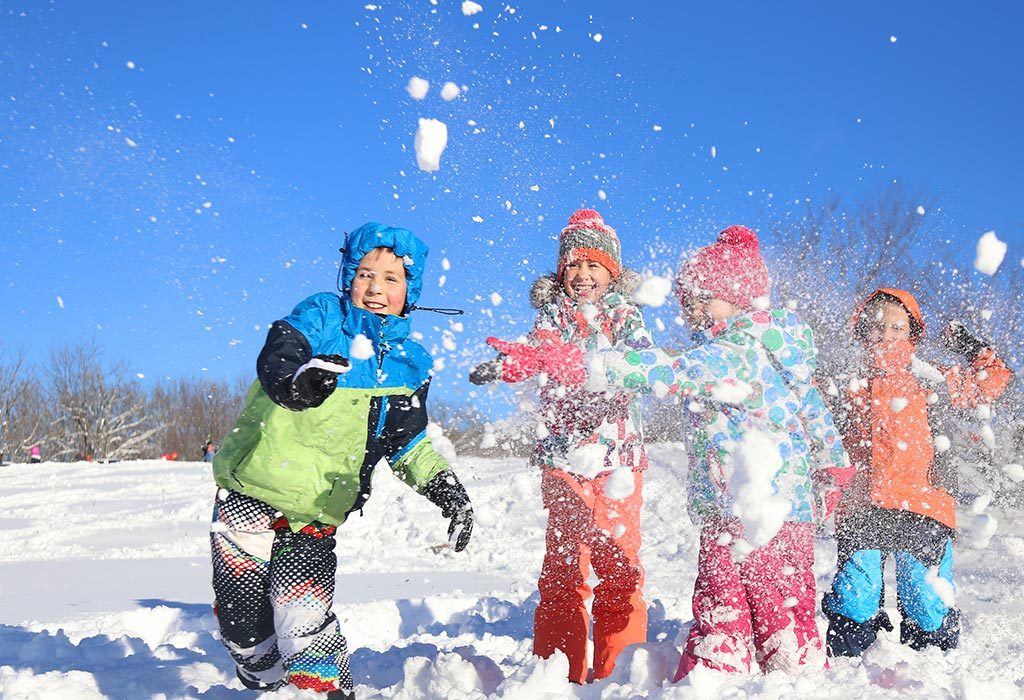 5. Snow Angels
This activity of making snow angels is easy, fun, and will keep your little ones entertained for long!
What Your Child Needs
An open area with ample snow
How to
Make your child lie down on the snow, facing the sky.
Ask him to move his arms and legs in a quick, flying motion continuously.
Once done, ask him to carefully get up without spoiling his creation. Take a picture to show him how it looks!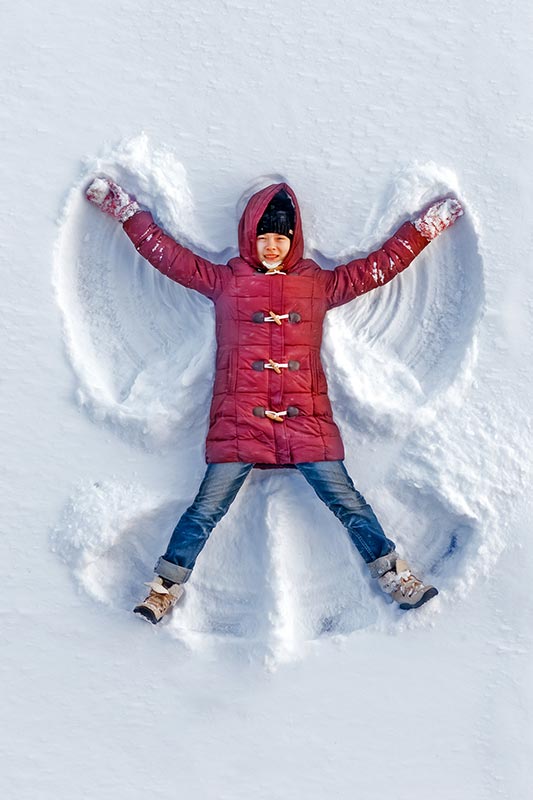 6. Make Snow Forts
Making snow forts is a fun thing to do with kids during winters. You and your little ones could do this activity together and have ample amounts of fun in the process.
What Your Child Needs
A rectangular hollow box, for building snow bricks
An open area
How to
Clear an area and make a boundary
Fill the box with snow and press it to make it set
Once set, get the snow brick out of the box
Start stacking up the snow bricks one by one on the marked boundary
Keep stacking till the desired height is achieved.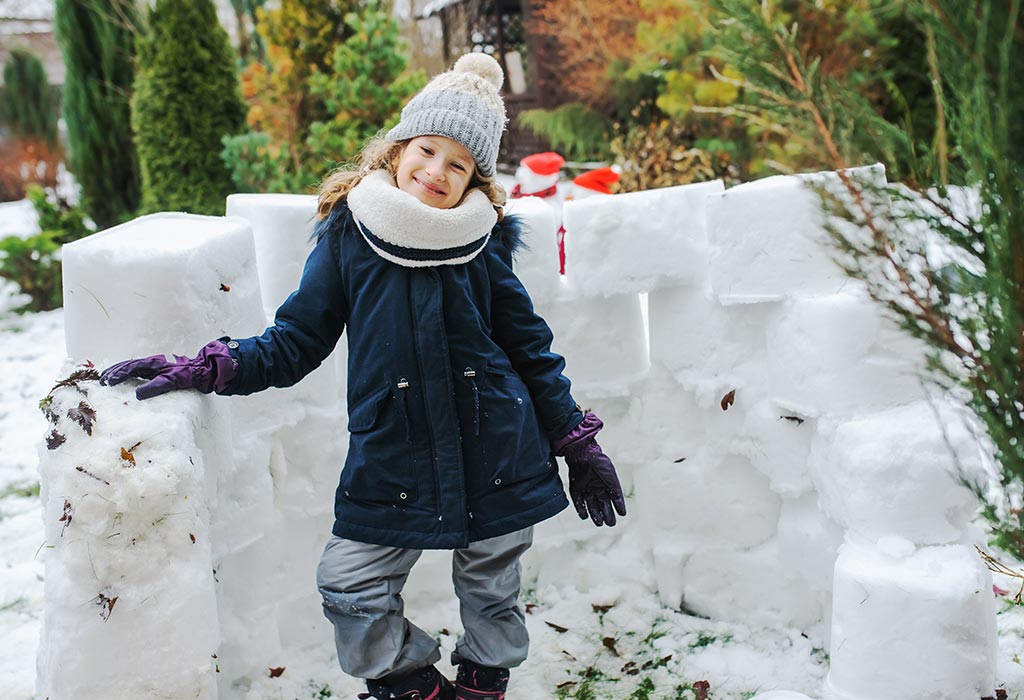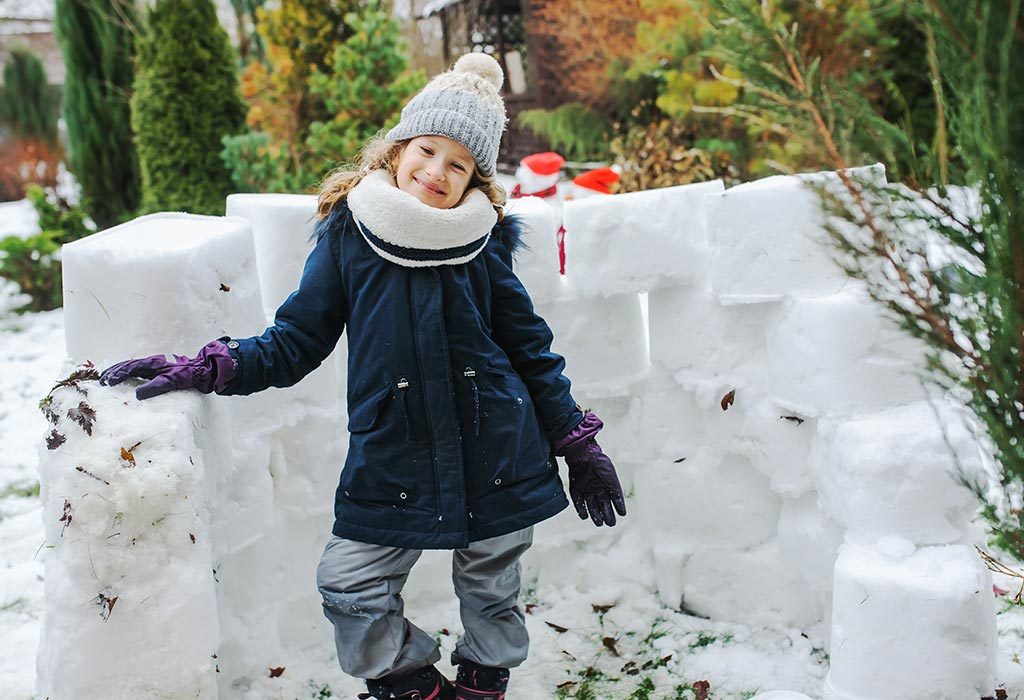 7. Painting Fun
Get some colour into these drab winters with this fun winter art and craft activity.
What Your Child Needs
Some eco-friendly, washable colours
Paintbrushes
Moulds
How to
Use snow to fill the moulds to make desired figures or shapes
Help your kid colour these shapes and arrange them neatly
Alternatively, you can help your kid paint by assuming a snow patch as a canvas
Draw on snow with the help of a stick, and colour it
Use easier shapes and patterns, as painting on the snow can get really tricky.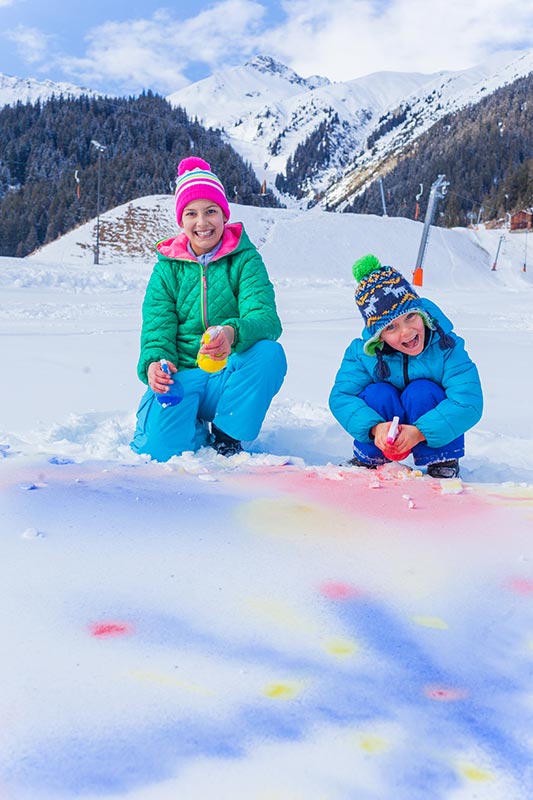 8. Tic-Tac-Toe on Snow
Kids love to play tic-tac-toe, and the fun gets doubled if it is played on snow!
What Your Child Needs
A snowy day
Some sticks
Pine cones (optional)
How to
Draw the tic-tac-toe pattern on the snow and play the game with your kid
Alternatively, you can use sticks in the place of a cross and pine cones in the place of zeroes.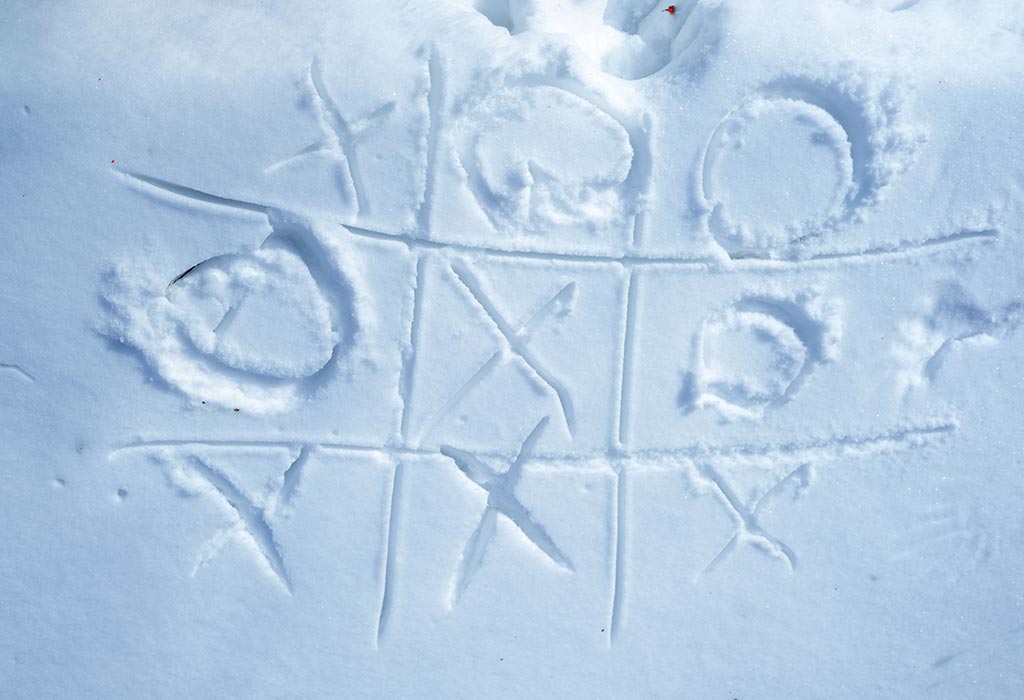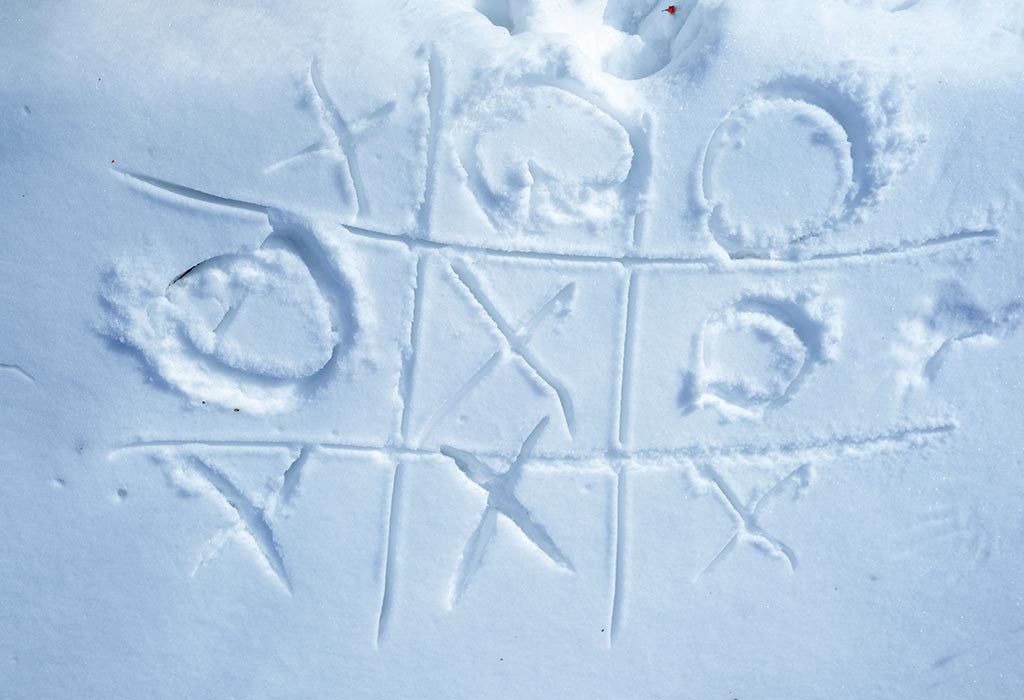 9. Winter Fun With Tubes
This outdoor winter activity for kids does not involve swimming – just loads of fun with tubes!
What Your Child Needs
How to
Take the kids on a snowy slope (not very steep)
Mark the 'start' and 'finish' spots
Ask the kids to sit on the tube
Ask them to use their legs to navigate the tube towards the finish line
The kid who reaches the finish line first will be the winner!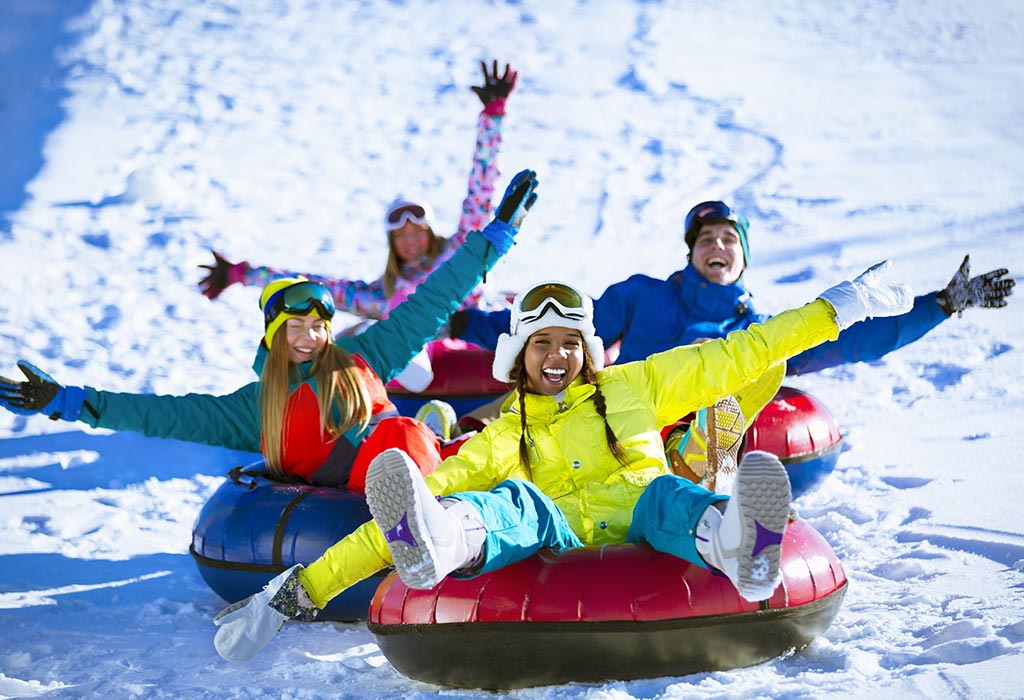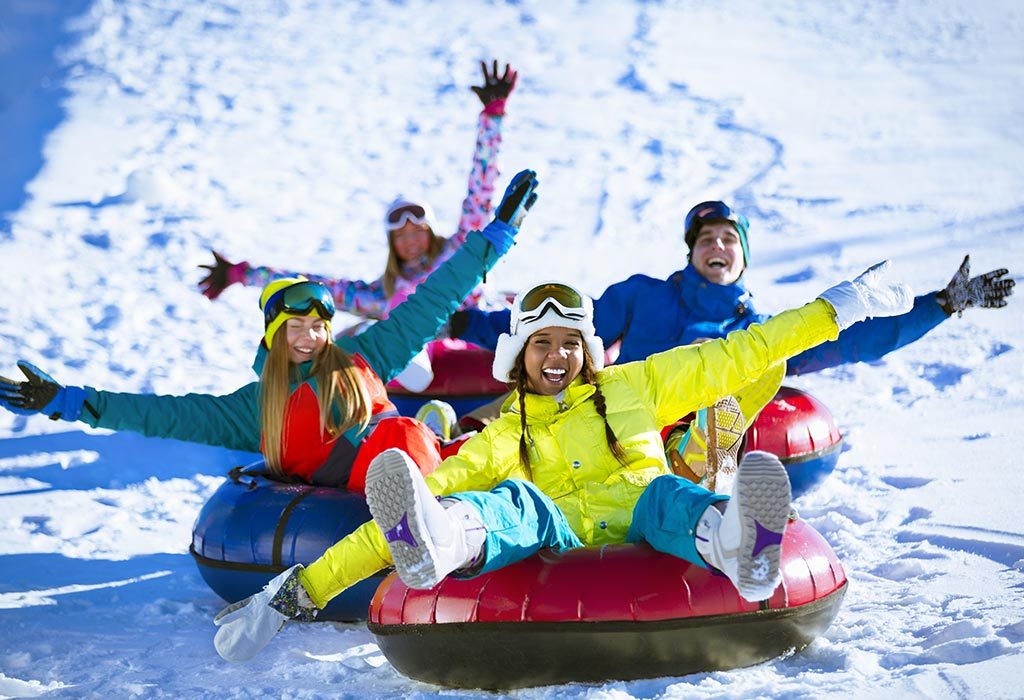 Indoor Winter Activities for Kids
There is no denying that playing outside in the snow is what every kid looks forward to during winters. However, in the case that you can't go out to enjoy the snow, the following fun indoor activities that we have for your kiddo may keep him happily engrossed.
1. Winter Bingo Fun
Your usual game of bingo can be made more interesting by adding a wintery twist to it.
What Your Child Needs
Chart paper
Sketch pens
Glue and glitter (optional)
How to
Cut out cards in the desired size
Draw 5 by 5 grids, and write numbers randomly
Draw winter-themed pictures on the card as well, or stick pictures (if you cannot draw)
You can even make the cards shimmery – put some glue on the backside of the card and sprinkle glitter in your favourite colours
Now, call out the numbers and ask the kids to strike the called out number on the cards. The kid who strikes out all the numbers will be the winner!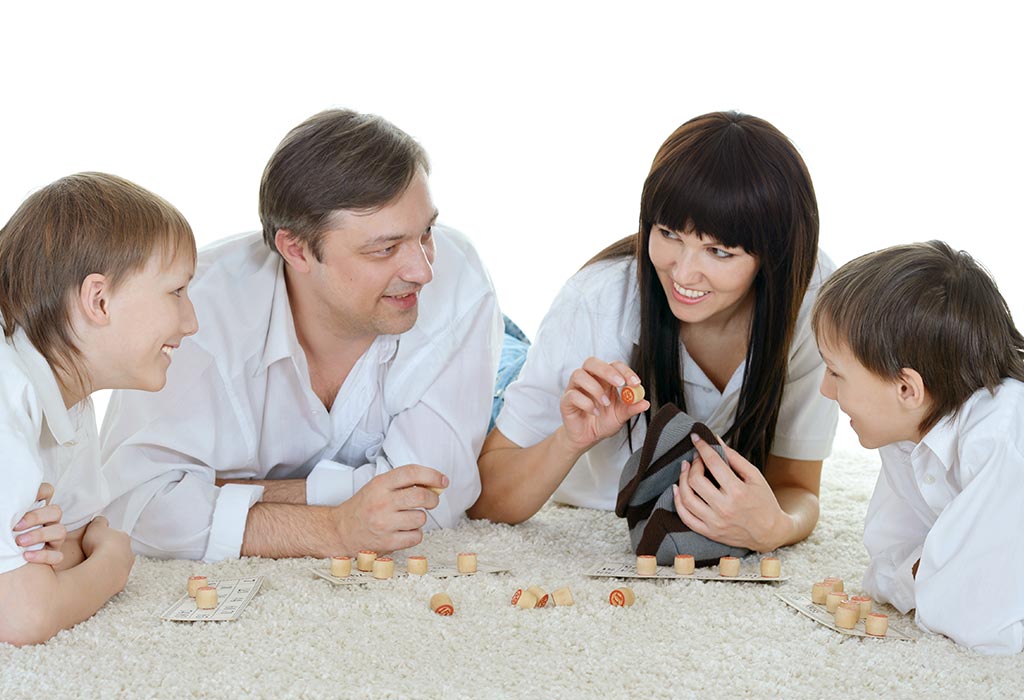 2. Slam the Snowman
The 'slamming the snowman' activity doesn't require you to be outdoors – we'll tell you how this can be a fun indoor winter activity for kids!
What Your Child Needs
Paper cups
Craft paper
Cotton
Glue
How to
Cover the paper cups with craft paper
Cut out small circles from brown-coloured paper to make the eyes
Cut out small triangles to make the nose
Stick the eyes and noses on the cups
Take some cotton and roll it into a firm ball. Stack the snowmen cups in the shape of a pyramid.
Make your kids stand 5 to 6 feet away from the stacked snowmen.
Give three chances to each child to slam the snowman.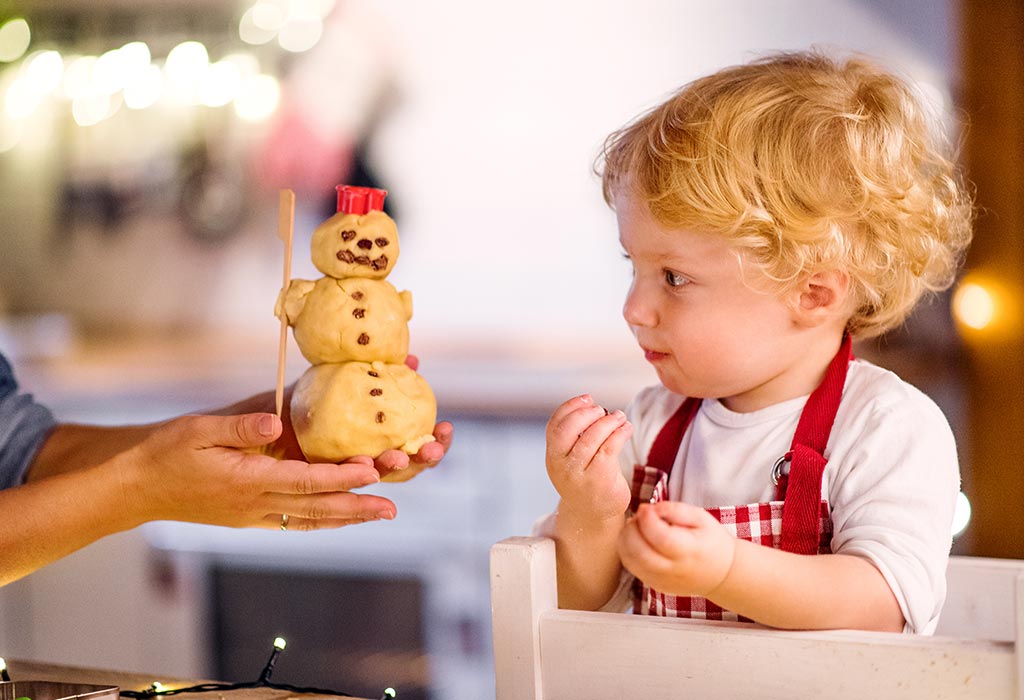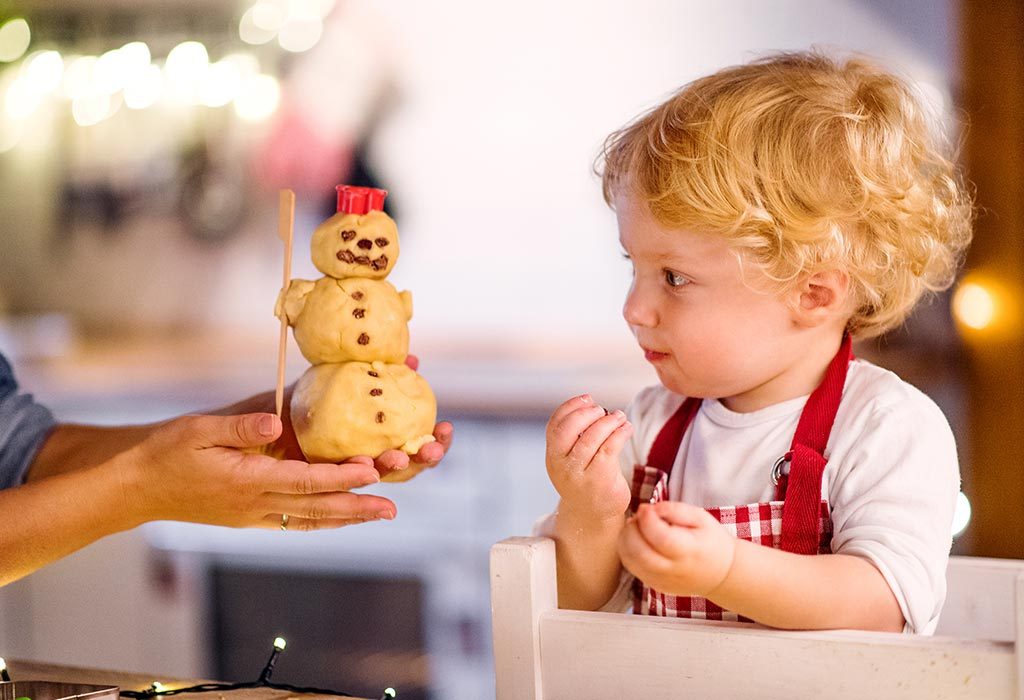 3. Watch Movies Together
Watching movies together on a cold winter evening with family or friends is not only entertaining but also comforting.
What Your Child Needs
Any good children's movie
How to
Have a nice, home-cooked meal or order in your child's favourite food
Place extra cushions and pillows on the couch for a comfortable experience
Keep some popcorn and soda handy for late night hunger pangs
Sit all cuddled up and enjoy the movie.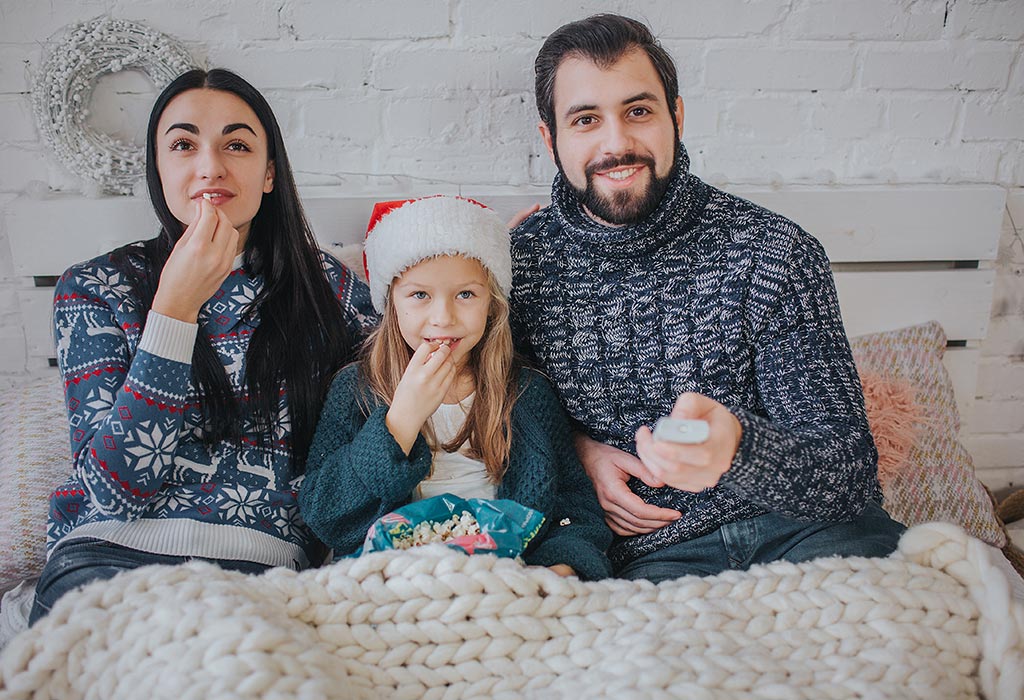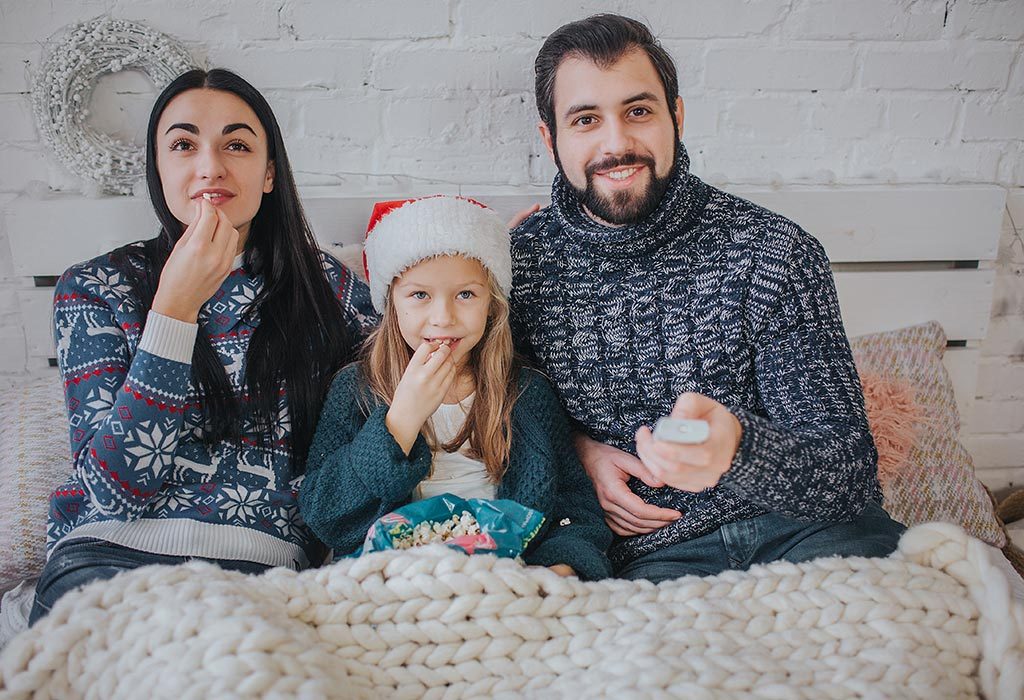 4. Make Holiday Greeting Cards With Kids
Kids like getting creative often, so this is a great time to get your little one to let out his creative genius! Making holiday greeting cards is a great winter art and craft activity for kids, and your child can make a separate one for each family member!
What Your Kid Needs
White chart paper
Colourful papers
Sketch pens
Watercolours
Glitters (optional)
Glue
How to
Cut out the chart paper in the shape of a card
Either draw or paste cutouts of various winter-themed pictures on the cards (Christmas tree, snowman, snowflakes etc.)
You can add an extra flair by adding some glitter to the card
Have your child sign the card, and post it.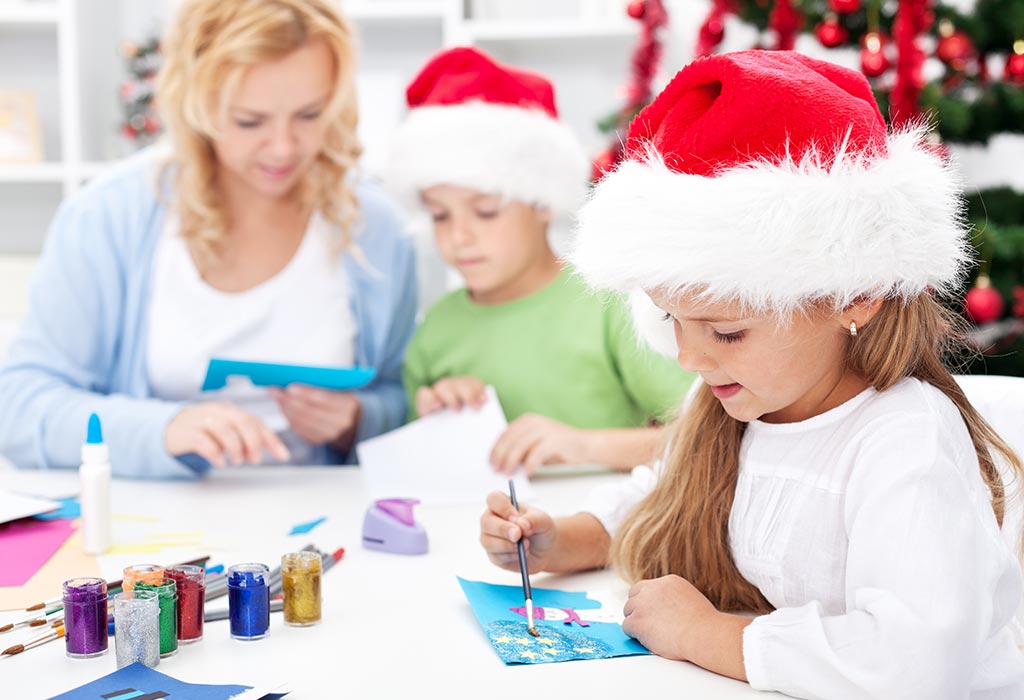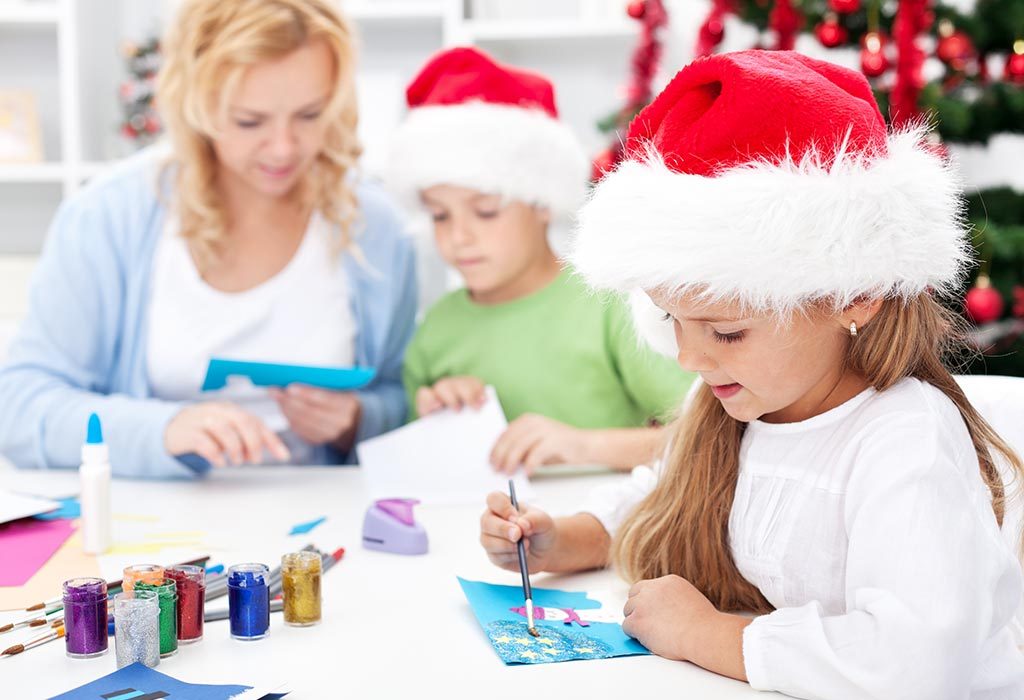 5. Snow Globe
Ignite your child's creative streak by helping him make something interesting, like a snow globe! This is one of the most fun winter activities for kids, and it can help you and your little one bond.
What Your Child Needs
A glass jar with a tight lid
Some plastic figures (hunt your kiddo's toy box for some wintry ones)
Glitter in different colours
Glycerine
Strong, waterproof glue
Water
How to
Take the lid and place a plastic figure carefully on it
Let the figure stick nicely on the lid and let the glue dry completely
Fill the glass jar with water, glycerine, and glitter.
Screw the lid on tightly, and secure it with some more glue. Once dried, flip the jar and watch your snow globe in all its glory!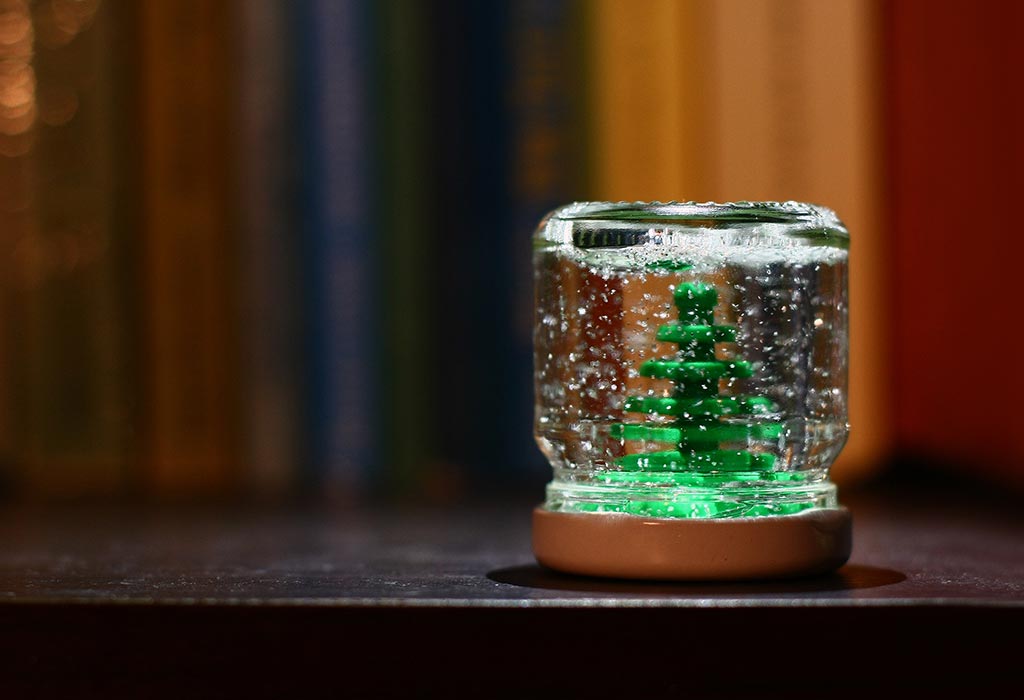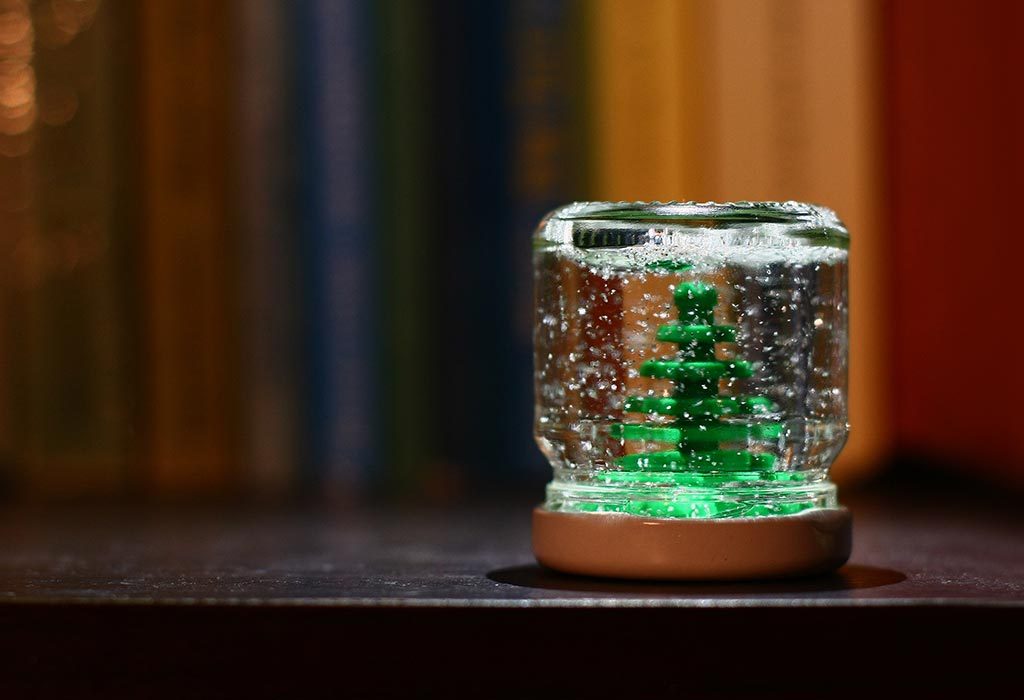 6. Make Slime
Kids love to play with slime – what better than homemade slime to spend a cold day preparing!
What Your Child Needs
300 grams cornflour
250 grams marshmallows
200 millilitres water
Food colour (optional)
How to
Take the marshmallows and put them in a microwave bowl and heat in 10-second intervals till they melt. Stir occasionally.
In another bowl, take water and gradually pour cornflour into it. Mix well.
Add the melted marshmallows into the cornflour mixture.
Add your favourite colour if you'd like. Then, add some dry cornflour to the mix and continue kneading till you get your slime!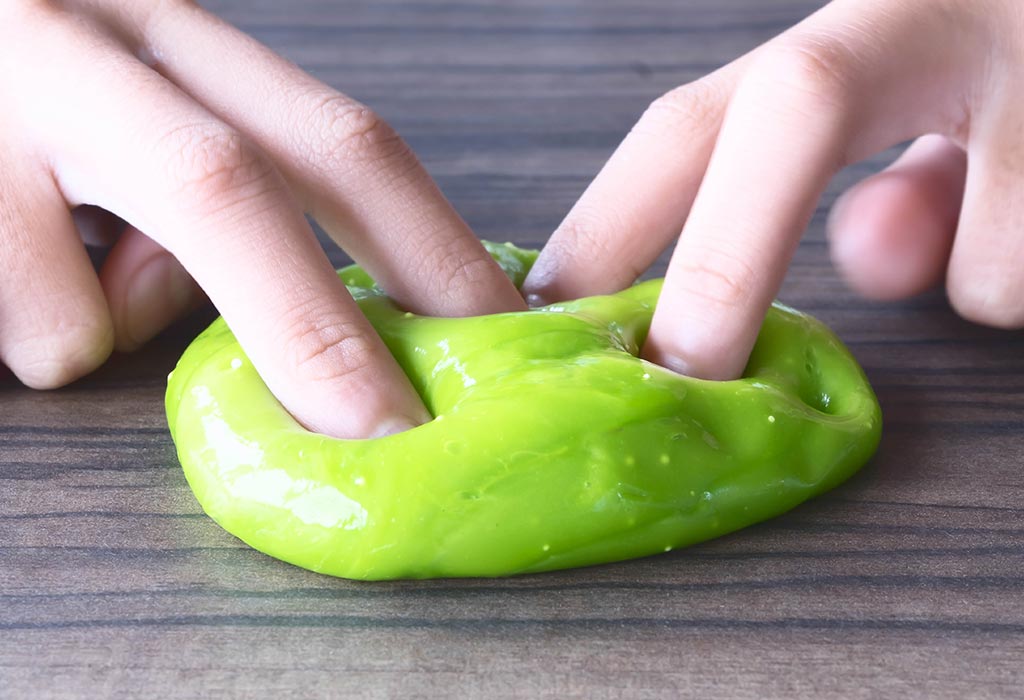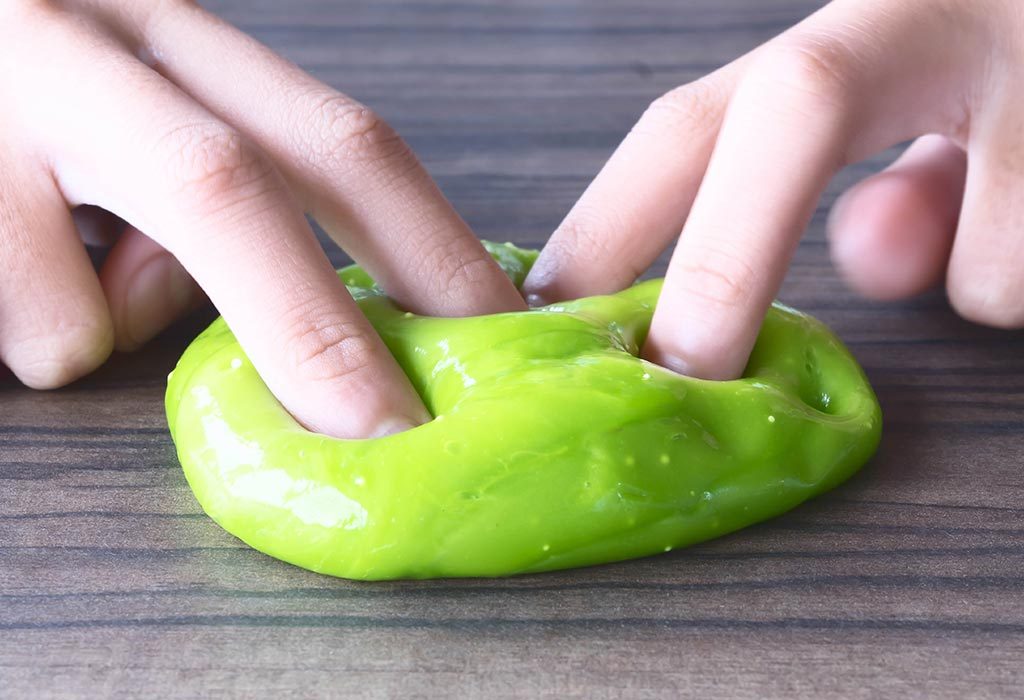 7. Have an Indoor Picnic
An indoor picnic is a great way of having some quality family time. Your kids can have a gala time, sitting together all warm and cosy with you. This makes for a fun indoor winter activity.
What Your Child Needs
Picnic basket with some goodies
Some interesting games
How to
Clear out a spot in the house and spread a rug
Place all the goodies from your picnic basket out on the rug while you and your child sit are seated
Eat, drink, listen to music and play games with your little one!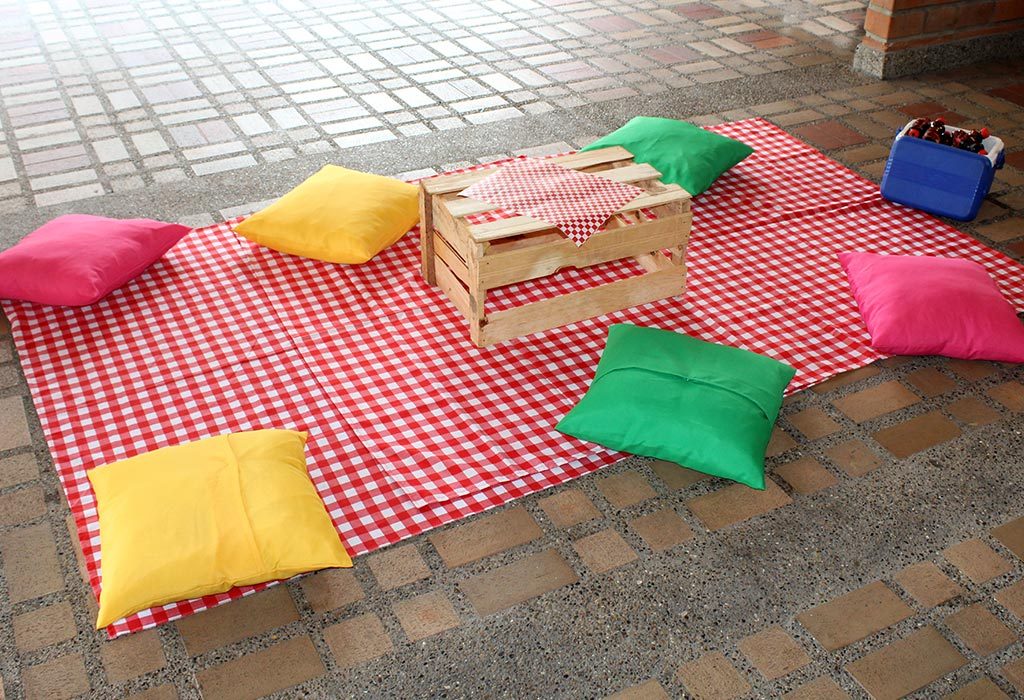 8. Let Your Kid Help You Decorate the House
With the advent of winters, every kid looks forward to Christmas and New Years. So, let your kid soak in the festive spirit – let him help you out with some Christmas decorations.
What Your Kid Needs
Christmas decorations
Lights
Candles
Flowers
How to
Let your child help you with Christmas tree decorations
You can ask your child to place candles and flowers in the various places around the house
You can even encourage your child to make his own Christmas tree decorations by giving him some coloured paper, glitter, glue, and trinkets
You can even ask your child for his opinion on where the lights or decorations should go!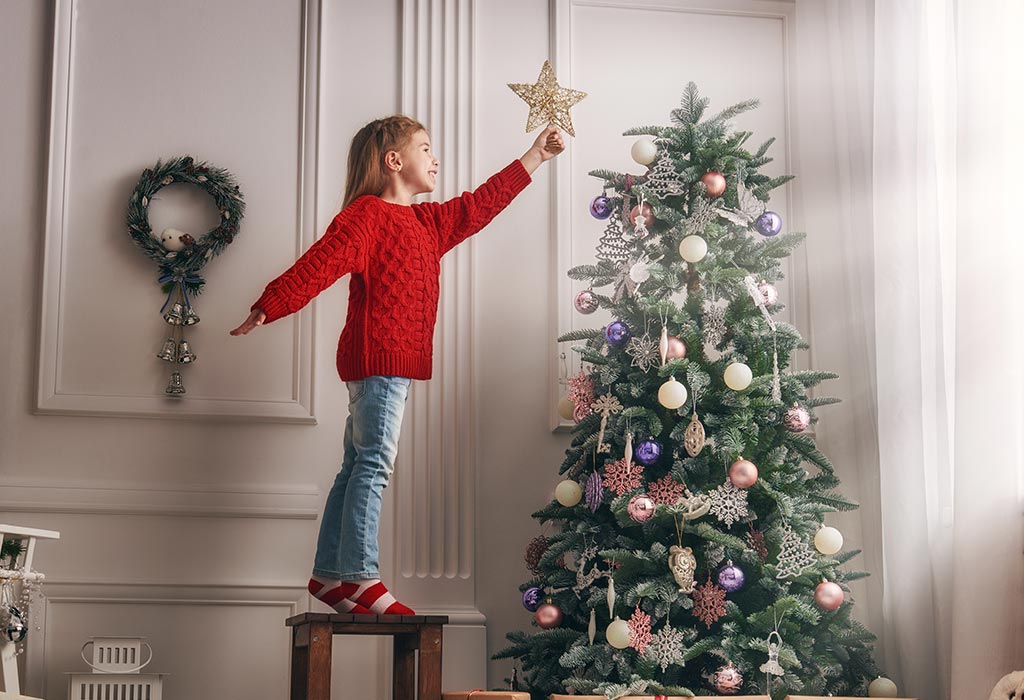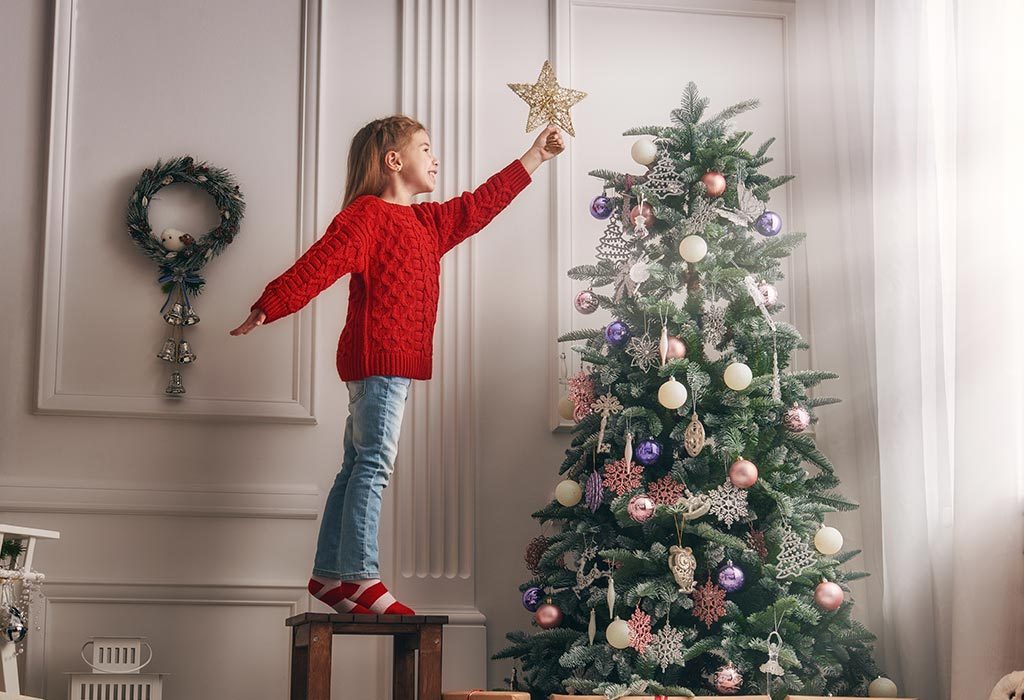 9. Ice Art
What would winter be without a fun ice art activity?
What Your Child Needs
Food-safe colours
Moulds in the shape of different figurines
Water
How to
Take the moulds and fill them with the desired coloured water.
Leave the moulds in the freezer overnight.
Take the ice figures out from the moulds.
Decorate your yard with these ice figurines!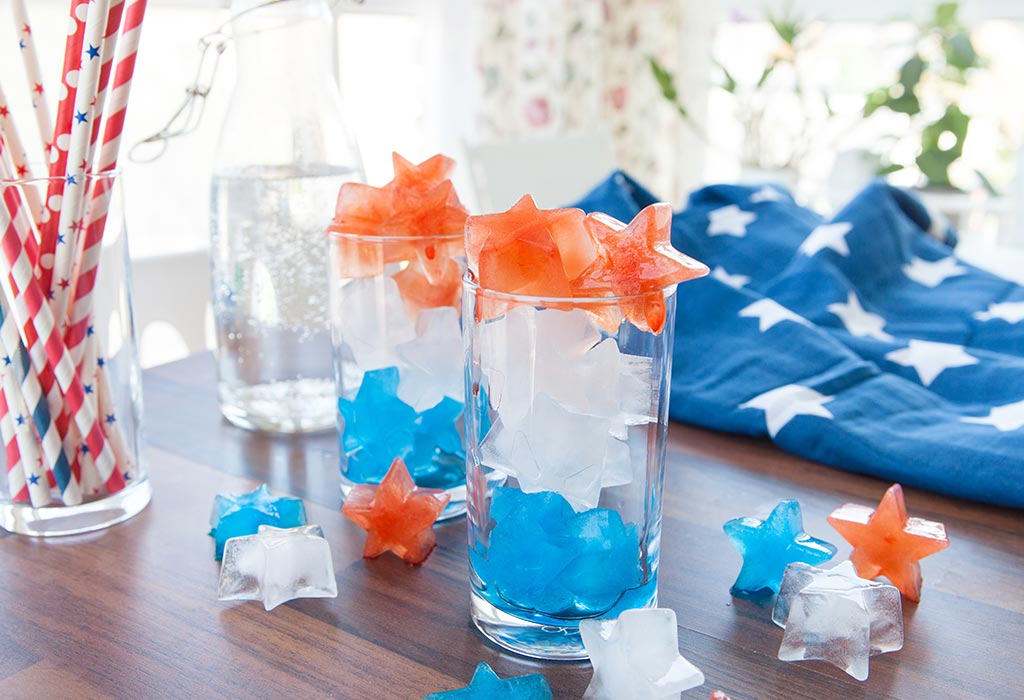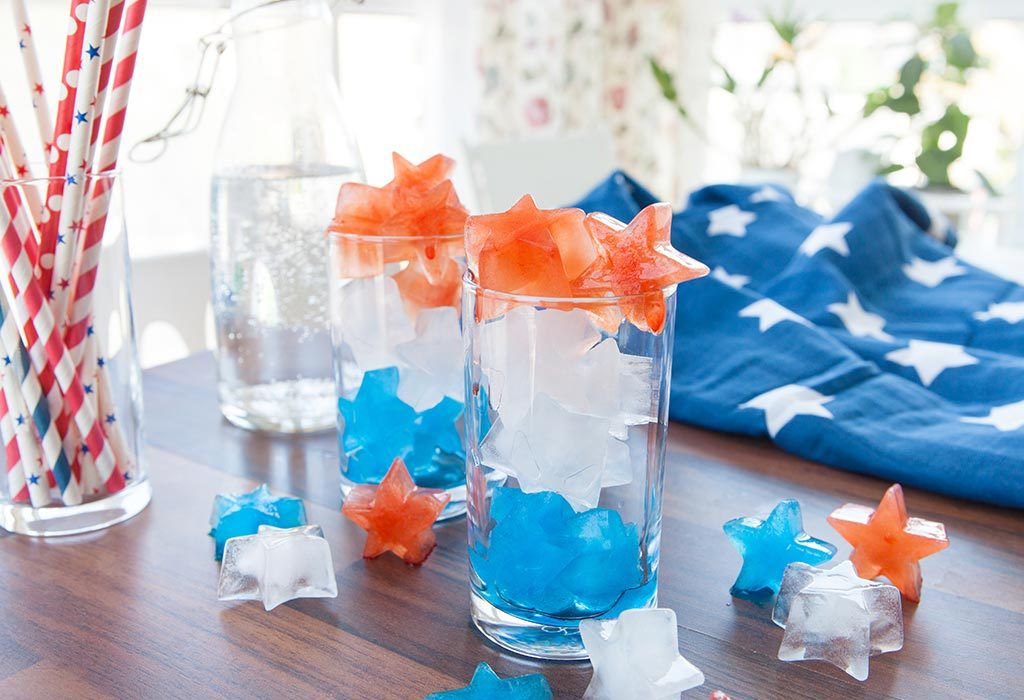 The above-mentioned ideas are some of the many fun outdoor and indoor winter activities that you can engage your kid in. You may improvise any of these activities as per your preference and convenience to have the most fun with your child.
Also Read:
Rainy Day Activities for children
Summer Activities for Children
Indoor and Outdoor Physical Activities for Child