16 Month Toddler Activities
In this Article
After a baby turns a year old, parents are in for a new lap of their little one's growth and development. From increased strength to smarter decisions, they are sure to be in awe of their little one! But, this is not possible if parents do not invest their time to build their toddler's skills. What can you do, you ask? The answer to this is – Age-appropriate Activities. In this article, we have a collection of activities perfect for 16-month-old toddlers. Plan your baby's playtime to include these fun activities, which are sure to become your favourite too!
16 Month Toddler Activities
At 16-months, babies can become more active. Their sleep patterns also change a bit; they take less frequent daytime naps. Therefore, you will need ample ideas to keep your little one engaged through the day. The ideas given below are sure to come to your rescue when you need one desperately.
1. The Tiny Helper
Toddlers 16 months and above can imitate people around them. It's the best time to teach them habits that will be useful to them, and also build their motor skills and develop their hand muscle strength. This activity will help you do just that. After his playtime, encourage your little one to help you keep his toys back in his toy box. Or, hand him a towel to wipe down his table after a meal. For a little more fun, move the location to a porch or a safe balcony and give him some soap solution in a small bucket along with a piece of cloth, and show him how to clean his surroundings. You won't get the best results, but your child will enjoy himself, and this activity will also inculcate a sense of responsibility and discipline in him.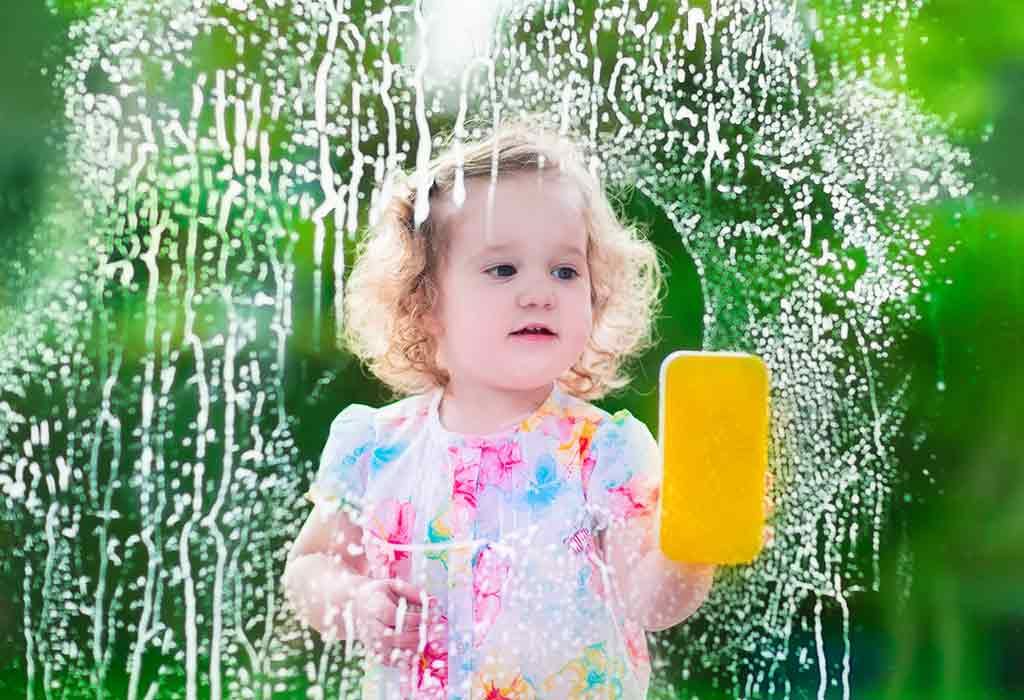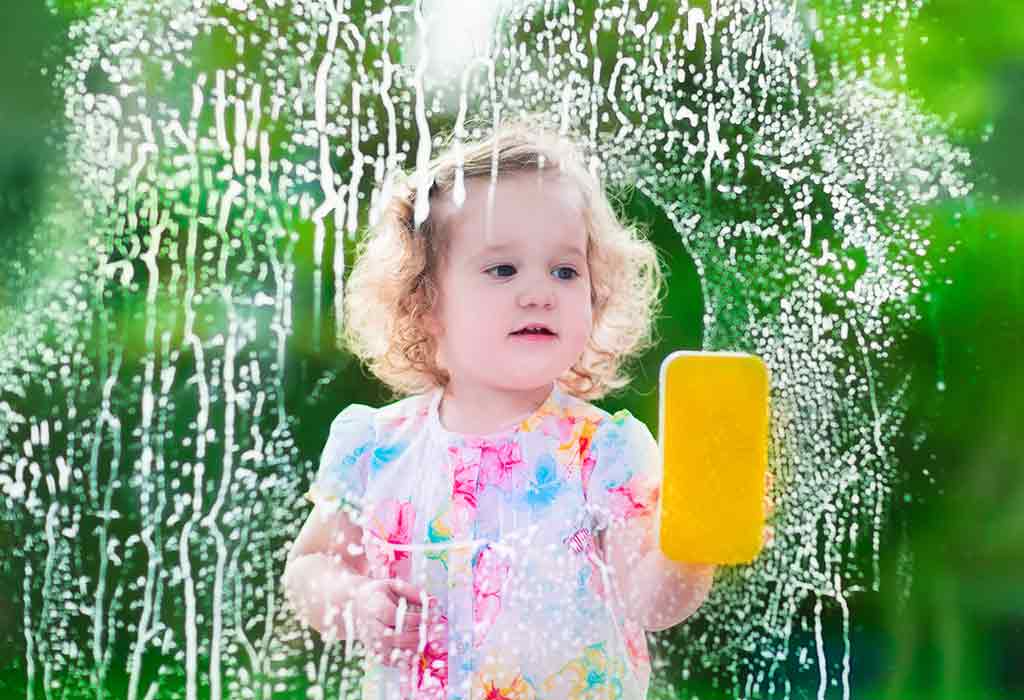 2. Reading + Role-Play
You must have read a number of storybooks to your little one. By now, your toddler must already have his favourites ready to be pulled off the shelf for you to read. This activity is a step ahead of reading. It involves role-play and can help enhance your child's learning abilities, listening skills, and improve his language too. What you need to do is choose a story and read it out loud while you prepare your munchkin to join the adventure. Dress like the characters in the story or make funny sounds to double the fun. Your little one is going to love it!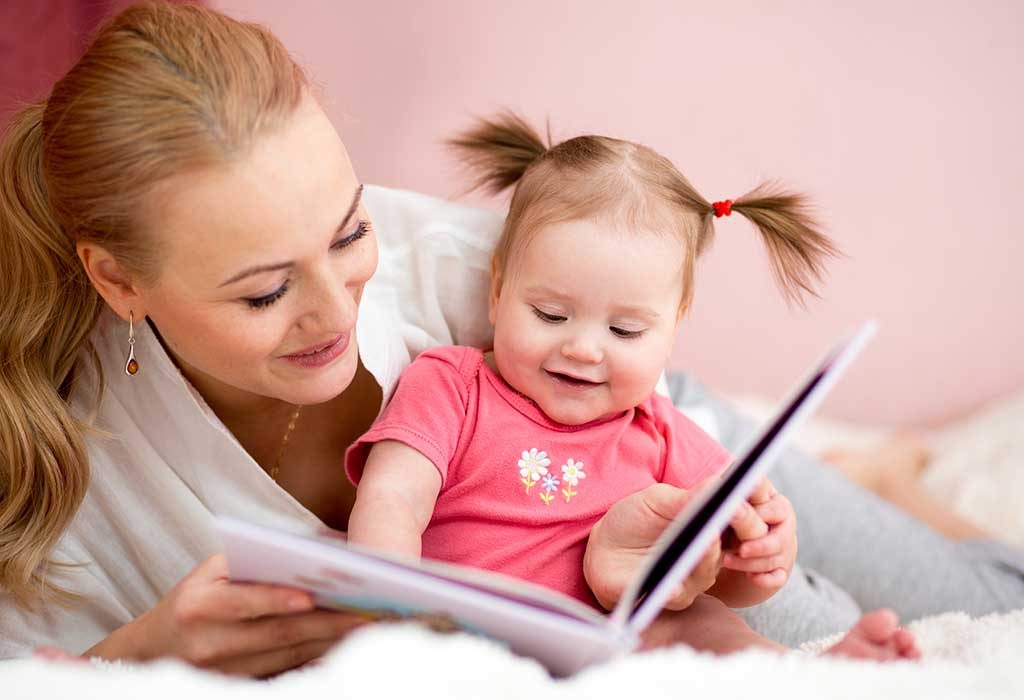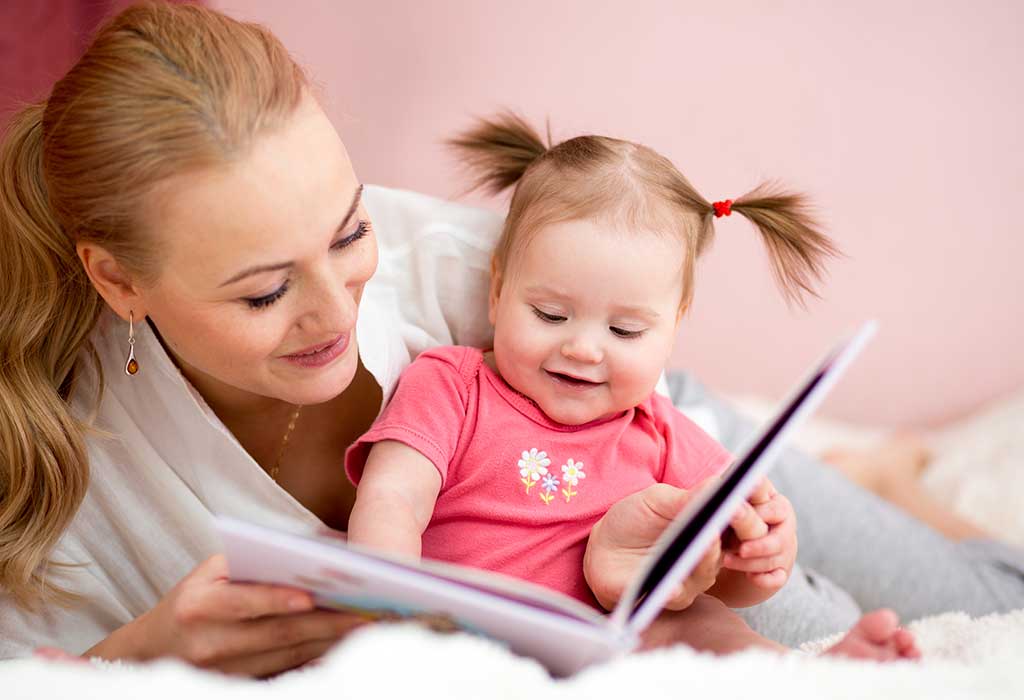 3. Musical Jam
Musical jams are our favourite because they involve music and lots and lots of fun! Get out all the musical toys you bought for your child. Don't have any? No problem. Get some vessels and wooden spoons, and dress up your little performer. Then, put on some music, and encourage your munchkin to match the beat. This activity can help improve your child's motor skills, eye-hand coordination and listening skills.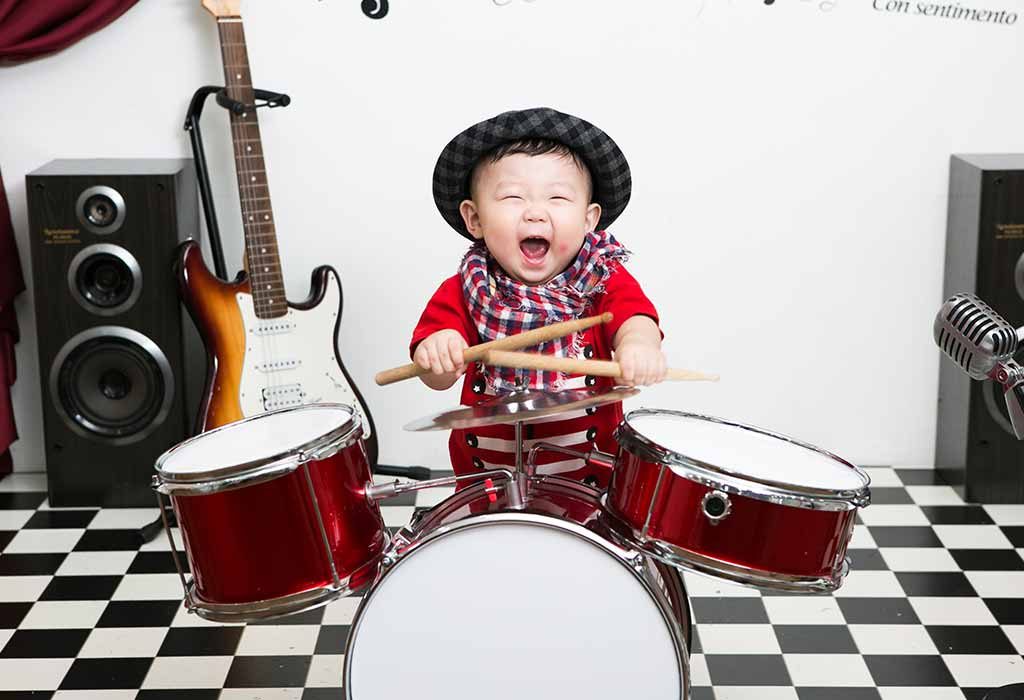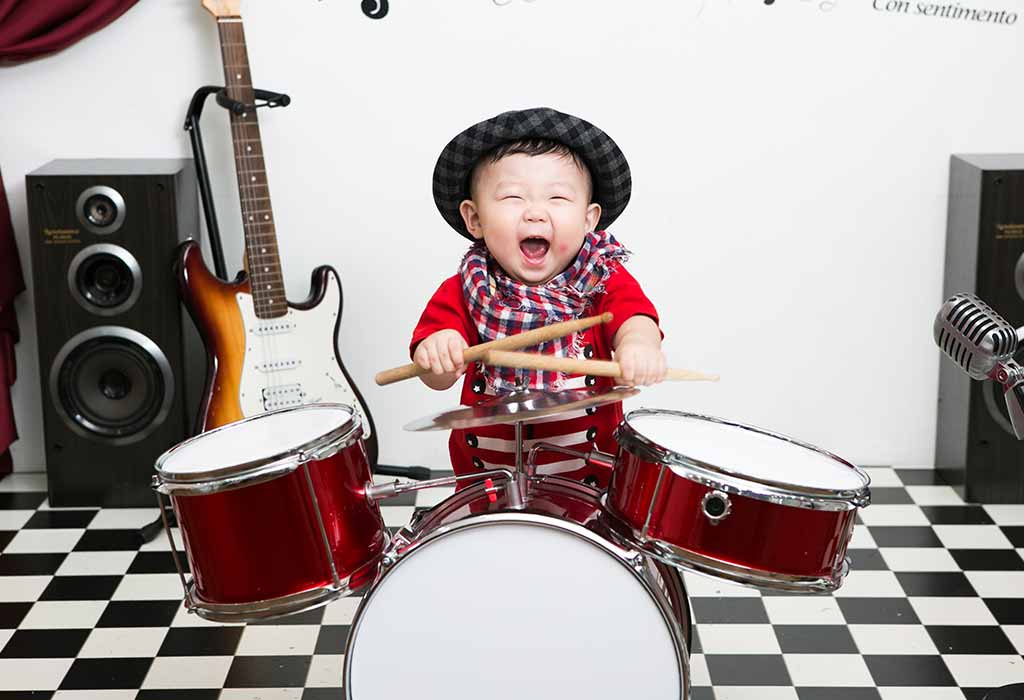 4. Water Fun
Kids love this activity, especially during hot summer days. And, you don't need any extra material to keep them occupied. If you have a baby bathtub or a baby swimming pool, you are sorted. Fill the tub halfway with water and drop some of your toddler's toys. You can also drop some wooden spoons and plastic cups in it. Let him have fun getting into the water, playing with his toys and chuckling in sheer delight! This activity is great to cool your child down, enhance his motor skills, eye-hand coordination, and strengthen his hand muscles and the upper body.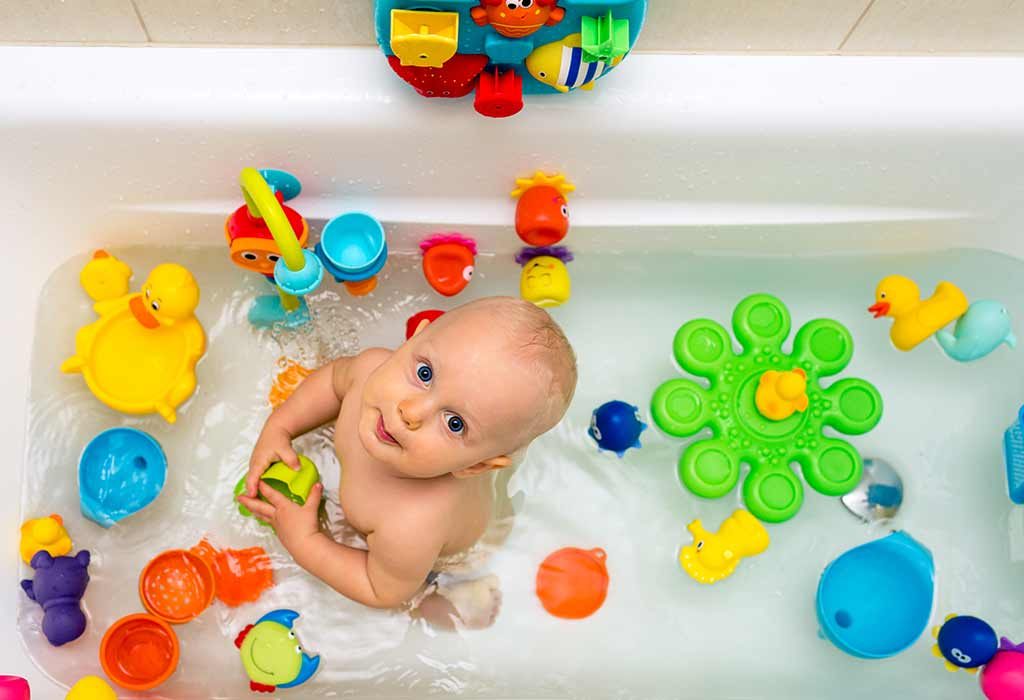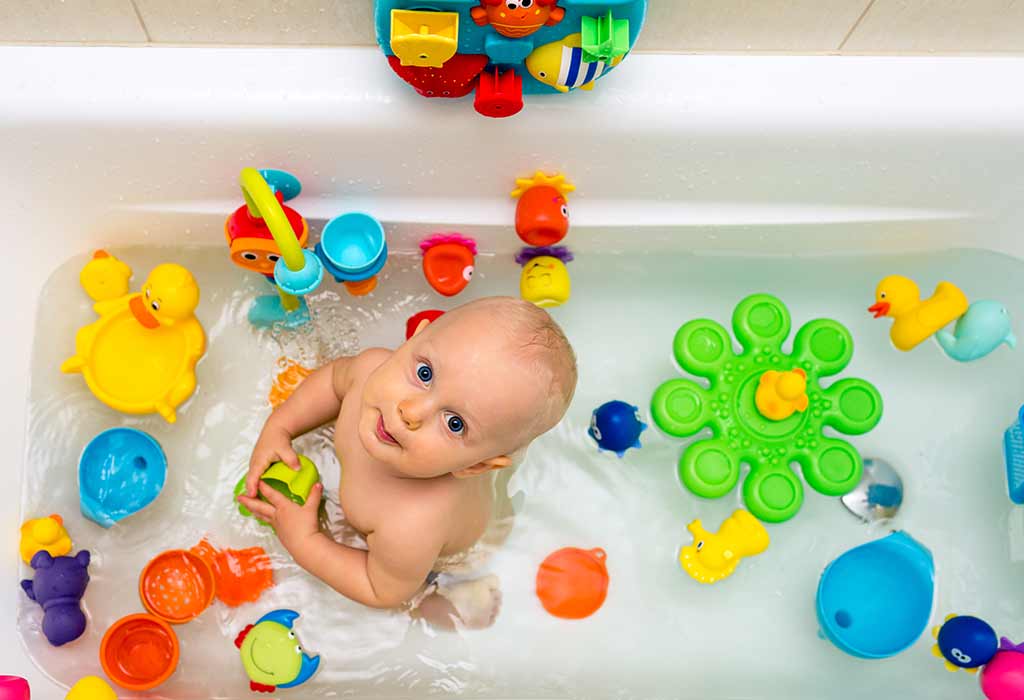 5. Passing the Parcel
This one is a classic activity to help your child develop and enhance his eye-hand coordination, focus, and motor skills. Take a ball, a stuffed toy, or a soft pillow and gently throw it towards him, preferably on his hands. This will encourage him to make an effort to catch or pick the object. Then, encourage him to throw it towards you. Throwing can develop strength in his arm muscles too.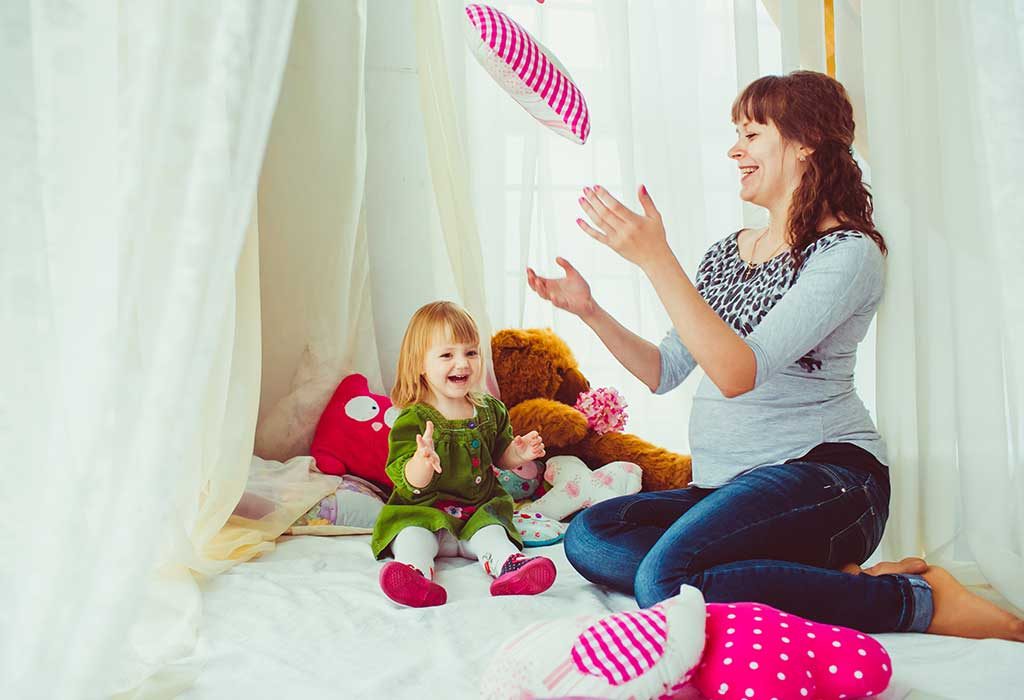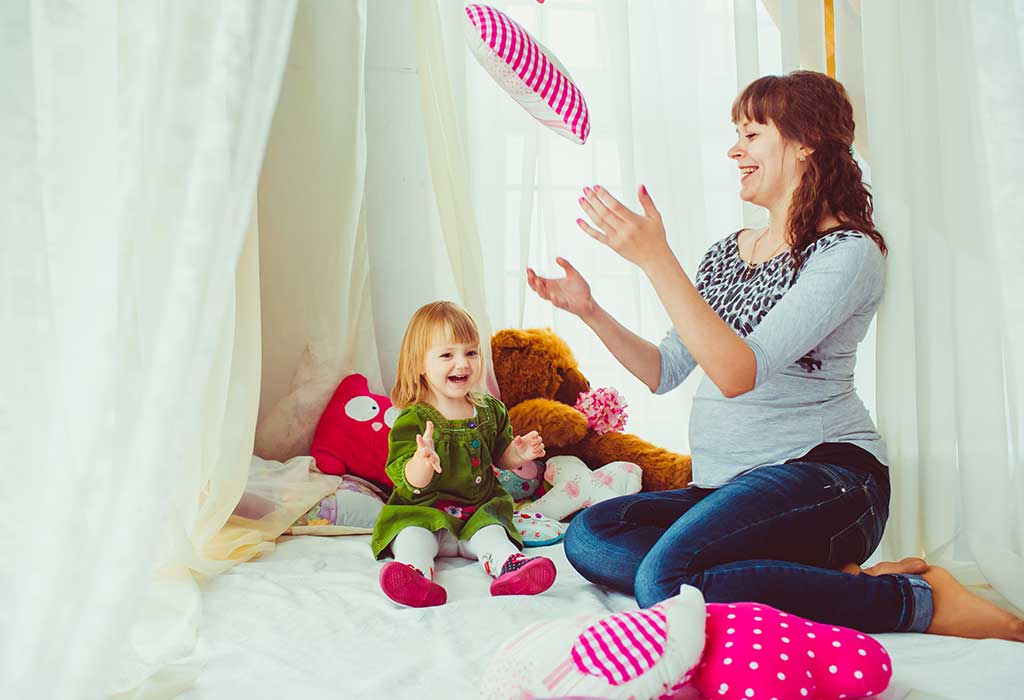 6. Sorting Fun
When you have a lot of your kid's stuff lying around, you can get your toddler to assist you in sorting things and keep them in baskets. Say, you have a load of clean laundry, and your baby's toys strewn on the floor, make two baskets, keep them about 3 feet away from each other and encourage your munchkin to keep the toys in one basket and the clothes in another. You will have to participate too and keep guiding if your toddler doesn't get it the first few times. This activity will make your child walk more, thus strengthening his leg muscles, and of course, build his eye-hand coordination, motor skills and memory. You can also say the name of the object out loud for him to get introduced to new words.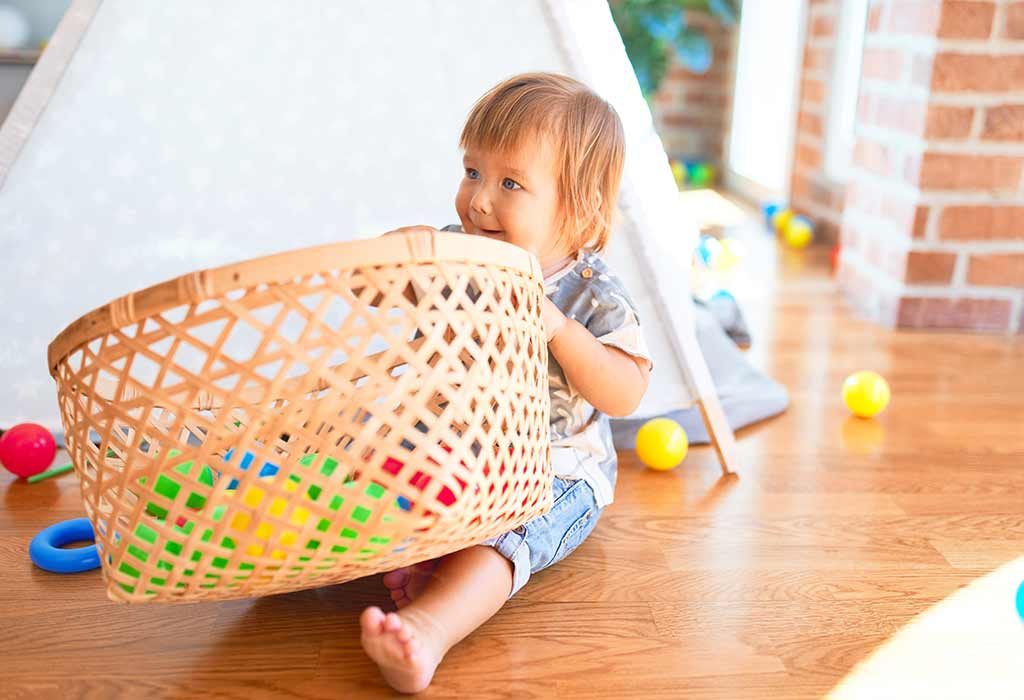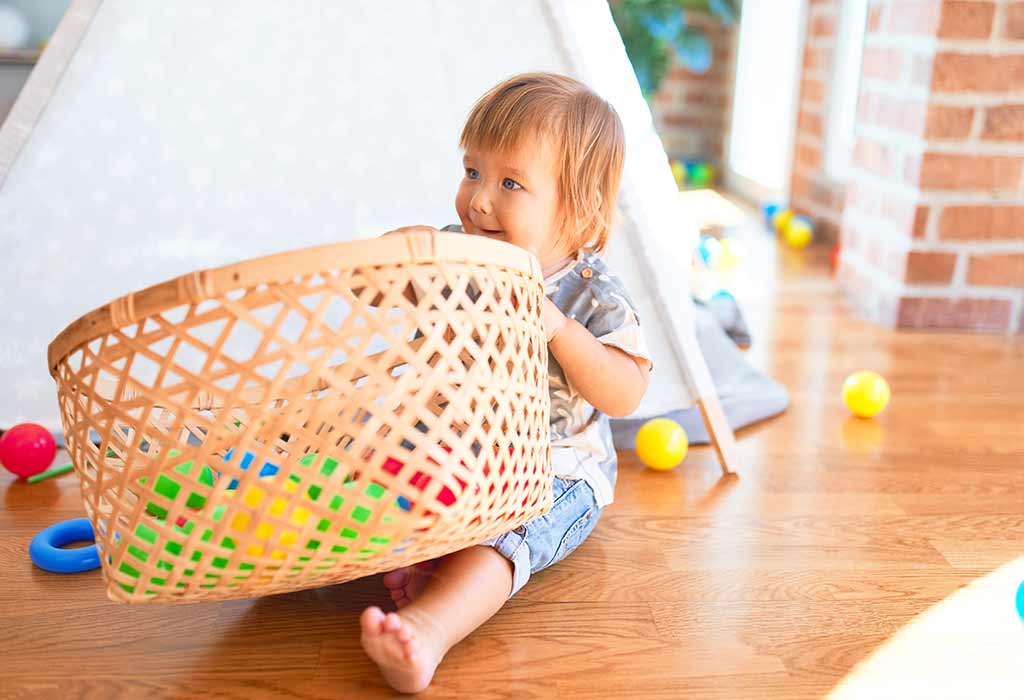 7. Bubble Burst!
Who doesn't like bubble wrap? Try this with your toddler and you and him both wouldn't have enough of it. Get a bubble wrap and clean it with soap and water to get rid of any dirt and bacteria it may hold. When it's dry, lay it in front of your child on a floor and start bursting one bubble at a time. Your toddler will begin bursting too. Let him take his time. Bursting bubbles on a bubble wrap can enhance his pincer grasp and strengthen his tiny hand muscles. To add variety to the activity, point a bubble and encourage your baby to burst it. Doing so will exercise his eye-hand coordination too.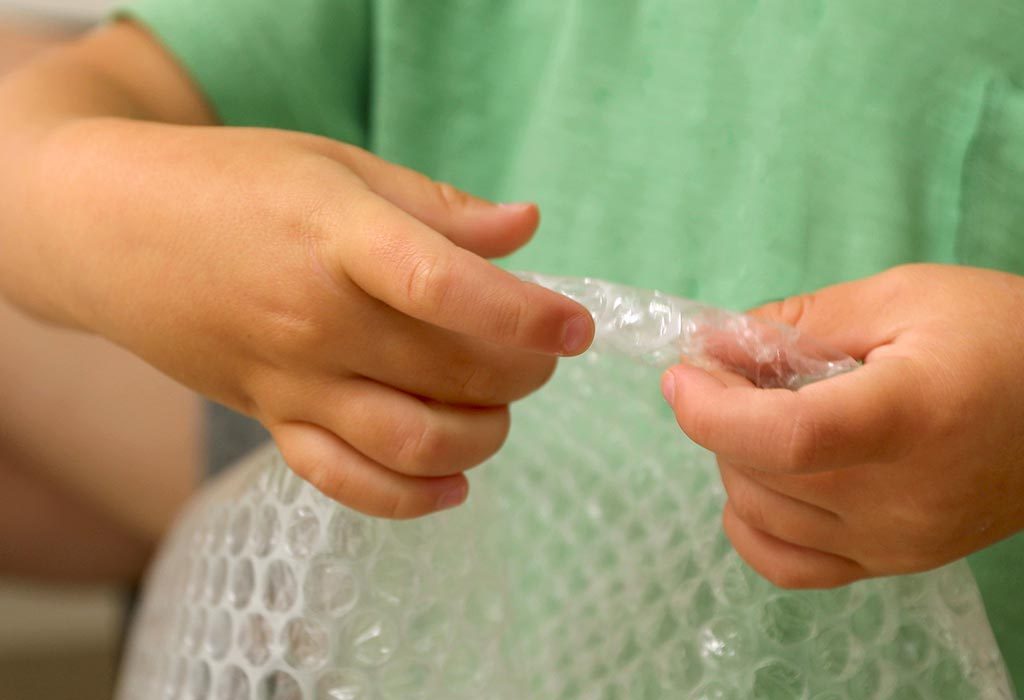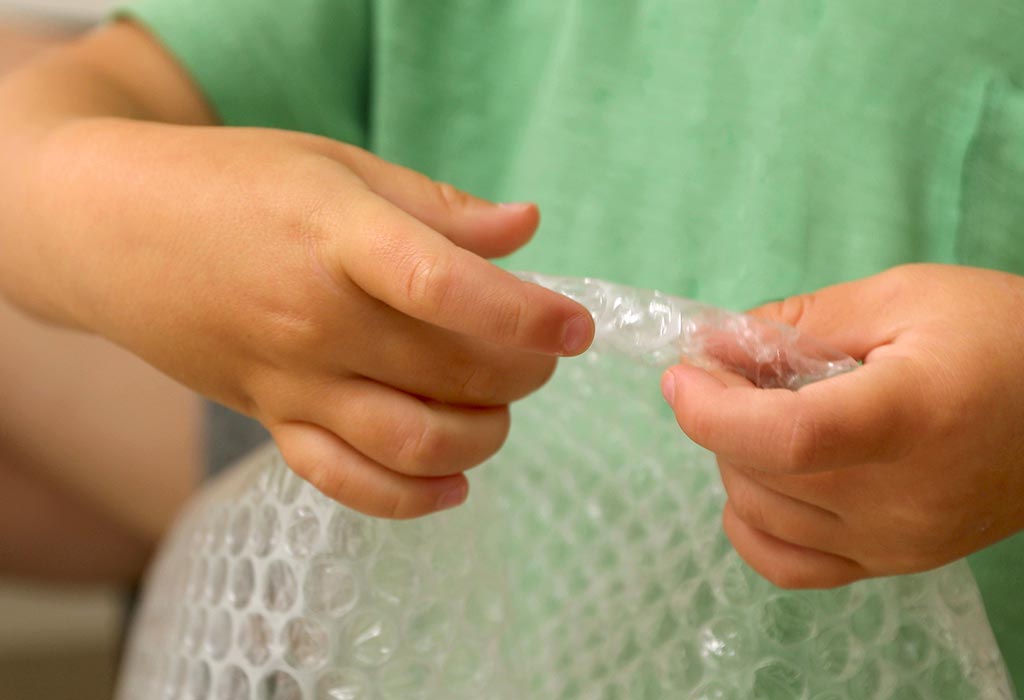 8. Foodie Fun
When you have a picky eater, you can combine food with his activities, and your toddler won't even realise he ate some. For this activity, you need some finger food or broken cereal that your little one can easily swallow. Keep two bowls in front of him – one with the food and the other one, empty. Sit in front of your little one and pick one piece of food and transfer it to the empty bowl. Continue doing it while you encourage your child to follow you. Singing a song and dancing a bit can help keep him interested too. When your toddler starts imitating you, put some food in your mouth and start chewing it. And again, encourage him to do so. Other than helping your child to eat his food, this activity will also build his eye-hand coordination, listening skills, motor skills, and language.
9. The Little Palaeontologist
This activity is a fun way to enhance your toddler's observation and motor skills. All you need is a tray, some toys, and some colourful tissue paper. Scatter three to four toys on the tray and lay a few sheets of tissue paper to hide them. Place a few more toys, and lay some more tissue paper on it. Create one or two more layers this way. Start with touching the tissue on the tray to search for a toy and pull it out. Continue doing it till your child follows you and starts searching and pulling out the toys. Keep a large bowl or a basket next to the child for him to drop the toys in it.
10. Water Painting
This type of water painting doesn't require any paint. All you need is a small bowl of water, a paintbrush and some construction paper. Ensure you have your child's attention when you dip the paintbrush in the water and paint something on the paper. Then, hand the brush to him and let him paint. Holding the brush and painting is not only a therapeutic activity, but it also strengthens the grip, enhances eye-hand coordination, and creativity.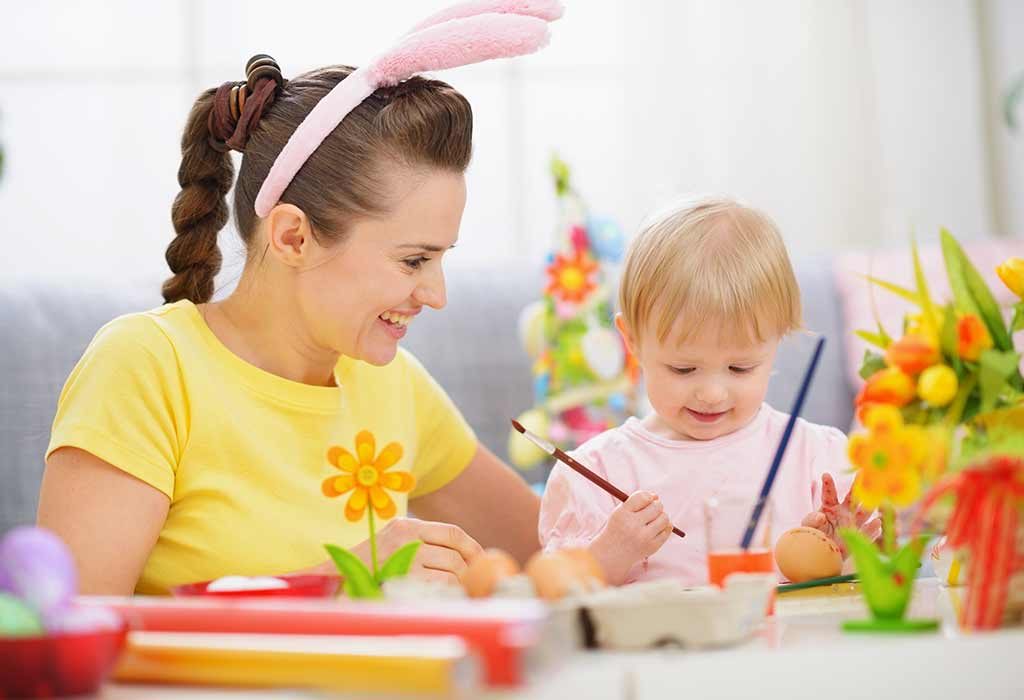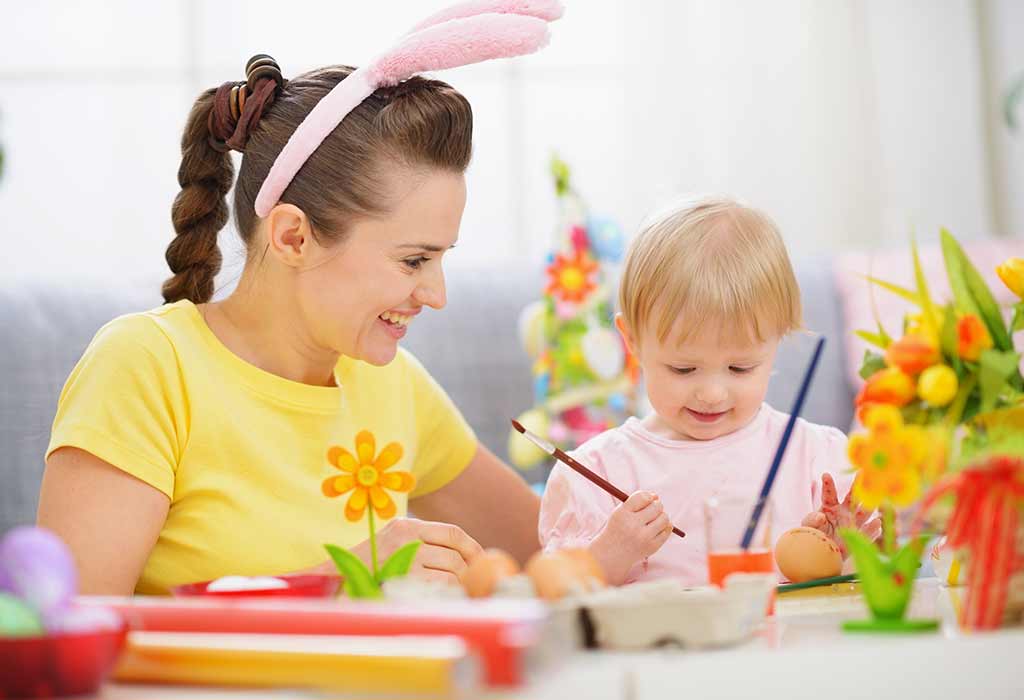 Children grow up fast; therefore, make the most of the time by spending enough with your 16-month-old toddler. The activities given above will not only help your little one physically and mentally, but they will also help strengthen the emotional bond between him and you. Give them a try and let us know if your tiny tot enjoyed them.
Previous Month: 15 Month Old Baby Development and Activities
Next Month: 17 Month Old Baby Development and Activities