15 Awesome Summer Camp Activities For Kids
In this Article
Throughout the academic year, there is hardly any opportunity for children to spend time outdoors; summer vacation is one time of the year when they can experience the soil with their hands, the sun on their faces and the grass under their feet. Precisely for this reason, summer camps are a popular engagement during the vacations; however, it is vital to pack their time with fun and exciting summer camp crafts and outdoor activities.
Fun Summer Camp Activities for Children
Below a list of 15 activities that can make their summer vacation fun and educational at the same time for your children.
1. Nature's Treasure Hunt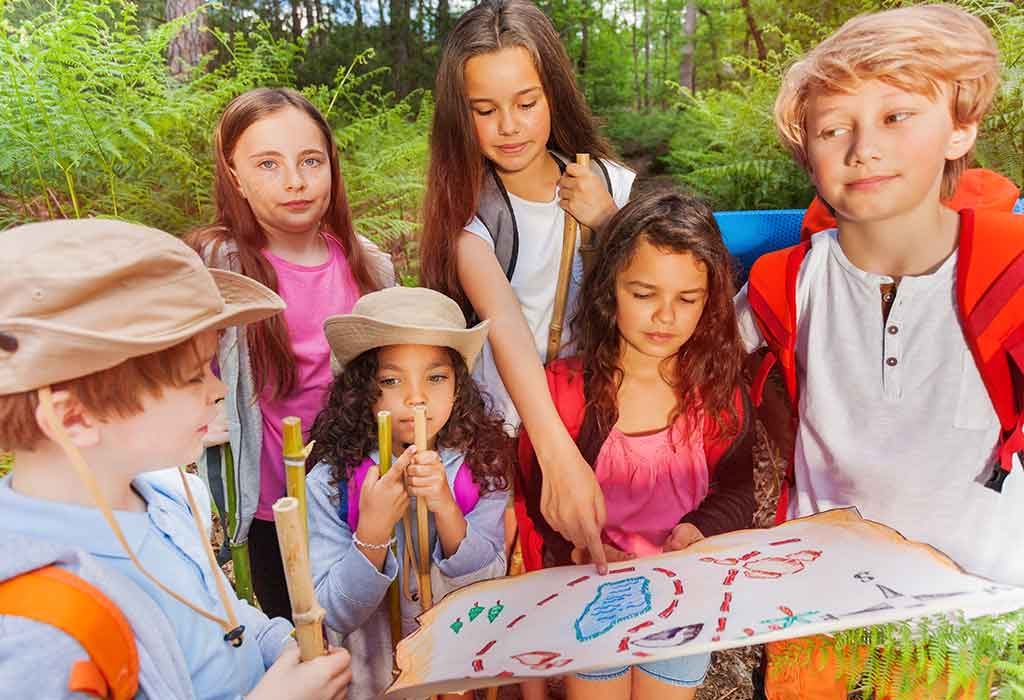 What You Will Need
Botany books of appropriate age
Small boxes made out of leaves or small cardboard boxes and camouflage them with painted leaves
Small paper cut-outs to pen down clues
A4 size craft papers to draw the maps for the treasure hunt
What to Do
Create a theme-based Treasure Hunt.
Look for clues based on flower names, identifying leaves, identifying plants, etc., taken from a specific book which the children can use as a reference to solve them.
Identify plants/flowers/spots throughout the route of the treasure hunt to hide clues.
Write the clues based on the small cut-outs and place them in small boxes. Hide these boxes at the decided spots.
Make copies of the map that the children will need to trace. Hand each team/player a copy of the book for clues.
Identify a particular spot to plant a tree or a bush as an award for winning the Treasure Hunt and name the tree after the winners. It is one of the most exciting summer camp games for kids.
2. Outdoor Scrabble
What You Will Need
Thick Craft Paper/Construction Paper
Black Marker/Oil Paint/Water Color
Pencil & Paint Brush
Rope
Small wooden posts (even numbers)
A cardboard box
What to Do
Use the craft/construction paper, black marker/paint, and a paintbrush to create letters of the alphabet and score them with points like in a game of scrabble.
Fold the paper in such a way that the letters are displayed on one side, and the back is blank.
Put all the letters in the cardboard box to be picked up by the players later.
Use the wooden posts to tie the rope on both ends and create as many playing stations as needed. Place the playing stations in a circle keeping the space empty in the middle for the game.
Use the rope to hang letters picked up by a team or single player such as the opponents can't see the letters.
Simplify the scoring system by doing away with bonus points since the game will be played in a park or a lawn (outdoor) and not on board.
3. Obstacle Course – Relay Race
What You Will Need
Wooden logs (not too heavy) to create different obstacles
Creepers from old trees around the campsite
Ropes
Locate a water body (shallow) if possible near the camp
What to Do
Use whatever is naturally available at the campsite to create obstacles – like wooden logs to create a small bridge over any water body that is available, Use strong creepers to create a loop that kids can cross through, Place a wooden log on two stones on both sides that children can jump over, etc.
Divide the children into teams and assign different names to each of the groups.
Each participant will be placed at different positions throughout the course for the relay.
Set an appropriate award for winning the course.
4. Camping Hacks
What You Will Need
List of outdoor hacks that you can Google
Items specify in those activities
What to Do
Organize a session with the camp masters displaying different ways of expertly pack items needed for a camp.
Demonstrate how to prevent their electronics from getting water-damaged.
Demonstrate how, with the help of their parents, kids can create safe containers for toilet paper, tin burners, candle stands, and other useful tools for camping.
Create a checklist of things that children should keep handy at a camp, such as an insect repellent, first-aid box, a torch, etc. It could be organized as a summer camp indoor activity.
5. Movies under Open Sky
What You Will Need
Projector
A white bedsheet (for an earthy feel)
Rope
Two wooden posts
What to Do
Hoist the white bed sheet from two sides on the two wooden posts. Remember to secure the two loose ends of the sheet with boulders or big stones.
Place the projector at a suitable position and select age-appropriate movies.
Remember to provide camp-side snacks like roasted marshmallows or popcorn to the children.
6. A Soap Volcano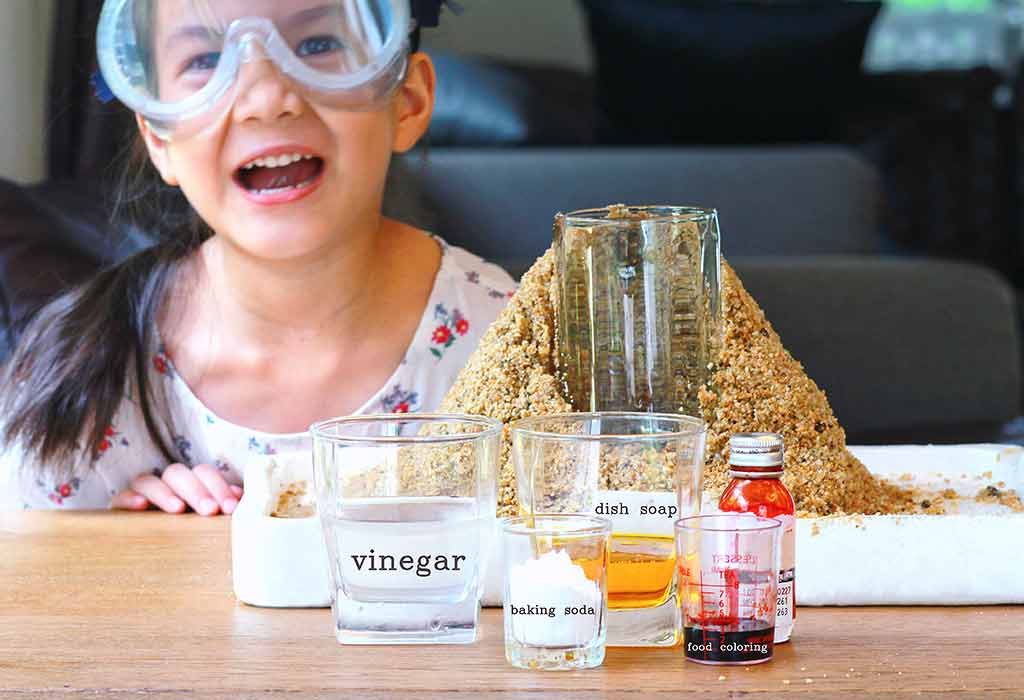 What You Will Need
A long table
Vinegar
Water
Dish soap
Empty Soda Bottle
Food Color
Baking Soda
What to Do
Divide the children into pairs. Ask them to line up with their partners against the table.
Pour the vinegar, dish soap, water, and two drops of food colour.
Make baking soda slurry.
Pour the slurry in the solution and wait for a colourful eruption
7. Spray Painting
What You Will Need
Cans of fabric paint
Sprays or big brushes
White T-shirts
Wooden posts and a rope
What to Do
Stretch the rope on the two wooden posts and hang the t-shirts on it.
Provide the kids with colour cans and brushes/sprays.
Let the t-shirts dry and hand them over to each child later.
8. Rubbing Art – Crayons or Pencil Color
What You Will Need
Crayons and Pencil Colours
Different objects from the surroundings – leaves, tree bark, flowers,
Art paper
What to Do
Create a heap of objects from the surroundings at the campsite – pick up leaves with different patterns, flowers, tree bark, stones with textures, etc.
Use crayons or pencil colours to trace out the patterns and textures of different objects on an art paper.
Ask the children to create different artwork and organize a small award ceremony for the best art produced. Out of all the summer camp arts, this one is unusual and exciting.
9. Outdoor Twister
What You Will Need
Water Colour/ Spray Paint/House Paint – primary colours
Cardboard box
A pair of scissors
What to Do
Cut one side of the cardboard into a circle
Use the paint to trace out circles of different colours on the ground in rows, preferably on some soft ground with grass coverage. Fill up the circles with the respective colours.
Kids have to place either their hands or legs on these colours. It is a fun activity that also enhances hand-eye coordination.
10. Talent Show
What You Will Need
A stage/a platform – in case one is not available, use a carpet to create a path for the talent walk
Speakers
Chairs
Audio System
What to Do
Ask the kids to choose a particular act that each one of them wants to perform; it could be a magic show, anything related to music or dance, a one-act play, storytelling, recitation, etc.
Make available any props that they might need for their performance.
Make sure the list of music is appropriate for each of their acts.
11. Slime Making – A STEM activity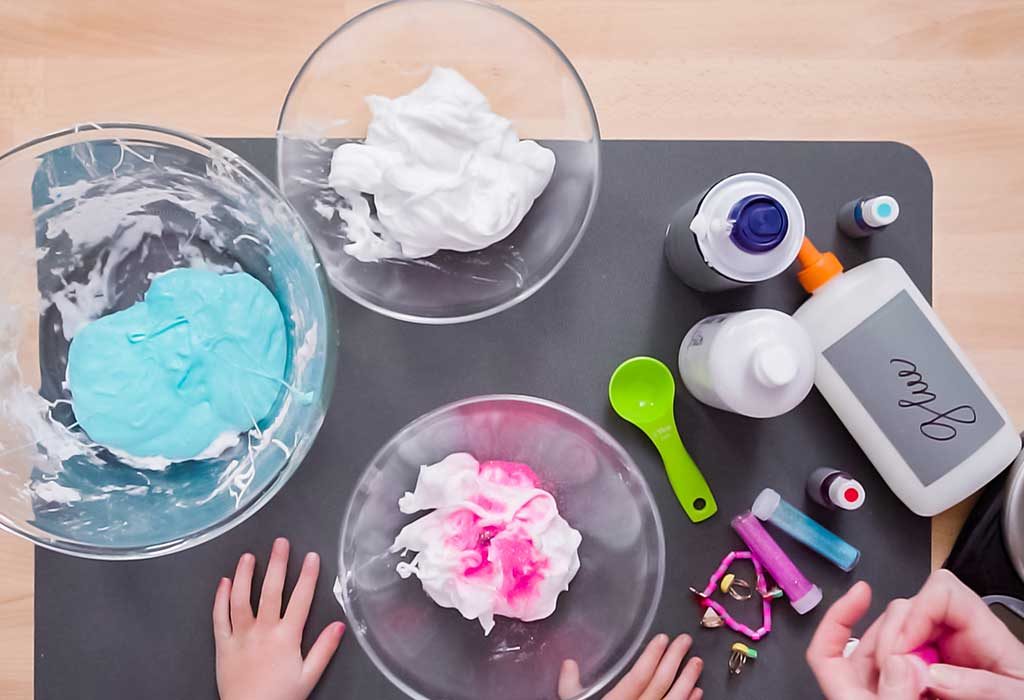 What You Will Need
Slime glue (clear/PVA glue)
Slime activator (Borax powder/saline water and baking soda/liquid starch)
Food colour
Glitter/styrofoam beads/fishbowl beads/or any other decorative item(s)
Mixing bowl, spoons, and measuring cup
What to Do
Mix ½ cup of washable PVA glue and some water in a bowl.
Add ½ tsp of baking soda to the mix.
Add food colour/glitter or both to the mix.
Take 1 TBL of saline water and it to the coloured mix.
Mix and whip all the ingredients till it becomes thick, and the slime is formed.
You can add beads, Styrofoam, confetti, other accessories to make it crunchier.
12. Story Telling Around Bonfire
What You Will Need
Logs for the fire
Some sort of a catalyst for the fire
Big rocks
Marshmallows on sticks
What to Do
Create a circle around the fire with big stones.
Ask the children beforehand to write stories of a particular length.
Each child can narrate her/his story in the circle around the glow of the fire.
13. Hats from Paper Plates
What You Will Need
Paper Plates
Scissors
Water Colors, Sketch Pen, Oil Paints, etc.
Craft/Art Paper
Pencils and Brushes
What to Do
Ask each child to create innovative designs for a hat with the paper plates. Cut the middle portion of the plates out, keeping the rim intact.
Ask them to use different paper cut-outs, colours, and their wacky imagination.
14. Friendship Bracelets
What You Will Need
Stretchable strings (different colours)
Beads (different shapes and sizes)
Pictures of DIY bracelets for children to refer to
What to Do
Tie the different colourful strings into various kinds of knots and combinations to create wrist bands. Ask them to see to the pictures to help them with their creative ideas.
Create variety by using beads and buttons to decorate the bands.
Children can tie these bracelets to each other. It encourages a friendly environment among the participants and can be used as an ice-breaker.
15. Water Dodge Ball
What You Will Need
What to Do
Divide the children into teams. Assign a particular colour to each team.
Fill the balloons with coloured water. Make sure they are soft to ensure no mishaps take place. Also, a volunteer should supervise this game, and only children of a certain age are allowed to play this water game. This could be a great rainy day summer camp activity.
You could include all or only a few of these activities depending on the camp duration and the nature of the camp. However, each one of these activities can help you in organizing an exciting and fun-filled summer for your children.
Also Read:
Benefits of Summer Camp for Kids
Fun and Easy Summer Activities for Kids
Why Your Child Must Attend Summer Camp