Fun Monster Craft Ideas for Kids
In this Article
Monster crafts are fun, crazy and there is not a single defined way to make them. The monster your child makes can have ten arms or five eyes. These crafts are a perfect way to build your child's imagination. Also, if you are not the creative type of a parent, worry not because the monsters are already ugly. So, put on your creative caps and start exploring these easy monster craft ideas at your home.
Colorful Monster Crafts for Children
With the increasing use of technology for education and gaming, it is difficult to keep your child away from gadgets that harm their mind and body. Also, this competitive era demands your child to be creative and smart. This requires that your child gets into creative things at an early age. Creativity from childhood will make them self-aware and provide expression of thought. They become better problem solvers, and it turns out to be a method of stress relief as well.
Monster crafts have become quite famous these days since they are easy to make. We have curated 7 monster craft for preschooler ideas that you will surely love. Let's get started!
1. Monster Rocks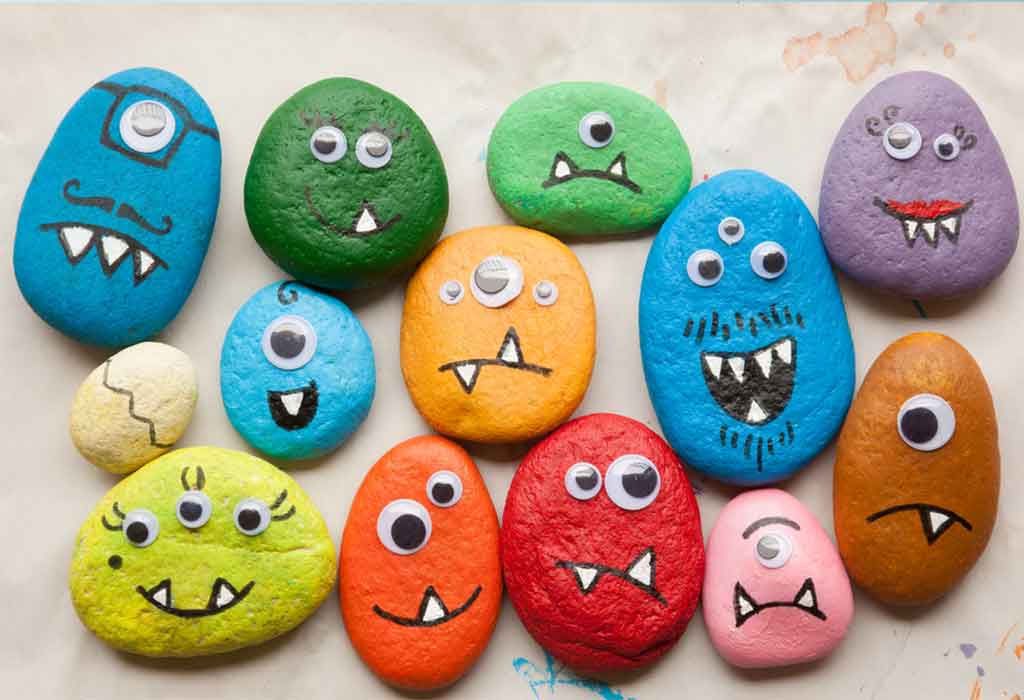 Creativity on the rocks started in the early ages. Most of our historic things were carved on rocks and were known as rock. These days it has again become a trend. This is because you can easily find flat rocks around you. Also, your kid will love to see how a plain simple flat-rock turns into a beautiful, cute monster. You can also use these rock pieces as decoration items for your living room! Let us just check out all things you require for this monster craft.
Materials Required
The requirements are pretty simple, and most of the things must already be present in your craft closet. So here's the list:
Flat rocks
Acrylic paint
Paintbrush
Black marker
Googly eyes
Hot glue gun
Instructions
Let us now know how to make a monster craft on flat rocks:
Make your child paint all the rocks with different colors.
Let it dry out.
Once the paint dries, draw mouth and teeth.
Glue the eyes on it.
Your monster is ready!
2. Recycled Tin Can Monster
Tin cans get thrown away each day. Why not make something fun and interesting out of these. The child will understand and get into the habit of putting up best out of waste. This way, their imagination power will get a boost. Also, this project puts into use multiple materials like tissue paper, fabric, yarn, etc. So, let us check out how to go about it.
Materials Required
Felt or fabric sheets that are easily available on any e-commerce site.
Tin cans
Hot glue
Googly eyes
Instructions
This is how you can make your cute tin can monsters:
Put glue over the tin cans with the gun.
Now cover the cans with felt and paste the googly eyes as many you want.
Cut out teeth, mouth, horns, hair, etc., from the felt sheets.
Paste the feature cutouts over the covered can.
And you are done!
3. Monster Shapes
This project will not only let your child have creative time but teach him/her the basic shapes, colors, and counting. If you think your child is big enough to know about all this, then he/she can create this on their own and surprise you with their creativity.
Materials Required
Craft paper
Glue
Scissors
Instructions
Let us now see how this educative yet fun monster craft can be made in steps. Steps to be followed in order are:
We are making six shapes for this project.
All are basic shapes that can be drawn and cut out easily. These are oval, square, circle, heart, pentagon, and square. You can add a rectangle and a hexagon if you want.
Cut different color craft sheets in desired shapes.
Now cut the monster features like eyes, teeth, mouth, arms, etc., in a specific shape.
In our project, we have used semi-circles for the mouth, small triangles for teeth, and big triangles for the nose. A big circle is cut out for the outer circle of the eye, and a small circle is cut out for the pupil inside the eye. Rectangular strip cutouts are required for making arms and legs.
Now glue each feature to all the shape monsters as you like.
Glue the arms of each monster to each other to form a chain.
This will help you display your child's artwork nicely and feel proud!
4. Handprint Monster Craft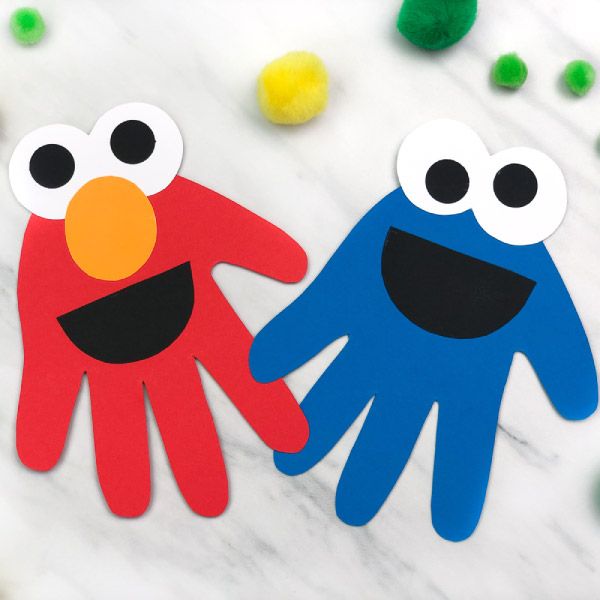 Each parent will agree that your child turns to be a monster sometimes. But you love your monsters way too much. That is why you will love this DIY monster craft idea as well. Your kids will love them too because it uses their handprints. Also, you can use these handprint cards for gifting on various occasions. I can feel the excitement already, so let us know more about them without much adieu!
Materials Required
The things required for this project are:
Colorful cardstocks: These are easily available online, and we will be making 4 handprints here.
Googly eyes: A lot and of different sizes.
Black marker
Glue
Instructions
Do the following steps in order and enjoy:
Fold the cardstock sheet in half.
Trace your child's palm over the folded cardstock.
Cut out the handprint from the cardstock.
Once the handprints are ready, now start sticking different google eyes and pom-poms over the handprint.
Blue Monster: We added a large google eye in the center.
Pink Monster: We added a large and a medium-sized eye in the center.
Yellow Monster: We have added three small eyes in a line at the center.
Green Monster: A medium-size and two small eyes on both sides in a line.
Now add mouth, teeth, and pom-poms as you like to decorate your monster.
Write the card inside and gift it to your loved ones!
5. Monster Paper Plate Ring
Here we will be creating cute monster faces with paper plates. This project helps the child push their imagination and developmental skill a little further. It lets the child cut, paint, and stick. Also, you do not require a lot of material for the same. Most things you will easily find at your home. So let us go ahead and look at the details of making a wide-open mouth monster!
Materials Required
Paper plates
Colored card stocks: easily available online
Paint
Paintbrush
Glue
Scissors
Googly eyes
Instructions
Now let us note down the steps about how to create these monsters:
Take a paper plate and cut its center part.
Cut out the horns and teeth for your monster.
Now paint the leftover plate with your favorite color.
Stick the horns on the upper boundary of the painted paper plate.
Stick the teeth on the inside boundary of the paper plate.
Next, stick as many eyes of different sizes below the horn in a suitable manner.
Your wide-mouthed scary yet cute monster is ready!
6. Smashed Paint Monster Puppets
This project will be fun and will keep your child curious and entertained for long hours. The child will learn the process of color mixing and how beautiful color effects are created. With the post creation of puppets, the kid can play with the puppets as well. Isn't that interesting? So let us know more about it!
Materials Required
Craft sheets
White cardstock
Paint
Adhesive craft sticks or you can use ice-cream sticks
Scissors
Googly eyes
Glue
Instructions
The following instructions will lead to the creation of the monster puppet sticks:
Fold the cardstock half to create a crease in the middle.
Add paint in the middle of the paper. Add as many colors as you want. While adding the color, make designs like lines or swirls or dots.
Once the paint is added, fold the cardstock and rub with fingers from crease to boundaries.
After the rubbing is done, open the fold and let the monster's face dry.
Once the paint dries, cut out the monster's face.
Cut thin rectangular strips from craft sheets to create hair, hands, and legs for the puppet. Bend and fold the strips for hair to give curls.
Now glue the adhesive stick, limbs, hair, and googly eyes to the puppet. Add as many eyes of different sizes to your puppet.
Finally, draw the mouth using a marker, and your puppet is ready!
7. Cardboard Monster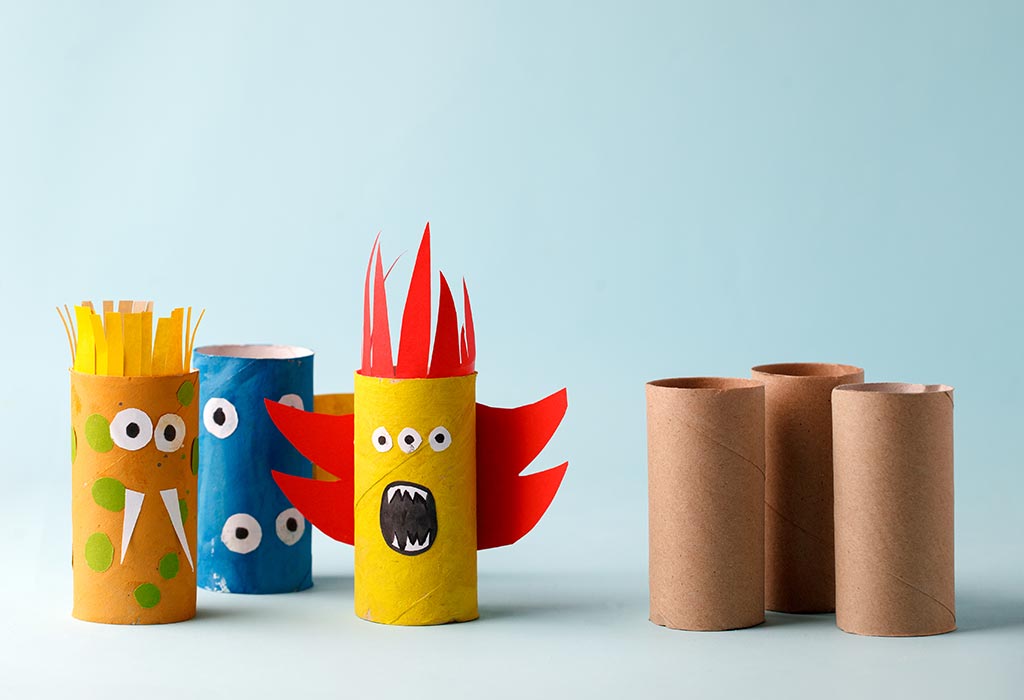 Are toilet paper cardboard rolls stacked up in the house? Want to use them creatively? Do you have kids in the house? If your answer is a Yes to all three, then we have an amazing idea to use them. Make homemade monster craft out of the rolls. Let's see how!
Materials Required
Craft sheets
Cardboard roll
Pom poms
Googly eyes
Glue
Scissors
Pipe cleaner
Instructions
Take a craft sheet and glue it on the cardboard roll.
From the remaining sheet, cut two circles for the eyes. Now stick googly eyes on this.
Cut a small semicircle from a black color craft sheet for the mouth. Cut teeth from a white sheet and stick on a black semi-circle.
Stick the eyes and mouth to the roll.
Attach pom-poms to the pipe cleaner ends.
Now stick the eyes, mouth to the cardboard face.
Stick the pipe cleaners to the cardboard top to make antennae. And it's done!
Monster crafts are a great way to imbibe creativity and developmental skills in your child. Their motor skills improve while crafting. It also boosts hand-eye coordination. So it will be great if you spend some time with your kids and do create these crafts. Above all, this fun time with your kids will create an amazing bond parent-kid bond too. Happy parenting!
Also Read:
Mask Making Ideas for Children
Harry Potter-Themed Crafts for Children
Amazing Fall Craft for Children