Pool Party for Kids – Themes and Ideas
Nothing can be more fun on a hot summer day than hitting the pool and splashing around with friends. So, organizing an indoor pool party for kids and their friends can make you the coolest parent around. But, if you're looking to take the reunion celebration to the next level, all you need is a party theme and some unique ideas that can bring it to life and ensure your guests have a total blast. Be it a simple, spontaneous gathering or a carefully planned extravaganza. You can customize the pool party according to the budget, age of guests, and the time needed for planning. The best pool party theme has to resonate with your guest and suits your event. Once you have the vision, you need to compile a huge to-do list to decide on the décor, games, invitation design, costume suggestions, party favors, food, and beverages that would take the party to the next level.
Interesting Pool Party Themes for Kids
A party based on a particular theme can pave the way for better planning. It's easier to plan your party when working around a central idea. Whether a classic or more creative theme entices you, dive into the best theme-based swimming pool party ideas for children listed below.
Beach-themed Pool Party: A beach theme will help create colorful sand art projects and decorate them with coastal-inspired accessories like starfish, corals, shells, conches, and sea creatures. The most charming nautical elements can add plenty of personality with soft shades of blue that complete your beach experience.
Nautical Kids Movies Idea: Movies are always an easy theme to emulate with readily available decorations to make your pool party exciting. Finding Nemo, Moana, and Little Mermaid are some of the popular nautical movies that can inspire you to choose a theme for your next pool party.
Pirate Theme: With a little creativity, it is possible to make kids interested in a pirate theme that upholds the adventurous side of life at sea. Place some "treasures" around the pool to look around and engage the little pirates.

Arrange some foam swords, red, navy, and white décor items, ropes, and anchors. You can draw inspiration from the movie 'Pirates of The Caribbean.'

Fiesta Theme: Fluffy decorations in bright and bold colors, lanterns, large paper fans, fabric flowers, and zesty tropical flavors of spices and seasonings served in a delicious taco bar can transform your pool into a Viva La Fiesta ready for all the ultimate summer pool parties.
Lego Pool Party Idea: A Lego Set can be one of the most favorite themes for kids of both genders who are attracted to the vibrancy of their colors. The Lego bricks can be constructed and recreated almost everywhere.
Pool Party Invitation Ideas for Kids
Invitations don't just tell guests about the venue or date of the event – they get them excited about the party. Detail down the party itinerary and the list of invitees before creating vibrant, interesting invitations in line with the theme. Here are some amazing pool party invitation ideas for kids.
The beach ball invite is a cool and popular way of invitation. Write the party details on the ball and send it to the guests with a note to inflate it.

A flips flop-shaped invitation suits the pool party theme as they are the perfect shoes for water-related activities.
Use a permanent marker to write all the details on a raft that can be mailed to your kid's friends. They need to inflate it for all the details.
The beautiful summertime scenery can make a perfect invitation card for a swimming pool-themed birthday party. You can place the picture into a document with details of the party typed in below it.
Cool Pool Party Decoration Ideas
The right decorations can set the ambiance for a pool party for kids and make it look most inviting. Some cool pool party decoration ideas are:
A mix of colored balloons can be a fun and affordable idea to keep the kids busy for more water play. You can fill them up with a little bit of water and then blow them up with air for extra weight so that they stay in the pool.

Pool inflatables come in all shapes and sizes – from flamingoes to donuts. They can add some color to your pool, while the smaller ones can be DIY ice chests or used as table décor.

Jelly-fish lanterns as whimsical sea creatures can lend your pool party that under-the-sea vibe. Colorful paper, crepe party streamers, and ribbons are used to coordinate.
Make simple yet stellar DIY mini beach ball garlands with a little paint, Styrofoam balls, and a string.
For an evening pool party, add glow sticks to the bottom of the pool to bring an element of unexpected nighttime surprise as part of your décor plans.
Beach balls, buckets, and shovels can make party decoration easy.
Fill the pool with oversized floats and cover chairs with colorful beach towels. Decorate tables with seashells and fishnets.
Use plastic pails, shovels, and Frisbees to serve hors-d'oeuvres and drinks. Since this is an outdoor party, set out bright patio umbrellas to save your guests from sunburn and overheating.
Fun-filled Pool Party Games and Activities for Kids
A pool party is incomplete without poolside games for all the kids to participate in and enjoy. Ensure the games are simple enough for everyone to follow without trying too hard. Here are some swimming pool party games for kids that can act as icebreakers or fill in a lull.
Breathe life into your pool party theme with water balloons, sprinklers, squirt guns, and hose fights.

Kids can splash out water from buckets.
Pairs of kids can dive into the pool for rings, dive sticks, a special prize, or have a rubber ducky derby.

Add floating toy sailboats to the pool

Arrange a sandcastle-building competition in the children's sandbox.

Interesting water games like sharks and minnows, Freeze Tag, and Marco Polo can be hosted.
Consider corn hole or ladder ball as for poolside games.
Food Ideas for Kids' Pool Party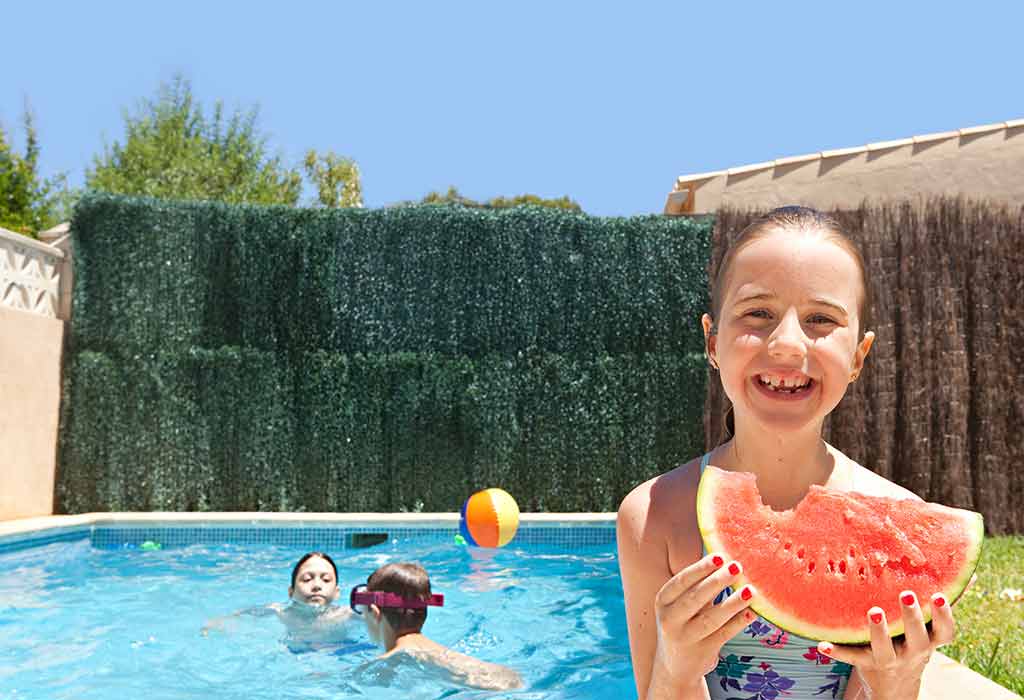 A pool party is incomplete without tasty snacks and refreshing drinks. Since it's an outside party, it's okay for things to get messy. Well-planned menu ideas for kids pool parties need time and a little effort. Dive into these quick, delicious, and creative best food for a kids pool party that can keep kids fueled and hydrated throughout the day:
A platter of fresh fruits and salads is often a good counterpart to an array of salty treats, such as pretzels, corn chips, or chips.
Lip-smacking appetizers can include corn salad, lemon chicken skewers, grilled zucchini, chicken roasts, salsas, or chips.
Watermelon ice pops and mini waffle cones filled with fresh fruit are healthy grab-and-go snacks.

Juice boxes and water bottles kept in a bucket or kiddie pool filled with ice can be a good addition. You may rent a snow cone or cotton candy machine.

A variety of

desserts

, like blackcurrant ice cream or homemade mixed berry dessert with hot chocolate sauce, can be a delicious addition. You can also treat all with popsicles, ice-cream sandwiches, funny

cupcakes

, and jelly.

Chicken salad croissants decorated to resemble little crabs and blue pudding cups decorated with graham cracker "sand" make a memorable ocean-themed spread.
A slider bar can offer mini burgers that cover Beef, turkey, and a vegetarian option.
Take the BBQ route to serve smoked meats with a few types of barbecue sauce.
Create a Taco Bar with sliced and ground meats along with tortillas, cheese, beans, rice, salsa, sour cream, and guacamole. The kids can get adventurous with their taco creations or stick with beans and cheese.
A few flavors of ice cream served as adult scoops out cones will surely make the kids happy.
Themed sweets and treats like Pool Noodles- Licorice in different flavors and colors like Beach Balls- Gumballs -Pool Floats- Gummy Rings can be served in a candy bar.
Pool Party Favors for Kids
Keep the pool party going with affordable DIY party favors that add a personalized touch to it and can suit your kiddo's birthday theme. The secret ingredient is creative party favors for kids that won't get tossed aside. Whether your little one digs sports, crafts, or princesses, here are some ideas for fun party favors for kids pool party events that can become a fun memento to treasure from the memories of the day.
A sand bucket filled with beachy treats like candy or brightly-colored beach towels.
Colorful mini spray bottles filled with water can help keep cool during the summer pool party.
Tropical fish candy and travel-size bottles of sunscreen can be arranged.
A cute collection of hair ties with the message "pool hair, don't care" are perfect for a summer party.
Kids would be thrilled to wash their hands with a shark soap fun-shaped soap.
A beach tote bag with a personalized pin or luggage tag can be a great addition.
You can use a disposable underwater camera to photograph all the underwater memories they create at the party.
Themed treats like personalized lollipops can be packaged in a favor bag and added with a thank you sticker.
Look to a party store website to buy favors in bulk quantities, like sea creature goggles and inflatable animal pool noodles.
Pool Party Safety Tips for Kids
Pool parties are supposed to be a fun get-together, but they can be dangerous for children without proper safety precautions. Activities involving water come with some risks as not all children have an equal skill set and comfort level in and around the water. Here are some tips that can ensure everyone enjoys while staying safe.
Drowning is the fifth leading cause of unintentional injury death in the US – and data from Children's Health shows that 38.8% of children who came to the ER for a drowning event were swimming in a new environment, such as at a pool party.

With the excitement of jumping into the water, most kids forget to apply sunscreen. It is important to remember that most sunscreens need to be reapplied after towel drying.

Life jackets for the younger kids will ensure fun while keeping them safe.
Keep glass containers out of the area where drinks are served as they may break and hurt a bare-footed child.
Set clear pool rules and enforce them while monitoring a kid's pool party. Multiple adults can stand around to perform their duty as lifeguards actively. Keep a first aid kit at the nearest reach. An expert on performing CPR needs to be present. Keep a phone handy in case of emergency.
An amazing pool party can turn into a disastrous free-for-all if all kinds of nasty pests start showing up. Draw out a plan to protect your guests from mosquitoes and other pesky insects. Kids would easily tolerate Basil or lavender-based repellents, which are natural and efficient with a pleasant scent.
One of the best things about having a pool party is that the pool itself is entertainment for everyone. Pool parties can be planned to celebrate birthdays, graduation, or chill and get some extra energy out during a hot summer break. No matter the time or occasion, you can even soak in some Vitamin D while enjoying the time of your life. Irrespective of the size of the pool, all you need is your kid's friends, a few snacks you find in the pantry, some games in mind, and upbeat music to set the mood for an impromptu pool party. However, if you want to throw a spectacular party with a theme, it should be age-appropriate to resonate with your guests. And while the mere concept of planning may sound dull and uninspiring, even the process of planning a pool party can be fun, especially if your kids are involved.
Also Read:
How to Throw a Tea Party for Kids
Fun Baby Shark Party Ideas for Children
Gooey-Wooey Slime Party Ideas for Children