What Is Special Education Inclusion and What Are Its Benefits?
Special education inclusion is a societal ideology that encourages students with disabilities to learn alongside their non-disabled peers within a general education classroom. While the concept is highly enriching for students, establishing such a concept is highly difficult, varying in complexity and challenges brought forth by disability. However, it is essential to keep in mind that a positive attitude alongside a knowledgeable approach from parents and teachers could make all the difference. Here, we inform you all about the inclusive education system and how a child with special needs can benefit.
What Is Inclusion in Special Education?
Parents and teachers can approach inclusion in special education with a positive note when they understand its theory. Can a child with a disability benefit by including them within a general classroom environment? Can such a child excel? What are the benefits and the ultimate result? Inclusion is crucial for children and students of every age, whether having a disability or not, because diversity contributes to creativity, and this is where the strength lies.
According to experts, students with disabilities also require and should receive the necessary adaptation regarding curriculum. Accommodations help children with disabilities to understand that they are held responsible for academic expectations the same as general students, while modifications tend to lower such expectations.
Objectives of Inclusive Education
Objectives of inclusive education help individuals understand children's learning needs, especially focusing on those who are vulnerable and experience marginalization and exclusion.
Help develop alongside utilizing IEP (Individual Education Programs) to provide requirement-based, personalized education to students whether disabled or abled.
Impart education democratization to encourage democratic thinking among students.
No matter the background, physical disability, or capability, each student should be given equal opportunities in terms of everything.
To help disabled students gain vocational training to find a career and a most suitable job.
Help students with disabilities become aware of post-secondary school life by creating a plan through transition services so that they could easily adjust to higher levels of education without their disability creating any issues.
To provide students with a coordinated plan with instruction helping them overcome each level from kindergarten to high school.
Inclusive education would also help teachers identify the strengths and weaknesses of each student and provide them with the necessary assistance whenever and however needed.
Taking help from therapists, medical professionals, experts, support agents, specialized instructors in imparting education
A very important objective would be ensuring parents take an active part in their child's education, well-being, and growth by constantly communicating, coordinating with teachers, and learning about their child's activities.
Teach general students about their disabled peers' difficulties and how they could help them get accustomed to the general environment. It also helps develop their sensibility with time and understand the reasons to the question, "Why is inclusion important in special education?"
Encourages students with special needs to take up responsibilities and learn about leadership roles to become independent and less reliant.
Last but most importantly, help the forthcoming generations develop the value of tolerance and acceptance towards individuals having different looks, colors, gender, and abilities.
How Inclusion Helps in Special Education?
Here are some of the advantages of inclusion in special education:
Helps in Fulfilling Individual Educational Needs: Each student has their own needs for understanding concepts, and this should be taken well and is way more necessary for students with disabilities. Teachers can successfully meet the needs of each student by presenting lessons using UDL (Universal Design For Learning). An important criterion in this system would be creating small student groups and teaching them by tailoring an education plan to help them learn in the best way possible. This can also be termed differentiated instruction.
Diverse Resource Usage: In traditional educational settings, students with disabilities are provided with related services, including speech therapy and others. Inclusion educational classes ensure that speech therapists and reading specialists are present in the classroom. They are not only meant for disabled students but also the general ones.
Capitalization of Human Resources: Keeping in mind how women's education was encouraged to bring equality in the workforce and strengthen it, the same concept can be used for students having disabilities. Disabled students, when provided help, can gain leadership qualities, become less reliant, and reach maximum potential. This way, young individuals could be incorporated into the workforce who are disabled due to unfortunate circumstances but can be productive.
Helps in Developing Leadership Qualities: Students, when learning within an inclusive environment, develop leadership skills and learn how to take responsibility and take care of each other. There could be students who could be natural leaders who stand up when their peers or friends are being bullied. Again, a diverse classroom ensures students explore their skills and capabilities, which would be impossible when separated.
Helps in Understanding Self-worth: Students with disabilities often suffer from low confidence and feel they are not good enough for anything. When students are taught in an environment that shows them the similarities and dissimilarities, they become more appreciative of the diversity, helping them understand the real world. Student interaction helps them become more aware of people who are unique in skills, physically and socially.
Reduced Stigma: Many individuals have a stigma which is 'disapproval' against something within the society. The general mass still has a stigma against disabled people. The forthcoming generation should remove this stigma by understanding that people are unique and have their own sets of strengths and weaknesses. Inclusion in special studies helps remove this negative stigma.
Encouraging Towards An Inclusive Society: When inclusive education is encouraged and imparted, generally, this would also positively impact civic participation, community, and employability concept. The concept of inclusion should be ingrained in the student's minds from a very early age to understand its values, have knowledge regarding it, and help their disabled peers become pioneers of various public programs and projects.
Disadvantages of Inclusion in Special Education
Understanding and comprehending inclusion in special education pros and cons help you determine the way to enrich young minds in the best possible way:
A Cookie-cutter Learning Model: When teachers have adequate resources for helping and teaching students, inclusive classrooms become a success. However, the reality of modern-day teaching and school-district funding is a completely different story. When all kids are placed within the same classroom without adequate resources, they are forced into the cookie-cutter teaching model. When there is no individualization, an inclusive special classroom will not succeed.
Some Disabilities Do Require Special Classroom Arrangement: There is no doubt that diversity encourages the human race to become better, increase knowledge, and deepen empathy for each other. However, there is no denying the fact that there are some disabilities that require more inclusive accommodation than others. There could be a student with a specific learning disability who cannot catch up with the inclusive classroom to a point where it becomes stressful.
Can Encourage Acting Out Behaviors Among Students: Within an inclusive classroom, students want to feel 'normal' just like their peers, and therefore, signs of acting out behavior can be observed. A student with a learning disability can be bullied as this form of disability can be seen as a form of weakness. Inclusion classrooms, no doubt, are beneficial; however, it tends to cause students with disabilities to do whatever they possibly can to hide their disabilities. Hence, students who would behave like themselves in a separate room can showcase signs of anxiety within an inclusion room.
Examples of Inclusion in Classroom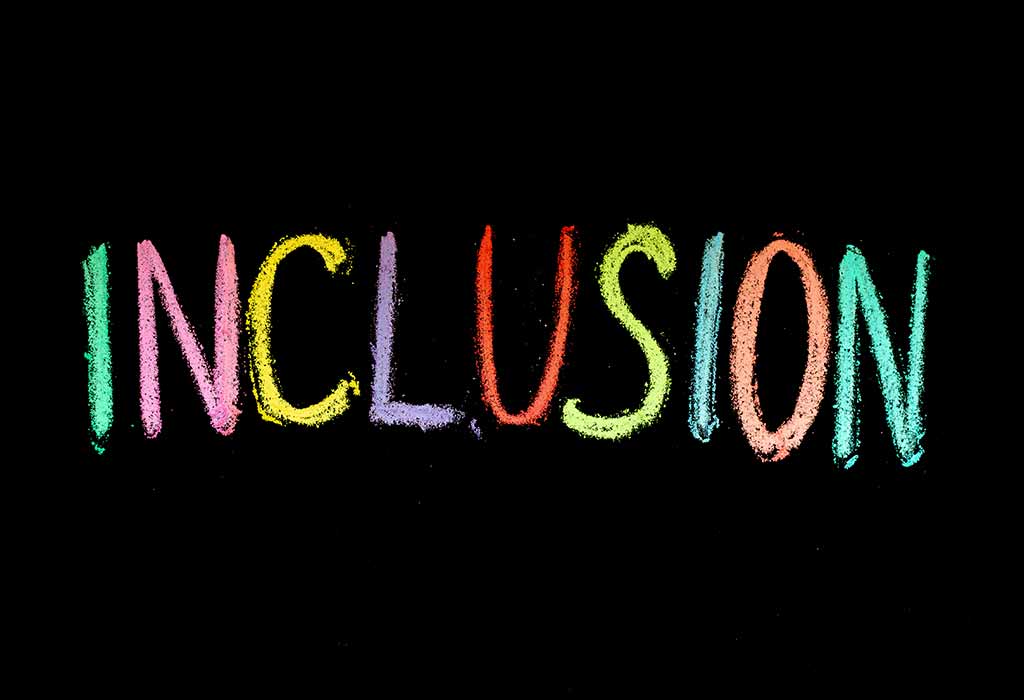 What is mainstreaming in special education? This is the practice of educating special needs children by attending regular classes within specific time slots. The inclusive classroom concept is completely universal and is not always identical. Depending on the needs and requirements of the special children, resources and support would be made available.
Some examples would be providing access to the same curriculum and routines, which helps equal participation from each student outside and inside the classroom.
For an inclusive class to be conducted smoothly, one might require a special instructional format. Students would benefit better by interacting and learning through peer-led instruction rather than their teachers.
Students could be separated into small compact groups. Everyone could be given the same assignment; however, time could be extended up to a certain limit if needed for special students.
Students with IEPS might use tools like headphones, calculators, laptops, and organizers.
Tips to Encourage Inclusion of Students for Special Education
Helping students with special needs get accustomed to a general class and for the general students to accept the change takes time and a well-thought strategy. If you are looking for tips on encouraging inclusion for students in special education, here are some tips that will surely help you find your way.
Encourage Enjoying Recess With Peers: Whether they have disabilities or not, teachers should provide students with the opportunity to have recess together. It would benefit all; especially, special children learning about healthy social expectations. Again, an unstructured playing environment helps build lasting friendships.
Encourage Interaction: This is one of the best ways to ensure that everyone comes out of their shell, accepts the real world, and learns about social expectations. Providing students with a chance to interact helps build friendship and community togetherness.
Differentiated Instruction: For students with disabilities, it is crucial to develop their leadership skills and make them responsible so that they are less reliant on others. Providing them with the opportunity to join a math club even when they are from a lower grade helps them reach their maximum potential.
Positive Attitude: Each child comes with their own pace and requirements; as a teacher, it is important to set expectations for your classroom by maintaining a positive attitude. Your students will then be encouraged to follow your suit, making it an enriching experience.
Accustom Your Students to Different Learning Styles: The target for varying learning styles would promote a healthy learning environment in an inclusion classroom. Examples would be going for music and movement to teach one lesson, while for another, you could opt for writing and drawing.
Paraprofessionals: This is where an adult assists a student with special needs in small groups or 1:1 basis. Some disabled children would require a paraprofessional 100% of the time, while others would not. Their job is to promote inclusion by having children with special needs sit beside their peers and encourage interaction. Never isolate them but make them walk in a line along with their class, help them become responsible by teaching them how to clean up their art supplies, and allow them to develop socially and emotionally.
What Are the Placement Options for Special Education?
There are special education inclusion programs for children, including general education setting, special education placement, out-of-district placement, and self-contained educational placement.
General Education Setting: This is also known as inclusion class or mainstream placement, where your child would attend regular classes with students of their age. Along with a regular teacher, there would also be a special-education teacher who would adjust the curriculum as per your child's comfort and requirement.
Self-contained Educational Placement: In this type of educational setting, your child would not be a part of the general school popular but would be put in a small controlled setting along with a special-education teacher. Your child might study under a different curriculum and different textbooks.
Out-of-District Placement: With a self-contained system, your child might study in a general school but within a small controlled setting. However, your child would be sent to a specialized school that addresses special learning with this kind of system.
Special Education Placement: Students who require thorough help to complete their grade-level work are placed in a resource room. They work with a special-education teacher in small groups using special techniques.
Wrapping up, this is a detailed guide on special education inclusion and how a child with special needs can benefit from it. When looking for a special education placement option, make sure you speak to your child and determine the setting where they would be more productive and the environment which would be most stimulating for them.
Also Read:
Waldorf Education
Is Alternative School Right for Your Child
504 Education Plan For Specially-Abled Kids
?>