17 Indian Baby Food Recipes For 1 Year Old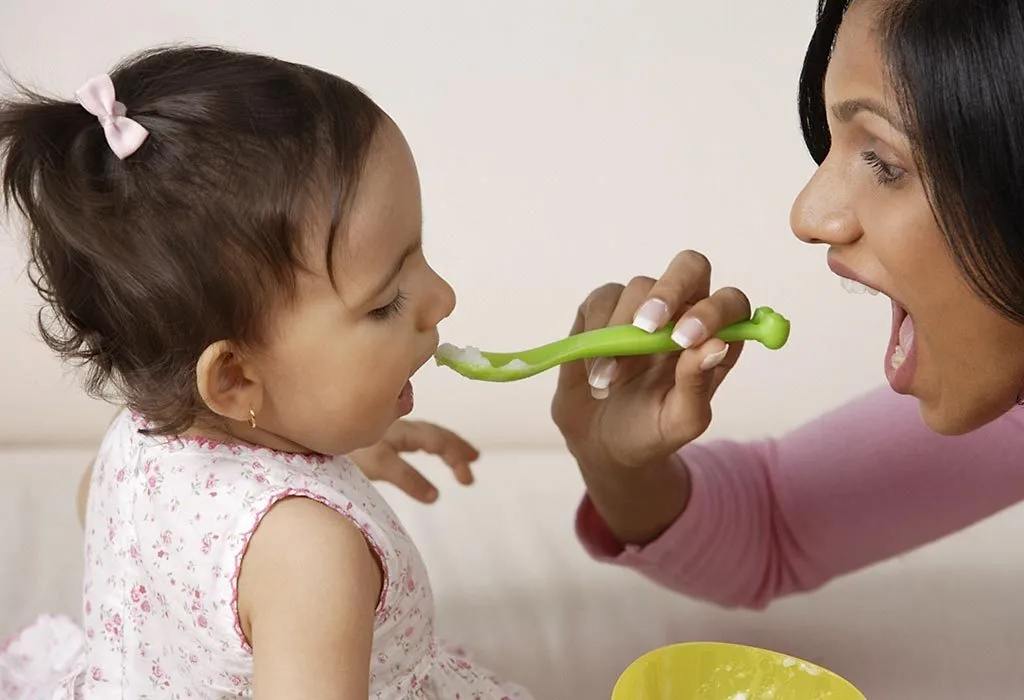 Food is an experience, and you may have observed your baby's curiosity about different flavours and textures of foods once he reaches 12 months of age. Babies this age like to taste food beyond simple purees. The worry is how to modify complex Indian recipes to suit their digestive system, so Indian foods must be introduced in a simplified manner. Your child's eating habits can start to deteriorate around his or her first birthday. Once a baby is a year old, their appetites start to wane, and they don't need as much food because their growth has slowed down a bit. A one-year-old can consume practically all of your food. He or she needs about 1000 calories each day, which can be divided into 3 meals and 2 snacks. Read further to know 1 year old baby food recipes.
Also Read: 1 Year Baby Developmental Milestones
Indian Food Recipes for a 12-Month-Old Baby
Here are our hand-picked recipes, modified to suit the tummies of one-year-olds. Some of the best breakfast recipes for a one year-old Indian baby and, interesting South Indian baby food recipes for a one-year-old have been simplified to introduce babies to Indian dishes that they will enjoy.
Remember
Milk can be dairy, breast milk, or formula. Be cautious of heating breast milk.
Create the Ingredients at home, if possible. Avoid buying canned products.
Do not use honey as a sweetener if your baby is not yet 12 months old.
1. Porridge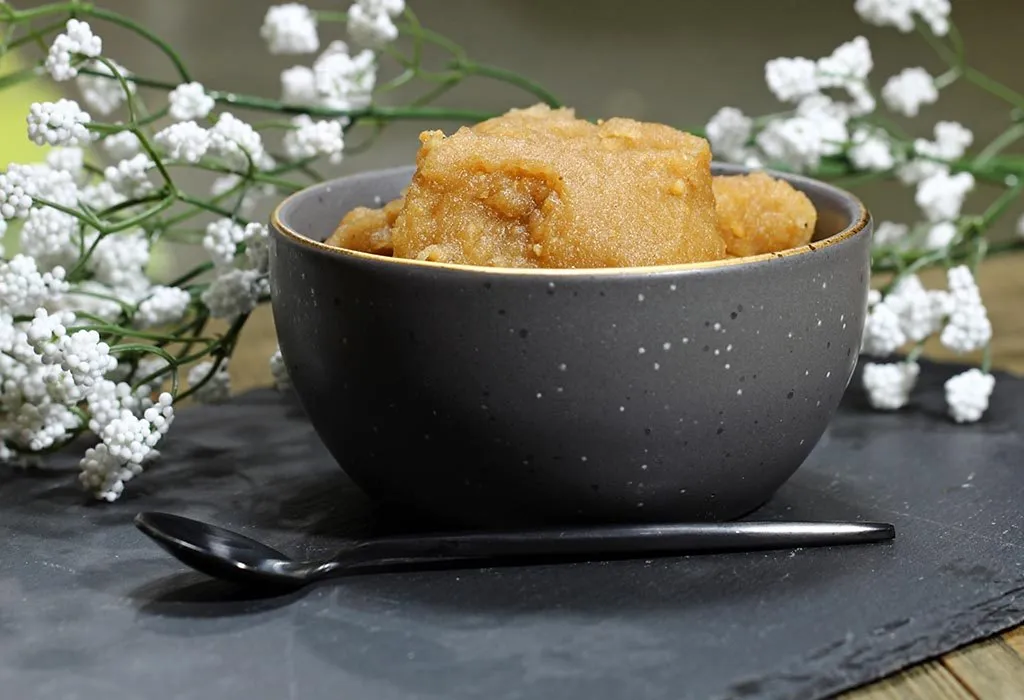 A favourite of many children, when made the right way, the liquid soft consistency is to consume.
A) Ragi Porridge
It is high in fibre and helps in bone density and muscle building.
Ingredients
How to Cook
Wash sun dried ragi grains and soak them overnight.
Grind these with added water to make a gooey white paste.
Boil this with enough water.
Once it thickens switch off the flame, add some milk and jaggery for a sweet flavour.
Alternatively, once it cools, add curd and salt.
Also Read: Engaging Activities for 1 Year Old
B) Rava Porridge
This is a good break from other types of porridge. It is sweet flavoured and easily digestible.
Ingredients
Rava: 2 tbsp.
Water: ½ cup
Ghee: 1 or 2 tsp.
Jaggery: to taste
Milk
How to Cook
Roast rava in ghee on a low flame; do not brown. Switch off when it is fragrant. Set aside.
Boil water and add the roasted rava slowly. Switch off as the mixture thickens and most of the water is absorbed.
After ten minutes, add jaggery and milk to the completely thickened upma. Add until it is porridge consistency.
2. Rice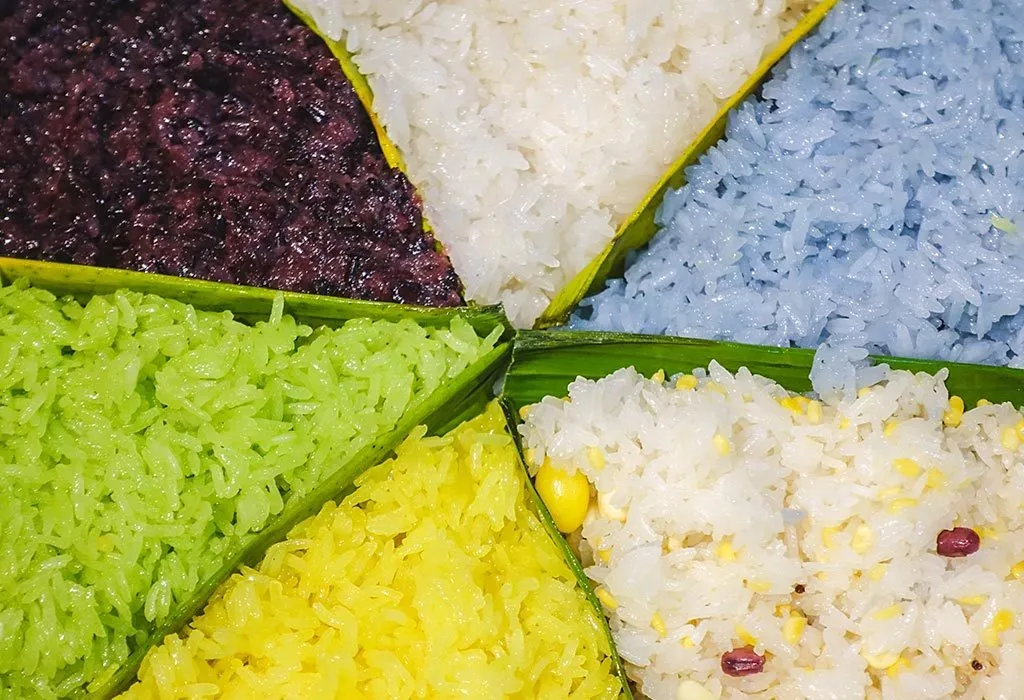 Rice consumes the flavour of any ingredient easily and is easily digestible.
A) Sticky Banana Rice
One of the easiest dishes to swallow, you will be amazed at the speed at which it is consumed by your little one.
Ingredients
Rice: 1 cup
Coconut milk (diluted): two cups
Jaggery: 1 tbsp.
Banana: 2 elachi or small bananas.
Thick coconut milk: 2 tbsp.
How to Cook
Soak rice overnight in diluted coconut milk.
Pressure cook it with extra water.
Heat the thick coconut milk with jaggery and add the rice.
Squash bananas in a serving bowl and add the sweetened rice.
B) Kara Pongal
This is a good dish to introduce to your child's diet.
Ingredients
Rice: 1 cup
Moong dal: ½ cup
Jeera: 1 tsp.
Ghee: 1 tsp.
Curry leaves: a few
Ginger: a large pinch
Pepper: for taste (optional)
Water- 5 cups
Salt: to taste
How to Cook
Wash and soak the rice and moong dal for half an hour.
Heat ghee in a cooker and add jeera.
Add and Sauté ginger and curry leaves for a minute.
Add the rice-dal mixture and top it up with water.
Add pepper and salt.
Remove the curry leaves and mash the food before serving.
3. Soups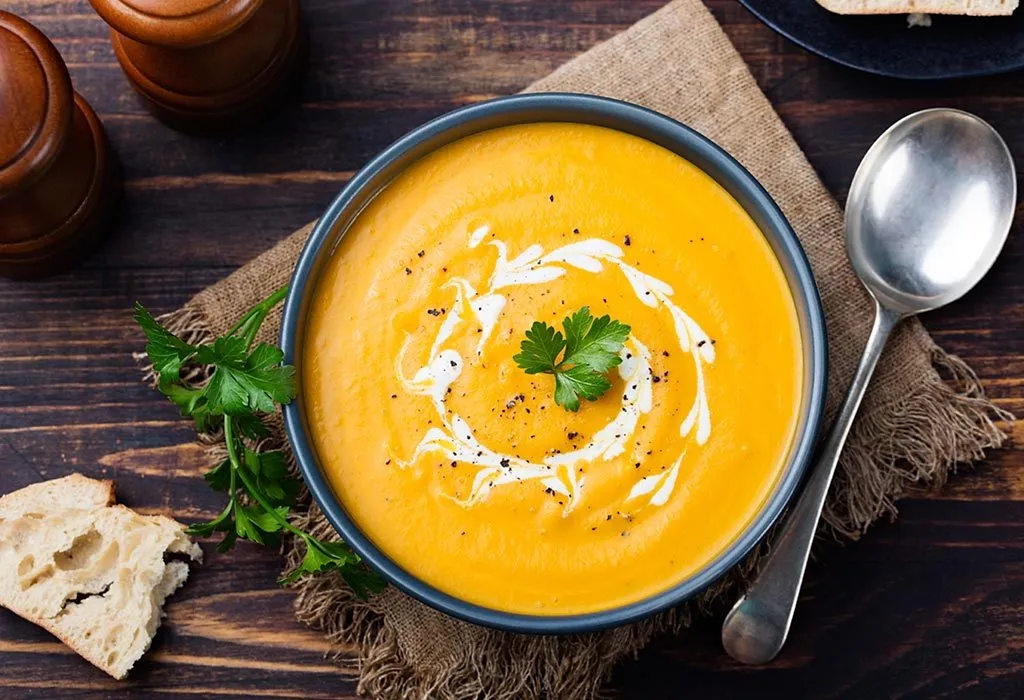 A flavoursome dish that can be consumed during sickness or even in between meals.
A) Tomato And Carrot Soup
A tangy dish full of vitamins
Ingredients
Carrot: 1
Tomato: 1
Onion: 2 tbsp. (finely chopped)
Garlic: 1 small clove (finely chopped)
Butter: 1 tsp.
Cumin seeds: ¼ tsp.
Pepper powder: a pinch
Water: 1.5 cups
Salt
How to Cook
Clean the vegetables thoroughly and dice them into small cubes.
Heat butter in a pressure cooker and add cumin seeds
Sauté onions and garlic until translucent
Add carrot and tomato with enough water. Also, add salt and pepper.
Bring it to a boil
Pressure cook for three whistles on a medium flame
Grind and strain
If you do not wish to strain, remember to blanch the tomatoes and peel off the skin.
Serve it lukewarm.
B) Chicken Soup
Especially yummy when kids are down with a cold.
Ingredients
Chicken: one breast piece shredded.
Onion: 1 small (finely chopped)
Vegetables (carrot, potato): 2 tbsp. (chopped)
Chicken stock/ water: 1 cup.
Butter: 2 tsp.
Salt
How to Cook
Add butter in a pressure cooker and sauté the onions till translucent.
Add the chicken, along with veggies and water
Pressure cook for two whistles
Blend the cooled mixture and serve it luke warm.
4. Curries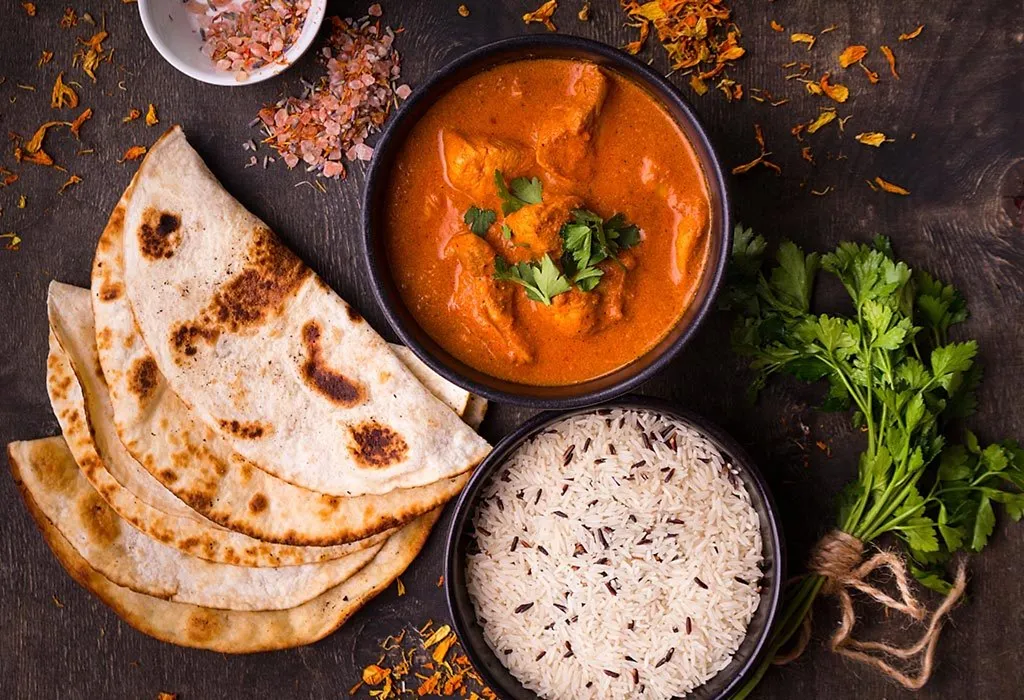 These contain a burst of flavour; best served with Indian Bread or Rice.
A) Fish Curry
One of the better ways to introduce children to fish and spices.
Ingredients
Coconut oil: 1 tbsp.
Large onion: 1 finely chopped
Garlic clove: 1 finely chopped
Ginger: 1 tsp. chopped finely
Tomatoes: 2 chopped finely
White meaty fish (avoid fish with tiny bones) with skin removed: 125 gm
Curd: 30 ml
Garam masala: 1 tsp.
Chilli powder or pepper powder to taste (Be cautious of chilli powder. Do not make it too spicy)
Water: 200ml
How to Cook
Sauté onions, garlic and ginger in a frying pan until translucent.
Mix the pepper or chilli powder.
Add water and tomatoes and bring to a boil.
Let it simmer for a few minutes
Add the fish, then cover and cook for 2 minutes. Add the yoghurt and coriander, and cook for another couple of minutes.
Cook the rice and serve alongside your fish curry.
Add garam masala to taste.
Serve with optional tomato, onion and coriander salad.
B) Dal Curry
Dal is a good combination of carbs and proteins.
Ingredients
Moong dal: ½ cup
Toor dal ½ cup
Turmeric: 1 tsp.
Ghee: 2 tsp.
Jeera: 1 tsp.
Water: 3 cups
Salt as per taste
How to Cook
Wash the dal and add the turmeric and salt.
Pressure cook with 3 cups of water.
Temper jeera in ghee and add it to the dal
5. Egg Dishes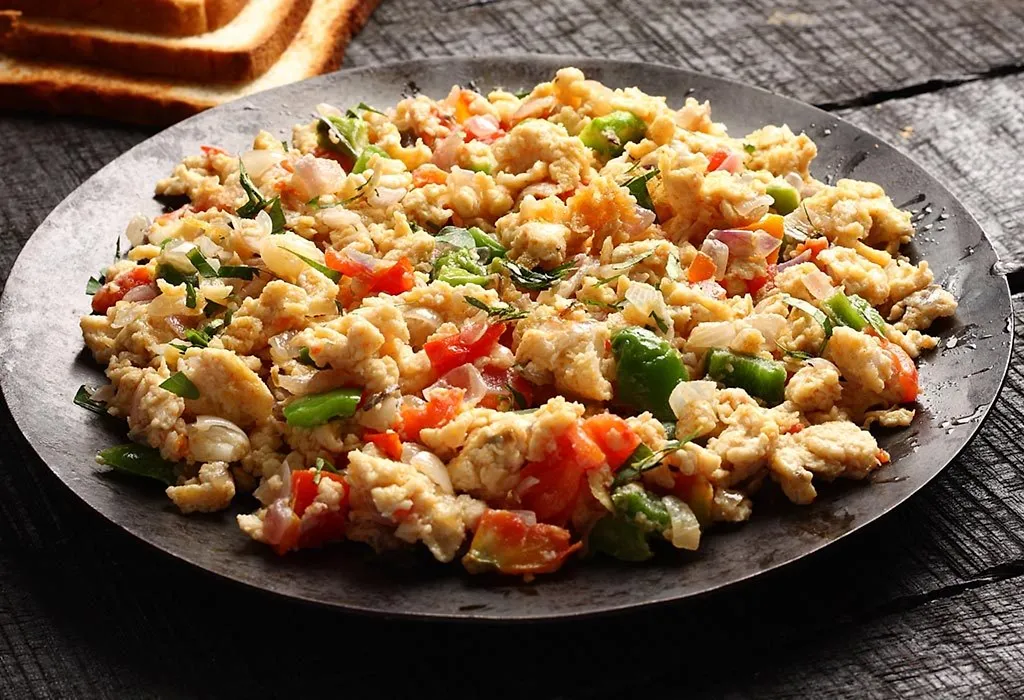 An egg is a good introduction to complex food.
A) Egg Bhurji
This is a good snack and can be served with rice.
Ingredients
Eggs: 1
Pepper powder: a pinch
Milk: 3 tbsp. boiled
Cheese (grated): 1 tsp
Butter: ½ tsp.
Salt
How to Cook
Beat the egg with milk.
Melt some butter and add the beaten egg. Stir the eggs continuously until scrambled.
Mix cheese, pepper, and salt.
Stir it evenly before switching off the flame.
B) Bread Omelette
The softness of the egg will reduce the dryness of the bread.
Ingredients
Eggs: 1 (beaten)
Pepper powder: a pinch (optional)
Bread: 2 slices
Butter: 1 tsp.
Salt as per taste
How to Cook
Cut the ends of the bread.
Beat an egg and add pepper and salt
Heat butter in a pan.
Dip the bread into the eggs, coat it evenly on both sides, and transfer it to the pan.
Cook on both sides until golden brown.
Repeat with the other bread.
6. Instant Dosa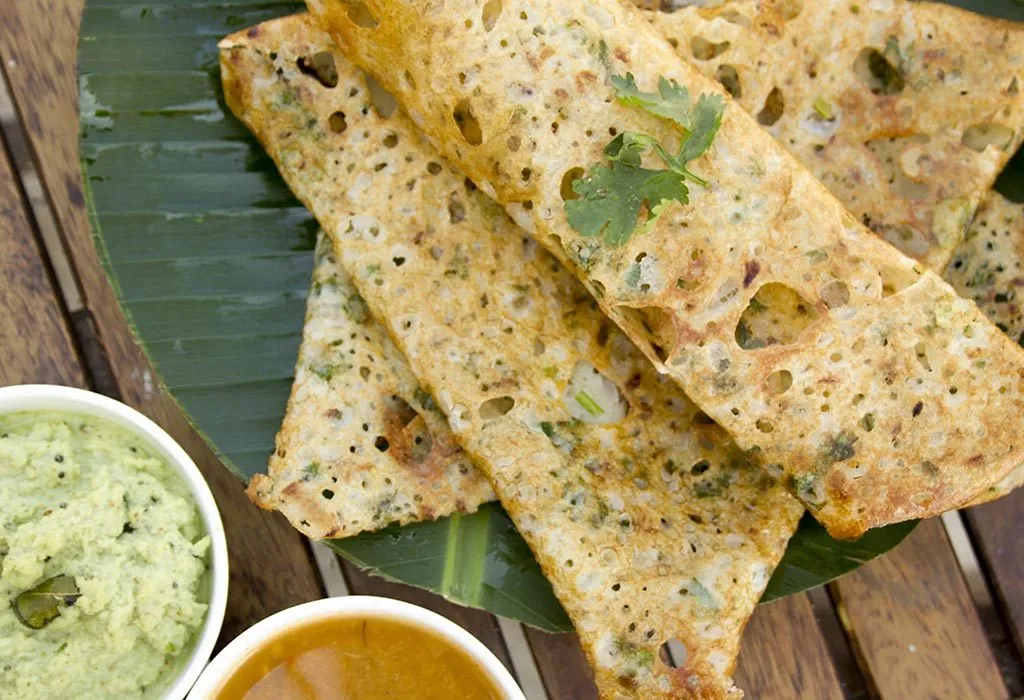 Dosa's are the staple food of South Indian breakfast.
A) Rava Dosa
A version of dosa that needs no fermenting. You can add veggies as the baby gets used to it.
Ingredients
Sooji/ Rava: ½ cup
Curd: ½ cup
Rice flour: ½ cup
Water: 3-4 cups
Jeera: 1 tsp.
Salt
Ghee
How to Cook
Mix rava, rice flour, salt, and jeera.
Add curd carefully, as well as water in small amounts. Do not make it lumpy.
The consistency should be like thick buttermilk. Not thick, but not too thin.
Heat the pan well and spread the dosa batter outward to inward in a circle.
The dosa will have holes. Circle a teaspoon of ghee before closing the lid.
Remove when crisp.
B) Wheat Dosa
A better, softer way to introduce wheat to your little one's diet.
Ingredients
Wheat flour: 2 cups
Rice flour: ¼ cup
Onion: 1 chopped finely
Ginger: 1 tbsp. chopped finely
Jeera: ½ tsp.
Water: 4 cups
Salt
Ghee
How to Cook
Mix wheat flour, rice flour, cumin seeds, chopped onions, ginger, and salt.
Add some water and mix well. The batter is similar to the rava dosa.
Heat a non-stick pan and pour the batter outward to inward in a circle.
Cook until brown, before flipping.
7. Desserts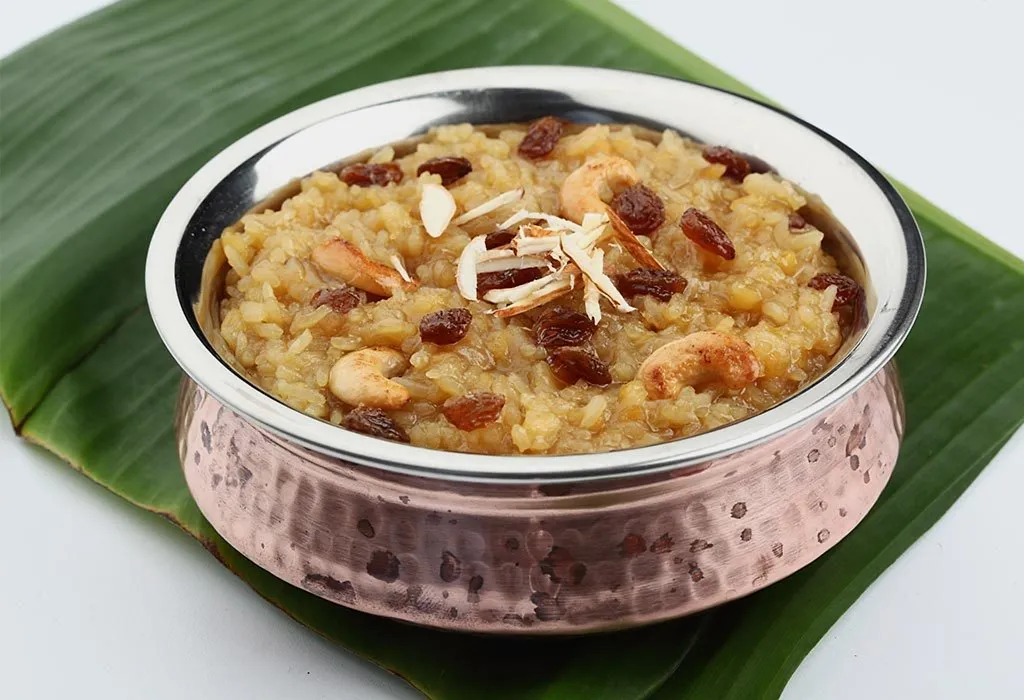 Rich in sugar, desserts give energy and uplifts mood.
A) Sweet Pongal
A South Indian must at every festival.
Ingredients
Rice: ½ cup
Moong dal: 1 to 1.5 tbsp.
Jaggery: ½ cup
Salt: a pinch
Water: 2.5 cups
Cardamom Powder: ¼ tsp
Ghee – 4 tsp
Milk
How to Cook
Melt the jaggery with ½ cup water and dissolve completely. Strain the liquid and set aside
Heat ghee and roast the moong dal for three minutes in a cooker. Mix washed rice and add water.
Pressure cook for four whistles.
Once the pressure wears off, add the jaggery water to the mixture, along with ghee, salt and cardamom powder. Add half a cup milk as the mixture thickens.
Cook it for few minutes, stirring regularly.
B) Naryal Or Elaneer Payasam
A unique sweet that's best for the summers.
Ingredients
Tender Coconut Water: 1 cup
Tender Coconut Pulp: 1 cup
Milk: 2 cups
Jaggery: 1/4 cup
Cardamom Powder: 1/2 tsp
How to Cook
Beat the tender coconut pulp, add the tender water, and refrigerate.
Boil milk and jaggery until thick, and add the cardamom powder
Pour the milk into the tender coconut pulp and let it cool.
C) Arrowroot Pudding
A sweet way to keep constipation at bay!
Ingredients
Arrowroot powder: ½ cup
Jaggery: 2 medium size
Cardamom powder: ¼ tsp
How to Cook
Soak the arrowroot powder for ten minutes in water and drain the water, along with the dirt particles.
Add some water to make a thin paste.
Grind coconut milk, cardamom powder, and jaggery
Boil it in a pan. Add the arrowroot paste in small amounts, while continuously stirring.
Keep stirring, until the paste thickens to a custard consistency.
Brush ghee or butter in a deep plate and pour the mixture.
Let it cool.
You can always add or subtract ingredients according to your baby's taste, as these foods can be easily modified. Above all, do not cook with stress. Cook with love, joy and positivity. Babies sense it in the food, as much as they sense it in your arms.
8. Sweet Potato
Sweet potato is a nutritious root vegetable that is high in fiber and vitamins.
A) Sweet Potato Cinnamon Pancake
Dizzling pancake for your baby with enhanced nutrition!
Ingredients
Sweet potato, peeled and chopped (how many?)
1 Ground cinnamon,
1 teaspoon (optional)
1 tablespoon ghee
One ripe banana
How to Cook
Steam and puree the sweet potatoes.
Blend them with bananas until they are smooth.
To give them a runny consistency, you can add water.
Ghee should be heated in a pan. Combine the mixture with the cinnamon powder.
To make tiny pancakes, spoon the mixture into the pan. Almost 2 tablespoons should be used per pancake.
Cook it thoroughly on both sides.
B) Sweet Potato Puffs
Sweet yumminess on the plate!
Ingredients
Cooked and mashed sweet potato- 4 cups
Vegetable oil- 2 tbsp
Water- 2 tbsp
Applesauce- 1 tbsp
Baby cereal- 1 cup
Flour- ½ cup
How to Cook
Combine oil, sweet potato mash, and applesauce in a bowl. Once the mixture is smooth, add the water and stir.
To this, add the baby cereal and flour. Add more cereal to make it coarser.
Pour the dough into a cone you've made out of a biscuit sheet or plastic sheet. Remove the tip.
Now take little bits and roll them into balls. To leave some air bubbles, create a hole in the centre. It will appear to be a puff as a result.
Place them on a baking sheet and drizzle with oil.
The dish should be baked for 155 minutes at 350.
Tips on Feeding Your One-Year-Old
1. Don't Force-Feed Your Child
Kids at this age are just beginning to develop their sense of flavour and figuring out what they like or dislike. Encourage toddlers to eat, but don't force-feed them anything they don't like, no matter how nutritious. Try and look for alternatives or mask the ingredient in other foods.
2. Food Should Be Easy to Eat
Your one-year-old still risks choking on big chunks of food, so keep the food soft, in small pieces, and easily chewable.
3. Cool Down the Food Before Serving
Your child may begin to eat without considering how hot the food is, so test the temperature on yourself before feeding.
4. Avoid Adding Excess Salt, Fat, Spices, and Sugar
These ingredients may cause health issues in the long run, so only use how much is needed in the dish. Additionally, your child cannot handle as much spice as you can, so bear in mind his tastes when cooking.
5. Supervise Your Child During Mealtimes
Children at this age may insist on eating food by themselves, but don't simply hand them the spoon and go about your chores. Make sure to stick around your child when he is eating to administer immediate help in case of choking, etc.
Foods You Should Avoid Feeding To A One-Year-Old
Avoid offering your child the following food as they may present choking hazards:
Popcorn
Raw and hard vegetables
Whole grapes
Hard candies
Hot dogs
Nuts
Raisins
These are some amazing food recipes that your child will like. These recipes are extremely healthy and nutritious for your little one.
Also Read: