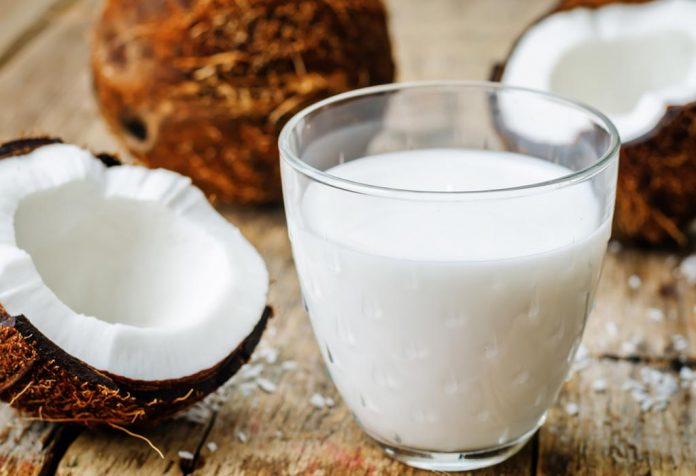 Last Updated on
Creamy in texture and rich in taste, this drink is a favourite among the South East Asians, and many dishes are incomplete without it. As far as your baby is concerned, yes, you may give your child coconut milk as there are several benefits associated with it. However, make sure that you don't give this as a substitute for your breast milk, as it does not have most of the nutrients that your baby gets from breast milk.
What is Coconut Milk?
Quite contrary to popular belief, coconut milk is not technically "milk". Even though it has the colour and texture of milk, this drink is a mixture of coconut water and coconut pulp. The pulp or meat of the coconut is grated, boiled, and then squeezed, till the coconut milk is extracted.
Is Coconut Milk Good for Babies?
Coconut milk is rich in nutrients. It mostly contains fats that are good for the body. Babies need essential fats for brain development, insulation, and for the benefit of their skin. Coconut milk also contains several vitamins and minerals like iron, magnesium, zinc, vitamin C and E. All these nutrients are highly beneficial in maintaining your baby's good health, development, and boosting immunity. Coconut milk also has a cooling effect on the body, and this is why doctors recommend this drink during the summer.
Nutritional Value Of Coconut Milk
Nutritional value per 100 g
Protein
2.3 g
Minerals:

Iron
Zinc
Potassium
Magnesium
Calcium
Phosphorus

1.6 mg

0.67 mg

263 mg

37 mg

16 mg

100 mg

Vitamins
0.03 mg
Health Benefits of Coconut Milk for Babies
Here's why you must consider including coconut milk in your little one's diet –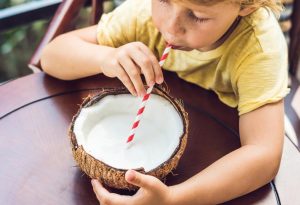 1. A Rich Source of Essential Fats
Coconut milk has high-fat content, and these fats are the good kind—saturated, monounsaturated, and polyunsaturated. All of this helps with the development of the brain, and your baby needs this, as, during infancy, the brain is constantly developing at a rapid pace.
2. Vitamins and Minerals
Vitamins and minerals are necessary for your baby's overall development, and coconut milk is chockfull of exactly that. Potassium and sodium work together to help in maintaining blood pressure. Vitamin C plays a vital role in the repair and development of tissues and red blood cells. It helps boost immunity as well. Vitamin E keeps the toxins at bay, by working as an antioxidant.
3. Works As an Antimicrobial
An antimicrobial can help protect your body from bacteria, virus, and germs by fighting it, and coconut milk work as an excellent antimicrobial. Coconut water is a part of the milk, and this water contains lipids that can help ward off antibodies.
4. An Alternative to Cow/Goat milk
Some babies are lactose intolerant and therefore allergic to cow or goat milk. Coconut milk works as an excellent replacement. However, coconut is a potential allergen, and while a lactose intolerant child can consume coconut milk, the possibility of another type of allergy is not completely ruled out, though coconut milk allergy in babies is rare.
5. Help kill Worms in the Intestine
A lot of doctors recommend coconut milk to de-worm your child. Children are prone to intestinal worms. Coconut milk contains antimicrobial lipids, capric acid, and lauric acid, that can kill these worms and boost the immunity of your child as well.
Can You Give Coconut Milk as an Alternative to Breastmilk or Formula?
Coconut milk has several health benefits, but it is not enough for your baby as a replacement for breast milk or formula; here's why –
1. Not Enough Protein Content
Proteins are necessary for the development and repair of muscles and tissues in the body. A baby needs a minimum of 11 grams of protein each day, and a measure of 100 grams of coconut milk gives you only about 2 grams of protein. This clearly isn't enough for your baby.
2. Not Enough Calcium Content
Calcium is required for the development of bones and teeth, and coconut milk has barely 10% of the necessary calcium content that your child needs.
3. Can Suppress Your Baby's Appetite
Coconut milk is rich in essential fats and calories, and this can make your baby feel full for a few hours, without really providing enough nutrients that your baby requires. Since the baby's tummy is full, he will refuse to consume breastmilk or food for a few hours.
How to Introduce Coconut Milk in Your Infant's Diet?
Your baby can start having coconut milk once he is around eight months or when he has started consuming solid foods. The first time you give your baby coconut milk, start by just a couple of spoons, in case he has an allergic reaction to it. You can then start by using coconut milk instead of cow or goat milk for mixing your baby's formula. You can add coconut milk to boiled and mashed rice or potato, with a little bit of sugar for some sweetness. However, too much sugar can cause dental problems, so limit it to about half a teaspoon. You can also make milkshakes with coconut milk and fruits like strawberries, mangoes, and bananas. Coconut milk and baby food recipes are a favourite these days, as coconut milk has a rich, creamy, and slightly sweet taste that most babies love.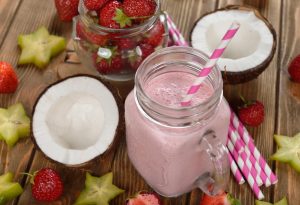 How to Make Coconut Milk at Home?
You do get coconut milk at the stores, but it is better to make it at home because this way you'll be sure that your baby is not consuming preservatives. Here's how you make fresh coconut milk for your baby at home –
Ingredients
One fresh dehusked coconut
Warm water
Method
Break the coconut, and collect the coconut water in a bowl, and keep this aside
Grate the dehusked coconut and then boil it with some warm water.
Mix the coconut water with the boiled coconut pulp or meat, and grind it till it forms a thick paste.
Pour this paste/puree into a clean muslin cloth and squeeze it.
Collect the coconut milk in a clean bowl and leave it to cool.
From working as an antimicrobial to having a cooling effect on your body coconut milk takes the prize for a great health drink. So, go ahead and introduce your baby to this delicious beverage.
Also Read: Health Benefits of Coconut Oil for Babies