14 Indian Celebrities Who Adopted Kids and Set An Example for Us All!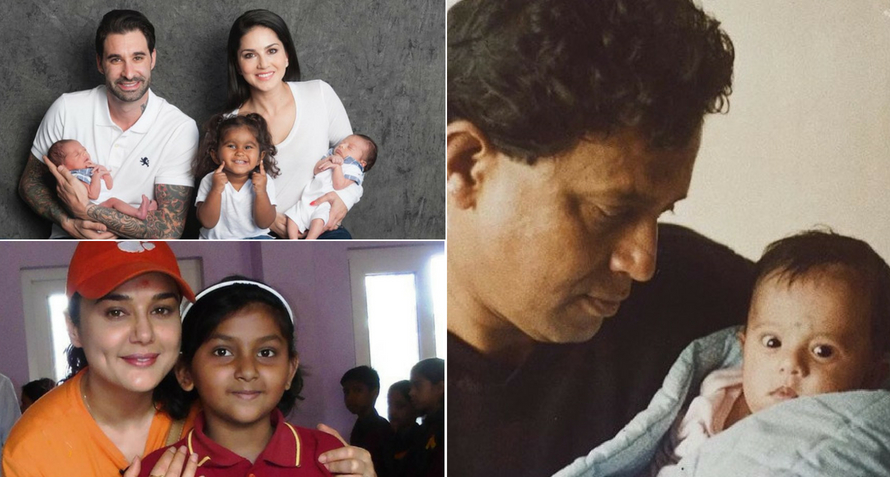 In this Article
Oprah Winfrey said, Biology is the least of what makes someone a mother. Though it's not as commonplace as it should be, adoption has become less alien in our society, as some famous Indian celebs have chosen this unconventional path to motherhood.
These days, the social stigma associated with the process of adoption has died down. A lot of credit for this change in our society goes to celebrity moms, who decided to adopt and nurture these kids, granting them no less a status than 'celebrity kids'! There a lot of people who choose to adopt children today for a number of reasons. We've put together a list of a few celebrity moms in India who have adopted their celebrity babies.
1. Sunny Leone
Sunny Leone and her husband, Daniel Weber, adopted baby Nisha in the July of 2017. Nisha was all of 21 months old when she was adopted and brings much joy to her parents. In an interview with a leading daily, Leone was stated as saying the following:
"Nisha is the best gift I could ask for. She is so beautiful and amazing! From being in a foster home to coming home with us, she has been adjusting to her new life, it's so amazing. It is just that God brings people in your life, when it is the right time…"
The couple wants to ensure that they provide Nisha with all the experiences a regular 2-year-old should have, to make up for time she has lost. They also became parents to twin boys, Asher and Noah, earlier this year. Looks like Nisha is going to have a ball of a time with her new siblings, judging by this beautiful picture!
2. Sushmita Sen
Sushmita Sen is the first name that comes to mind when we think of adoption. Sushmita Sen is a fashion icon, and perhaps, the most recognizable name on this list. After winning the Miss Universe pageant, Sushmita was on her way to becoming one of the biggest names in Bollywood. Many were surprised when she chose to adopt a baby girl in 2000 at the young age of 25. Sushmita had to fight a long battle in court before she was finally able to bring home her daughter Renee. In 2010, Sushmita adopted her second girl child, Alisah. Today, Renee and Alisah have become the picture of quintessential Indian celebrity kids, and the love and bonding between mother and daughters is apparent, such as in this beautiful post Sushmita put up for Renee's graduation. Does anyone else remember Sush and Renee's adorable appearance on Rendezvous with Simi Garewal?
3. Preity Zinta
Vivacious Indian actress Preity Zinta has always marched to the beat of her own drum. The actress has taken an unconventional approach to adoption. She has adopted 34 orphaned girls from the Mother Miracle School in Hrishikesh. Zinta has taken on the entire responsibility for the girls' care and development. She will ensure their upbringing and take care of their food, clothing, shelter and education expenses. This was Preity's way of celebrating her birthday! Here's what she says – and we can't help but be proud!
"Yes. I have adopted them and will be completely looking after their education, food, clothes etc. It`s an amazing feeling to be part of their lives. I'm going to make it a point to visit them at least twice a year. They are my children, my responsibility now."
4. Mithun Chakraborty
Mithun changed the fate of a baby girl who was abandoned on the roadside almost overnight. When he came to know the heartbreaking story of a baby who'd been rescued by an NGO and a few government officials, Mithun did not wait much further to adopt the little girl. With his wife's wholehearted support, Mithun brought home the baby, whom his wife Yogita named as Dishani. Today, Dishani is a beautiful young woman – the stars did smile brightly on this girl!
5. Raveena Tandon
Few people are aware that before Sushmita, it was Raveena who decided to go the 'adoption way'. At the age of 21, way back in 1995, Raveena chose to adopt two girls named Chhaya and Pooja. This was much before her marriage to Anil Thadani. Both girls are now all grown up and Raveena is on her second round of motherhood with daughter Rasha and son Ranbir, who she had with husband Anil Thadani. When talking about her adopted children Raveena has said that they were more like the sisters she never had, as they all grew up together. Raveena has been quoted as saying that she would tell the girls all the mistakes she made while growing up so that they would not make the same in their lives.
6. Salim Khan
Another girl whose destiny had good things in store for her, Arpita Khan was adopted by Salim Khan and welcomed into the celebrity family when she was quite young. Salim Khan took pity on the helpless girl crying on the road after the death of her mother, and brought her home, and the rest is history! Arpita was married off with much aplomb in late 2014 and is now a mother herself.
7. Shobhana
Malayalam actress Shobhana made an impact when she announced her decision to adopt. The actress brought home a six-month-old baby girl who she has named Anantha Narayani. The actress was photographed at the Shri Krishna temple in Guruvayoor for the child's 'choroonu'. Choroonu is a tradition in Kerala, when the baby is given its first solid food.
–
8. Samir Soni
Sameer Soni and Neelam Kothari tied the knot in 2011 and adopted their daughter, Ahana, in 2013. The couple had always wanted a baby girl, whether adopted or biological, owing to the fact that Sameer's family comprised mainly of male members. The minute they saw Ahana, they were won over by her million-dollar smile, which was enough for them to bring her home! The couple expressed their concern over having to tell Ahana one day about the matter of her adoption, but stressed on the fact that it was her upbringing that matters most.
9. Subhash Ghai
Renowned filmmaker Subhash Ghai adopted his brother's biological daughter and raised her as his own. Meghna Ghai, who now heads Whistling Woods International, is quoted as saying the following:
I was fortunate to be adopted. I felt very secure with them and they loved me. Meghna was given a very down-to-earth and regular upbringing. She knew early on that she wasn't cut out for filmmaking and decided to make the best of her opportunity at Whistling Woods International. Her dad sent her to London to study and work, and after hearing good reviews about her work from her bosses, he passed on the baton of heading the film institute.
10. Kunal Kohli
Popular director Kunal Kohli, who churned out hits like Hum Tum, adopted his baby girl back in 2011. Kunal and wife, Raveena, had to go through a stringent process to adopt their daughter Radha, which he says is a good thing, as it cannot be misused in any way.
11. Jai Bhanushali and Mahhi Vij
The popular television couple have done a noble deed by adopting the two kids of their caretaker. All their basic needs and their education will be taken care of by the couple, who are very fond of kids. Mahhi has also stated that if they have kids of their own, there will be no discrimination against the kids they've adopted.
12. Gurmeet Choudhary and Debina Bonnerjee
Another television-turned-real-life-couple who are household names, Gurmeet and Debina have adopted two young girls, Pooja and Lata. Hearing of their sad plight, Gurmeet decided to take them under his wings after discussing it with Debina. They felt the need to provide the girls a loving home and to take care of all their basic needs. And the duo are pretty excited about raising two daughters!
13. Rohit Shetty
Adopting an unconventional route to adoption like Preity Zinta is Rohit Shetty, who decided to undertake the care and funding of 10 cancer-ridden children. Blowing up cars, but also, melting our hearts!
14. Nikkhil Advani
Filmmaker Nikkhil Advani, who gave us one of our all-time favourite movies, 'Kal Ho Na Ho', adopted a little girl, Keya Advani, with his wife, Suparna Gupta.
Celebrities have always been trendsetters when it comes to fashion and style. But, these are a few who have set a different way of thinking. The society should carry forward this message of adoption, and couples should come forward and take up the joy of parenting through adoption. It is also a viable option to consider when you want to become parents but are unable to have a child naturally. The process of adoption involves several steps such as identifying the right adoption agency and going through the required paperwork.
Update: It was incorrectly stated earlier that actress Revathy had adopted a child, while in fact, she has a daughter Mahee whom she conceived through the process of IVF. The error is regretted.
Read all about the process of adoption here >>
The joy of raising a child is immense even if it isn't your biological baby. After all, children have an uncanny ability to find their way into your heart!