13 to 16 Month Old Baby Food Ideas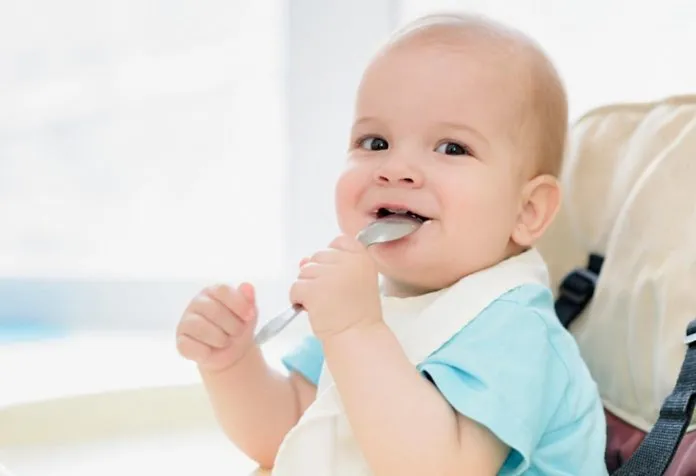 Your baby is a year old and has been eating solid foods for a few months now. There may be times when he refuses to eat a particular fruit or vegetable and at times, you may be confused about what you can feed your toddler. To tackle all such situations, here are a few diet plans, tips and food options for babies who are 13 – 16 months old.
Best Foods for a 13-16-Month-Old Toddler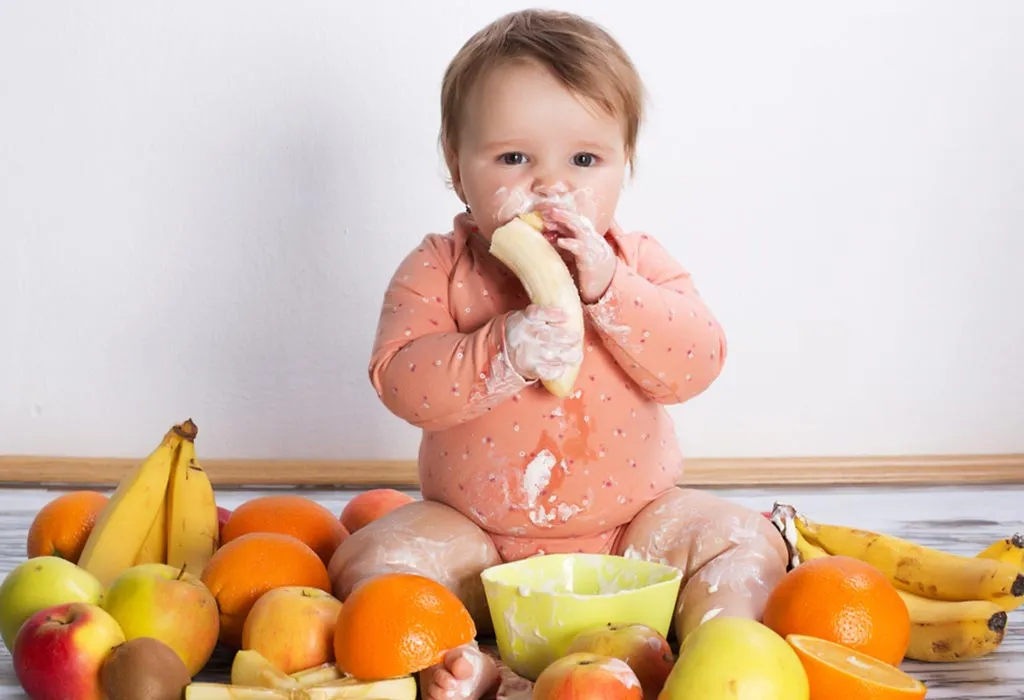 Your toddler can now progress to eating solids. So, pick healthy and rich foods to help him grow and stay healthy. However, don't overfeed him. Some healthy options are listed below:
1. Fruits
Cut fruits into small pieces so that your child can pick up and eat them easily. Ensure the fruits are tiny and chewy. Otherwise, it can choke your toddler. For instance, you should cut grapes into small pieces rather than serving whole grapes.
2. Milk
Milk is a must for every toddler. It's highly nutritious and helps him grow physically strong and mentally sharp. Whether you are still breastfeeding your baby or feeding him cow milk, don't give too much of it. If his stomach gets filled up with milk, he won't feel like eating solid foods.
3. Vegetables
By this time, your toddler can have most vegetables including broccoli and cauliflower. You can give these by chopping off the stem and mashing it just a little. Other healthy options are mashed potatoes and carrots, which can be given as snacks. You can also cut carrots into long pieces and give as finger foods.
4. Meat
White meat is a great source of proteins for your toddler. You can cook it and shred it before feeding. Meat is a great 15 months' baby food as it is an energy booster and keeps your child going throughout the day.
5. Yoghurt
Yoghurt is a healthy food option for toddlers. It is considered safe for children right from the time they turn 6 months old. This dairy product is full of nutrients and also a tasty option for your child.
6. Nuts
Often, parents hesitate to give their baby nuts fearing nuts allergy or choking. Well, if your child is not allergic to nuts, you can start feeding him these right from the time you introduce him to solids. As for choking, break the nuts into small pieces that your toddler can easily chew and swallow.
7. Grains
A serving of grains is necessary for your toddler's growth and development. You can introduce him to broken wheat, buckwheat, ragi, millet, and rajgira atta in small amounts.
8. Beans
Beans is another healthy snack option for a 14-month-old baby. If your baby likes kidney beans, three tablespoons of it can be given in a day. Kidney beans have the right amount of calories and no fat, making them a great source of nutrients for your child.
13 to 16-Month Baby Food Chart/Feeding Schedule:
Making a feeding chart for your baby is not an easy task. Here is a chart to guide you. You can personalise it based on your baby's likes.
Early Morning
Breakfast
Mid-Morning
Lunch
Afternoon
Dinner
1/2 or 1 cup of milk
Oats/Apple Porridge

OR

Scrambled eggs/ Apple Porridge

OR

Whole grain muffins

Vegetable sticks

OR

Watermelon scoops

OR

Pancake

Rice and dal

OR

Ragi Idli

Fruit yoghurt

OR

Kidney beans

OR

Vegetable sticks

OR

Fruits

Rice and yoghurt

OR

Mashed potatoes
Homemade Recipes for 13 to 16 Months Old Toddlers
Homemade recipes are healthy and wholesome. Here are some healthy homemade recipes you can try.
1. Ragi Idli
This is a healthy Indian dish for 16 months old babies. It's quite easy to prepare as well.
Ingredients:
For 10 Idlis
Idli batter (fermented) – 2 cups
Ragi flour – ½ cup
Oil – 1 tbsp
Warm water – 1/4 cup + 2 tbsp
Salt to taste
How To Prepare:
Mix the flour with warm water in a bowl to make a thick paste.
Once the paste is thick, mix it with idli batter and add a little salt. Stir gently.
Keep aside for 20 minutes.
Meanwhile, boil water in a steamer and grease the moulds with oil.
Pour the batter into the moulds.
Keep the idli stand in the steamer and allow it to steam for 10 minutes.
Serve warm.
2. Chikoo Puree
Sapodilla (chikoo) tastes sweet and has amazing health benefits. Your toddler will finish this lip-smacking chikoo puree till the last drop!
Ingredients:
For 2 ½ Cups
How To Prepare:
Cut the fruit into half and deseed it.
Using a fork, mash it to the required consistency.
Add a little breast milk or cow milk.
3. Oats Chilla
Ingredients for 6 Chillas (for Baby)
Oats – 1 cup, powdered
Chickpea flour – 1/4 cup
Cumin powder – 1 tsp
Turmeric – a pinch
Carrot – 1/4, grated
Onion – 1
Green chillis – 2, chopped
Water as required
Oil/ghee
How To Prepare:
Add powdered oats and the other ingredients to a bowl. Add water as per your requirement and mix to give it a batter-like consistency.
Heat a pan and grease it with oil.
Spread a ladle of batter on the pan and let it cook.
Flip it so that both sides get evenly cooked.
4. Pasta Kheer
Ingredients:
Milk – 2 cups
Pasta – 3/4 cup
Jaggery syrup – 1/4 cup
Green cardamoms – 2
Rice Flour – 1 1/2 cup mixed with milk/water – 1/4 cup
Ghee
Cashews
How To Prepare:
Boil water in a pasta. Add the pasta and cook for a few minutes.
Drain the water and keep aside.
Take a pan and roast cashews in ghee. Once done, empty the roasted cashews into a bowl.
Pour milk into the pan and add the cooked pasta to it. Let it simmer for sometime.
In another bowl, mix rice flour, milk and water well.
Pour this slowly into the pan. Keep stirring while the contents cook.
Allow the kheer to thicken. Sprinkle cardamom seeds.
Add jaggery syrup and let it cook.
5. Oven-Roasted Green Beans
Ingredients:
Green beans (diced) – 1 cup
Extra-virgin olive oil – 2 tsp
Salt to taste
How To Prepare:
Pre-heat the oven to 425º Centigrate.
Place a jelly-roll pan for ten minutes in the oven.
To the beans in the bowl, add a pinch of salt and a little oil.
Place the beans mixture in a single layer on the baking sheet. Bake for 8 minutes until crisp and tender..
Feeding Tips for Toddler (13 to 16 Months)
Over time, you'll have noticed that your child has become very fussy about food. Don't worry, your baby is not an exception. Many toddlers suddenly become picky about what they eat. These tips might not make a huge difference, but will definitely improve his eating habits.
If the food is attractive, your baby will eat it with glee! Little ones, like us, are attracted to pretty things. So if you are making sandwiches, use cookie cutters to give them a cute shape.
Don't overfeed or underfeed your toddler.
Don't force food into your baby's mouth. Rather, allow him to eat it himself.
Avoid giving too many sweets or items with high sugar content.
When you make a diet plan for your toddler, add a variety of recipes to make it appealing. When your baby knows what to expect for lunch, he will become disinterested in the food.
Only rich and healthy food must be given to babies between 13 and 16 months. Add fresh fruits and raw vegetables to his diet. By starting early, you can make healthy eating a habit.
Your baby's body is constantly growing and changing, so it is vital for him to have appropriate food. Following a healthy diet and allowing him to enjoy his food will inculcate healthy eating habits, and also aid his wellbeing.
Also Read: Food Ideas for 17 to 20 Months Old Baby
?>