Foods Ideas for 17-to-20-month-old Babies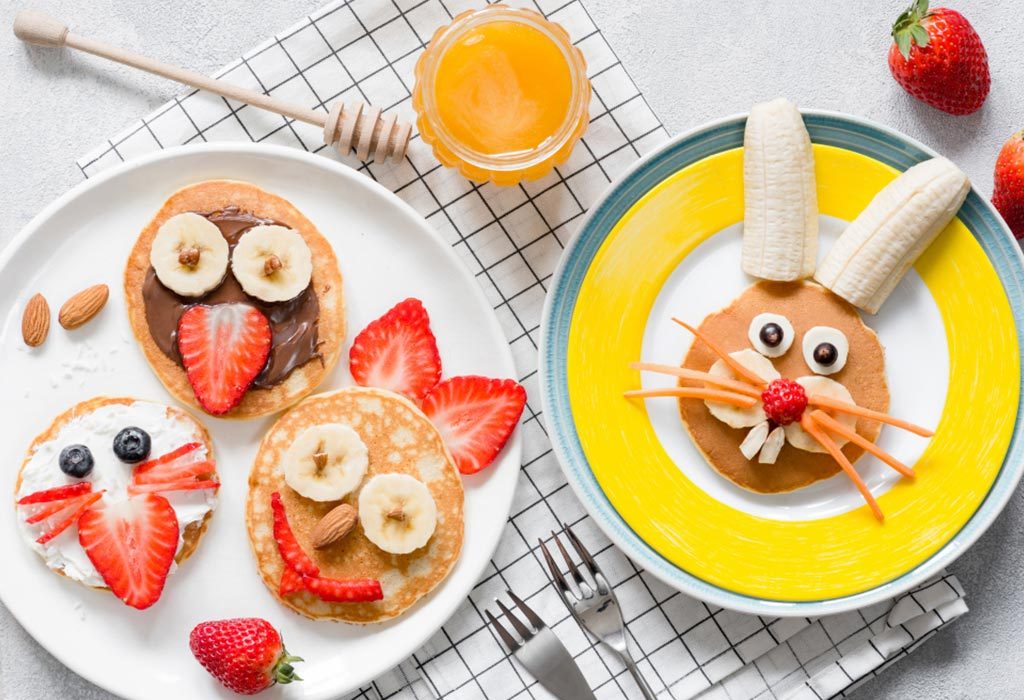 Getting children to eat healthy food is not an easy task. If you have a child, you know taking care of him is a lot of work. From making sure that you provide him with the best nutrition to ensuring that he meets his milestones on time – as a parent you have a lot to stress about. One important task is deciding meals for your little one. You will need to work nutritious foods in his diet from early on for his healthy growth and development, and to develop healthy eating habits in him. If you want to know which foods you should include in your baby's diet, read on!
The Best Foods for 17-to-20-month-old Babies
If your baby is between 17 and 20 months old, he must be growing at a rapid rate. He will need the right kind of nutrition for his proper growth. A well-balanced diet that is rich in proteins, vitamins, carbohydrates, minerals is important for him. If you want to know which foods you should include in your child's diet, read on!
1. Grains
Grains are super-healthy and can be included in your baby's diet. You can add different grains like rice, millet, barley, etc., in his diet. Rice is the least allergenic grains and that is why it is recommended as one of the first foods for babies. Millets are a rich source of B vitamins, magnesium, and iron, and barley can provide your munchkin with Vitamin A, folate, and protein. You can also include quinoa in his diet as it is rich in iron, calcium, fibre, and protein. However, before including these grains, do check with your baby's paediatrician first.
2. Vegetables
Now that your baby is a little older, you can introduce veggies to him. Veggies like pumpkins and carrots are a great source of Vitamin A, so include these in his diet. Apart from these, you can also give him boiled peas, edamame beans, and cucumber.
3. Fruits
You can include citrus fruits such as oranges and sweet lime and other fruits like apples, bananas, berries, and pears. If avocados are easily available in your area, make them a part of your child's diet too. Avocados are a great source of healthy fats and are a must-include in a growing child's diet.
4. Nuts
Dried fruits and nuts can help your child gain healthy weight. You can start off by giving your toddler small pieces of almonds and walnuts (nicely chopped) either in a meal or on the side. These nuts should be chopped well as your little one might end up choking on them. You can also powder them and add it to his glass of milk.
5. Milk
If your little one is above 12 months of age, include a glass of milk in his daily diet. But if your child is lactose intolerant, consult a paediatrician with regards to the inclusion of milk in his diet.
6. Other Dairy Products
Cheese, clarified butter, butter, cottage cheese, and yoghurt can also be given as a snack to toddlers. You can also include these in his meals. Dairy products are a rich source of calcium and protein and will keep your child full.
7. Eggs
Eggs are a versatile food and can be included in a child's diet, but it's best to start them after your child turns two years of age. Boiled eggs, scrambled eggs, omelette would make for a great breakfast option. Eggs are high in protein, low in cholesterol, and good for overall health. So make them a part of your baby's diet.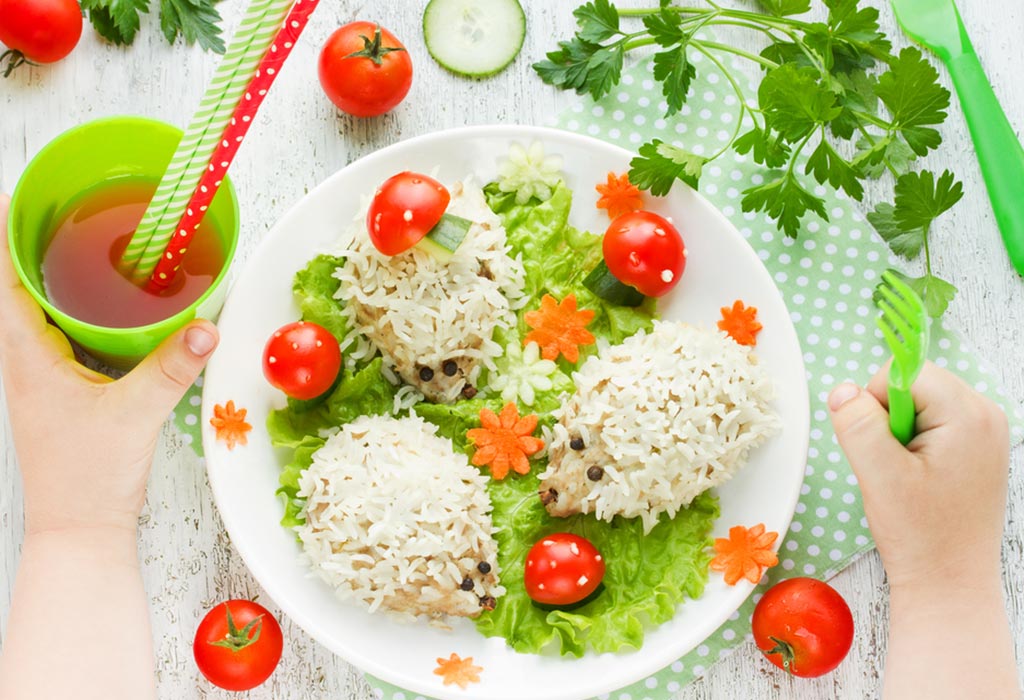 Foods That Should Not Be a Part of Your Toddler's Diet
Given below are the two common foods that should not go into your child's daily diet if he is between 17 and 20 months old.
1. Meat
While meat is a good source of protein and extremely nutritious, it should not be a part of a toddler's diet. Why? The animal proteins are allergenic in nature and should be avoided in the initial two years of life.
2. Fish
Fish is also healthy but some kinds of fish may affect your child's health negatively, so it is best avoided.
A Sample Food Chart/Meal Plan for 17-to-20-month-old Babies
Preparing meals for your baby won't be difficult if you have a meal plan at your disposal. Given below is a sample food chart for babies between the ages of 17 and 20 months. You can use this sample meal plan as a guide and give it your own twist. Check out the plan below –
| | | | | | |
| --- | --- | --- | --- | --- | --- |
| Day | Breakfast | Mid-Day Snack | Lunch | Evening Snack | Dinner |
| Monday | 1 ragi dosa + a small glass of milk | 2/3 slices of apple | 1 cup lemon rice + sambar | Porridge with honey and cinnamon | 1/2 cup of tomato soup +1/2 cup of whole wheat pasta |
| Tuesday | 1 cup of oatmeal with banana slices | ½ cup of watermelon | 1/2 cup of rice + 1/2 chole + 1-2 slices of carrot and cucumber | 1/2 cup fruit yoghurt | 1 roti +1/4 cup of palak paneer |
| Wednesday | 1 small bowl of vegetable upma | Papaya milkshake | 1 cup of vegetable pulao + 1 bean sabzi | Carrot and cucumber slices with pumpkin dip | 1 cup of vegetable tehri |
| Thursday | 1 small bowl of poha + fresh orange juice | Grapes cut into halves | 1 cup of vegetable khichdi + curd | Banana -strawberry Smoothie | 1 roti with ghee + lauki ki sabzi |
| Friday | Vegetable sandwich (made with brown bread) + Watermelon juice (freshly squeezed) | Banana slices | 1 roti with ghee + carrot and bean sabzi | Cornflakes with milk | 1 cup of red rice + black dal |
| Saturday | Vermicelli/ Seviyan upma | Banana smoothie | 1 cup of yellow dal + rice (small portion) | 2 whole-wheat crackers/biscuits | ½ cup of mashed dal rice |
| Sunday | 1 small aloo paratha + curd | ½ cup of strawberries | 1 cup of wheat porridge with milk | ½ cup milk+1 small hara bhara kebab | 1 methi paratha + tomato chutney |
Source: http://www.shishuworld.com/18-month-baby-food-chart-toddler-food-chart-meal-plan-for-18-monthsbaby/
Homemade Food Recipes for a 17-to-20-month-old Toddler
For your almost 2-year-old baby, you are free to give anything he is willing to eat. So, do not be afraid to experiment. Your infant will enjoy all kinds of food made with a little less spice. Here are some simple and delicious recipes for you to try.
1. Pumpkin Dip
Pumpkin is packed with Vitamin A and can be used to make pumpkin dip which your child can enjoy with apples or cucumbers. Here's how you can make it.
Ingredients
1 canned pumpkin
½ tsp salt to taste
½ tsp pepper
A dash of lemon (additional ingredient)
Method
Take all the ingredients together in a bowl and whip them well.
Serve with slices of apple or cucumber.
2. Risotto Primavera
This Italian dish is packed with vegetables and protein and makes for a good lunch option.
Ingredients
1 onion (finely chopped)
1 small leek (thoroughly washed and finely chopped)
2 tsp of olive oil
A small portion of risotto rice
Vegetable or chicken stock (as needed)
1/2 cup of frozen peas
1 small carrot (finely chopped)
1 tbsp of butter
1 tbsp of lemon juice
A block of parmesan cheese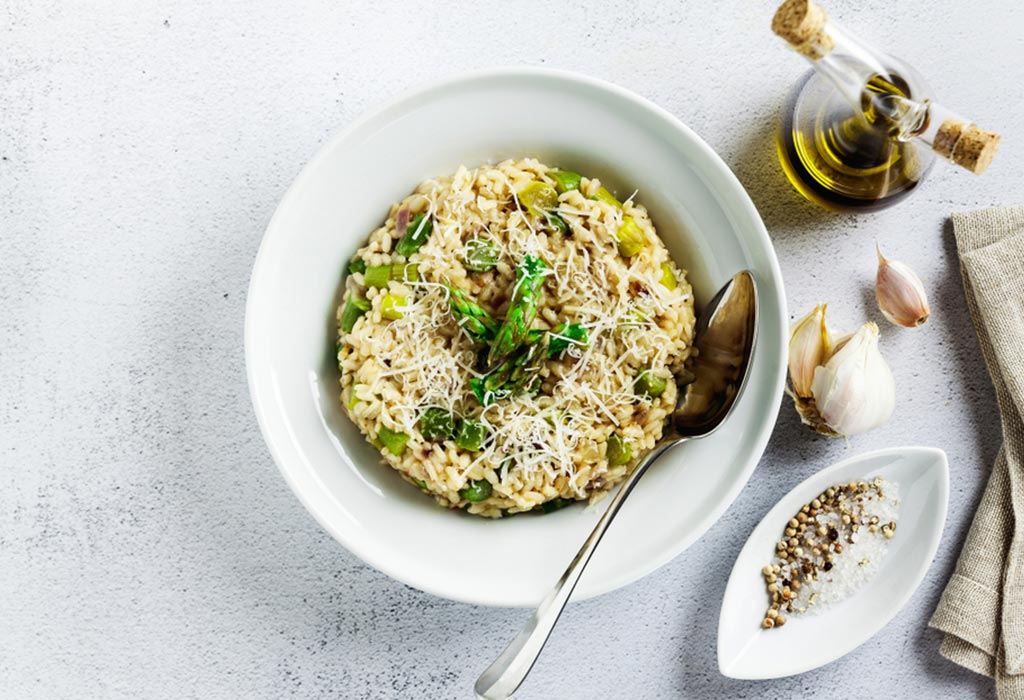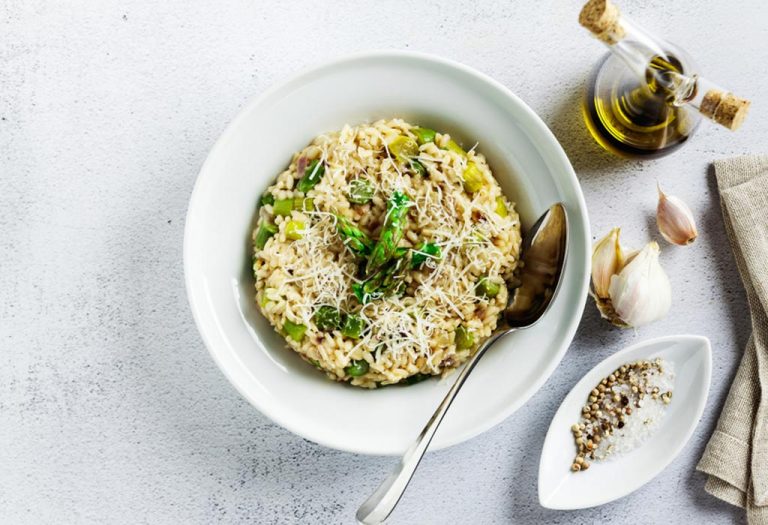 Method
Take the butter in a pan and sauté the leek and onions for about 5-6 minutes.
Add the rice and stir and let it cook until the rice turns translucent.
Add a bowl full of stock and stir frequently till it is completely absorbed and cooked.
Add more stock, stir, and cook the rice gently till it is tender.
Once the rice is cooked, grate some parmesan cheese and garnish it on top before serving.
3. Mediterranean Salad
Lightly tossed vegetables and greens mixed with some lemon dressing are a smart option for a quick meal.
Ingredients
1 cup of cooked quinoa
1/4 cup of olive oil
1/3 cup of vinegar
1/2 an onion (chopped)
1 bell pepper, red (chopped)
1 tomato (chopped)
8 black olives (canned)
1 cup of cilantro (finely chopped)
1/2 tsp of salt
1/2 tsp of black pepper (ground)
1 cup of feta cheese crumbles
1 lemon (medium)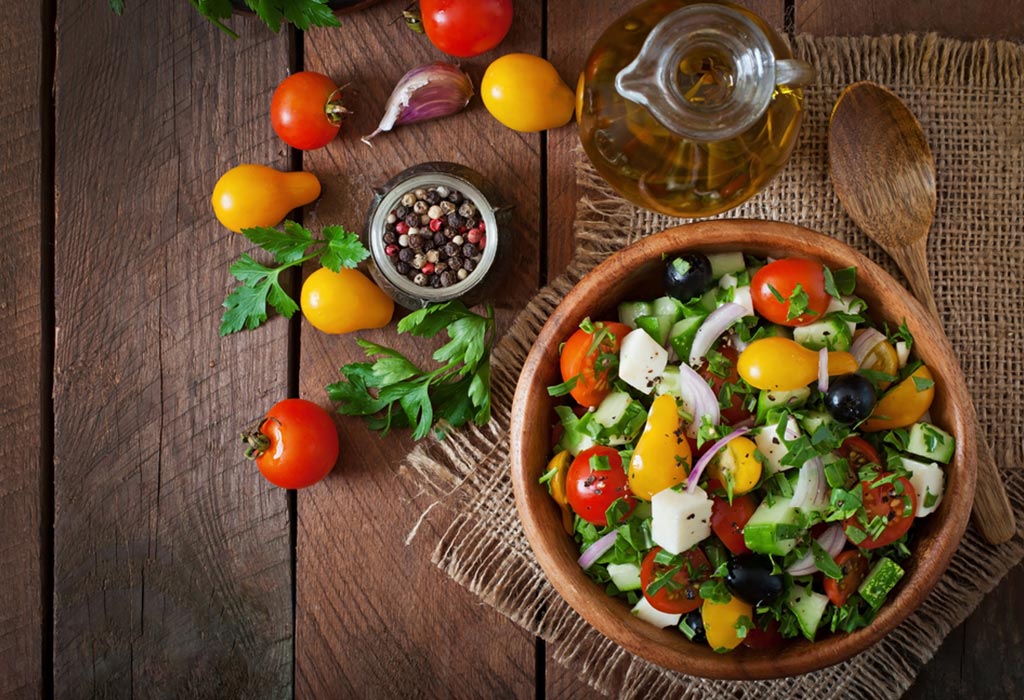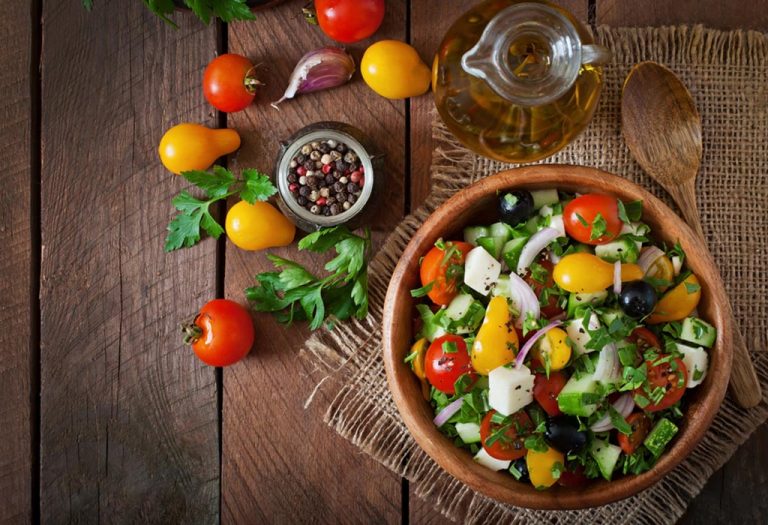 Method
Take the cooked quinoa and keep it aside in a bowl.
Take some olive oil in a pan and toss some onions, bell pepper, tomato, and cilantro in it.
Add the quinoa and veggies to a bowl and sprinkle some feta crumbs on top.
Sprinkle some lemon juice and serve.
4. Oatmeal With Banana
This breakfast recipe packs in fibre and vitamins. It will also keep your child full for long.
Ingredients Needed
1 small cup of rolled oats
1 small cup of almond milk or water
1 banana (sliced)
1 tsp of cinnamon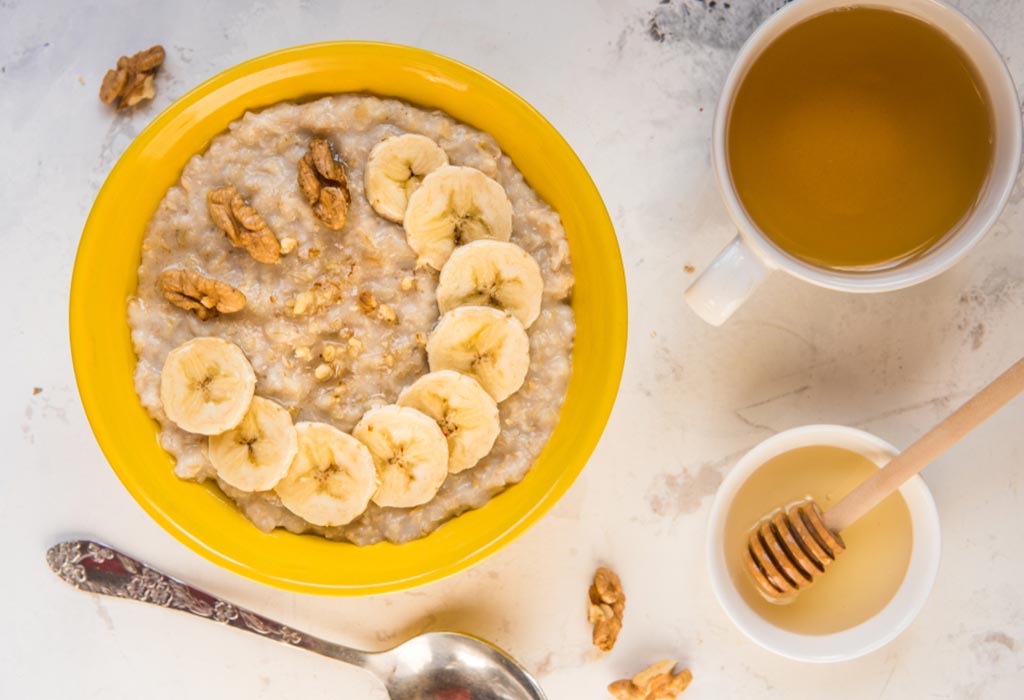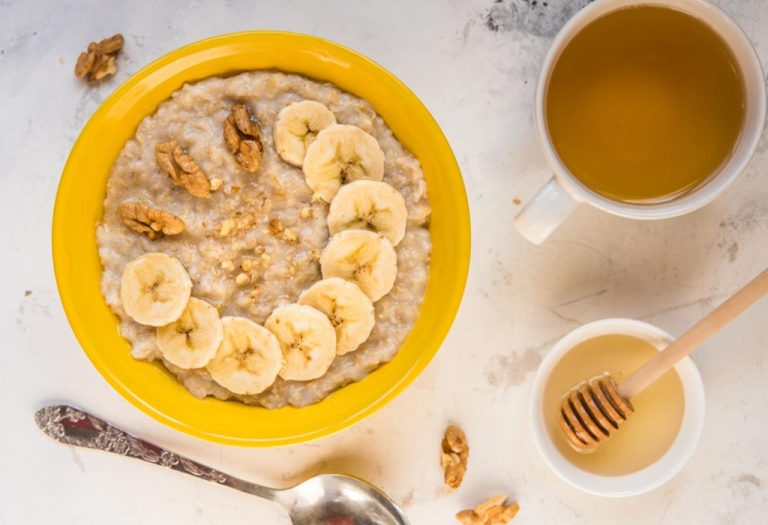 Method
Cook the oats slowly with some almond milk in a pan. Stir occasionally.
Once it's nice and soft, add a dash of cinnamon for a slight sweetness.
Before serving, add chopped bananas on top.
5. Avocado on Toast
Avocado is rich in healthy fats and can meet your child's requirements for healthy fats. It tastes delicious too. Check the recipe below –
Ingredients
1 large ripe avocado
1 banana (if required)
4 slices of bread (whole wheat)
Some cheese (optional)
Salt and pepper as per taste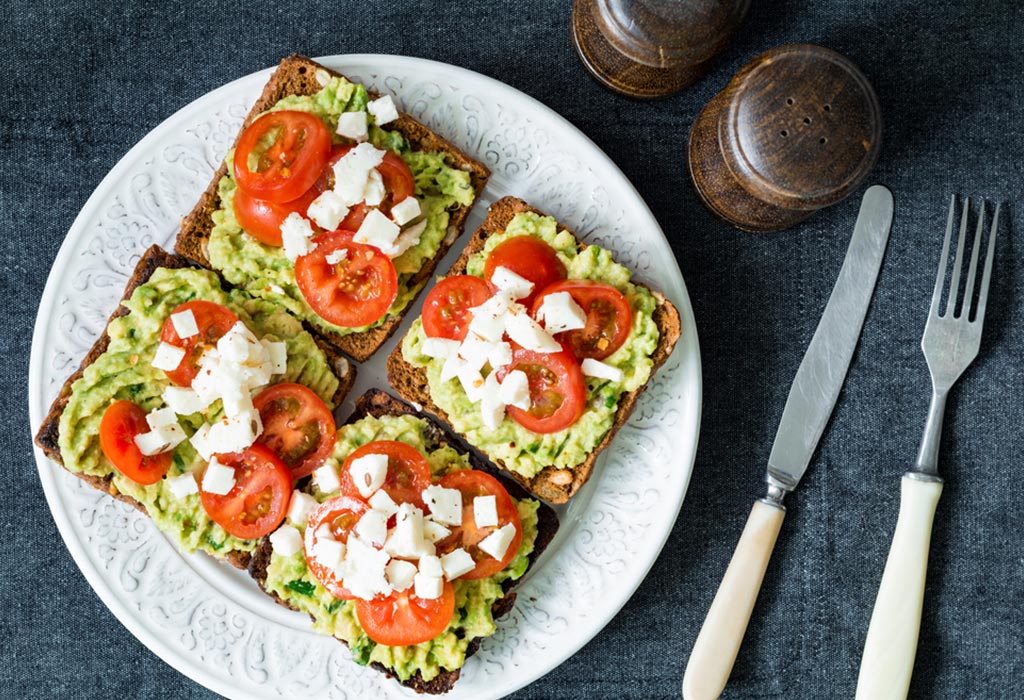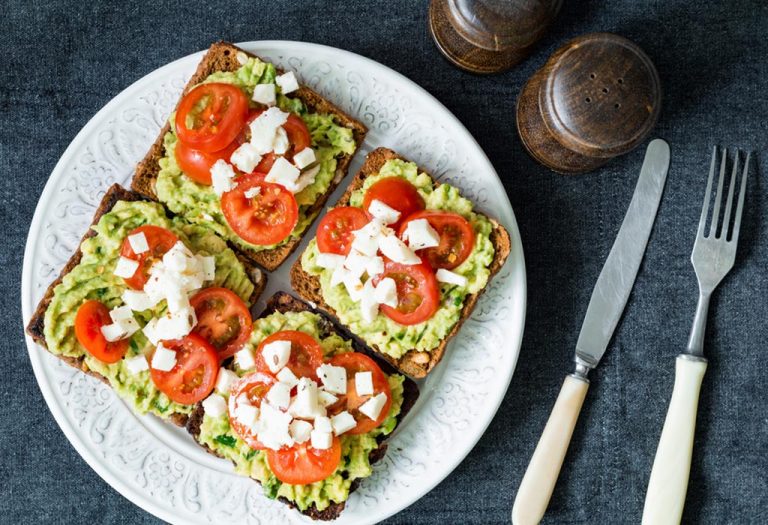 Method
Cut the avocado in half and remove the pit. Then scoop out the flesh and mash it in a bowl until its creamy.
Sprinkle some salt and pepper for taste.
Toast the bread slices and spread the mashed avocado on them.
Season with slices of banana or shredded cheese.
Tips to Make Mealtimes Fun and Safe
We understand that getting babies to eat food served on their plate is not an easy job. The minute you don't pay attention to your baby, the food on his plate will be on the walls and floor of the room and he will have a triumphant smile on his face. We know, this might stress you out, but calm down! We have a few tips that will make mealtimes fun for your little one. Have a look at them. We are also sharing some tips that will come in handy when you feed your little one.
Getting babies and toddlers to eat food is not easy once they develop a taste. Most likely, your child will say 'no' to certain foods and throw tantrums when you try to get him to eat them. But you don't have to force him. To get him to eat broccoli, try some clever ways. Make the food colourful so that your child can't deny it. For example, instead of serving him boiled broccoli alone, you can give him two small broccoli florets, two thin slices of boiled carrot, and a few slices of cucumber. This way the food on his plate will look colourful and he will most likely be tempted to eat it.
Refrain from setting a 'clean plate' rule for your toddler. Serve him two-three options and let him choose what he wants to eat. The more you set rules, the more he will defy them. So, take it easy with your kiddo.
Try the reward system – it always works! By rewards, we don't mean that you get him a toy car every time he finishes the food served on his plate. What we are trying to say is that you praise him whenever he does something good. For example, if he finishes the food on his plate, praise him a little. You can say, "Good job!" A little appreciation will go a long way in developing healthy eating habits in him.
If you want your child to eat a particular vegetable, first, you eat it. Be a good role model; your child observes you and learns from you so in order to get him to eat something, show him how it's done. Let your child learn the habit of healthy eating from you.
To keep your little one interested in his meals, we suggest that you offer him a variety. Your baby may get bored of eating the same food daily, so introduce new foods. You can introduce different foods to your child to expand his palate and to make mealtimes interesting for him.
Introducing new foods surely will keep your child interested. Having said that, we suggest that you introduce new foods in his diet gradually. If you want to make him try a particular food, give a small portion of it. And after having introduced that food, wait for at least three days before you introduce another food. This time period will help him develop a taste for that food and will help you identify any signs of allergy in him.
When your little one is having food, monitor him closely to ensure that he doesn't choke on his food. If you notice that he is choking on his food or is coughing slightly, help him spit the food.
Serve small pieces of food so that your child can chew them easily. And let your take his time at mealtimes – let him child savour his meals.
If you have a hectic schedule, consider meal planning in advance for your child. Decide what you will cook for him a day in advance or on weekends. You can also cut certain veggies and freeze them so that you can use them throughout the week.
You can also start giving him small harmless cutlery such as spoons to help him learn how to eat with a spoon.
Lastly, consult your paediatrician before introducing fish or heavy meat.
For your baby's healthy development, make sure he eats healthy food, which is rich in protein, vitamins, carbohydrates and healthy fats.
There you go – you have everything you need to make mealtimes fun for your kiddo. You know what foods to include in your child's diet and how to include them, so go on and offer him these foods. Make the foods suggested above for your kiddo and get him to eat nutritious foods. Trust us, your little one will be just fine!
Also Read: Food Ideas for 1-Year-Old Baby