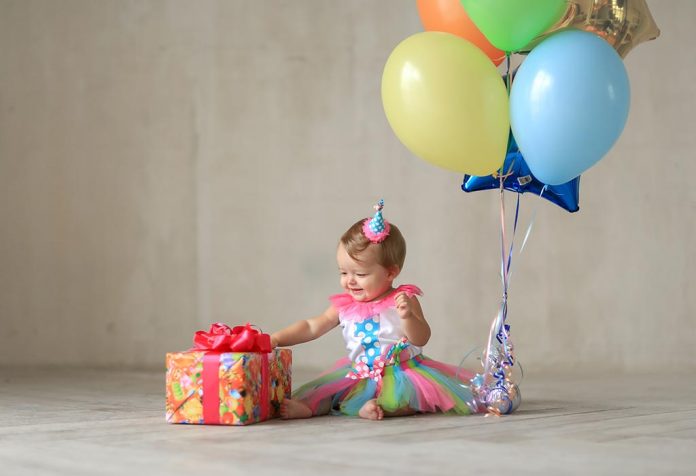 It's nearly been one year with your little one. You've passed important milestones and are excitedly awaiting more! You've experienced sleepless nights, indescribable joy, tough decisions, first-time fears, and more! But most importantly, you've formed a life-long bond with the little human you created.
As your bundle of poop joy meets her first big milestone birthday, you're probably scurrying around planning the big party, the guest list, the food, and the decor and chances are you're still figuring out the gift. Because, what will a one year old value? Your answer: NOTHING but your time and cuddles and that you give her ample of anyway!
The best way to pick out a birthday gift for your baby on her first birthday is to find something that can be valuable when she is old enough to acknowledge it. Think of it as planning for the future but in a creative and fun way so that one day your little one will know the extent of your thoughtfulness for her!
1st Birthday Gifts That Get Better With Time
Birthday dress, check! Birthday cake, check! Guest list, check! Gift? Wait, don't have a breakdown just yet! We've got a list of unique birthday gift ideas for your little one's first birthday that only get better with age!
Birthday Time Capsule


What is a time capsule? Grab the tissues as you begin to envision your child's birthday 17 years from now!
Your 18 year old is sitting in front of a big box, curious and excited to reveal its contents. As she opens it, she finds letters, mementos and little tid-bits from her first birthday! Letters from people that may have grown older or are not in the world anymore, her little booties from her first birthday party, a newspaper dated to her birthday 17 years ago and memories she would have otherwise never experienced!
Get the gist? Putting a time capsule together is quite simple. Its contents are entirely up to you. You can ask your child's grandparents, close friends and family to write small notes for your little one and have them neatly sealed and placed in a big box. You can have Polaroid photographs of the birthday party to lend a vintage feel to the box. You can even add in special items that are associated with your baby's first year of life like the hospital bracelet, her first onesie or anything else that you think she might want to see when she gets older!
Then store away this time capsule till you think your child is old enough to appreciate the gesture. It'll be a gift she'll never forget!

Personal E-mail Address


Think a baby with an email address is ridiculous? Hear us out. In this digital age, your child is more likely to be accustomed to a bunch of 'letters' stored digitally than in a physical format. Don't get us wrong. Handwritten, personalised letters are adorable and will never lose their charm but if you'd rather type out your feelings that pen them down, this idea is for you. Create an email address for your child (e.g Anshika8@freemail.com) and email her as often as you'd like, sharing moments of your day together, videos, pictures or any memory that you'd like to immortalize. On her 18th birthday, give her the user-name and password and watch as she squeals in delight!

Onesie Blanket

Source: www.pinterest.com

You know how fast babies outgrow their clothes, right? Well, this birthday gift keeps getting bigger and better each year! Simply cut out squares of your baby's outgrown onesies/clothes and stitch them together to create a blanket. When she is older, sit her down and explain the concept and she'll be sure to want to snuggle in her very own onesie blanket each night.

Bank Account

Saving for your little one's future is probably the most thoughtful gift you can give her. It means that whether you are around or not, you can be rest assured she has something to fall back on. Save in any way you feel best, or get a financial advisor to tell you what steps to take. When she is older and needs some extra help with finances, mommy and daddy will have her covered, as always!

Social Media Page

Jumping on the digital memory bandwagon again, creating a Facebook or Instagram private page/group for your child is one way of getting all your close friends and family to shower some virtual love on her. With so many precious people being geographically far, a social media page is one way to ensure that everyone gets to tell your little one how loved she is. True, keeping this page a secret from her for many years will be a task but when you do finally reveal over a decade of cute posts and messages to her, it will all be worth the wait!

Voice Notes/ Recordings

It's true that hearing the voice of someone we love can really lift our spirits on a bad day. Imagine how your child will light up when she hears the cute conversations between you and her from the yesteryears, her first words, how her Mumma and Dadda sounded when they were younger, etc. If that doesn't fill her with joy, we don't know what will. You can save them in a secure folder with a backup and send them to her on her birthday when she is older. Trust us, she will keep these recordings close to her heart for life!

Extendable Charm Bracelet


A silver bracelet with links that can extend is a great gift that keeps growing as the years pass by. You can even add in little charms along the way to remind your little one of the milestones she has crossed through the years. Of course if the bracelet gets too big, you'll have to invest in another one or turn it into a necklace instead!

Memory Book


The good ol' scrapbook never gets old. If you are an artsy mumma or dadda, then get yourself a blank scrapbook and get creative with memories! Alternately there are ready scrapbooks with templates available too. And if you'd rather stick to digital memories, then you can find a digital scrapbook as well! Either way, a memory scrapbook is a great way to keep little things in one place for your child to see when she gets older.

Website

This one will require some digital knowledge if it needs to be built from scratch. If you can afford to have a website developer build a website for you, then go ahead, buy a special domain and design one that you can present to her when she is older. Make sure to fill it with all the little memories and milestones from her childhood. If you think the upkeep is a bit high, then a blog is a good idea too. Blogs are user-friendly and free to use!

Tattoo

source: www.pinterest.com

If you're an adventurous parent, you might want to consider inking yourself around your child's first birthday. Why? Because tattoos last forever, just like your love for your baby! It's true that this isn't a gift you are directly giving your little one, but when she is older she will realise that you love her so much, you decided she was worth getting inked on you forever. Some great tattoo ideas for parents are:

A sound-wave of your child's first words

A thumb print or a footprint of your baby

Your baby's date of birth

A word that describes your love for her

Her name

Of course, you will have your own ideas of what represents how you feel about your baby. So, give it a thought and get inked!

Charity Donation

Instead of spending on an elaborate celebration that your little one won't remember on account of her being so young, why not donate some money to a charity you believe in on her behalf? In fact, you could keep up this tradition even when she is older. This will not only help someone in need but also inculcate a sense of compassion in your little one.
Remember, no matter what you plan(or don't) for your baby's first birthday, she is going to love you just aBirthday Gift Ideas for a 1 Year-Old Baby Boy and Girls much. So, don't sweat it, enjoy making memories with her and be sure to capture as many as you can so that you can both fondly revisit them over years to come!
Also Read:
Creative First Birthday Party Ideas
Birthday Gift Ideas for a 1 Year-Old Baby Boy and Girl