11 Exciting Amusement Parks Your Toddlers And Kids Will Love to Go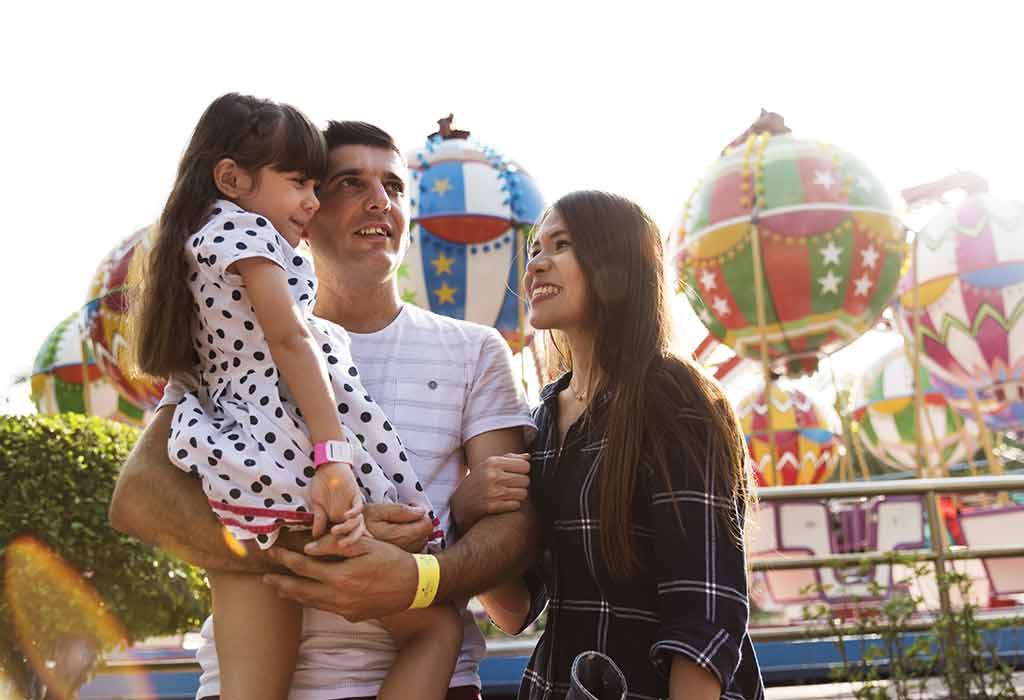 In this Article
Explore the top amusement parks in the world to spend quality time amidst the thrills and rides. These incredible theme parks have plenty of rides and attractions to keep your child engaged.
While Disney Land is the name which one recalls on hearing the word amusement parks, there are other exciting children theme parks around the globe you should check out.
11 Best Kid-Friendly Theme Parks For Your Children
Enjoy family time like never before in the following amusement parks. The exciting characters that children encounter and shows staged by professional entertainers are an experience on its own.
1. Magic Kingdom
The Magic Kingdom is among the four finest amusement parks within the Walt Disney World in Bay Lake. The Magic Kingdom is one of the world's best Disney world theme parks and has something for everyone.
Location: Bay Lake, Florida near Orlando
Key Features
Explore the Dumbo ride with a unique interactive play area while you wait in a queue for the ride.
Tour the Mickey and Minnie's home and enjoy a boat ride and enjoy the moments when your child is surprised by the various Disney characters.
Be amazed as the laser shows bring alive the Cindrella castle and watch the spectacular fireworks.
Laugh your heart out in the Monster Inc laugh floor which screens an interactive display of the monster show.
For Age Group: 10 months – 14 years
2. Legoland Florida
Legoland Florida theme park is built in a vast 150 acres space with loads of attractions and rides for the little ones. One does not have to be a fan of Lego to enjoy in this theme park that promises plenty of exciting things to do.
Location: Orlando, Florida
Key Features
Duplo Valley is full of entertainment for kids as they can build, splash and enjoy in a completely safe environment.
Families also find a variety of options like Land of Adventure and Fun Town to indulge in Legoland with children where they can build their own Lego City.
You can also avail special offers to club Legoland theme park with Legoland Water Park at attractive prices.
The water park has fun activities and mini cars to enjoy besides a 4D movie experience.
For Age Group: 2-12 years
3. Sesame Place
Sesame Place is a super-cute theme park for kids under 5 situated on the outskirts of Philadelphia in Langhorne. It is an award-winning theme park inspired by the famous television show Sesame Street.
Location: Philadelphia in Langhorne
Key Features
Your favourite furry friends await your visit to Sesame Place where you can splash, play and enjoy the exciting water rides.
There is a Cookie's Monster Land where your children will be overwhelmed by the cookie themed rides and meet the Elmo and friends.
The Magic of Arts and The Neighbourhood Street Party Parades bring to an interactive session of shows to play, dance, sing and clap along with the characters.
Your little one is sure to enjoy the Vapour Trail Roller Coaster filled with gentle twists and turns.
For Age Group: 1-14 years
4. Diggerland WestBerlin
Diggerland located in West Berlin, New Jersey is a unique theme park as it is based on the theme of construction, kids and adults get the opportunity to ride, play and have fun with the construction machinery and diggers.
Location: West Berlin, New Jersey
Key Features
This place has an indoor soft play area for kids aged under 12 years and also an outdoor play area. It also has a water main to splash and ride in a construction theme water park.
Enjoy being a passenger in the barrel Train alongside your kid or go on an adventure by actually driving Battle Trucks.
There is a bumper car where your children can hop on and challenge their friends to drive and win.
Let your munchkin stay behind the wheels and ride a mini car in the Digger Derby.
Some of the other kid-friendly attractions are Dumper Trucks, Duck Racing, Downpour Derby and Farm Tractors.
For Age Group: 2-12
5. Idlewild and Soakzone
Another amusing attraction for kids is Idlewild and Soakzone, or simple Idlewild is nestled in Laurel Highlands, Pennsylvania. Idlewild is one of the premium children's theme park in Pittsburg and is known as the best amusement park for toddlers; however, there are plenty of attractions for older kids as well.
Location: Laurel Highlands, Pennsylvania
Key Features
Storybook Forest is an exciting attraction in Idlewild, which brings alive your favourite characters from the bedtime stories you have ever heard.
The Soak zone has a wave pool to splash and have fun and also has little rides for the kids.
Daniel Tiger's neighbourhood enables the guests to take a trolley ride with Mr Rogers.
Get confused and have fun with many illusions and surprising elements in the Confusion hill along with your little one.
For Age Group: 2-12 years
6. Alton Towers Staffordshire
Alton Towers Resort is located near Alton village in Staffordshire, and it comprises of a huge theme park, water park, spa, and mini-golf area. Alton Towers has tonnes of entertaining things for kids of every age group.
Location: Alton village, Staffordshire
Key Features
There is a lazy river for young ones and Master Blaster Water Coaster for the teens to splash and have fun.
There are also high-speed water rides for older kids and a Bubble pool for young ones to indulge.
The Cloud Cuckoo Land is a magical world for small children as they get to explore the Cuckoo Car Driving School and other fun elements within this area.
For Age Group: 0-14 years
7. Hershey Park Pittsburg
Hershey Park is the sweetest park you have ever explored on earth. This theme park is also designed with more than 40 rides for small kids, including a train ride.
Location: Hershey, Pennsylvania, the US
Key Features
Let your children indulge in the free chocolate tour ride and learn about the making of the delicious chocolates and get one complimentary.
Be a part of the fun-filled 4D Chocolate mystery show and also enjoy your time making your own blend of Hershey's chocolate.
There is also an excellent water area where kids can enjoy splashing and get wet.
For Age Group: 0-14 years
8. Universal Island of Adventure Orlando
Soak into an experience of a lifetime in the Universal Island of Adventure in Orlando. The harry potter and the Forbidden Journey takes you on a tour that brings alive the scenes of Harry Potter for real.
Location: Orlando, FL, the United States
Key Features
Interact and get entertained in The Amazing Adventures of Spider-man and the Jurassic Park River Adventure where you see the dinosaurs roaring and standing tall.
There is plenty of attractions and rides for little kids, including One Fish, Two Fish rides and Caro-Seuss in this Kids Theme park.
You can also find many play areas all around the park for the little kids to slide and play.
For Age Group: 0-15 years
9. Holiday World and Splashing Safari
Holiday World is a vast kids theme park comprising of different sections of parks based on Thanksgiving, Christmas, Halloween and the 4th of July. This park is located in Santa Claus of the United States.
Location: Santa Claus, United States
Key Features
The inner tube ride in the Bahari ride is such fun; you can enjoy a splash every now and then.
The Bahari Wavepool and Comet's Rocket are other exciting rides for the little kids. Riding the Dancer's Fish and Sea Horses is so much fun for the little champs.
For toddlers, there are Little Pups soft play area, which is clean and safe to enjoy.
Safari Sam's Splash Land is the ultimate place to get wet and splash around as it has eight water slides and activities to giggle-around and play.
For Age Group: 1-12 years
10. Dutch Wonderland Lancaster
If you are planning a family staycation, then Dutch Wonderland is the place to be. It is an amusement park built especially for small children over an area of 48-acres towards the east of Lancaster in Pennsylvania. This place has plenty of rides, attractions, and shows to impress your little ones, including an indoor amusement park.
Location: Lancaster, Pennsylvania
Key Features
Go on a pre-historic expedition on the Exploration Land and be surprised with the life-size dinosaurs and enjoy and enjoy a boat ride in the Gandola cruise.
Also, explore the Duke's Lagoon, which is a pacific themed gateway for summer fun.
Wonderhouse and Turnpike Cars are other exciting things to do in Dutch Wonderland.
Let your child sit back and relax in a MonoRail ride and enjoy a bird's eye view of the amusement park.
For Age Group: 0-14 years
11. Knoebels
Knoebels is America's largest free-admission theme park designed to create memories. Knoebels is located in central Pennsylvania and hosts loads of rides, swimming, roller-coasters, kid-friendly rides and more.
Location: Central Pennsylvania
Key Features
Knoebels Crystal Poll has exciting water rides and wet area to splash and have fun besides its climbing nets.
There is a Kiddie Play Area where little ones can enjoy a soak in the water and stand under the umbrella fountains and play with the water cannons.
Jumping into a bed of colourful balls is so much fun for the kids in the Ball Crawl area.
There are also Cub Cars, Going Buggy and Flying Tiger rides for the children to have fun and giggle with delight.
For Age Group: 0-14 years
You can find lots of exciting rides and attractions in these amusement parks that suits your kids. Explore each one of them and give your child a memorable childhood to cherish for life.