10 Tricks to Get Your Kids Hooked To Salads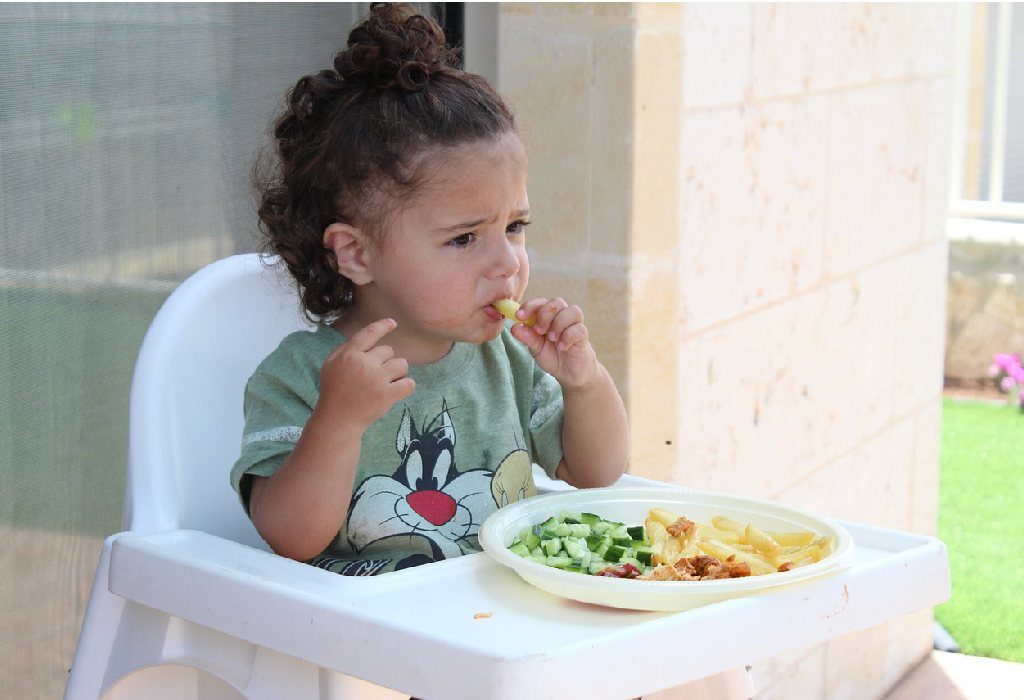 Kids not eating their vegetables is a problem as old as the hills, probably older! Many kids have a strong aversion to vegetables and no matter how delicious a curry or sabji you make for him, things just don't change. Another situation, though less common, is that of kids who are veggie monsters but their moms are running out of ideas to serve them their favorite vegetables. Well, no matter which scenario applies to you, it's time to introduce a delicious way of eating veggies – salads!
Is that shocking? If kids don't like veggies, how on earth are they going to like salads? Admittedly, getting kids excited about salads isn't so easy. But what if you make salads so irresistible that they simply have to take a bite? Cool shapes, fun toppings, colourful dressings and involving them in the making – these are sureshot ways to win over your picky eaters, and we are not kidding.
Check out these 10 expert tips to prep up your salads with different flavours and textures, without too much extra time in the kitchen. In fact, some of them may not involve any cooking at all- what more can you ask for?
1. Switch The Greens
If lettuce is your usual pick for salads, switch to something a little different – how about baby spinach or red cabbage? Kids get bored of the same ingredient very easily. You can also try a different type of lettuce – butterhead, crisphead…When the names are so interesting, they are sure to make the salad interesting too!
2. Dress It Up Well
A dressing can change the entire character of a salad. You can go all exotic with a coconut-milk Ranch dressing or a spicy Thai almond-butter sauce. We also recommend a lemon salad dressing or a ginger or garlic dressing. But remember – unhealthy dressings are also the quickest way to pile on calories! Keep it lean and delicious by using a drizzle of Colavita Extra Virgin Olive oil; it has a lovely blend of sweet-and-spicy flavours that match almost any kind of salad you're making.
3. Innovative Presentation
This is the most crucial step for picky eaters (read – most kids!). Unless they are served food in an exciting manner, it just doesn't seem to work. Don't let this hassle you; all you have to do is get a little creative, make simple, fun shapes, and give your dishes fancy names. How does Sweetcorn Salad in Tomato Boats sound? Fabulous, we think!
4. Add Some Crunch
Eating salads can be fun; thanks to the varying textures all in one dish! Pick crunchy salad vegetables like raw cabbage, lettuce or crunchy fruits like apples. You may go all out and experiment with crunchy toppings like roasted nuts such as almonds.
5. Heat It Up
Tossing just one or two warm elements onto a salad can transform the whole experience in interesting ways. The standard rule is to make the protein warm – say, a chicken breast hot off the grill, tossed with lettuce, onions, and toppings. Now that sounds like a delicious salad!
6. Smooth It Out
To balance out the crunchy nuts or raw onions, try something that's smooth, like roasted beets or sweet potatoes or maybe some avocado or yummy mango slices. This makes the overall texture of your salad very appetising. Here's a secret tip – salads taste all the more divine with Colavita White Balsamic Vinegar!
7. Chuck the Greens
"Salad" doesn't always include a pile of leafy veggies. Experiment with other vegetables like cucumbers as the "base" vegetable. You can even try beans as a base, and add your kids' favourite vegetables to it. Try a very Indian Rajma Salad for instance – a protein rich salad indeed.
8. Sweeten It Up
You can get a nice sweet flavour in your salad without adding a lot of sugar. Either use honey in the dressing or add some fruit– berries, pears, peaches, or citrus all work well, depending on what you like best. Trust us, it won't take too long. In fact, you can even keep the salad dressing ready in advance. Whenever needed, mix it up with olive oil, pour, and you are good to go. We strongly recommend using olive oil for salads and not just for the flavour. Olive oil has 5 excellent health benefits for your kids as well!
9. Deconstruct Something
Turning something else into a salad is a fun way to enjoy a favourite meal. Try this out: Colavita Penne Pasta Salad with choicest veggies. This is the ultimate salad destination for both you and the kids – it has their all-time favourite pasta and their "not-so-favourite" vegetables, all packed in deliciousness.
10. Cheesy Delight
Adding cheese to vegetable salads not only makes them more calorie-dense but also more interesting. While you can add in any type of cheese, mozarella, parmesan and feta work most marvellously! If you're making a pasta salad, cheese is an especially enticing component. And no, there's no need to worry about the nutrition quotient when you have these 10 excellent ideas to make pasta healthier for kids!
We're sure these tricks will help you make interesting salads that will have your kids hooked to veggies. Keep experimenting with new ingredients, tastes and styles but remember that health is paramount. This means more whole foods, fewer calories, a lean dressing and the perfect oil – and you're good to go!