10 Best Frozen Meal Ideas for Kids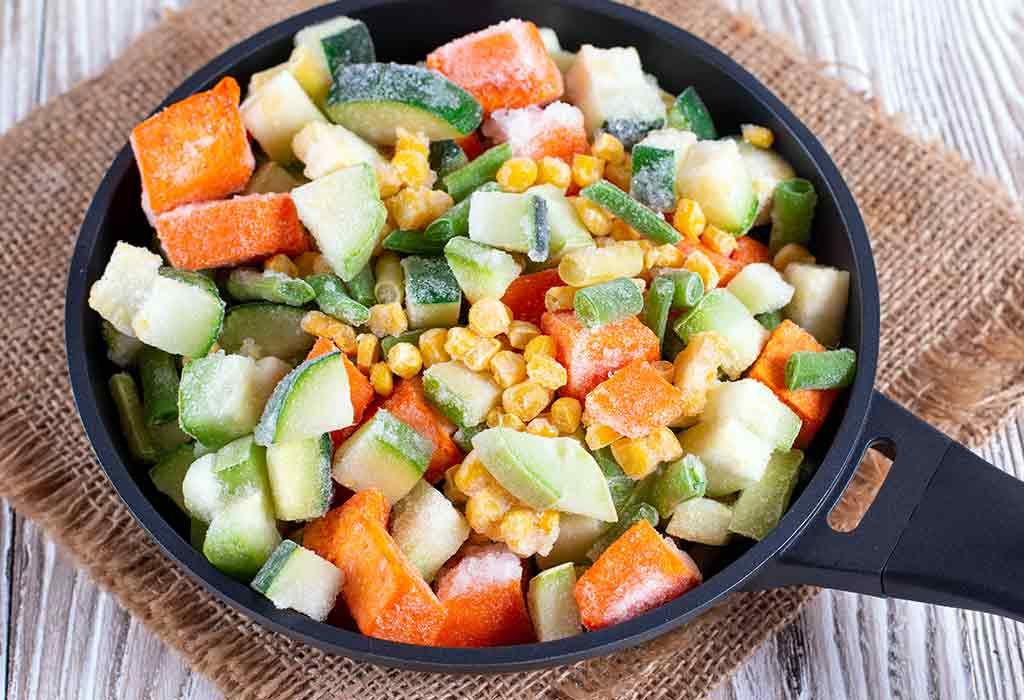 In this Article
It's been a tiring day at work. You are exhausted but your household requires you to serve some food on the table. Especially when you have those tiny tummies which are forever hungry. Standing for hours in front of a stovetop to make a pasta bake or a casserole is not something you may always be able to do. The occasional healthy frozen meals for kids could help make life easier and give you a break.
10 Safe and Yummy Freezer Meals for Your Kid
Frozen dinners do not exactly fall under the category of healthy meals. But given the busy schedules of mums and dads, a lot of companies are trying to introduce kids frozen dinner packages that can be served without a pinch of guilt and are actually healthy options for kids. In fact, some frozen snacks for kids are much healthier than takeaways or even stepping into a restaurant. Frozen meals work out cheaper and offer a healthier alternative to food from outside. We did some research and got ten stellar options for the next time you need a quick-fix solution to serve your family a healthy and nutritious meal.
1. Kid Fresh Fun-Tastic Fish Sticks
Great frozen food for toddlers, fish sticks are something that they can tear up in minutes. However, fish sticks found in the freezer-aisle are full of preservatives and breaded with fat. Kid Fresh Fun-Tastic is a brand that has whole Alaskan Pollock fillets. What more, it even has vegetables hidden in the breading. The main highlight- it has no artificial colours, preservatives or ingredients. So, you can serve this Omega-3 rich food without batting an eyelid.
2. Stouffers Fit Kitchen Bowls
A crockpot freezer meal for picky eaters, these bowls of protein are not just for your kids but for the entire family. Try the chicken or broccoli variety that will trick them into believing it is a Chinese takeaway.
3. Frozen Fruits Like Mango and Pineapple
Fruits are great for smoothies as they make them creamier. Especially mangoes! You could even thaw the mango and pineapple slices and serve them in a bowl as dessert. Kids will love the texture and taste and enjoy it as a snack or sometimes even for breakfast. Just make sure you thaw them enough before serving.
4. Frozen Vegetables Like Peas, Broccoli or Cauliflower
These vegetables can be thawed, boiled or simply put in some hot water for a couple of minutes before serving. They make for good accompaniments with the main meal, provide the right nutrition and increase the quantity of food eaten. Frozen peas are great in pasta and broccoli can be added to stir fry noodles.
5. Turkey and Spinach Bites
Kids love sausages for breakfast and even for dinner. But sausages are loaded with fat and preservatives. These tasty bites resemble breakfast sausages but are densely-rich options that will help slip-in those veggies. Perfect for snacks, breakfast, lunch or dinner and even on-the-go, these can be served to kids without any guilt.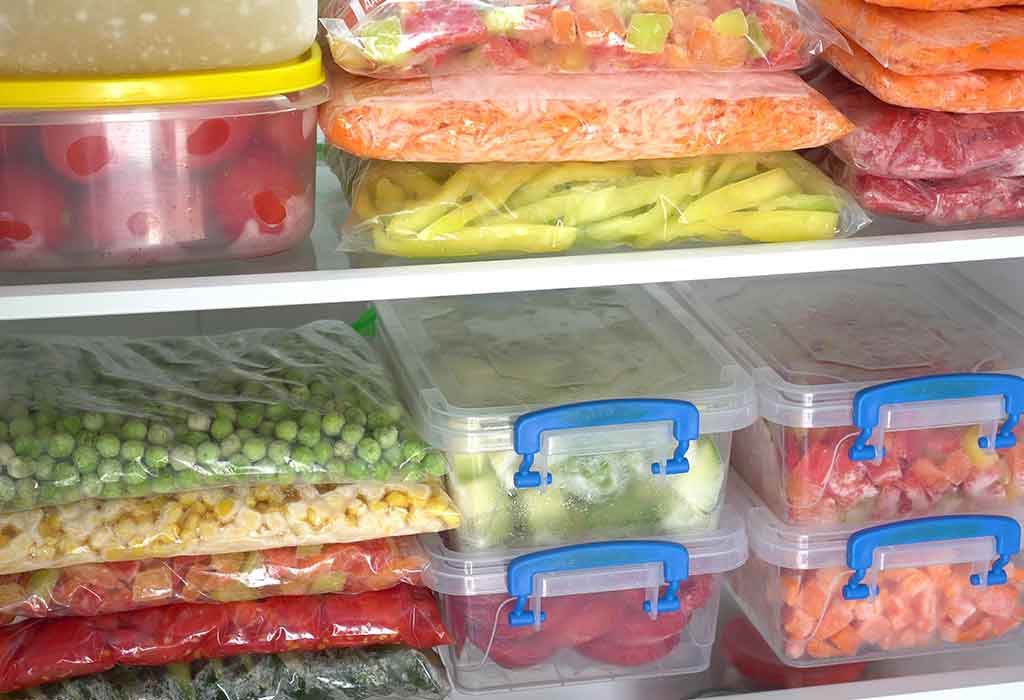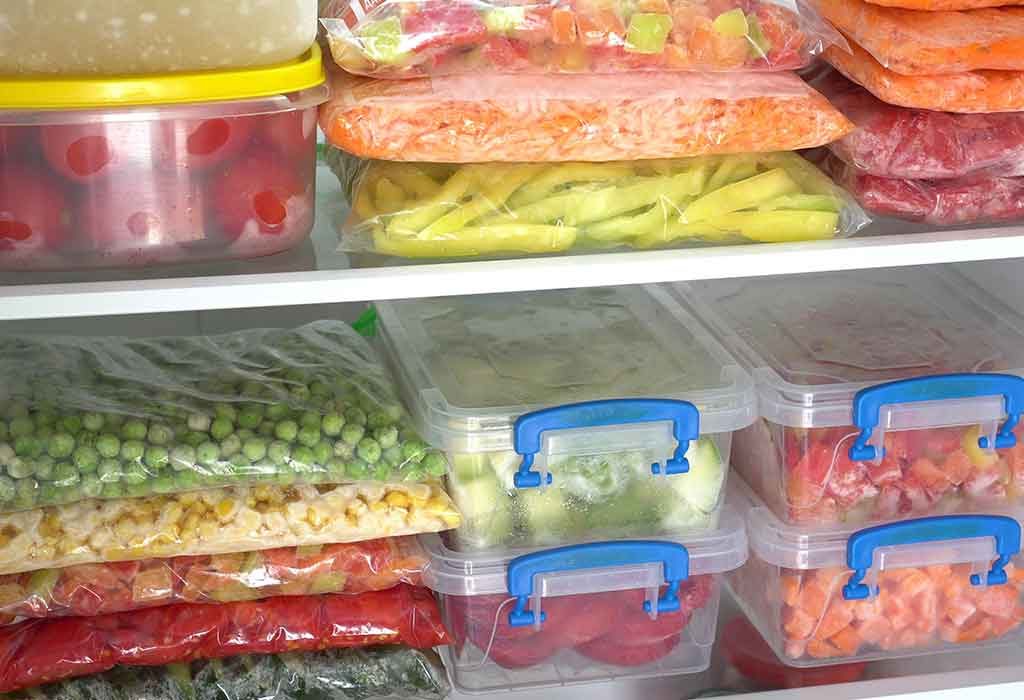 6. Caulipower Margherita Pizza
Not technically meant for kids, this one is a great healthy option given how popular Margherita pizzas are with kids. So, instead of serving those soggy ones or even the restaurant ones, pick this one instead. Half of the pie accounts for just 330 calories and has less than half the sugar of gluten-free pizzas.
7. Applegate Chicken Nuggets
Which kid does not love chicken nuggets. Made from white meat chicken and free from antibiotics, these chicken nuggets are the perfect options to serve before those soccer practices or after tiring swimming lessons.
8. Kashi 7-Grain Frozen Waffles
A great option for breakfast, these fast and healthy frozen waffles can be topped with peanut butter or a bowl of fruit for a nutritious start to the day. They can also be served as desserts when you think your kids are really hungry and you are running out of time.
9. Yummy Spoonfuls Pasta Veggie and Beef Bowl
A great spaghetti with bite-sized fresh vegetables that are cooked with grass-fed beef, this is the best way to serve noodles that kids love. Seasoned with olive oil with a pinch of sea salt and topped with organic mozzarella cheese, this can make for a nutrient-dense and delicious meal.
10. Saffron Road Teriyaki Chicken With Soba Noodles
Although this one does not mention "for kids" on the packaging, we think kids will love it. Kids are big fans of soba noodles and teriyaki. Anything teriyaki is loved by kids alike. It is also a great option for parents who love Chinese takeaways once in a while. This frozen variant packs in a nutritional punch with broccoli, carrots, antibiotic-free chicken, carrots and bell peppers.
It is always a scuffle to feed kids a nutritious meal. All the more difficult when you are on a time crunch. You want to serve the healthiest options but the time on your hand restricts you from cooking snacks and meals from scratch every day. Between soccer practice, drama lessons, ballet classes, little league or whatever your kids are doing in their lives, you need healthy food options that make life easier for you. These healthy frozen foods will help you prepare for mealtimes, still make it to those extra-curricular activities on time, and leave some spare time for yourself.
Also Read:
Healthy Meal Ideas for Picky Children
Interesting Meal Prep Ideas for Children
Best Healthy Foods for Children