10 Interesting Meal Prep Ideas for Kids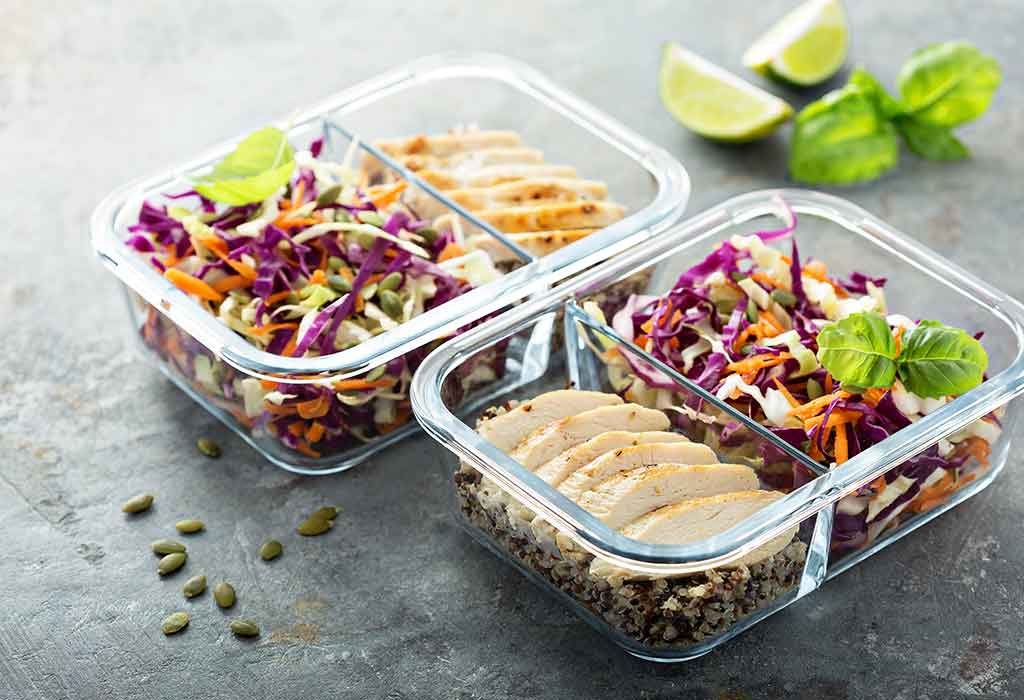 In this Article
Meal prep is something that in tandem with meal planning, makes cooking meals a lot easier and transforms the way you eat. Hectic work schedules, busy lifestyles, and varying tastes now compel parents to be well prepared with their meal plans. Meal prep is more about cooking part of the meal or all of it hours or days before serving it. You need to follow a methodical approach to toddler meal prep ideas to avoid a last-minute scramble or disaster. Plan, choose a time ( before kids wake up, Sunday afternoons when a cuppa is brewing), sort, and prepare your ingredients for the preparation. Concrete meal prep strategies make healthy meals possible and practical. Read these 10 kids-friendly meal prep dinners, lunches, and breakfast ideas to prepare for a busy day.
Kid-Friendly Food Prep Ideas
Incorporate these kids' lunch meal prep recipes into your weekly plan. These options make your busy schedule easy and help you feed your kids nutritious food daily.
1. Homemade Granola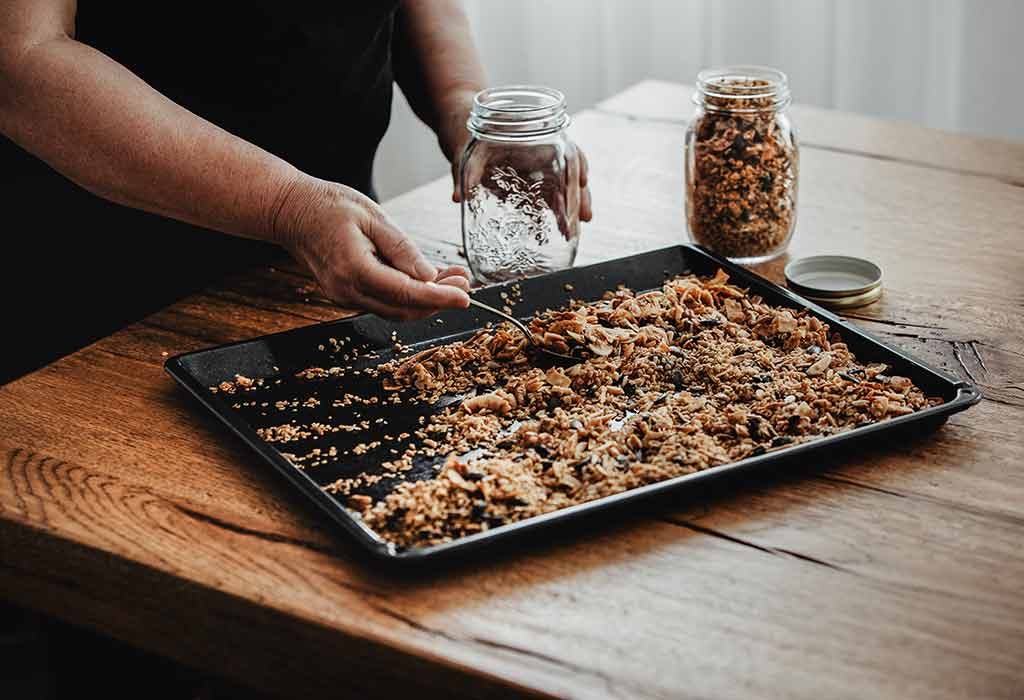 Breakfast meal prep for kids can be easy with these homemade granola bars that are breakfast staples, like cereal.
Ingredients
Cooking oats- 3 cups
Sweetener (either honey or maple syrup) – 1/2 cup
Oil- 1/2cup
Nuts (almonds, pistachios)- ½ cup
Dried fruits ( raisins or sultanas) – ½ cup
Ground cinnamon- ½ teaspoon
Prep time
1 hour
Servings
5 cups
Method
Mix oil, cinnamon, and sweetener in a large mixing bowl. Whisk to combine well.
Gently add oats and mix well.
Sprinkle the nuts on the mixture and mix gently.
Line a baking tray with parchment paper.
Spread the mixture gently on the tray. Press it gently to make it a uniform layer as this will help it bake evenly.
Place it in a pre-heated oven at 350 degrees Fahrenheit. Stir it once after 20 minutes during the cooking process.
Watch the oven when cooking as once the granola releases a toasty smell, it is ready to be taken out.
Press it gently after it cools.
Now, spread the dried fruits after baking. Do not add the dried fruits while baking as they will get burnt.
Store in airtight containers and use them within a month. Try different sweeteners, seasoning, or nuts to tweak it to suit your taste.
2. Apple Cinnamon Muffins for Baby and Toddler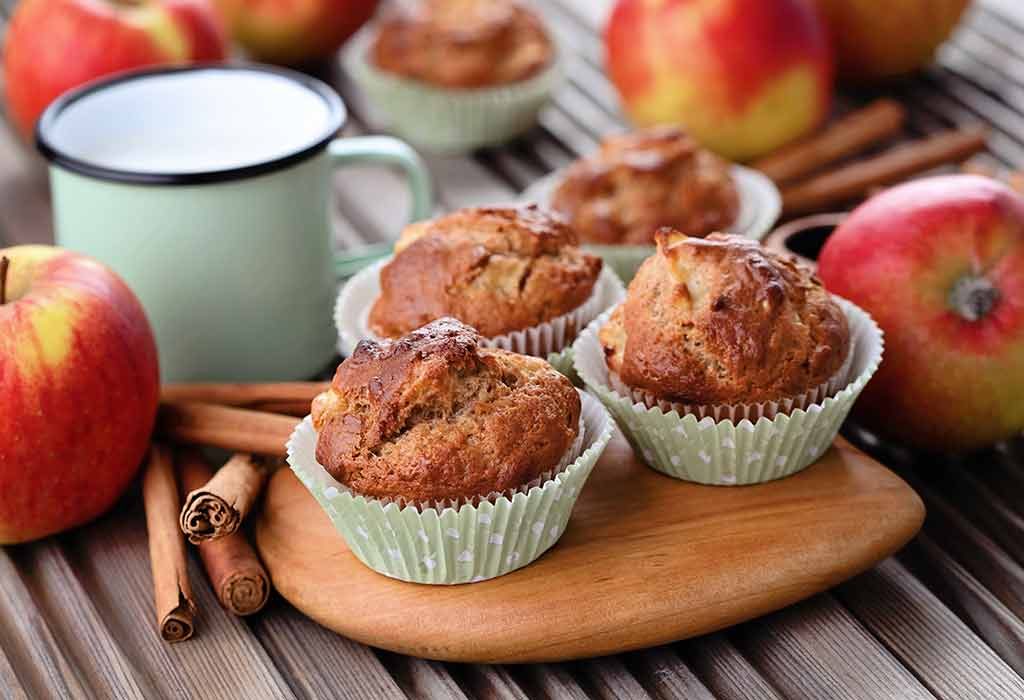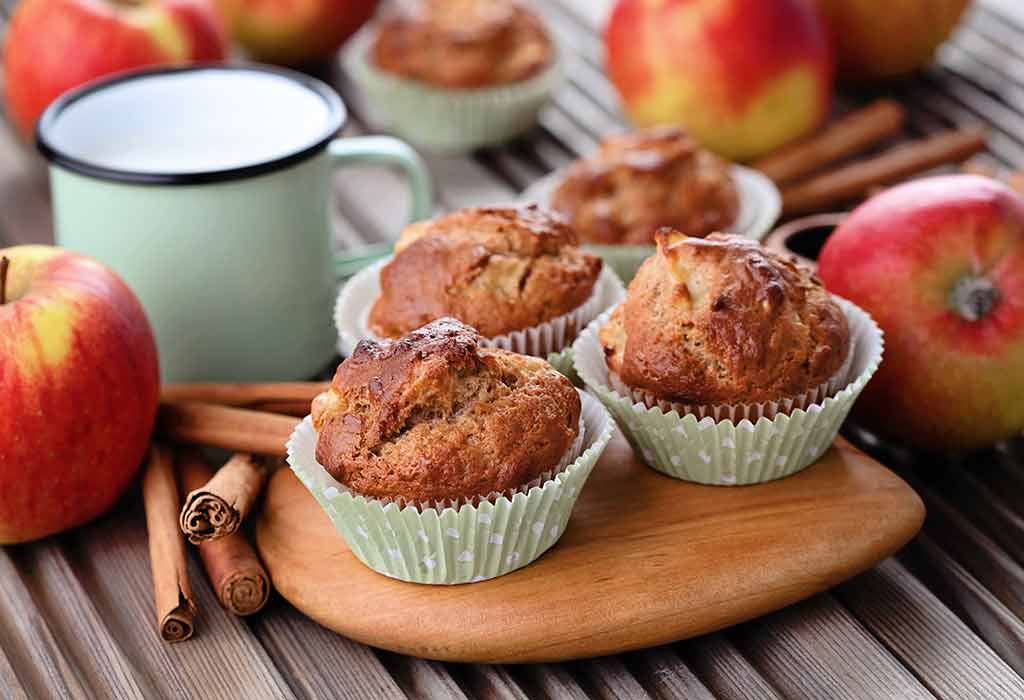 If you are scouting for meal prep ideas for picky eaters, then this one is a winner. Mini muffins can be served for snacks, breakfast, or dessert. Homemade, they are a healthy option and you can try as many varieties with fruits and nuts, which are wholesome.
Ingredients
1 cup oats
1 ripe banana
¼ apple sauce (sugar-free)
1 egg
3 tablespoons maple syrup
2 teaspoons cinnamon
1 teaspoon baking powder
1 teaspoon baking soda
¼ teaspoon salt
1/3 apple peeled, cut and chopped in tiny bits
Prep time
20 minutes
Servings
Makes 16-20 mini muffins
Method
Preheat the oven to 350 degrees Fahrenheit. Spray or line a mini muffin tray.
Add the oats, chopped bananas, apple sauce, maple syrup, egg, and cinnamon in a blender. Blend in gently for about 20 seconds at the lowest level. Now blend it at a higher speed for about 2 minutes and see if the oats have broken down completely.
Now add the baking powder, baking soda, and salt. Blend on low pressure for about 30 seconds.
Now add the tiny apple chunks in the blender and mix it gently with a spatula.
Spoon the batter from the blender and empty it in the muffin tray. Each tray should be 2/3rd's full.
Bake for 10 minutes until golden brown.
These can be stored in an air-tight container for 5 days and in the freezer for 3 months.
3. Hummous Dip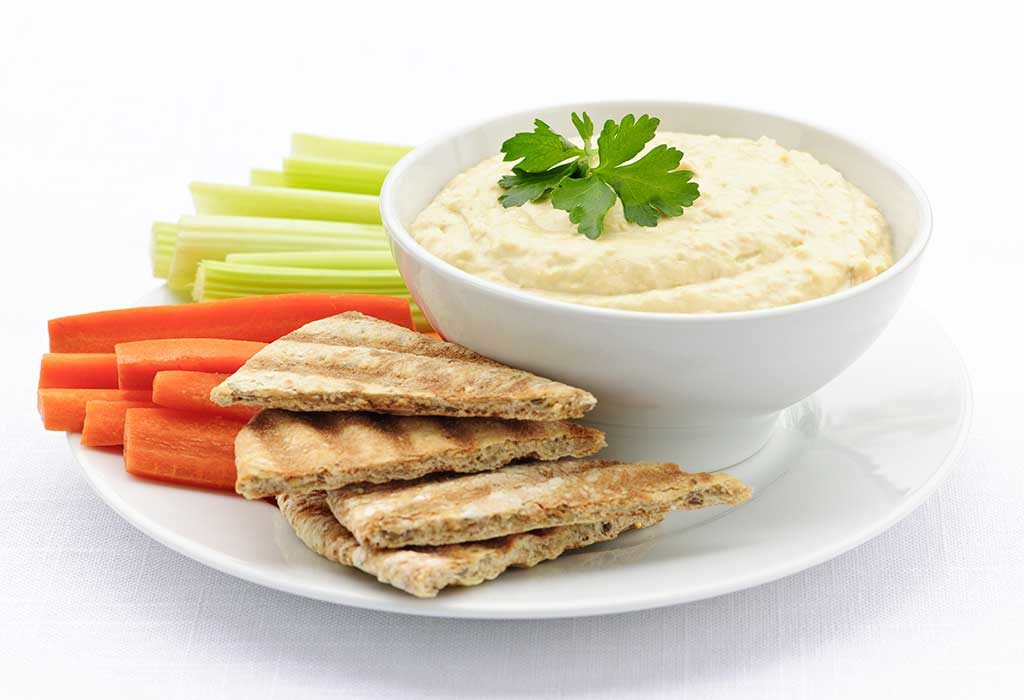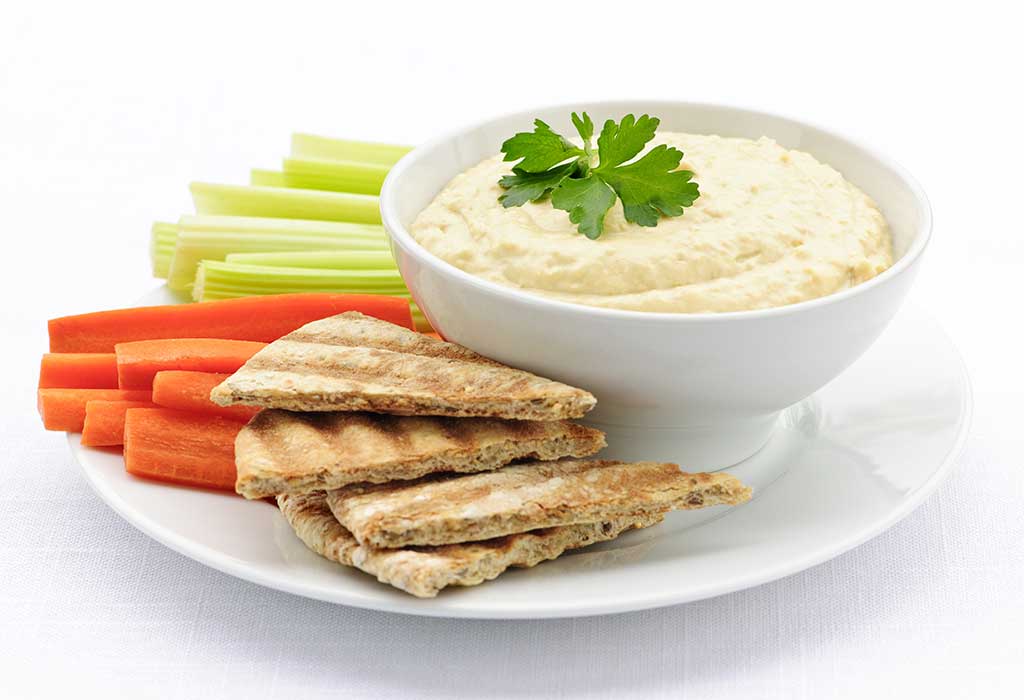 Hummus is a great dip to get your kids to eat more vegetables. What more, it can spice up salads and sandwiches too!
Ingredients
2 cups drained and cooked chickpeas
3 tablespoons extra-virgin cooking oil
1 ½ tablespoon freshly squeezed lemon juice
A small clove of garlic chopped coarsely
1 teaspoon salt
½ teaspoon of ground black pepper
Prep time
10 minutes
Servings
Yields 1 ½ cups
Method
Drain and rinse the chickpeas. Remove the skin as this will make your hummus smoother.
Combine all the ingredients in a food processor.
Blend until smooth for 5 minutes. Scrape the sides of the blender to ensure everything mixes well.
Empty the hummus in a bowl and serve it with pita bread or raw vegetables as a dip.
4. Pre-Cut Vegetables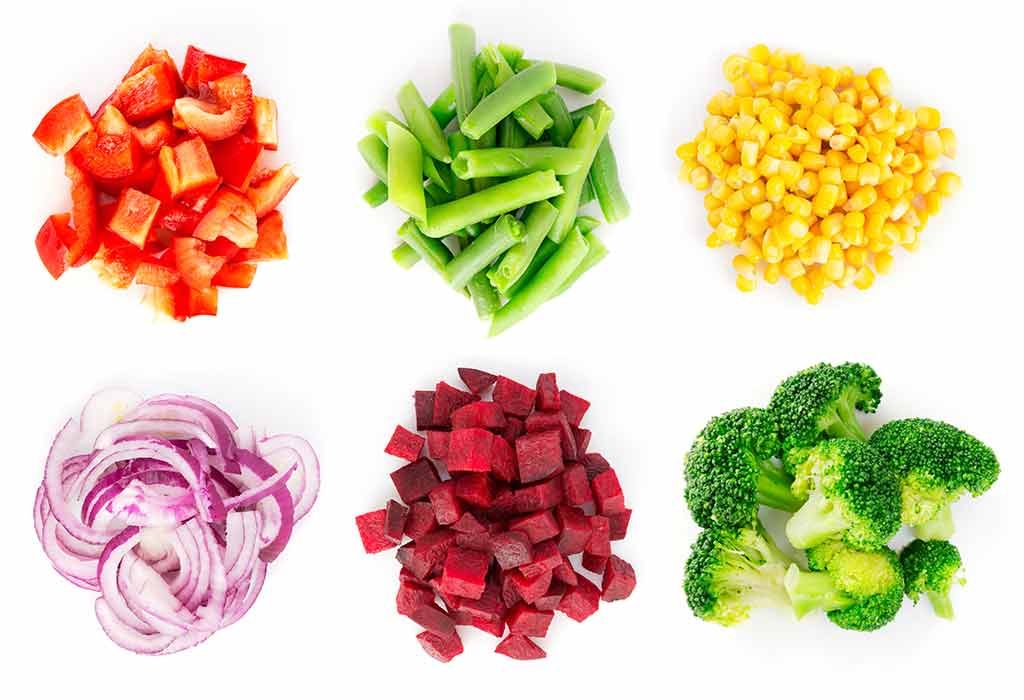 Vegetables are great at any time of the day for kids. Chopped veggies are a delight and an easy school lunch prep for the week.
Ingredients
Carrots- 2
Peppers – 3
Cucumbers- 1
Beets – 1
Prep time
5 minutes
Servings
This will last for a week.
Method
Chop the carrots, peppers, and beets into thin slices.
Chop the cucumbers in thin circles.
Gently wet a paper towel and wrap the chopped veggies in them. Place them in an air-tight container and they will last fresh for until 5 days.
Serve these in a small box with a dip and if you have some extra, then throw them in their sandwiches.
5. Chopped Fruits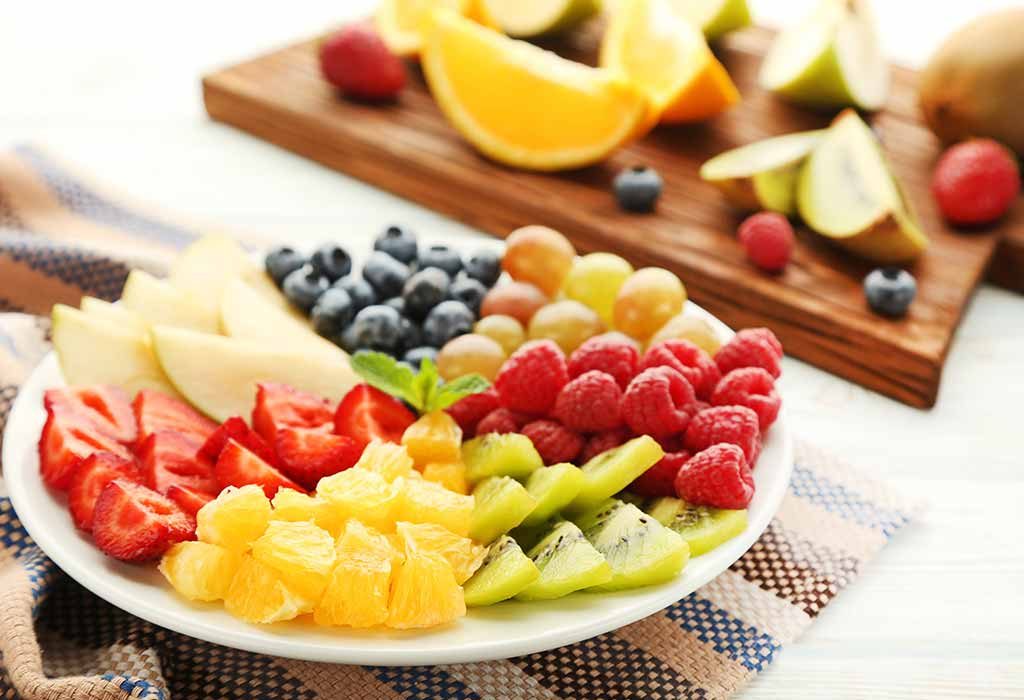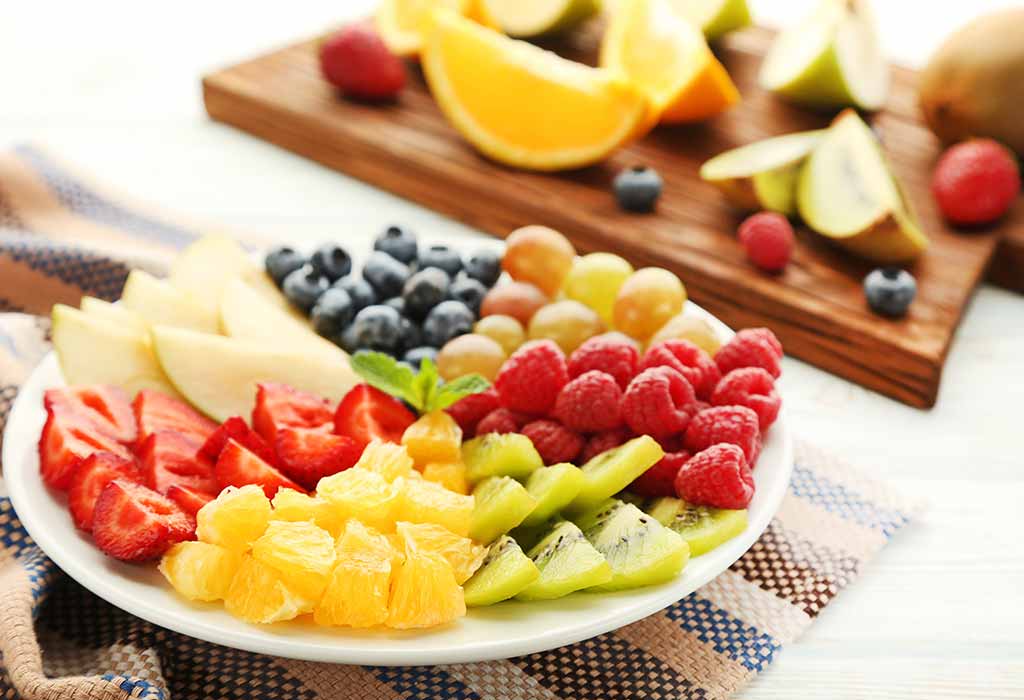 Having chopped fruits in hand will save you those unhealthy snacking raids before mealtimes. They also make for great lunchbox ideas
Ingredients
Prep time
5 minutes
Servings
This will last for 5 days.
Method
Chop the apples and pear into long chunks and place them in an air-tight container. Toss them in a mixture of 2 tablespoons lemon juice and water. Drain the excess water content before storing them in the fridge.
Serve fruits for snacks with crackers or peanut butter as a snack before the main meal.
6. Cooked Grains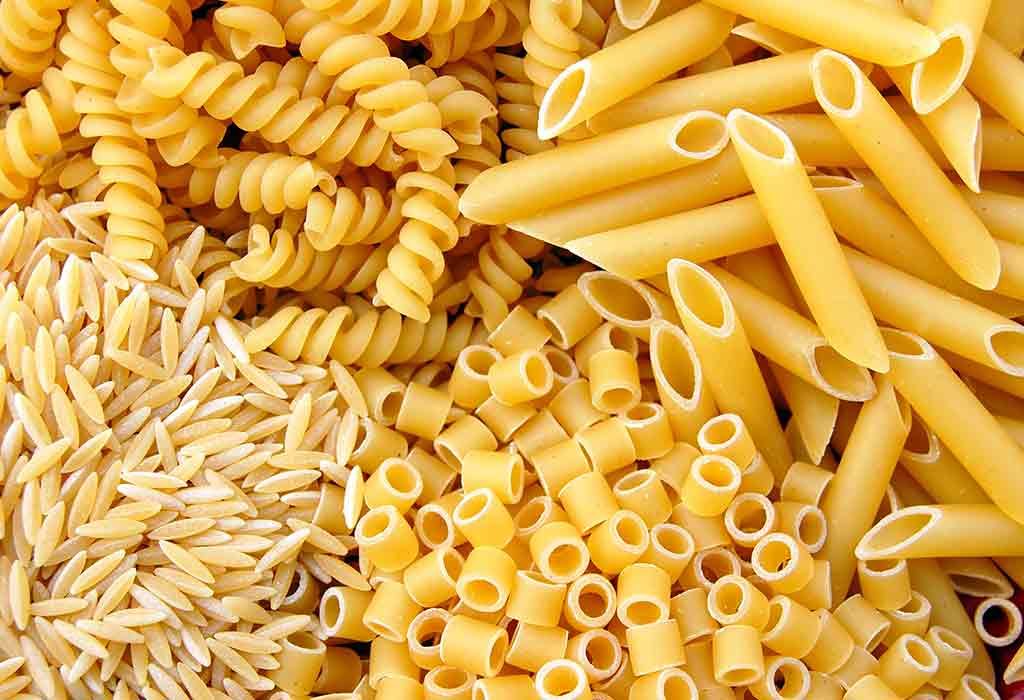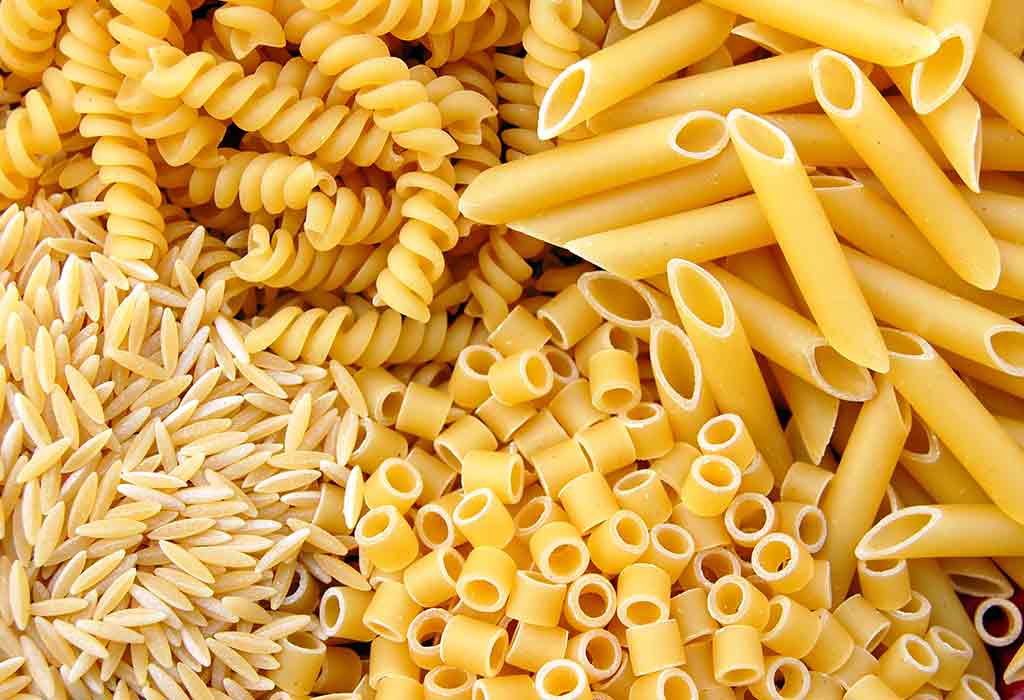 A cup of cooked rice or pasta served with curry or sauce will solve your dinner woes.
Ingredients
Rice – 1 cup
Pasta – 1 cup
Prep time
10 minutes
Servings
Serves about 4 people
Method
Cook the rice or pasta in an instant pot or cooker.
Drain all the water content and store it in an air-tight container.
Serve rice or pasta for dinner, along with curry, for a full meal.
7. Hidden Veggie Tomato Sauce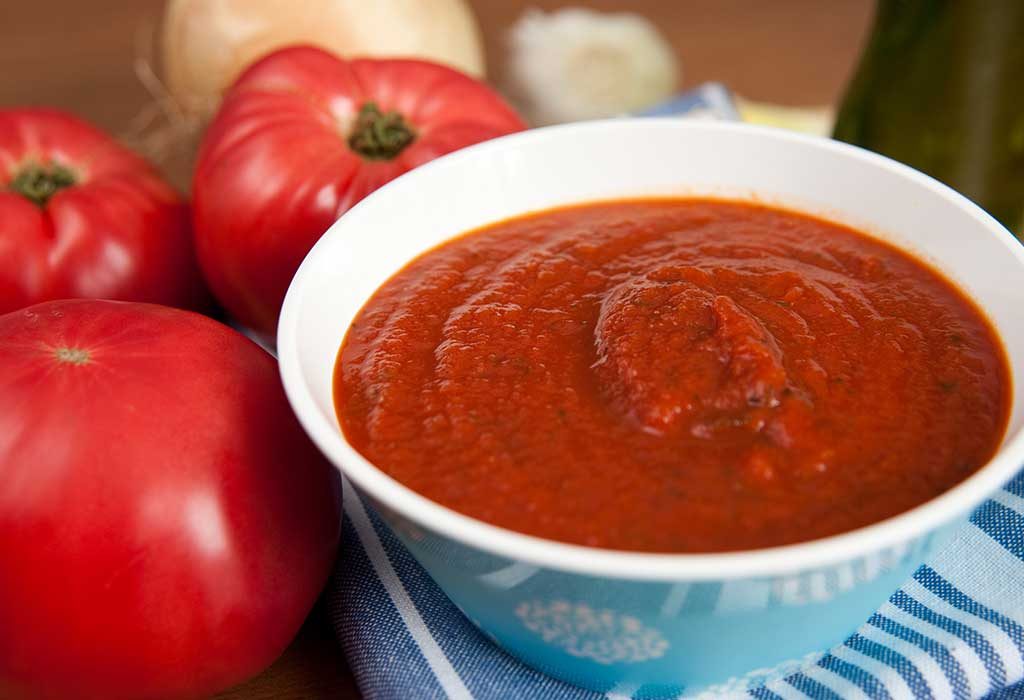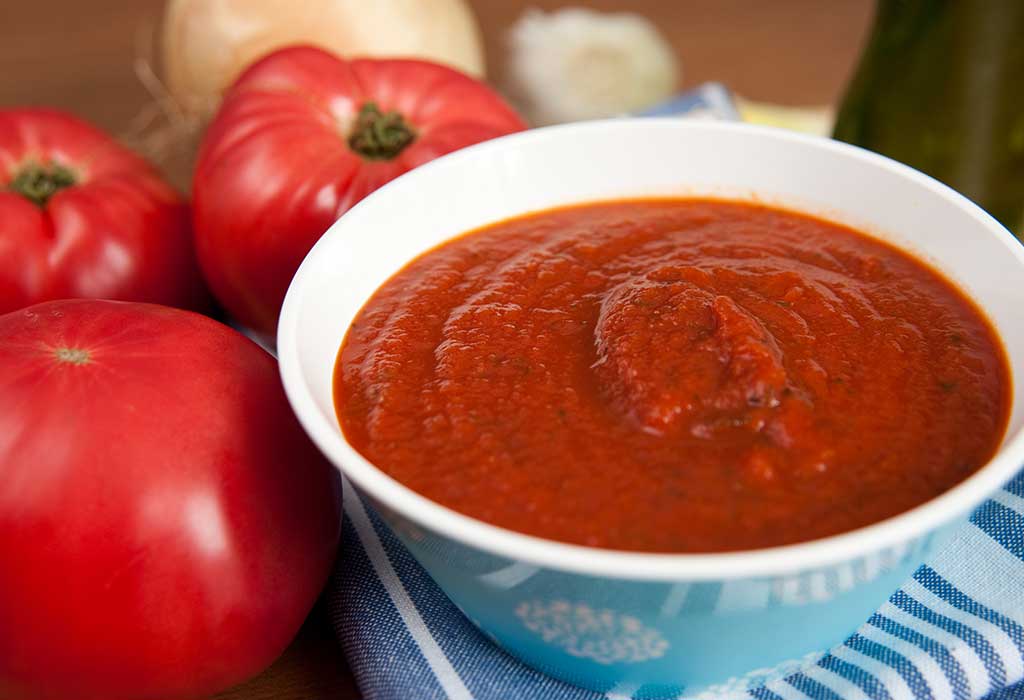 A great addition to kid's pasta and pizzas and a perfect way to sneak some nutrients.
Ingredients
1 medium onion, diced
2 garlic cloves, chopped
3 carrots, diced
2 courgettes, finely diced
1 red pepper, chopped
1.5 kg passata
2 cups vegetable stock
1 tablespoon tomato puree
1 teaspoon dried herbs
A handful of basil leaves
Prep time
5 minutes
Servings
Yields 10 cups.
Method
Heat oil in a pan, add the onions and sauté for 3 minutes. Add the garlic and fry again. Now toss the carrots, peppers, courgettes.
Once done, add the vegetable stock and passata. Add the tomato puree and herbs and bring to a boil.
Once the vegetables are cooked, add the basil leaves.
Blend to a smooth paste in a blender once the mixture is cooled.
Store in air-tight containers, jars or a freezer bag and use as needed.
8. Sweet Potato Banana Bites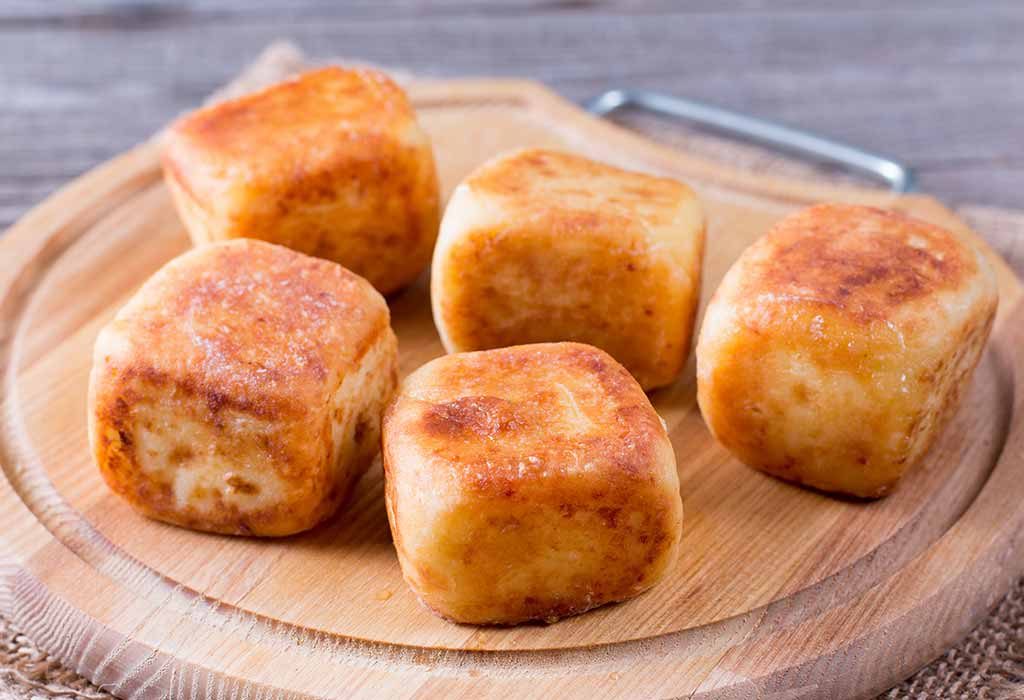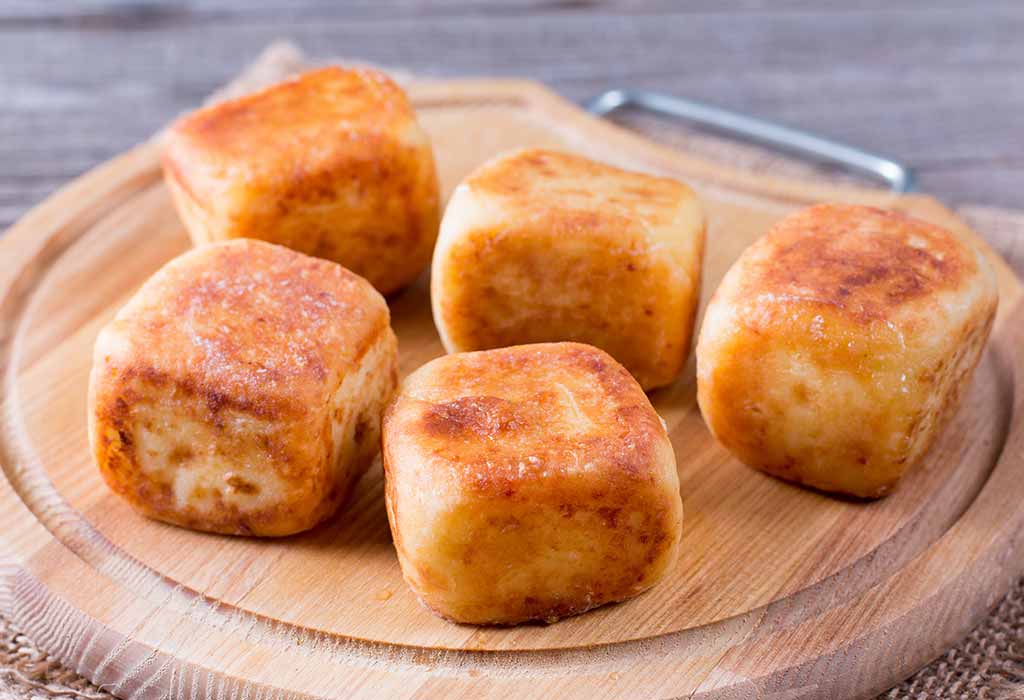 These tiny bites are gluten-free and nutritious and make for a great snack for kids and adults.
Ingredients
½ cup cooked and mashed sweet potato
½ cup mashed banana
¼ peanut butter
2 eggs
Cinnamon to taste
Chia seeds, dried fruits, etc., to garnish
Prep time
20 minutes
Servings
Yields 15-18 pieces
Method
Mash the sweet potato and banana in a bowl.
Add the peanut butter, cinnamon, and eggs and whisk well.
Add the garnishing, if any.
Bake at 375 degrees Fahrenheit for 20 minutes.
Cut into small cubes.
Store in air-tight containers and have for snacks or dessert in the lunch box.
9. Hard-Boiled Eggs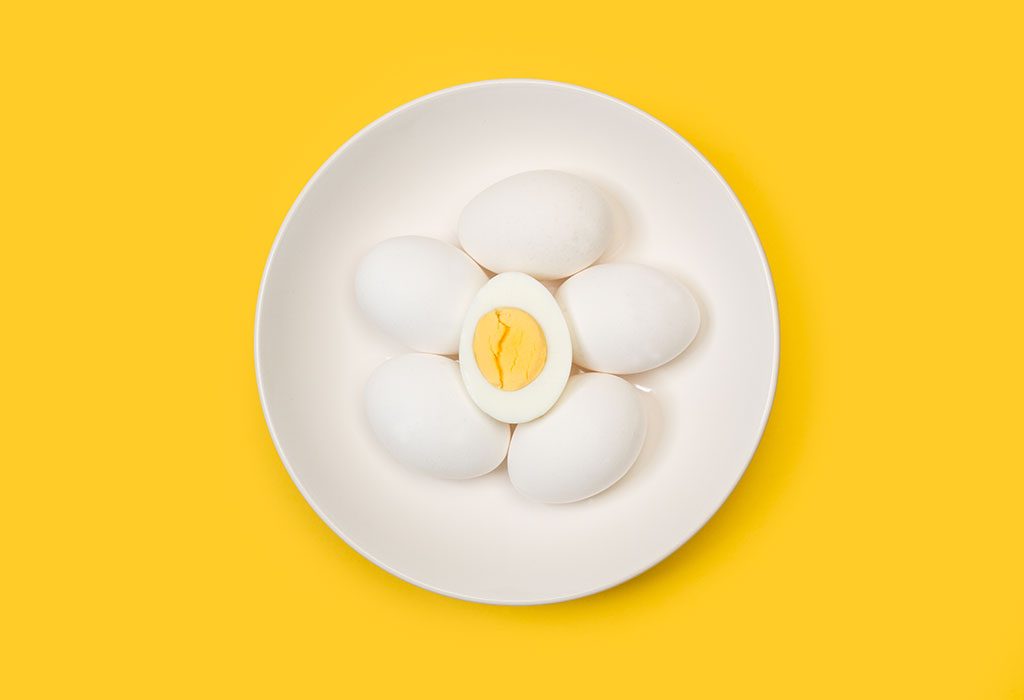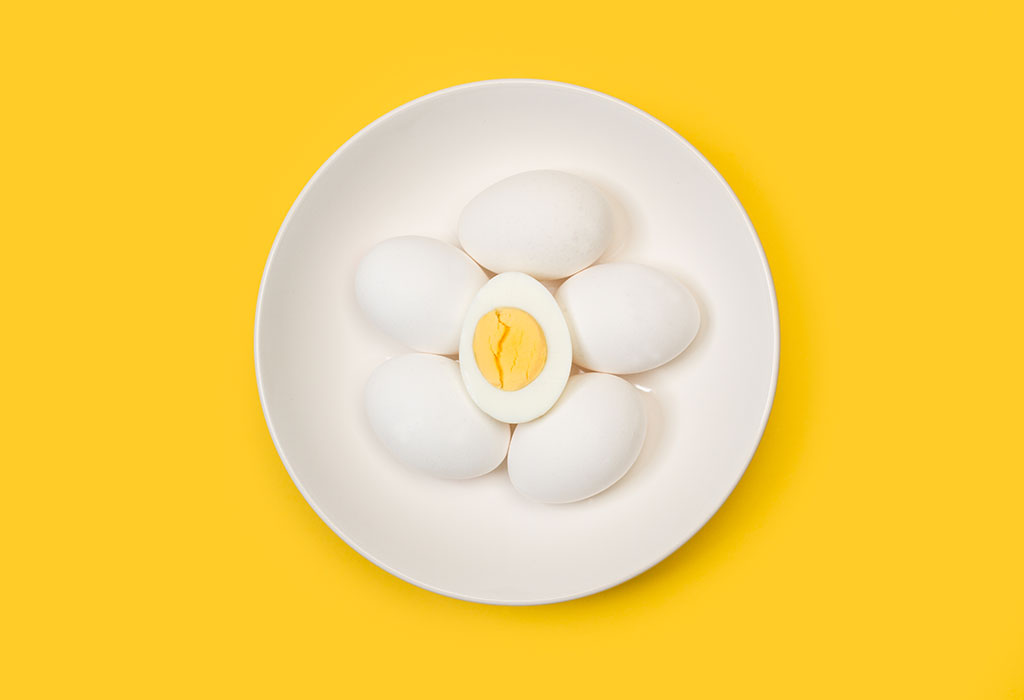 Hard-boiled eggs are great for breakfast, lunch, and dinner. You can use them in any way you want, such as plain with salt or pepper, in sandwiches, etc.
Ingredients
Prep time
5-10 minutes
Servings
2-3 servings
Method
Boil the eggs for 10-12 minutes and store them in the fridge.
Serve them with a slice of toast for breakfast or slice them and add them to a sandwich.
10. Roasted Vegetables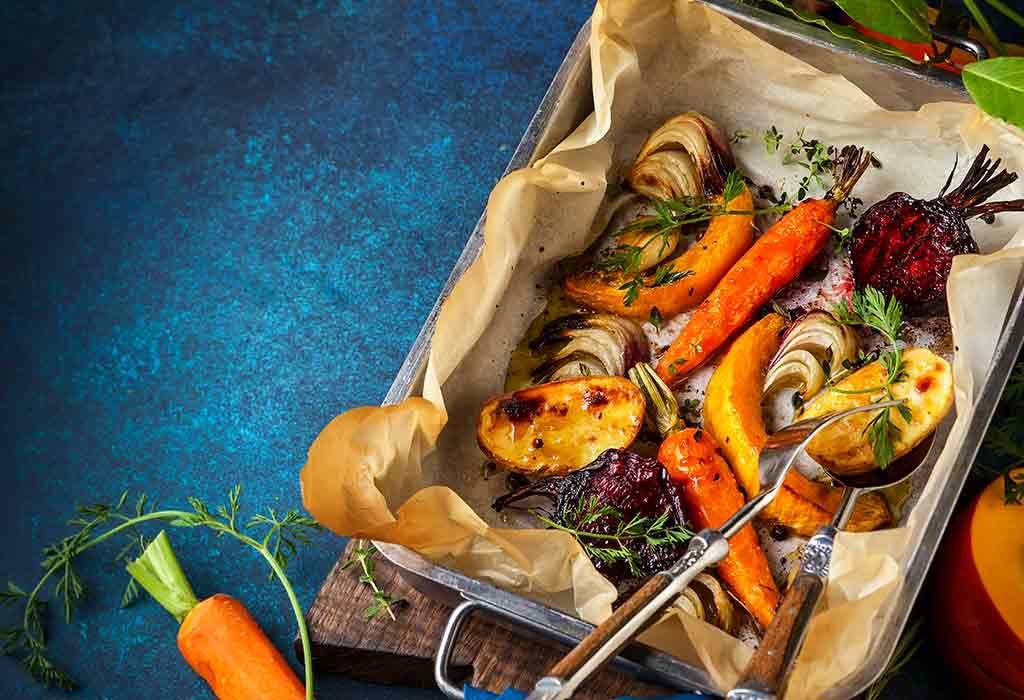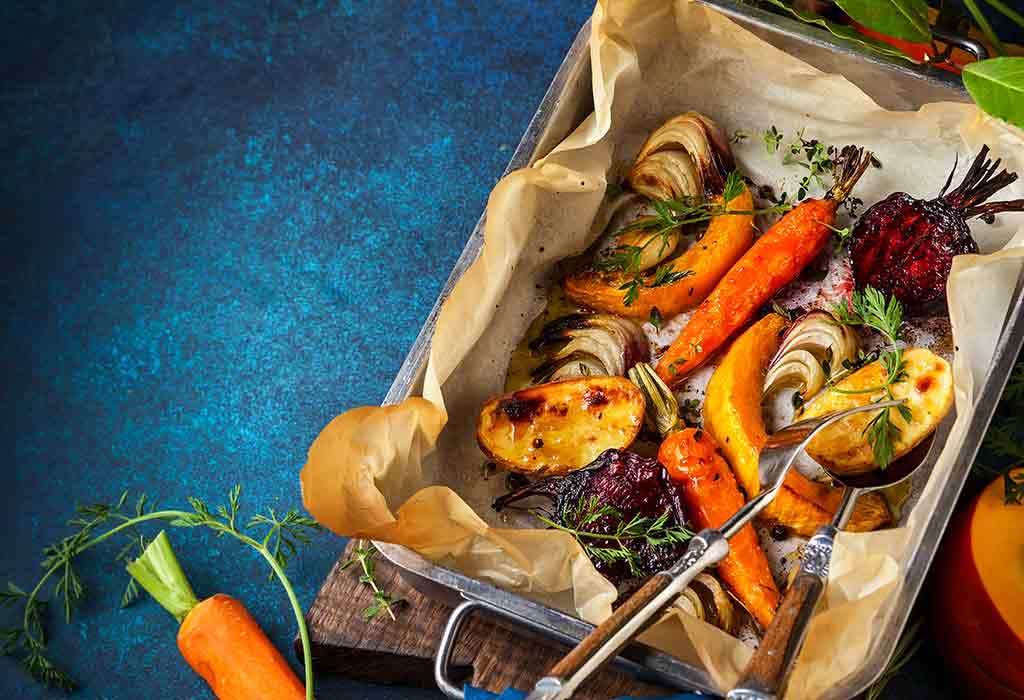 Roasted vegetables have a unique taste and bring a sweetness that kids will love. They can be eaten just as is or tossed in rice, sandwiches, and salads.
Ingredients
Potatoes – 2
Parsnips -2
Sweet Potato – 1
Courgettes – 1
Carrots – 1
Prep time
10 minutes
Servings
1-2 servings
Method
Roast each vegetable separately and keep checking them, as and when they are done.
Store in a container.
Add these vegetables as a side to rice and toss them in sandwiches, topped with some cheese.
Preparing part of the meal is a great way to ease the workload and serve the right food to your kid. A little bit of planning and work makes life simple and works wonders when it comes to health and nutrition as well.
Also Read:
Healthy Meal Ideas for Picky Children
Healthy & Easy Dinner Recipes For Your Child
Healthy and Easy Vegetarian Recipes for Children