10 Simple Homemade Apple Recipes for Babies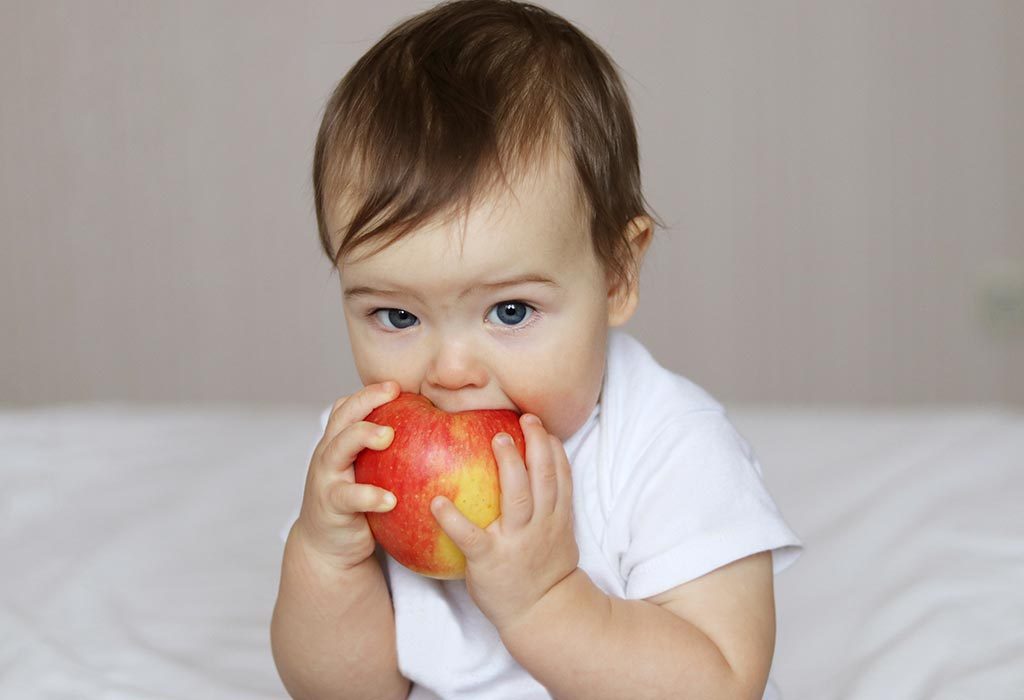 In this Article
Apples have been directly linked with maintaining a good healthy heart since they contain substances that reduce the amount of cholesterol in the body as well as provide various antioxidants to maintain the inner health as well. The structure of apple plays an important role as it is formed by a combination of fibres that are both soluble as well as insoluble. Both of them work towards stimulating bowel movement and keeping the intestine healthy at the same time. Furthermore, apples are great food for babies and using them in various ways can bring about tasty food items right in front of you.
10 Easy-to-Make Apple Recipes for Babies
To help your baby consume apples in a delicious manner, here are a few recipes:
1. Tasty Applesauce (For 5 Months and Above)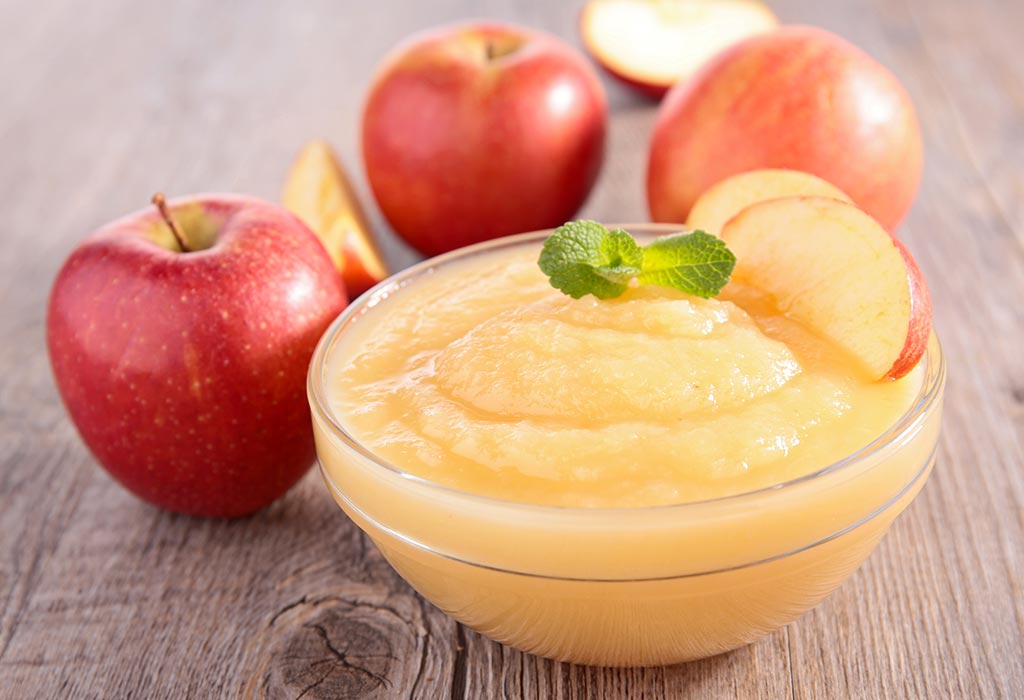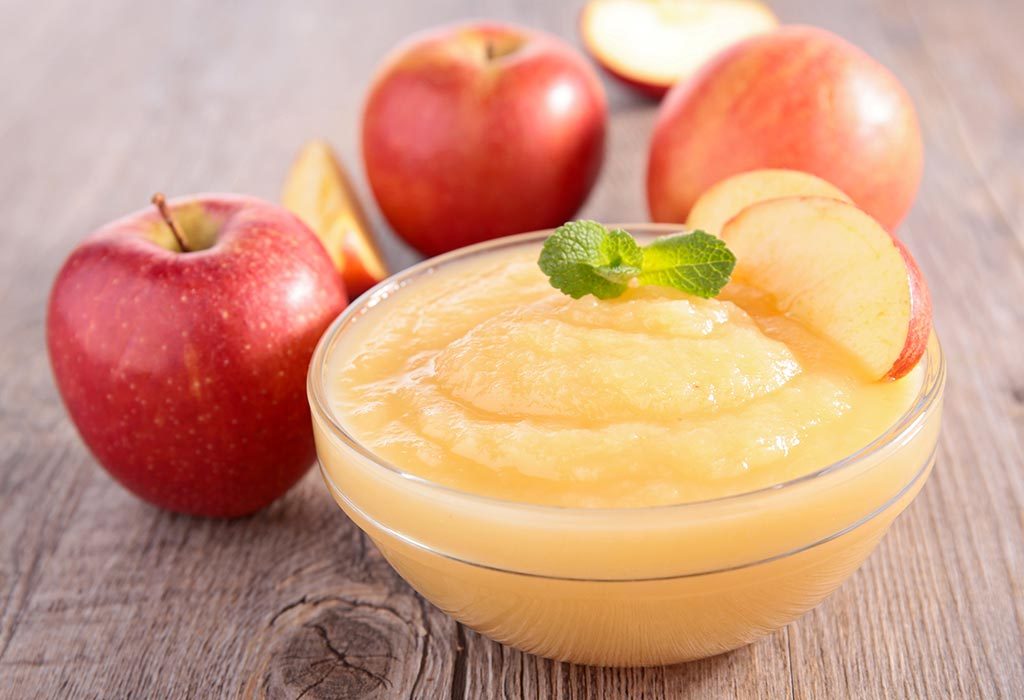 Out of various applesauce recipes for babies, this one is the easiest and quickest to make and introduce your child to apples.
Ingredients
Apples, peeled and cored
Unsweetened apple juice
Water
Cinnamon, grounded
Nutmeg powder
Vanilla essence
Method
Take the apples and chop them together. Place those pieces in a pan. Add some more water to it, creating a layer, and follow that up with the apple juice.
Heat the pan and let it start boiling. Lower the flame, place a lid and let it continue to cook for around 8-10 minutes until the apple pieces start getting soft. Don't overcook to melt them completely.
Once they start getting tender, remove the flame and take the pan aside. Pick out the pieces and mash them together to a consistency that feels right for your baby.
For some added flavour, sprinkle a little bit of cinnamon and nutmeg powder. To give it an added style, add a tiny drop of vanilla essence.
Serve it nice and warm to your little one. If you want to serve it cold, add the flavours only when you are serving, while keeping the other portion frozen.
2. Apple Soup With Sweet Potato (For 6 Months and Above)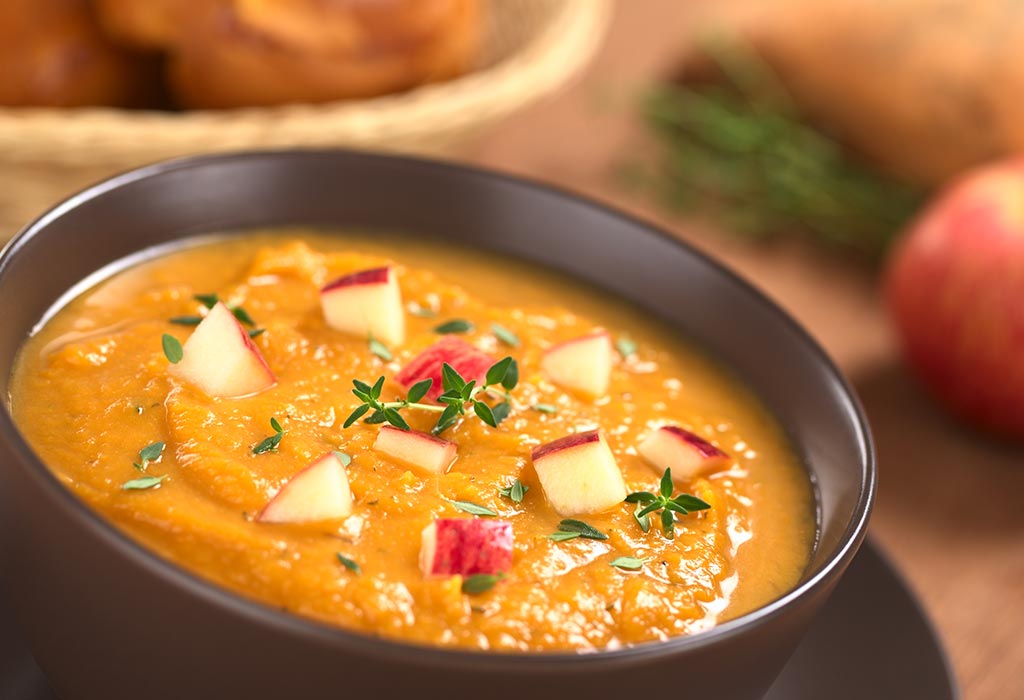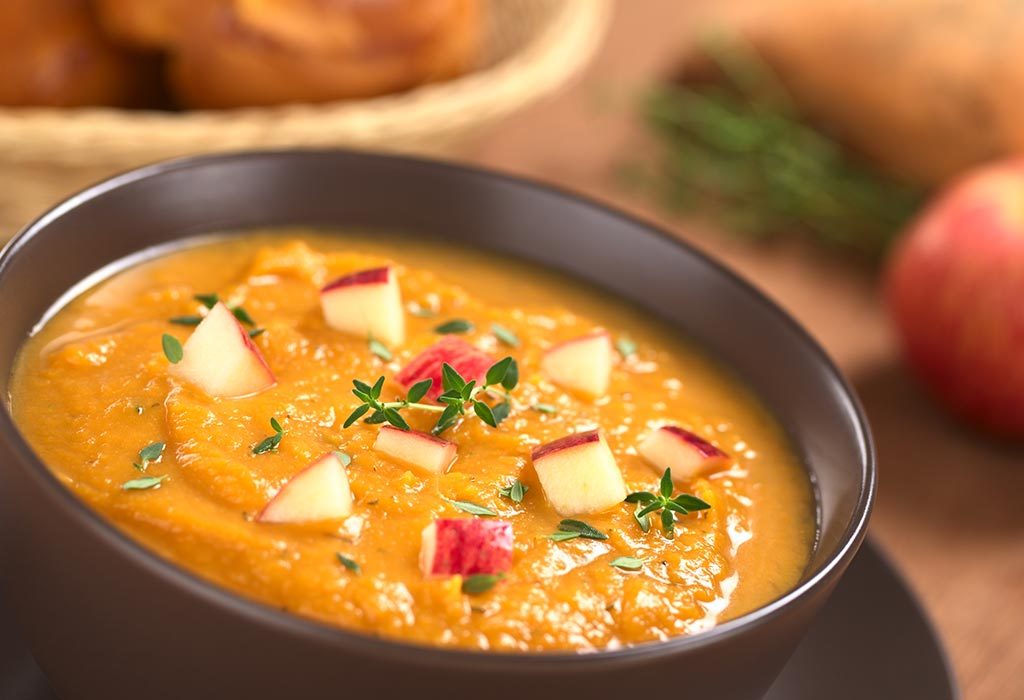 Combine the flavours of both these food items to create a delicious lip-smacking comforting soup.
Ingredients
Method
Take a pan and add some butter to it. Heat it and let the butter start melting. Add flour to the melted butter in the pan and stir it all together. Continue cooking it thoroughly until it starts getting a golden colour.
Now start pouring the chicken broth into the pan gradually. Remember to keep stirring while you do so. Follow that up with the applesauce, pieces of sweet potato, ground ginger and cinnamon all together.
Stir the entire mixture well and increase the flame to make it boil. Once boiling, lower the flame and let it simmer for another 5 minutes or so.
Once done, pour that mixture into a blender and run the blender for a few minutes until it starts getting the consistency of a puree. Pour this puree out of the blender back into the pan.
To this puree, add some milk and let it heat again until it gets nice and warm. Serve this warm soup to your child.
3. Apple and Grape Squash (For 6 Months and Above)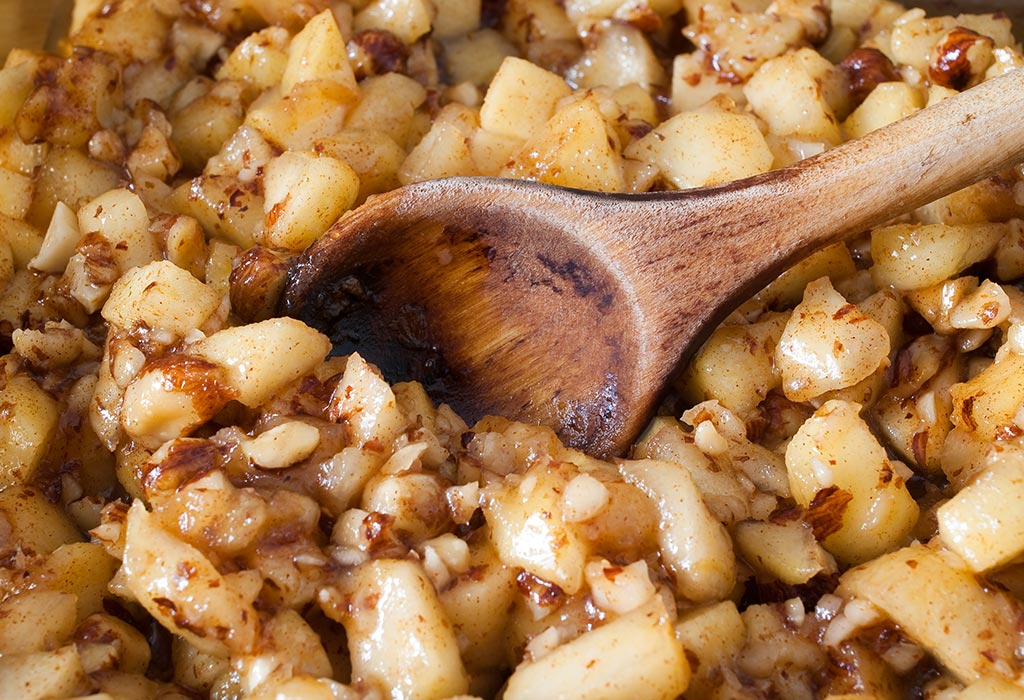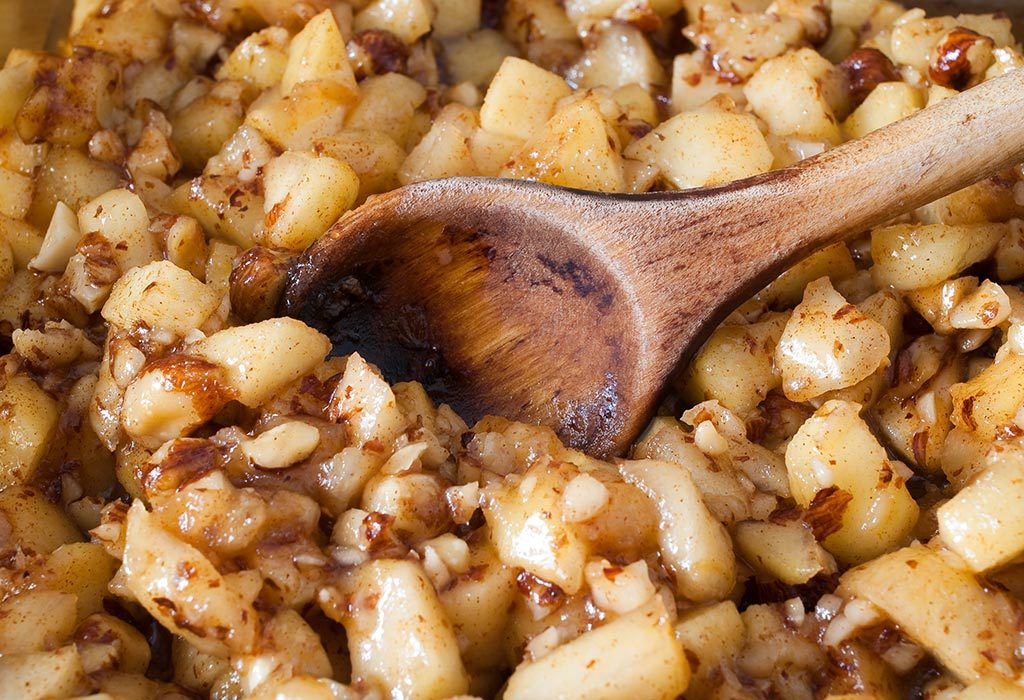 Put together this fantastic recipe to let your little one taste a wide variety of flavours.
Ingredients
Grape squash
One peeled and sliced sweet apple
Melted butter
Honey
Cinnamon
Nutmeg
Cloves, grounded
Method
Prepare the oven by heating it to about 180 degrees and keep it ready.
Cut the grapes into small pieces and place them aside.
Grease a baking tray and place the grapes in it with the skin side facing upwards.
Cover the tray and place this in the oven. Let it sit in for about 20 minutes or so.
While that goes on, take a bowl and add the pieces of apple to it. Follow it up by pouring some melted butter, honey, cinnamon, nutmeg and ginger altogether. Mix them well.
Take out the tray from the oven and flip the grapes. Pour the apple mixture over it, cover the tray and place it in the oven again for another 20 minutes.
If your baby is below the age of one, replace honey with sugar or any other sweetener.
4. Apple and Chicken Meal (For 7 Months and above)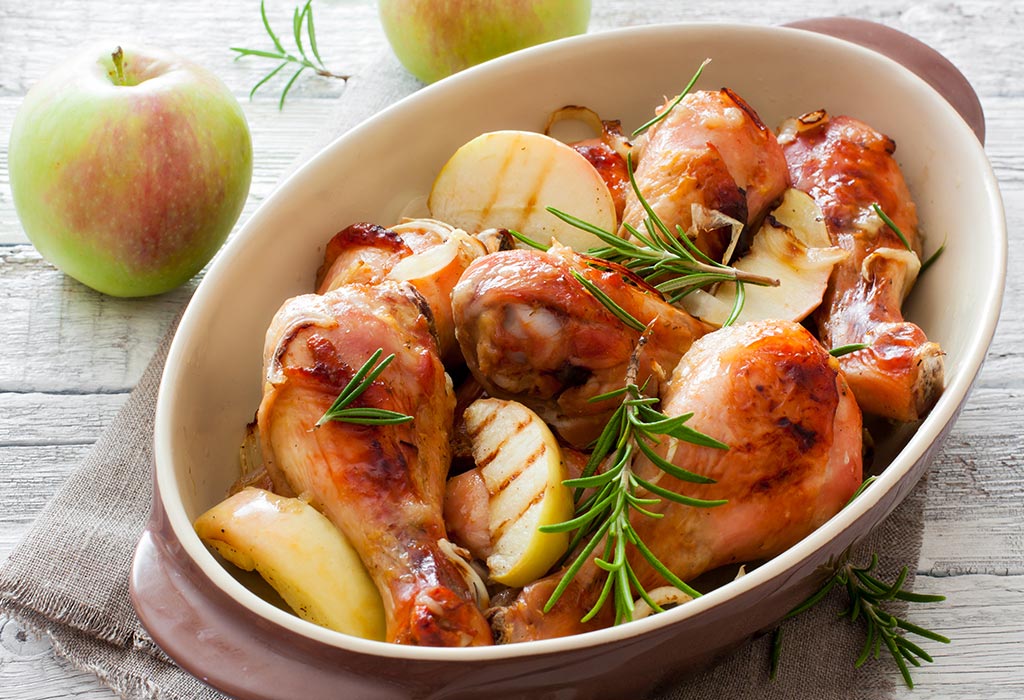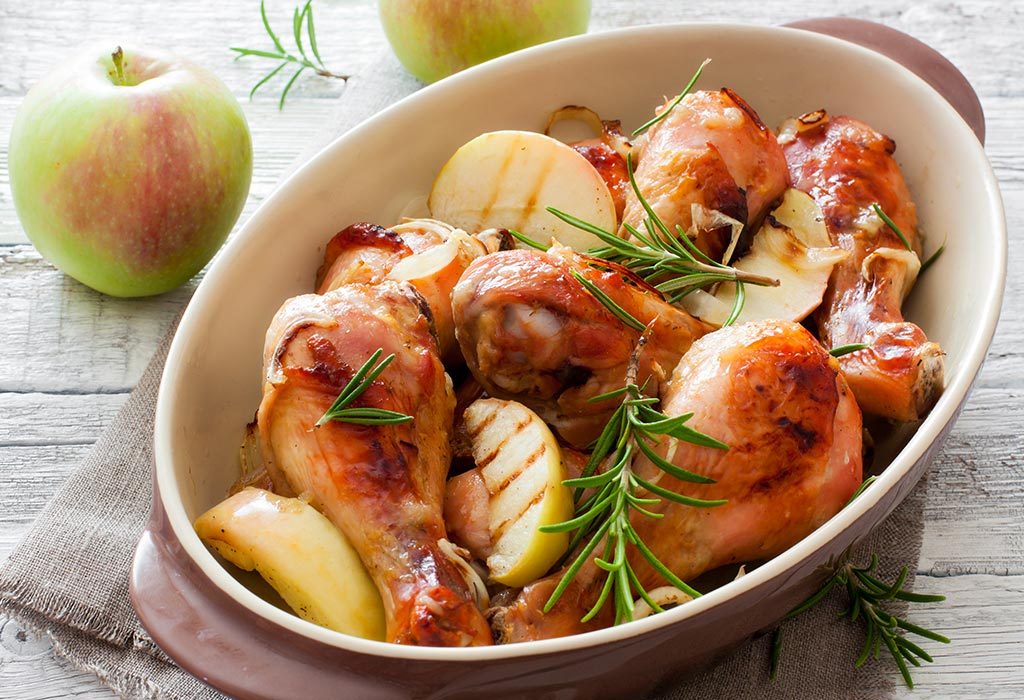 As your child starts having solids, this meal will make him ecstatic and have more of it.
Ingredients
Chicken breasts, skinless and chopped
Apple, chopped
Sweet potato
Cinnamon powder
Chicken stock
Eggplant
Method
Take the sweet potato and peel it. Chop it into small pieces.
Take a pan and add the chicken stock to it. Heat it and let it start boiling.
Once boiling, add the chicken breasts to it and lower the flame. Let the preparation cook for about 10 minutes.
Follow it up by adding pieces of the apple and sweet potato. Stir it together and let it cook for another 10 minutes.
Once that is done, add the pieces of chopped eggplant to the pan and let it simmer on the flame for a few more minutes. Once the potato gets tender, remove the heat.
Run this mixture in the blender for a small time to make it a little consistent. Add cinnamon to it and serve it well.
5. Apple Shake (For 10 Months and Above)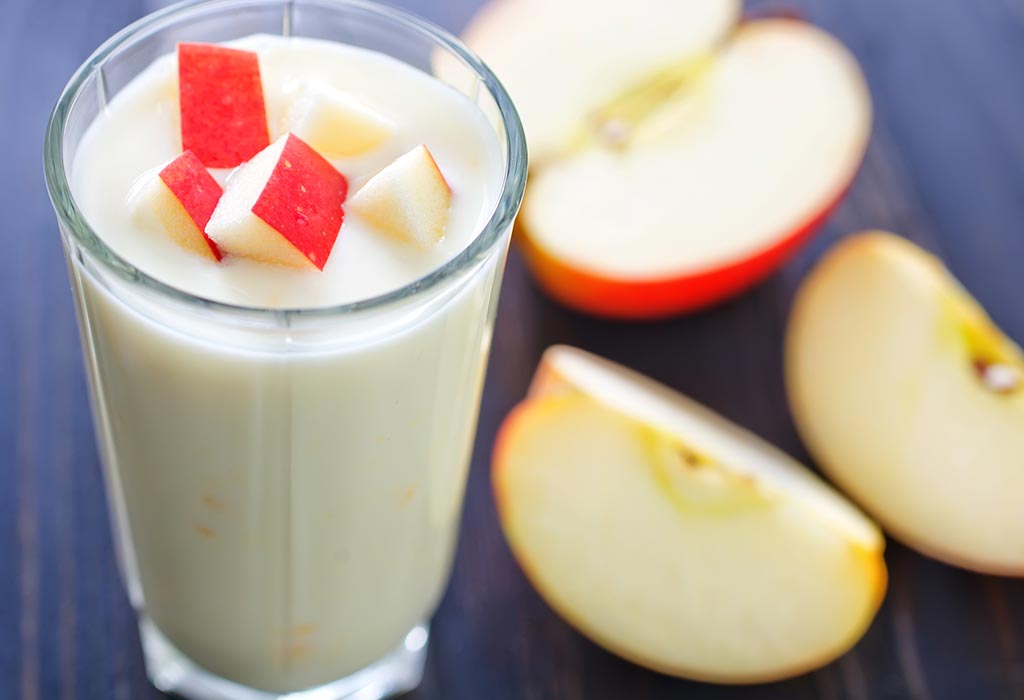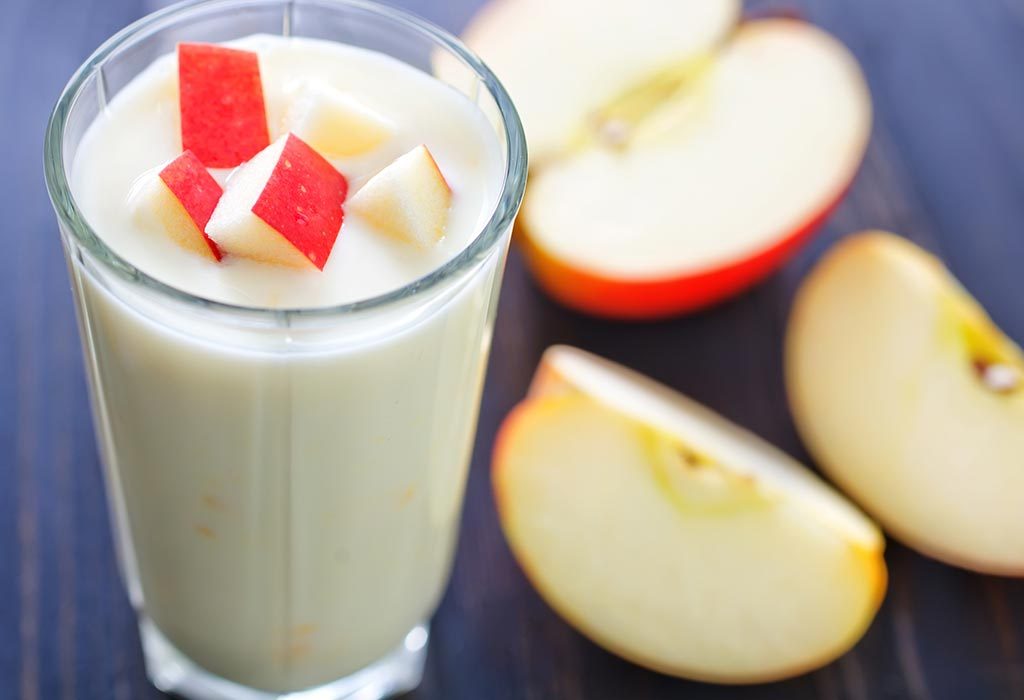 One of the popular apple juice recipes for babies, this one adds the benefit of milk to make a great shake.
Ingredients
Method
Take the apple and place it inside a steamer or a pressure cooker. Let it steam the entire apple for nearly 10 minutes so that it is properly cooked.
Once it cools down, take it out and peel the apple properly. Remove any seeds that are present inside it.
In a bowl, add the apple pieces, along with milk. Mix it well. Peel the almonds and add them to the bowl, too. Mash the raisins into a puree and add it to the bowl along with a simple pinch of cinnamon powder. Avoid the powder if your baby doesn't like it.
Add the entire mixture into a blender and run it multiple times to make it smooth. Make sure the almonds are crushed completely while blending.
If your baby is a year old or more, you can add honey to this to elevate the flavour.
6. Baked Apple Dish (For 6 Months and Above)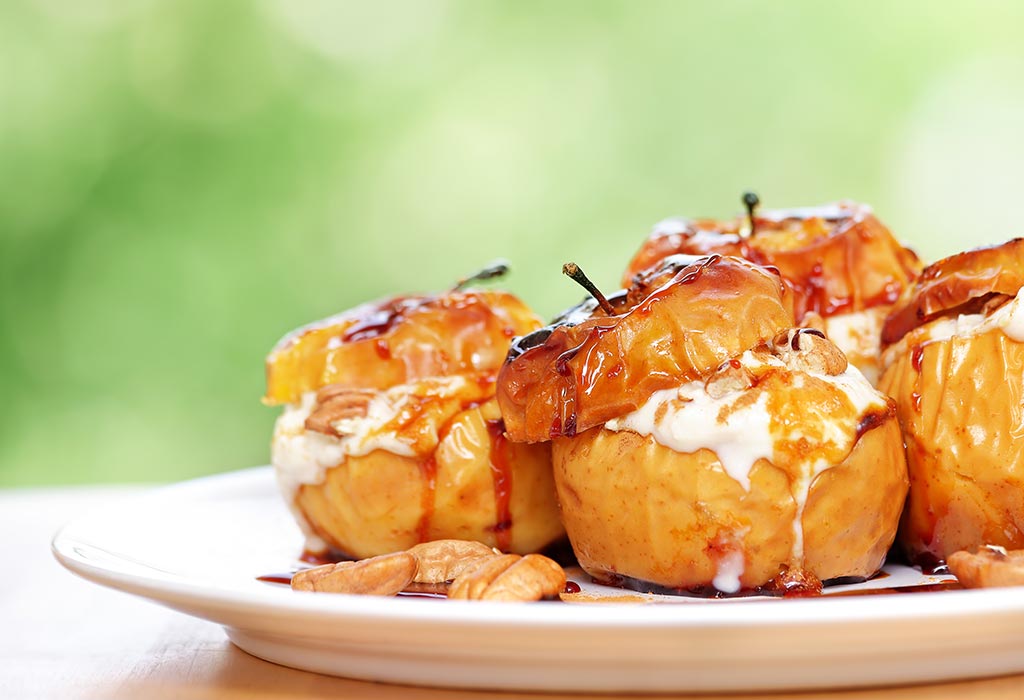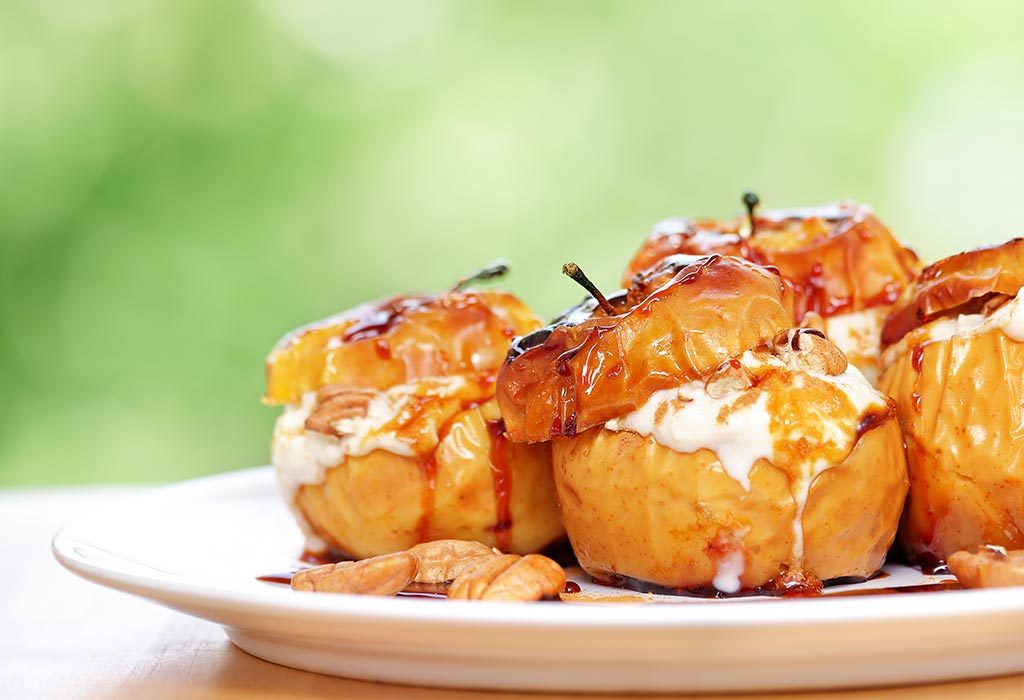 Turn the fruit into a great snack option for your child that has a different flavour with the same nutrition.
Ingredients
Method
Cut the apples and remove its core. Do not remove the outer peel.
Take some butter on your finger and apply it to the inner part of the apple. If your baby loves cinnamon powder, feel free to apply a little bit of that as well.
Take a shallow tray with some water in it. Place these pieces in the tray.
Put the tray in an oven and set the temperature to 200 degrees. Let it bake for about half an hour or so until the pieces start getting soft. Keep a track of the water in the tray.
Once cooled down, take the tray out and remove the peels if you want them to. Feel free to cut the pieces further or mash them together for your little one.
7. Apple Salad Breakfast with Grains (For 10 Months and Above)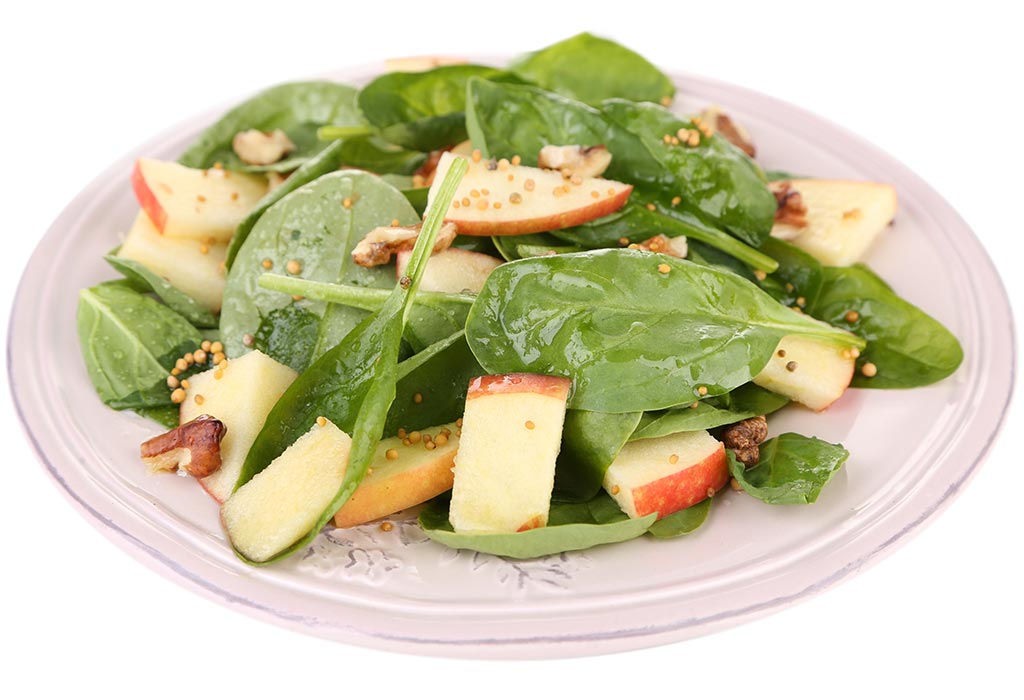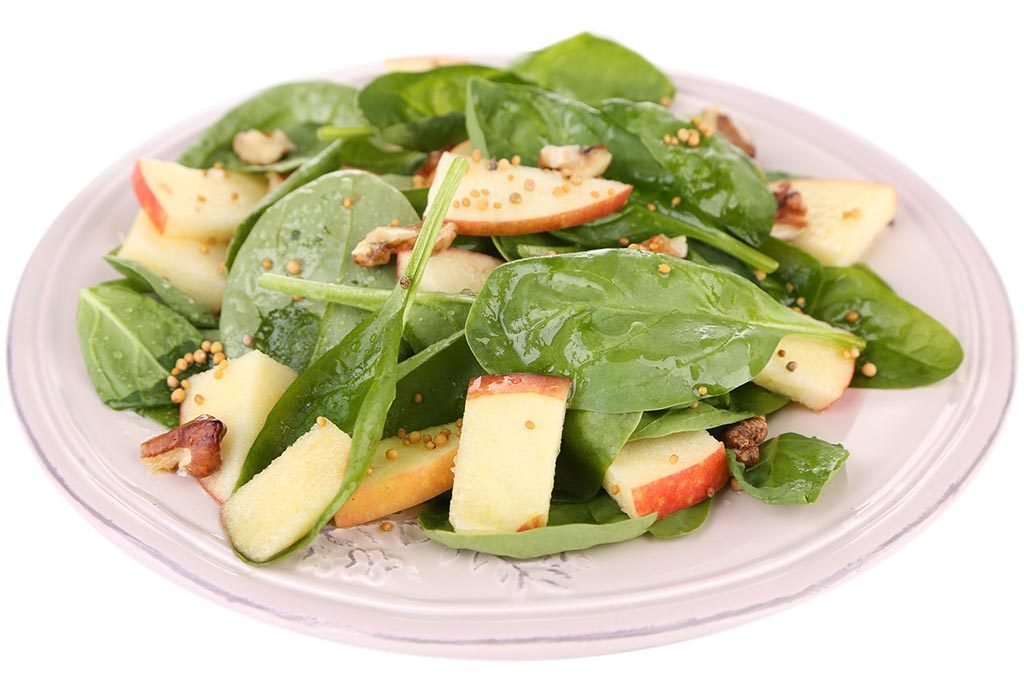 Let your little one have a nice filling breakfast now that he can start having solids properly.
Ingredients
Water
Salt
Raisins
Peach
Apple
Wheat
Method
Take a pot and add water and salt to it. Place it on a flame and heat it until it starts boiling. Follow by adding the brown rice and wheat to the pot. Then, reduce the flame, cover the pot, and let it cook for about 8-10 minutes.
Once cooked, turn off the flame and let it cool for a few minutes.
Spread a baking sheet on a platform and spread these grains on it. This increases their fluffiness.
Chop the apples together and add them to a bowl. Peel the peach and cut it into small pieces. Add it to the bowl as well.
Put all the fruits into the grain mixture along with some raisins, mashed if needed.
Follow up this entire mixture by adding some yoghurt to it, making sure it covers everything properly. You may proceed to add some wheat germ if needed as well.
As an alternative, you can add the fruits to the pot as well, making an even more consistent recipe.
8. Apple Rice Pudding (For 10 Months and Above)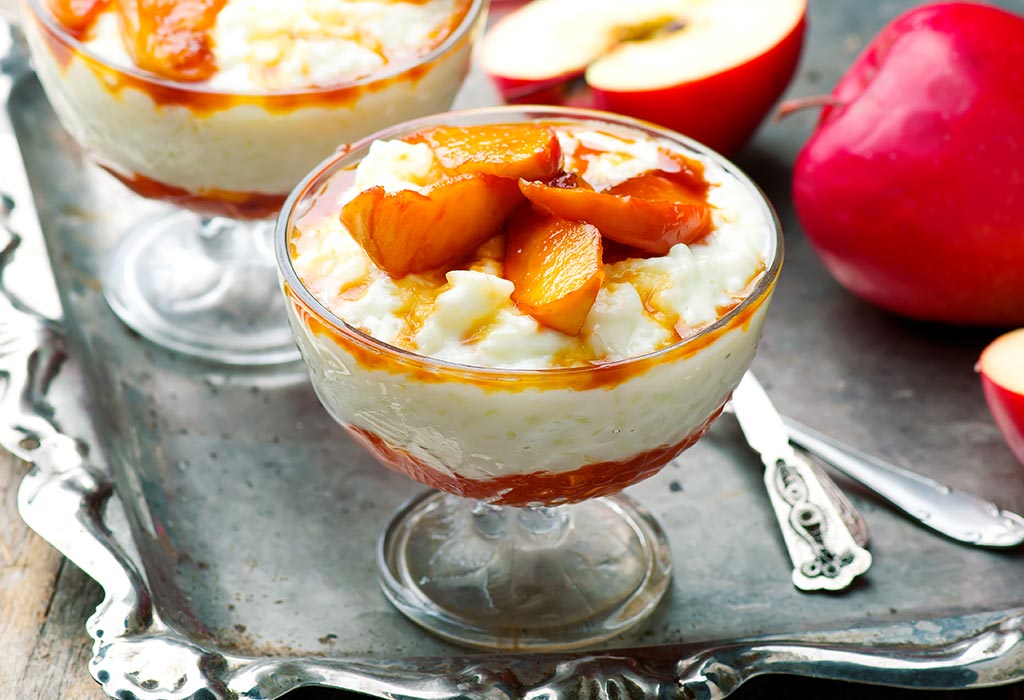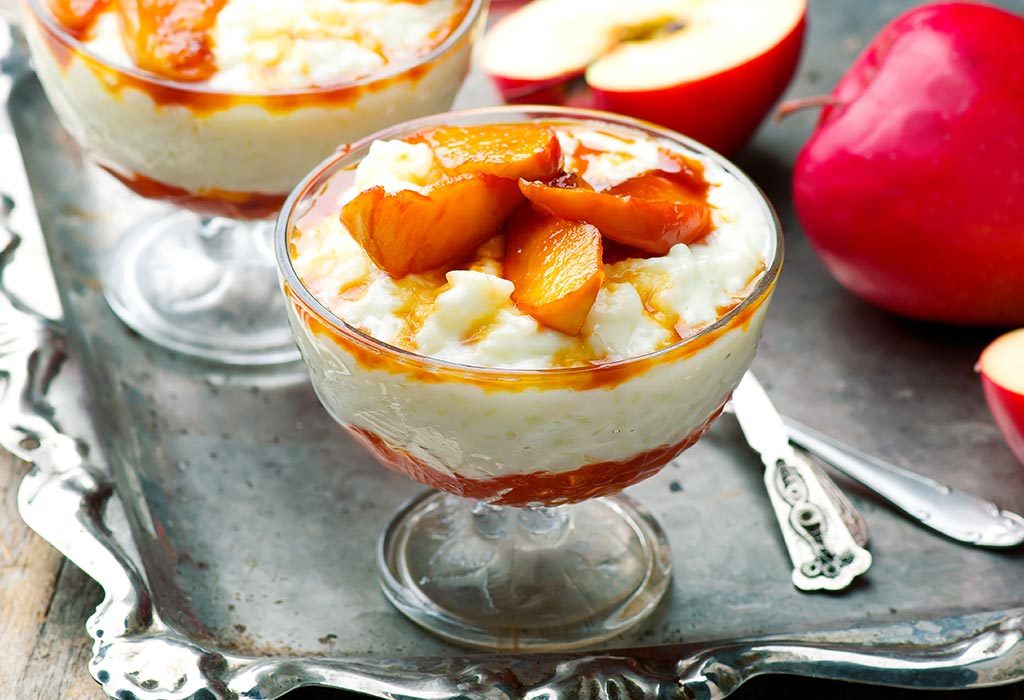 Some nice sweetness to go with the sweet and sour taste of the apple.
Ingredients
Brown rice
Water
Ginger
Cinnamon
Brown sugar
Raisins
Apples
Method
Take a good-sized pan and add together all the fruits, grains, spices and ingredients together to it.
Place the pan over a medium flame and let it sit for about half an hour or so. This should be time enough to soften the rice. Around this time, the mixture itself will get a little soupy and a nice aroma will start rising, too.
Add milk to this mixture and let it cook for another 8-10 minutes. Ensure to keep the mixture soupy and not get gravy-like. Keep stirring it throughout so that it doesn't stick to the pan, and add milk and water if needed.
Once cooked, cool it down and serve it to the child.
9. Apple Banana Custard (For 8 Months and Above)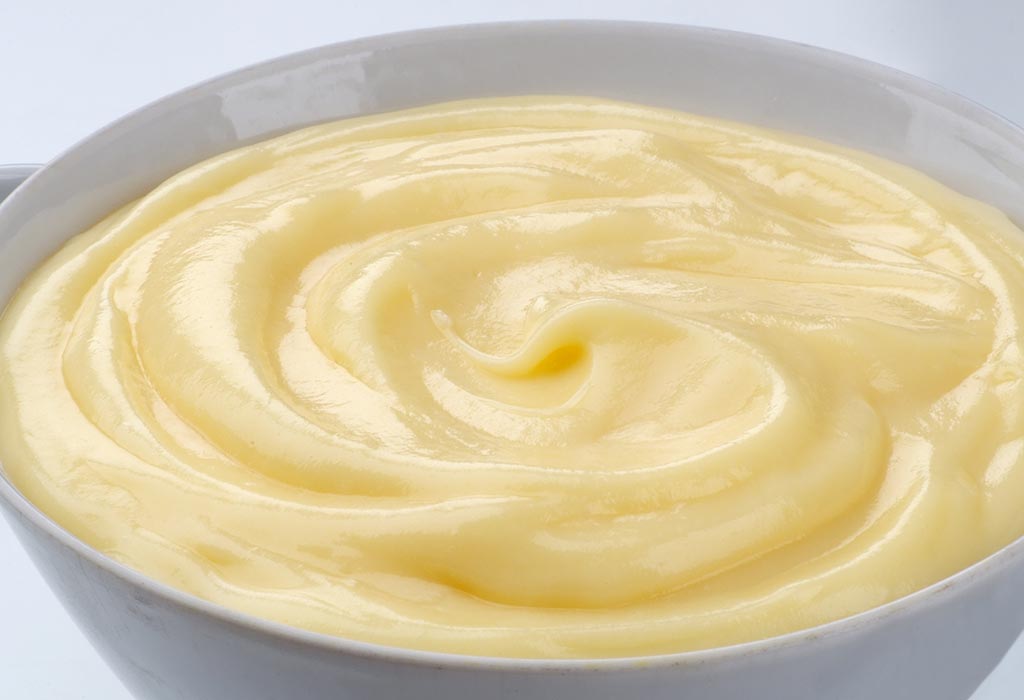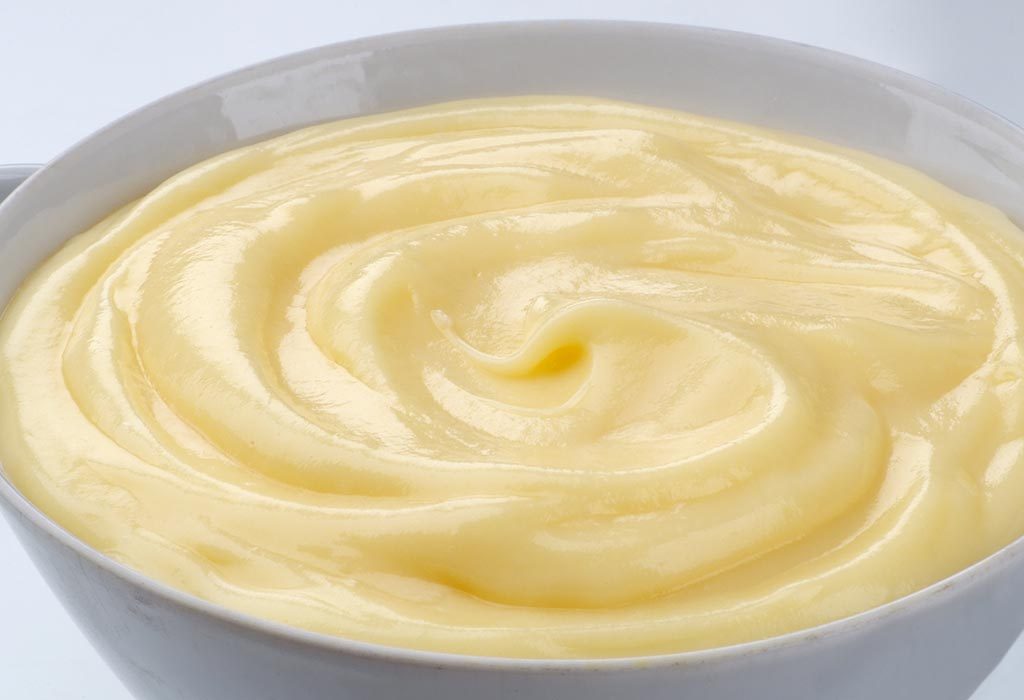 For your little one who has a sweet tooth, this recipe will be quite a delight for him.
Ingredients
Apple, peeled and cored
Banana, peeled and deseeded
Cinnamon powder
Breastmilk or formula
Method
Prepare the oven by heating it to around 180 degrees.
Steam the apples and combine all ingredients in the blender to make a smooth mixture.
Pour this in a baking dish and let it sit in the oven for around 15-20 minutes.
Stick a knife in the mixture to check for softness and take the tray out when right.
10. Apple Papaya Dish (For 10 Months And Above)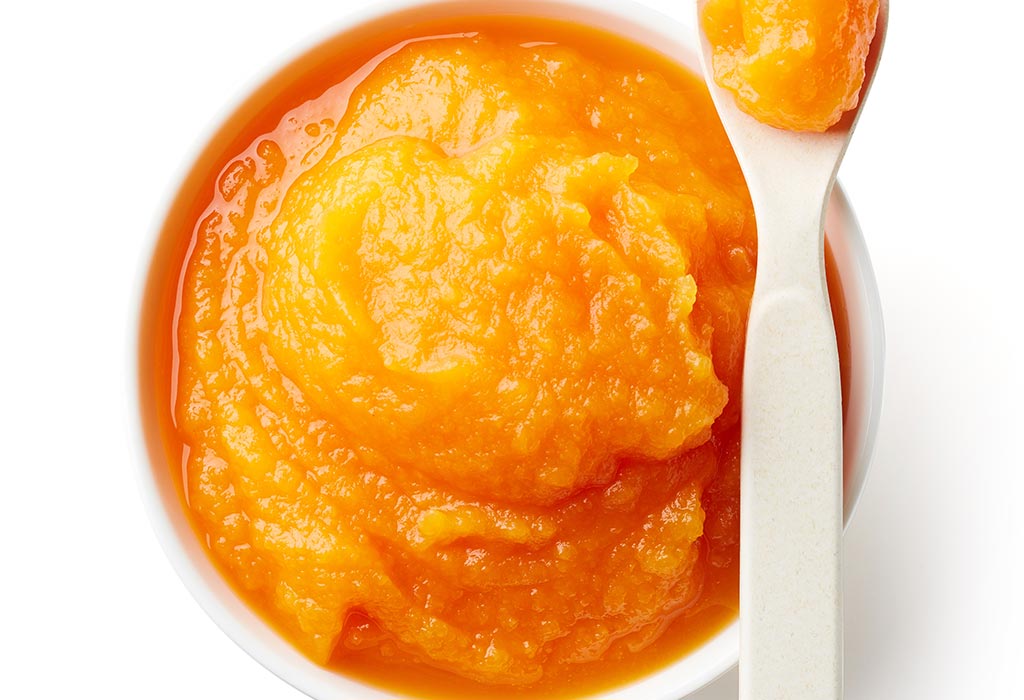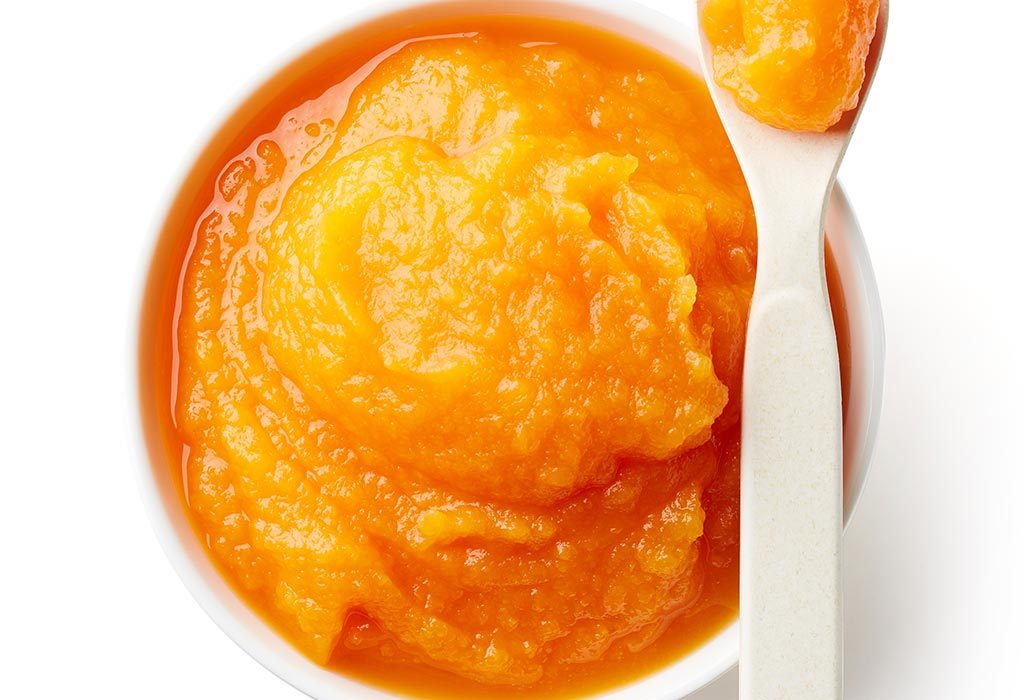 Combine different fruits for a great tasting experience.
Ingredients
Sweet apple
Peeled and chopped papaya
Method
Steam the apples after peeling and chopping them and blend them until they are mush.
Add the papaya to this and run it again until it turns into a consistent puree.
Making sure your baby can eat apples and develop a liking for them can open an avenue of various food items for your child. By opting for an apple stew recipe for your baby you can create a wide variety of recipes and let your baby enjoy the beautiful flavours.
Also Read: Homemade Custard Recipes for Babies