10 Most Popular American Patriotic Songs for Children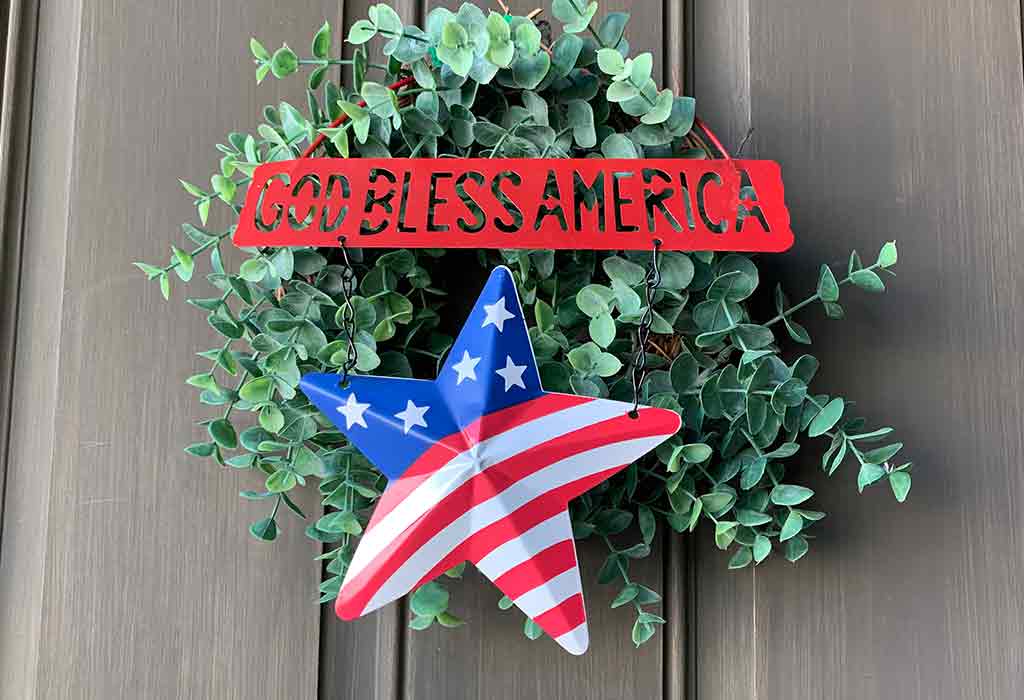 In this Article
There's just something about the 4th of July or Memorial Day that makes you want to whip up a patriotic playlist and play it aloud in your backyard while hosting your BBQ party. As you're busy setting up your festive decorations and champagne bottles, you want to have songs that pay tribute to the country and remind you of the good old days.
Choices like "Ragged Old Flag" and "Born in the U.S.A." resonate with newer and older generations, and there are many more to choose from when it comes to multi-genre songs. You can play these in your backyard, do an Instagram video shoot with them playing in the background, or simply host a patriotic party whenever you want. There are different themes ranging from light-hearted humor to more serious topics which kids will enjoy. Overall, most of them have adventurous lyrics with playful vibes, making them appropriate for young listeners. No need to hold back. Listen to your heart's content!
Famous US Patriotic Songs for Kids
Living the American dream starts with recognizing the joys the nation brings. Famous US patriotic songs for kids teach them the beauty of the nation and how they should be proud to call it their home. Patriotic songs connect with adults and rekindle the flames of nostalgia.
When your kids grow up, they're going to have fond memories of these songs and think about Memorial Days. It's difficult to portray patriotism in words, but these songs do a good job at it. For those who want to celebrate the 4th of July or smile and indulge in the festive spirit, this exhaustive list is a nice way to go about it. So go ahead – make these songs a part of your U.S. patriotic music playlist and play them at your next BBQ party! Let's get down to it.
1. God Bless America by Irving Berlin
Amongst old patriotic songs USA choices, God Bless America remains a masterpiece to this day. Some regard it as a second National Anthem in the U.S.A.
About the Song: God Bless America country song was written during World War I by Irving Berlin. Kate Smith sang this song best, and RCA Victor Savoy Records released it. When Europe was facing the heat during the war, this song was produced to raise the army's spirit, and the earliest final edition of the song was made public on November 2.
2. This Land Is Your Land by Woody Guthrie
There are hidden meanings within the song, and it was composed as an outcry of protest against the erasure of indigenous tribes in Native America.
About the Song: Written by Woody Guthrie, its original lyrics were uncensored and represented the true spirit of American culture and freedom. Later versions of the song revamped the lyrics and toned down its radicalism a bit. In 1997, the old lyrics were rediscovered by a Smithsonian archivist.
3. America by Neil Diamond
Jazz artist Neil Diamond dedicated this song to the Statue of Liberty and what it stood for. It was made in 1984 and covered America's history in general.
About the Song: Immigrants and people from other countries who have witnessed America's freedom and creative expression related to the song. It is also dedicated to immigrants and is at the top of the list of patriotic songs of the USA.
4. 50 States Song by The Learning Station
50 States Song by The Learning Station teaches children the basics of alphabets by covering different states and counties in the country. When it comes to American Patriotic Songs lyrics, it is simply beautiful. A pleasure for the ears and a lighthearted song for the young ones!
About the Song: This song sets a familiar rhyme and rhythm for kids, making it a fantastic choice when it comes to singing classes for preschool activities. It has catchy tunes, and the lyrics are easy to follow, making it an ideal song for young learners.
5. America the Beautiful by The Kiboomers
America the Beautiful introduces kids to the wonders of the American flag and a bit of history behind it. It's great for kindergarteners, and the singer has a gorgeous voice which makes kids want to keep listening.
About the Song: The song is just over 2 minutes long and great for kids with short attention spans. The lyrics are well-paced, easy, and simple to pick up. There's not much of a learning curve when it comes to the vocabulary, which makes it very approachable for beginner singers.
6. The Star-Spangled Banner by Marvin Gaye
Francis Scott Key was the first to sing the lyrics of this song in 1812 when the American flag was being waved across Fort McHenry. It's one of the most patriotic songs in the U.S. out there.
About the Song: American's freedom and unity are expressed through the theme of the song. The Star-Spangled Banner became the national anthem of the nation and was used by the American Navy a well. The poem has 4 stanzas, and many consider this song challenging to sing for kids. However, for older children, mastering the USA songs patriotic lyrics is a must.
7. Born in the USA by Bruce Springsteen
1984 was a revolutionary year for Bruce Springsteen as he describes a Vietnam War through this song's lyrics.
About the Song: The song has a spiritual side to it and tells the story of a Vietnam war vet who tries to return home. The lyrics portray that he doesn't have a home and is on a quest to find one, with nowhere to go.
8. When the Flag Goes By by Nevin and George B.
Released in 1917 and performed at the University of Illinois when it was first published, When the Flag Goes By is a song many teenagers relate to and fall in love with.
About the Song: The spirit of patriotic America is expressed through its lyrics and the artists have done a great job in showing how much the national flag means to them. The song is a huge hit and considered to be among the best old patriotic songs of the USA. It is also a patriotic national anthem of its own in a way. There is wisdom, courage, and a lot of hope imbued within it.
9. In America by John Legend
John Legend has a way to connect to young listeners with his catchy lyrics and beautiful singing voice. The song will make kids start chanting America, and they'll be dancing around the room in no time.
About the Song: John Legend returns again with an iconic track that has a pre-Civil war theme to it. The lyrics have upbeat vibes, and the song explores topics such as hope, strife, and freedom through them.
10. Memorial Day Poppy Song by The Kiboomers
Sung on Memorial Day, this song is an iconic entry for kids. It thanks America and its fallen soldiers through its lyrics, making kids remember why they should be grateful for the freedom they enjoy in the nation.
About the Song: Kids can follow along with the lyrics, and the song is easy for beginners. It introduces children to the concept of Memorial Day and has a nice rhyming to it throughout the video.
The pride one has for one country cannot be simply expressed through mere words. America is a nation that is beloved by many, including the young and old alike. However, the songs are catered towards children and give a nice introduction to the nation's wonders. Play them over and over, and they will get well-versed with the national anthem. And over time, they will be looking forward to the next patriotic party or Memorial Day. You can count on that.
These songs are also perfect for kindergarteners and preschoolers as well. They are very approachable and don't require a lot of practice to get the hang of.
Also Read:
Pop Songs for Children
Party Songs for Children
Worship Songs for Children