5 Delightful Mermaid Crafts for Kids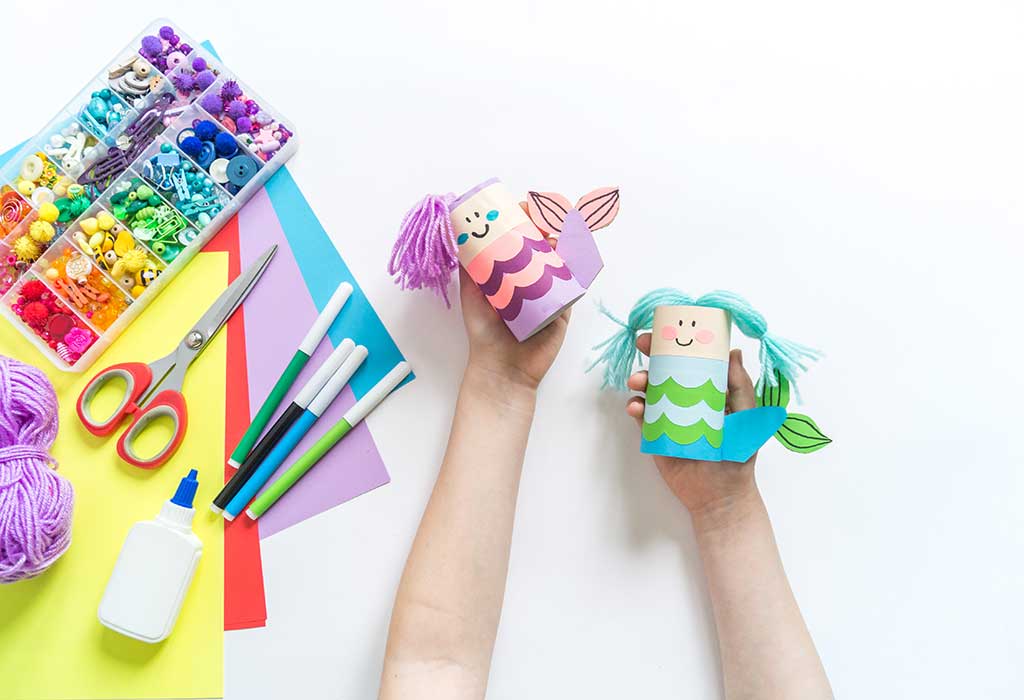 In this Article
Mermaids are aquatic creatures with the upper part of the body as a female human and a fish's tail. These fiery maned tail swinging and gorgeous creatures possess majestic qualities that have managed to fuel every child or even sometimes an adult's imagination through the ages. Mermaid craft ideas can help to preoccupy your child in a productive way and enhance their creative skills.
Easy Mermaid Crafts for Children
Mermaids have appeared since ancient times in the folklore of many cultures worldwide. Most kids obsess over mermaids in their childhood while pretending to be them or dreaming about them. Mermaids have been a popular subject of art, literature, movies, and operas in recent centuries. The conception of mermaids in the Western countries may have been influenced by the Sirens of Greek mythology, which were originally half-birdlike creatures that later got transformed to half-fish like in the Christian era. Though there is no actual evidence that mermaids exist outside legends and myths, reports of mermaid sightings have been documented by the news, scuba divers, tourists, military, and government, which continues today. Modern incarnations of mermaids as underwater creatures of the seas have made them quite popular among kids. Whether you believe these mystical creatures to be real or just a figment of imagination, they can be an interesting topic to discuss with your kids. Indulge their mermaid love by giving them ways to imagine and engage in creative play by learning to do DIY mermaid crafts. Here are some mesmerizing mermaid arts and crafts ideas can be used as home décor items or class activity. Who knows, you might even inspire them to become underwater explorers!
1. Peg Doll Mermaid Craft
If your child loves mermaid dolls, nothing should stop them from going for one that's brunette, blonde, or even one with rainbow hair. This craft is perfect for small-world play and makes a great addition to your child's collection of DIY doll sets.
What You Need
Wooden peg
Balloon
Pencil
Scissors
Glitter paper
Tack-Its
Rainbow thread
How to Make
Cut out strands of the rainbow thread and tie them up together in the center for making the hair of the doll.
Snip away at the curved end of the balloon. Make uneven, jagged edges for the dress.
Attach the opening of the balloon to the end of the wooden peg.
Cut out a bustier from the glitter paper. Draw out a pattern and cut it out from the reverse side.
Attach a small bit of tack-it after rolling it into a strip to the backside, keeping it facing upwards.
Fix the bustier on top of the mermaid's balloon skirt
Use a marker to draw the facial features.
Make another thin strip with the tack and place it on the mermaid's head. Fix the hair on this, and your peg doll is ready.
2. Swimming Mermaid Paper Craft
This cute paper toy activity is ideal for Mermaid crafts for preschoolers who would love the colorful underwater world filled with their favorite sea creatures and mermaids.
What You Need
White cardstock
Cutting mat
Scissors
Exacto knife
Markers
Glue
Printable mermaid templates (They come in 3 sweet pastel designs or a blank one for kids to fill in with colors).
How to Make
Cut out the mermaids from the printout of the mermaid templates. (Don't cut along the dashed lines).
The fins need to be folded in half.
Cut slits below the fin designs.
Fold the top of the body inwards.
Glue the finished pieces to a blue construction paper with a design of an undersea.
3. Paper Bag Mermaid Craft
This simple craft can be used as a puppet for fun pretend play or while narrating a mermaid story to your child.
What You Need
White paper lunch bag
Peach colored paint
Pink marker
Googly eyes
Colored cardstock paper
Shiny green textured paper or construction paper or cardstock paper
Glue
Scissors
Paintbrush
Large heart punch
How to Make
Cut off approximately 2-inches from the top of the paper bag. Paint the front of the paper bag with peach color paint (the side with the bottom of the bag facing forward). Leave it to dry.
Cut out a traditional seashell shape or two hearts for the seashell bra using the heart punch. Then cut out several strips for the hair and tail from the green textured cardstock paper.
Stick all the pieces of the tail, hearts, googly eyes, and hair with glue to the paper bag. Draw a smile on the paper bag mermaid craft to finish it.
4. Popcorn Cup Mermaid Craft
Whether it's your child's first viewing of Disney's "The Little Mermaid" or hundredth, make it a night to remember with these mermaid popcorn holders.
What You Need
Mermaid tail printable
Popcorn
Markers, pencils, paint sticks, crayon
Scissors
Tape
How to Make
Let your kid color the mermaid's tail with any color of their choice. Once done, cut it out.
Cut along the dotted line of the tail.
Fold it into a cone (fold the part that you just cut under the other side)
Hold it firm and tape down the bottom of the cone first, to the backside of the tail, followed by the sides.
Trim any excess off the top of the cone, and fold some tape over the seam.
Now, your cone is ready to be filled up with popcorn of any flavor.
5. Mermaid Tail Glitter Sensory Bottle
This glittering sensory bottle can swirl, sparkle, and shine like a mermaid's tail. This portable bottle can be used for no mess-safe sensory play, calming an anxious child, and help children learn to practice meditation.
What You Need
Water bottle (a tempered glass mason jar works best as the plastic bottle can warp and melt)
Liquid watercolors
Fine and fake glitter
Whisk
Superglue
Blue glitter glue or clear glue
Goo Gone
1-quart measuring cup
Big hexagon glitter in Ice blue and green
How to Make
Take a mason jar and remove its label. Goo Gone can be used to remove any sticky residue.
Add 1 ½ cup boiling hot water into a one-quarter-sized measuring cup to make glue, water, and glitter to mix really well.
Squeeze 1/3 bottle of blue glitter glue or 2 oz. of clear glue into the hot water and mix well with a whisk.
Drop pinches of fake glitter, fine glitter, hexagon glitter into the boiling water.
Mix again with a whisk.
Quickly pour the mixture into another recycled bottle.
Adding a drop of liquid watercolors to the bottle helps to make a primary color.
Put the lid on the bottle and shake it well.
Add in more liquid, watercolor, or glitter before adding water from the top.
You may shut off the bottle completely with glue.
Experts agree that crafts help pre-schoolers to develop critical skills for primary education and social functioning. However messy it may get, parents should always encourage kids to do craft activities that would expand their knowledge of materials and understanding of the world. Hence let your kids explore the underwater world with mermaid-themed craft items that may make them feel empowered and excited with their fabulous color scheme and lots of sparkles. Moreover, the educational value and fun quotient of craft time cannot be undermined.
Also Read:
Bible Crafts and Activities for Children
Unique and Easy Penguin Crafts for Children
Creative Bird Crafts for Children