10 Easy and Healthy Carrot Recipes for Kids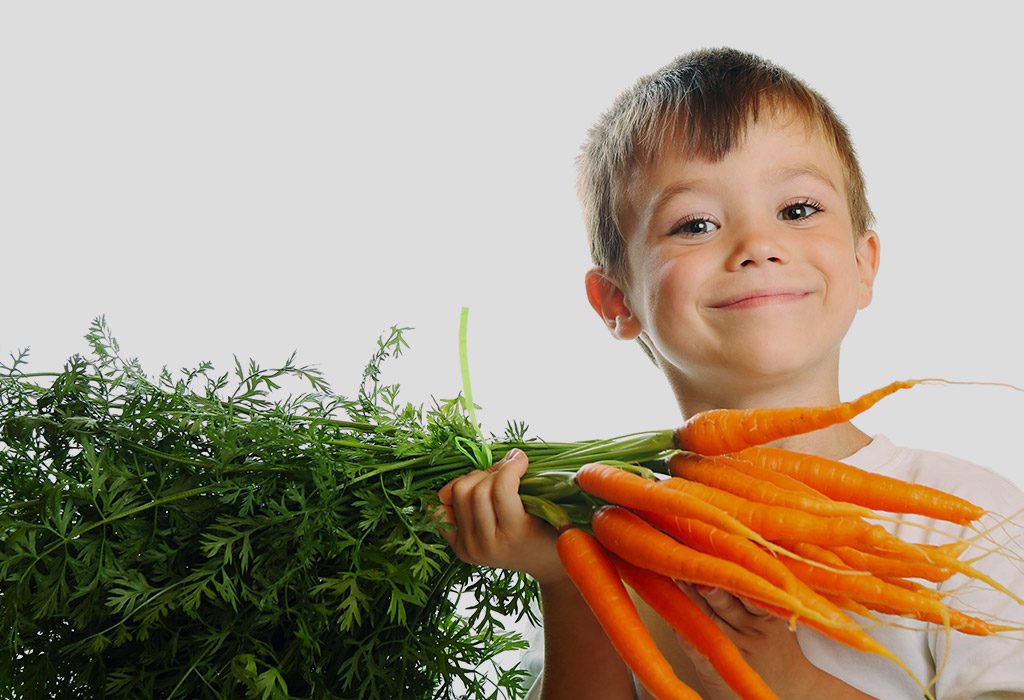 In this Article
Toddlers and young children can be fussy eaters. Getting them to eat vegetables can be challenging. One of the most nutrient-rich vegetables is the carrot. It contains antioxidants, vitamin A, minerals, and dietary fibre. Carrots help your eyesight and reduce the chances of heart disease and cancer.
Delicious Carrot Recipes for Children
Carrots are very versatile and can be incorporated into both sweet and savoury dishes. Here are some tasty and healthy carrot recipes that are super-easy to make:
1. Carrot Salad
This is a simple recipe that incorporates carrots for kids. It is both nutritious and delicious!
Ingredients
You will need 2 shredded apples, 3 cups of shredded carrots, 200 gram crushed pineapples, 3 tablespoons raisins, ¼ cup vanilla flavoured yogurt, ¼ cup plain yogurt, 1 tablespoon lemon juice, and creamy cottage cheese, salt to taste.
Method
Drain some of the pineapple juice and mix the shredded apples in it. In a big bowl, mix the carrots, apples, raisins, and pineapple pieces. In a bowl, mix the lemon juice, cottage cheese, yogurt and salt. Add the carrots and fruit mixture to this and mix thoroughly. Refrigerate for ½ an hour. Serve chilled.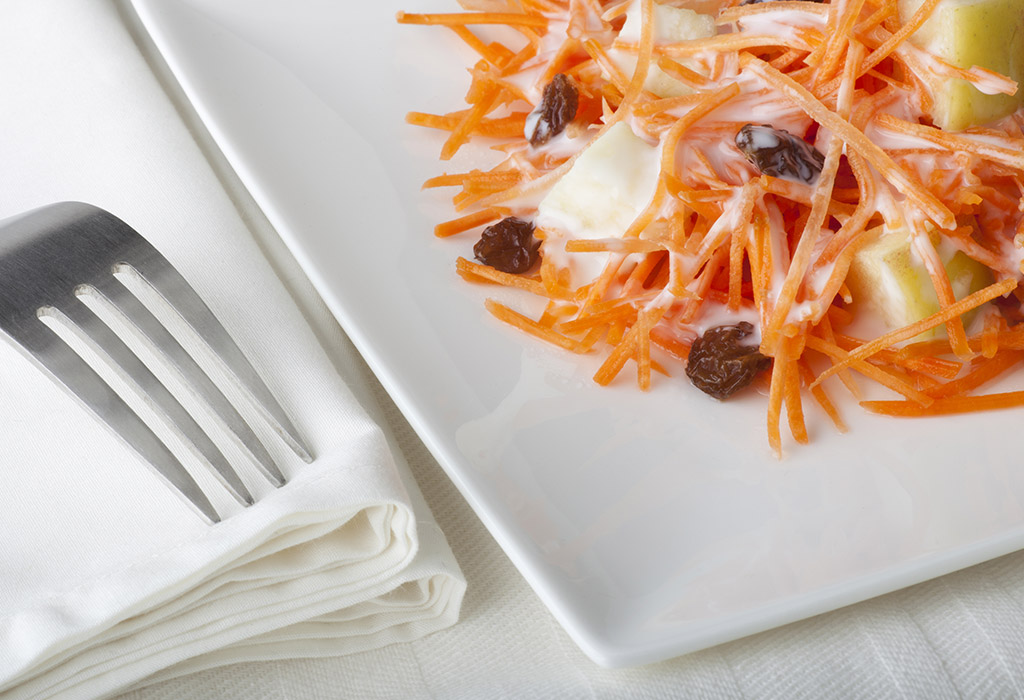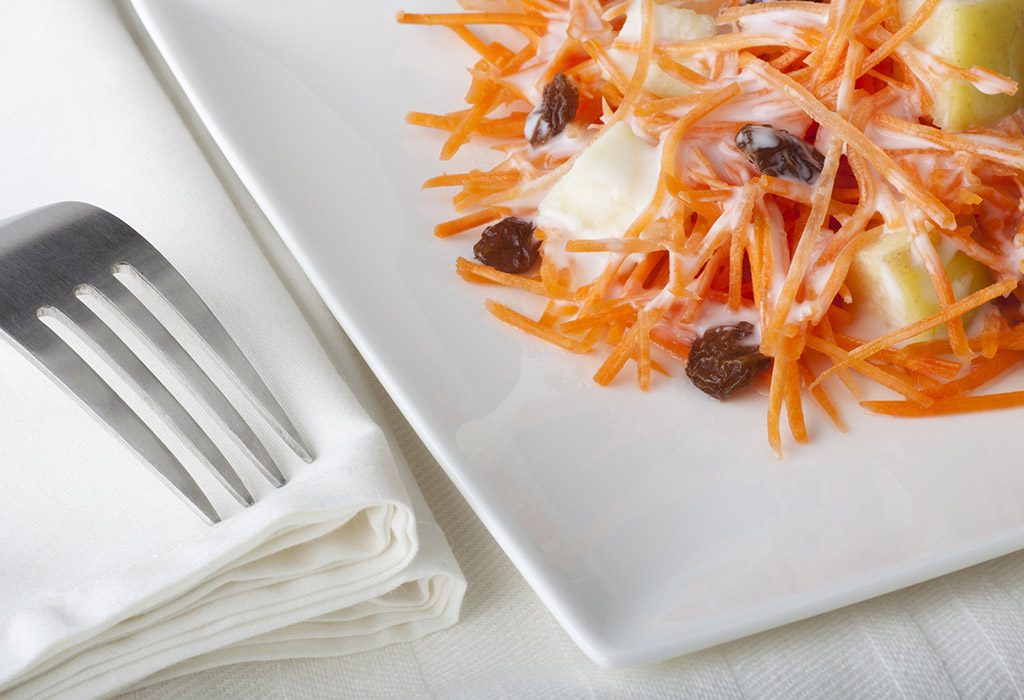 2. Carrot Soup
This is one of the simple and tasty carrot recipes for toddlers. Your little one will love this carrot soup!
Ingredients
You will need 1 tablespoon butter, 1 tablespoon olive oil, one stalk of celery, one chopped onion, 2 cloves of garlic, 5 cups of chopped carrots, 1 sprig of chopped parsley or coriander, 4 cups of vegetable broth, 2 cups water, and salt and pepper to taste.
Method
Add butter and oil to the pan. Add the onions and celery once the butter melts and saute until they are cooked. Add the garlic and parsley and cook them for a few seconds. Add the chopped carrots, the water, the vegetable broth, and the salt and pepper. Simmer for ½ an hour until the carrots are soft. Puree this in a blender to make it smooth. Serve it warm.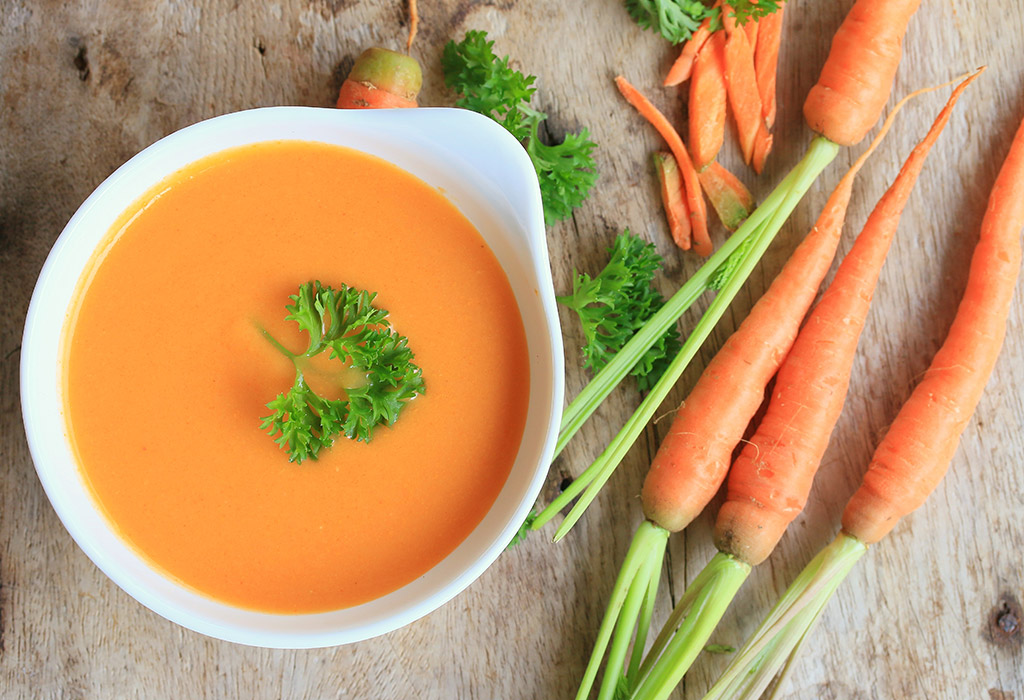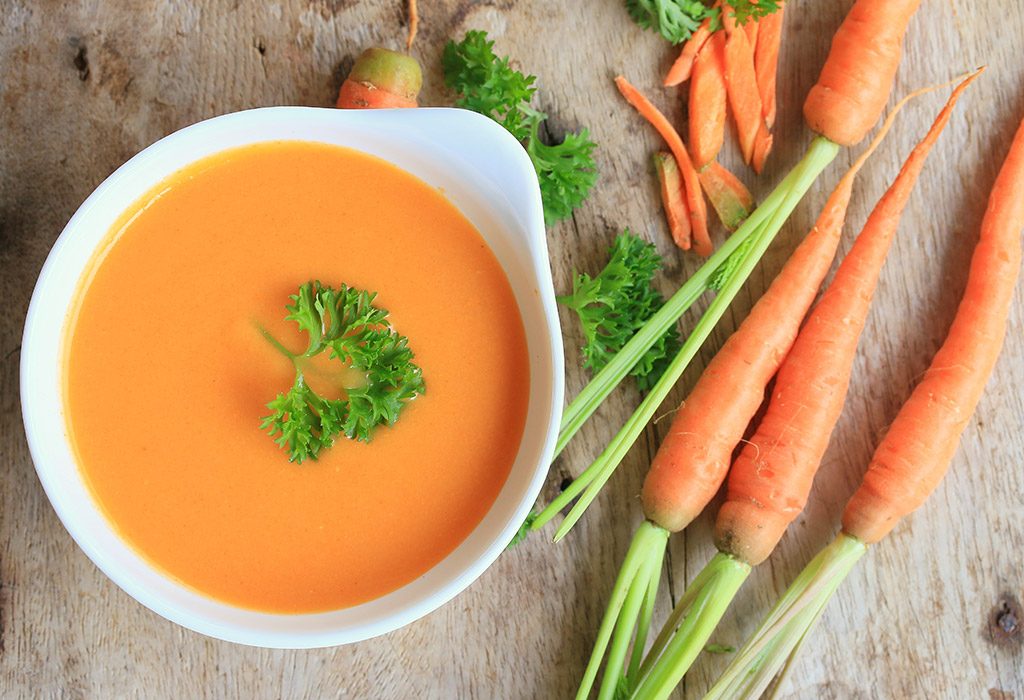 3. Carrot Smoothie
You can make a smoothie with carrots or use it in a carrot juice recipe for kids. Both carrot juice and carrot smoothie are healthy and delicious.
Ingredients
For carrot smoothie, you will need 1 cup of shredded or chopped carrots, ½ a cup of sliced banana, ½ a cup plain thick yogurt, ½ a cup milk, ½ a cup of chopped pineapple, 1 tablespoon toasted walnuts, ¼ teaspoon cinnamon powder, a pinch of nutmeg.
Method
To make the smoothie, blend the carrots, banana, yogurt, milk, pineapple, walnuts, cinnamon, and nutmeg in a blender until smooth. Serve chilled or at room temperature.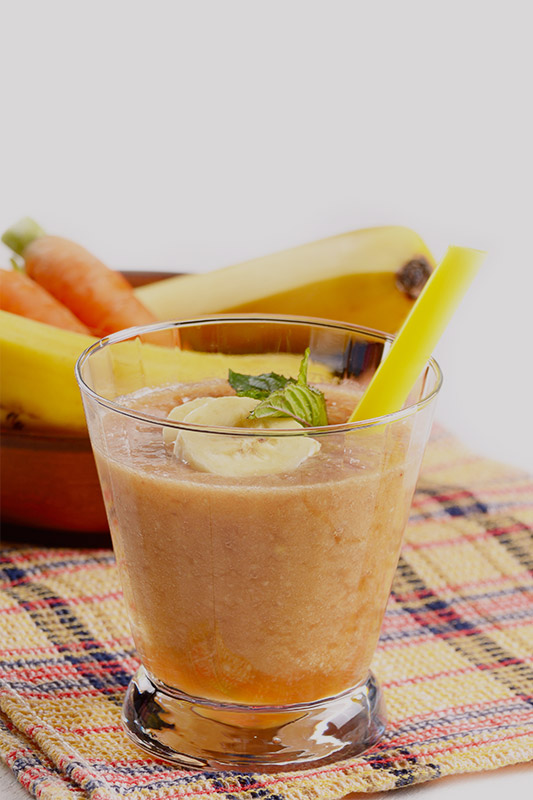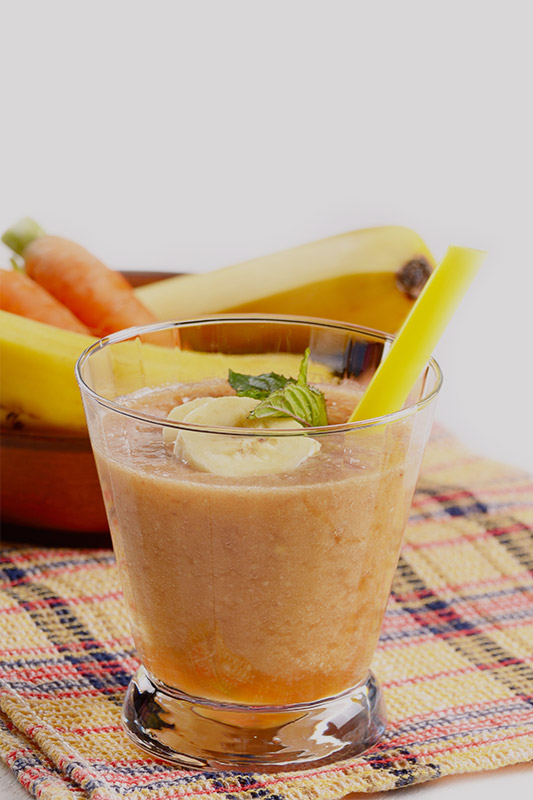 4. Carrot Muffins
Carrot muffins make a healthy and flavoursome breakfast snack for kids.
Ingredients
To make carrot muffins, you will need 2 cups white whole-wheat flour, 2 teaspoons cinnamon, ¼ teaspoon each of ginger and nutmeg, 2/3 cup brown sugar, ½ a teaspoon salt, 2 teaspoon baking powder, 2 cups grated carrots, ¼ cup grated coconut, ½ cup pineapple pieces, 2 eggs, 170 g of thick yogurt, ¼ cup milk, and 1/3 cup coconut oil.
Method
Preheat your oven to 400 degrees F. In a big bowl, add the spices, sugar, flour, baking powder, and salt. Stir well and add the coconut and carrots. Set this aside. In another bowl, mix the eggs, yogurt, milk, and coconut oil until they are blended thoroughly. Add the carrot mixture to this and combine well. Spread this batter into the muffin tray. Bake for 21 minutes at 400 degrees F. Cool and serve.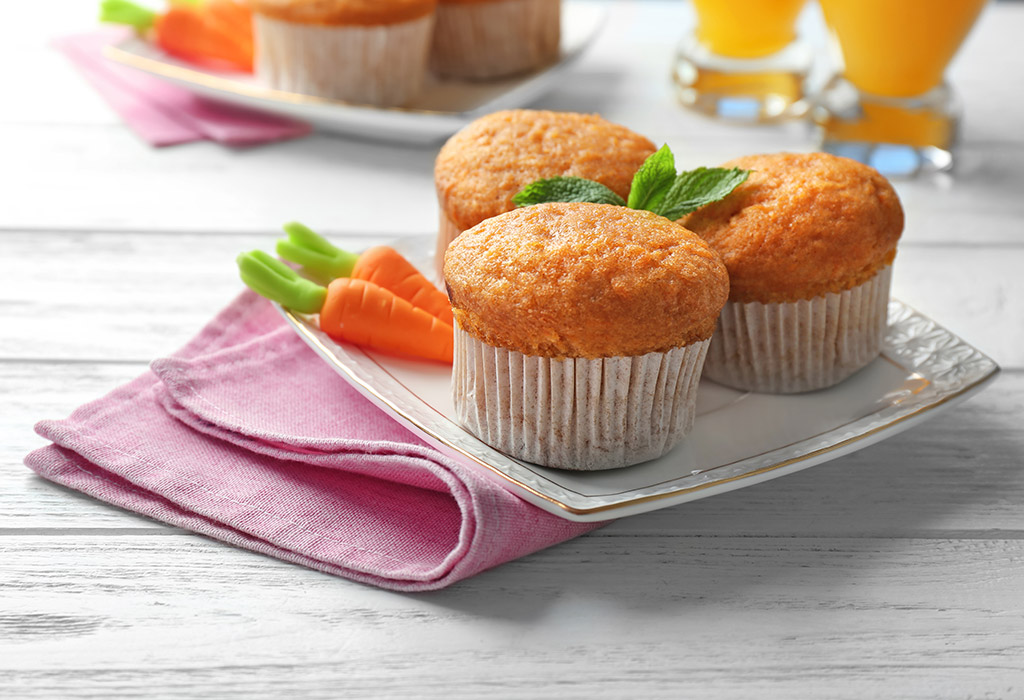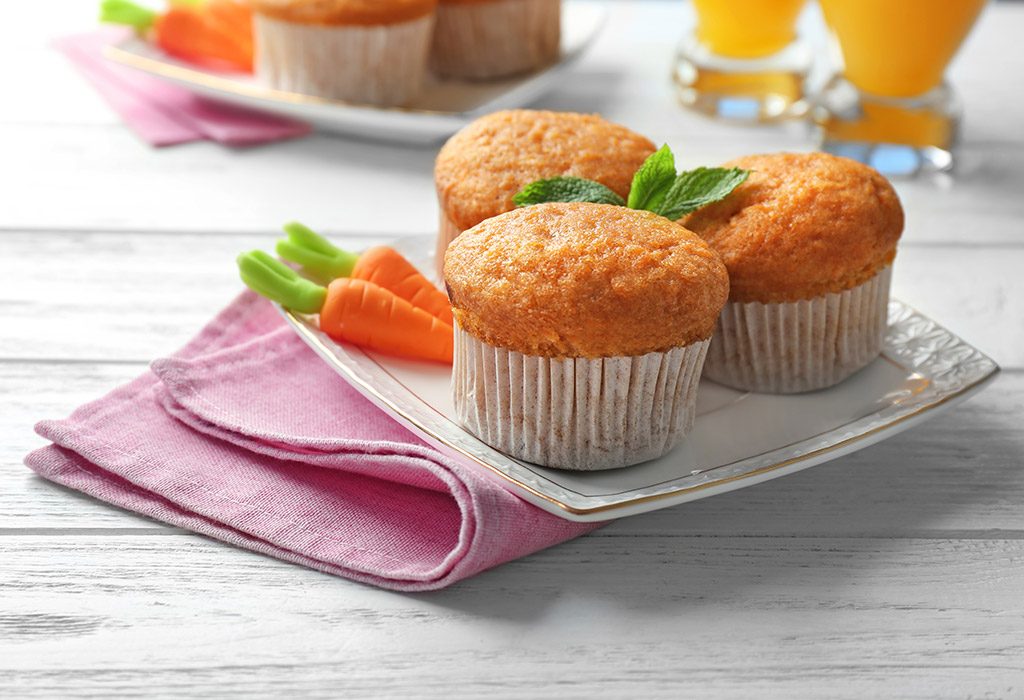 5. Carrot Rice
This delicious creamy carrot rice is a great lunch or dinner-time dish for toddlers.
Ingredients
To make carrot rice, you will need 1 cups of vegetable or chicken broth, 1 cup of carrot juice, 2 tablespoons butter, ½ an onion, salt and pepper to taste, 1 cup long grain rice, ¼ cup grated Parmesan cheese, 3 tablespoons parsley or coriander.
Method
Mix the broth, carrot juice and 2 cups of water in a pan. Bring this to a simmer on low heat. Melt some butter and add onions to it on another pan. Saute the onions and add salt and pepper. Add the rice to this and cook for 4 minutes. Add half a cup of the broth mixture to this and stir until it gets absorbed. Repeat this step by adding cups of the broth mixture until the rice is well-cooked. Add a teaspoon of butter and the grated cheese and mix well. Add salt and pepper to taste and serve it warm.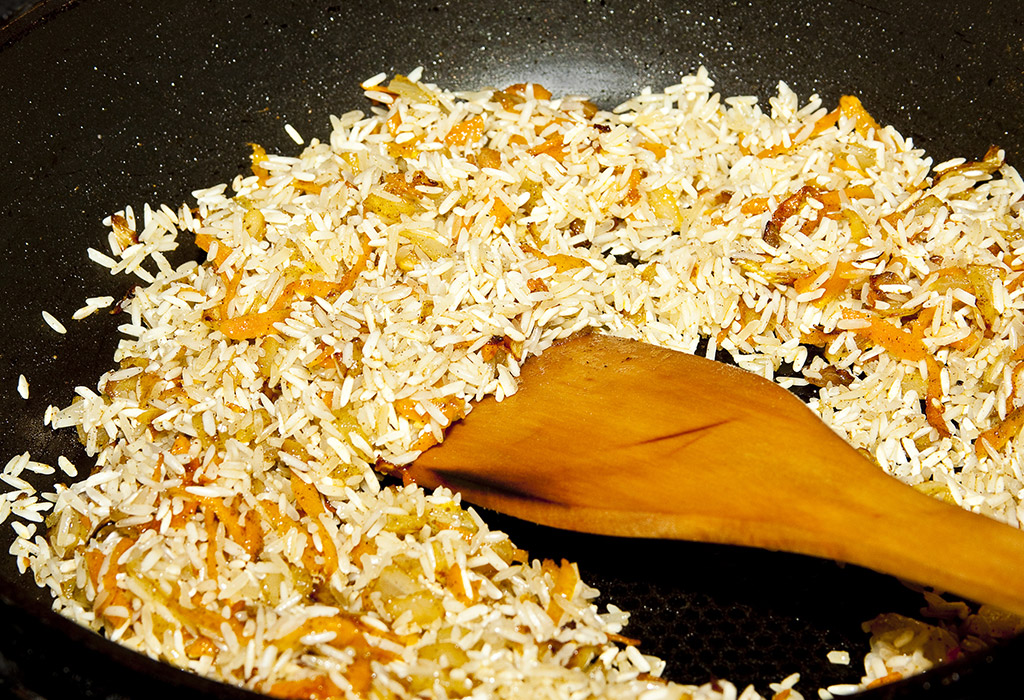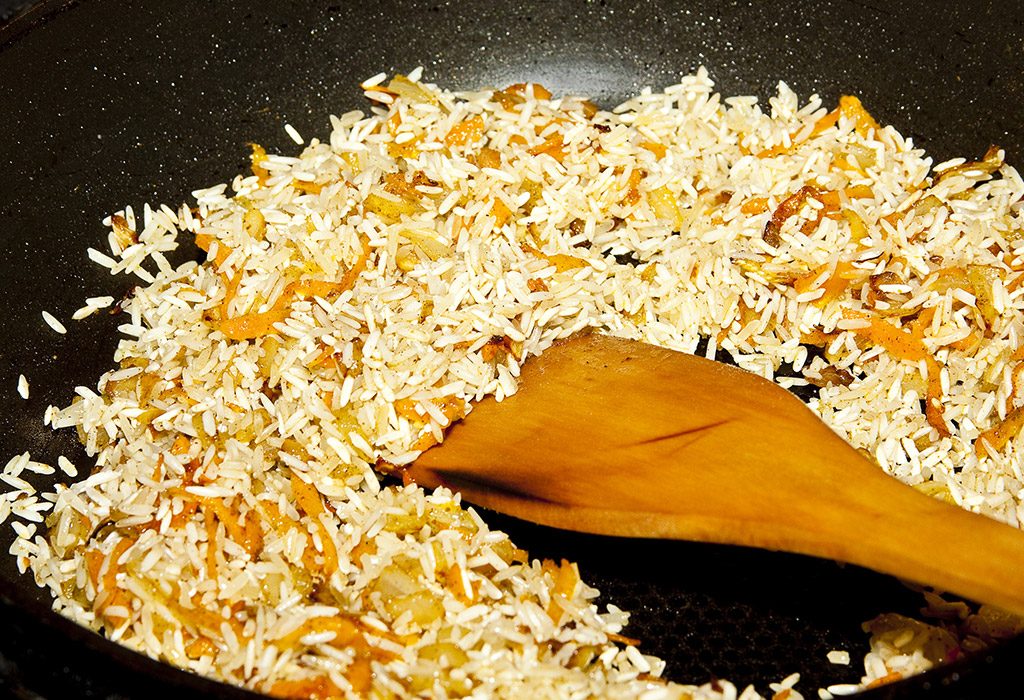 6. Carrot Kheer
This is a simple, yet tasty recipe that is suitable for both babies and adults.
Ingredients
To make carrot kheer, you will need 2 tablespoons rice, 2 medium carrots, ¼ cup brown sugar, 2 tablespoons palm sugar, 2 cups milk, 1 cardamom, 6 cashews, 6 almonds, 1 teaspoon raisins, 2 teaspoons ghee.
Method
Soak the rice in water for 15 minutes. Soak cashews and almonds in water for 10 minutes, peel the almond skin off and set aside. Chop the carrots. Grind the carrots, cashews, almonds, and rice together with water into a coarse paste. In a pan, add milk and heat. Add the crushed cardamom. Add the carrot rice paste to this and cook on low flame for 15 minutes. Add sugar to the same and cook until the sugar dissolves and the kheer thickens. Lightly saute the raisins in ghee and add this to the kheer. Serve this warm or chilled.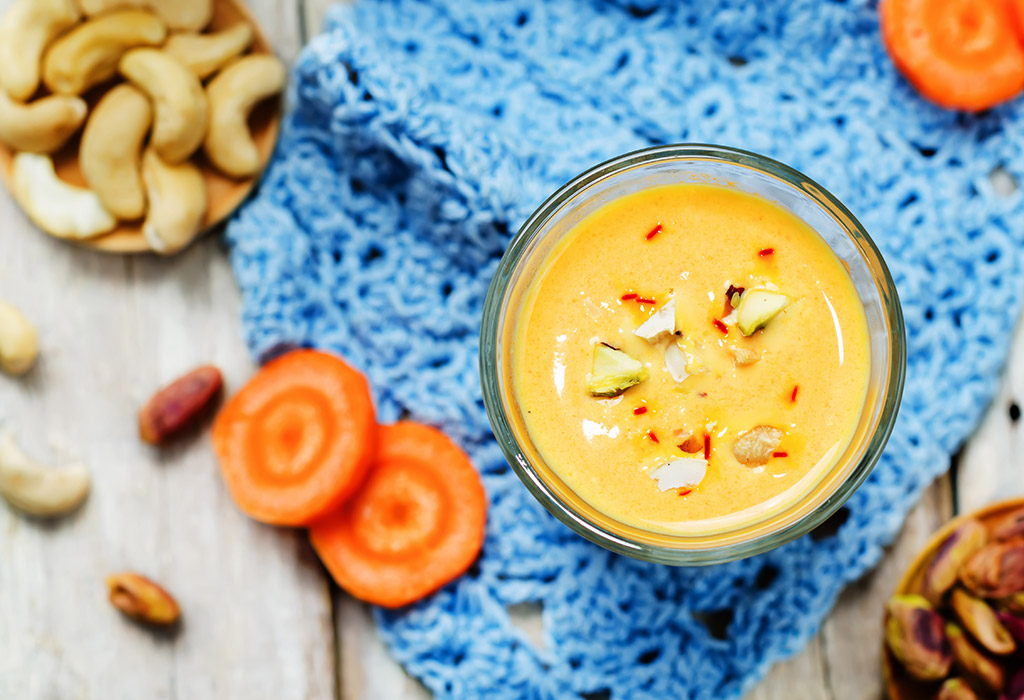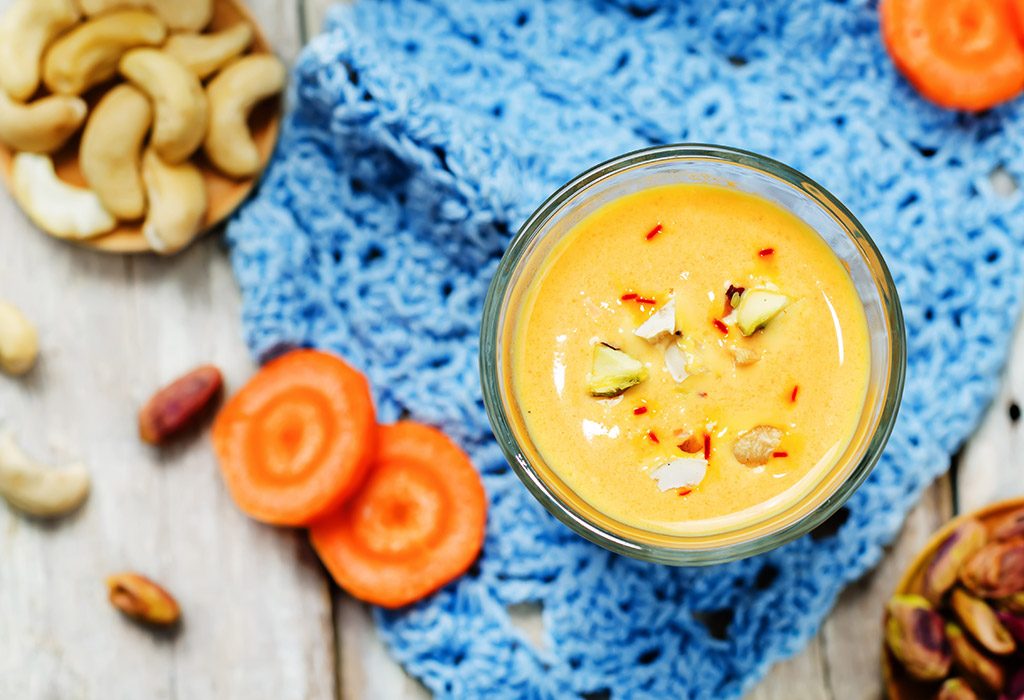 7. Carrot And Cheese Balls
These make a wonderful and healthy evening-time snack for kids.
Ingredients
To make carrot and cheese balls, you will need 1 cup of finely grated raw carrots and 1 cup of grated cheddar cheese.
Method
Combine the grated carrots and cheddar cheese in a bowl. Roll them into little balls. Serve!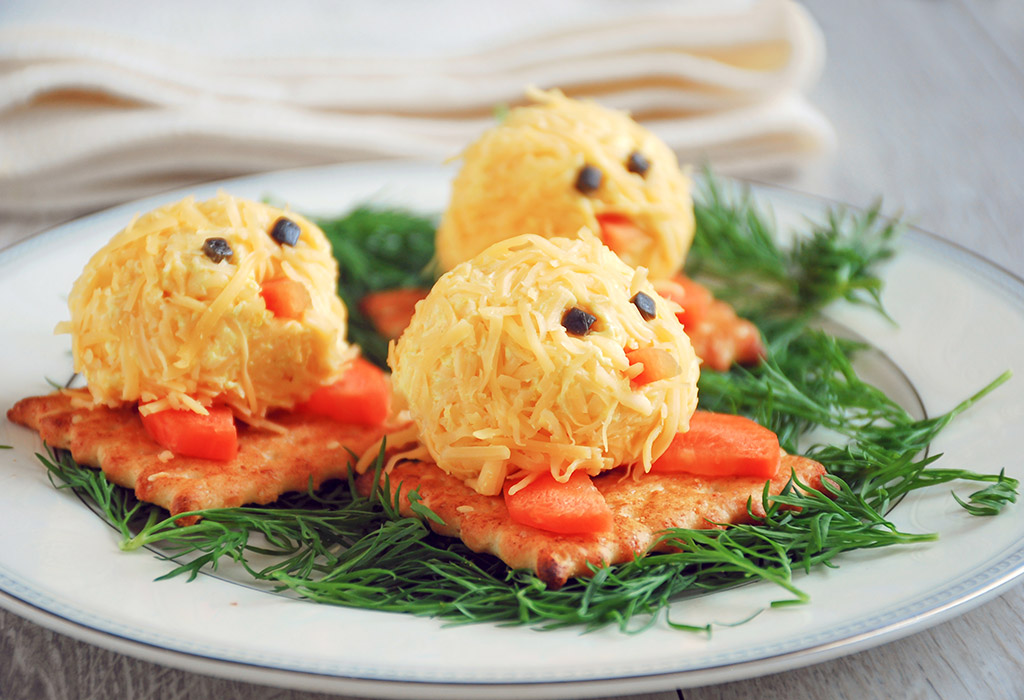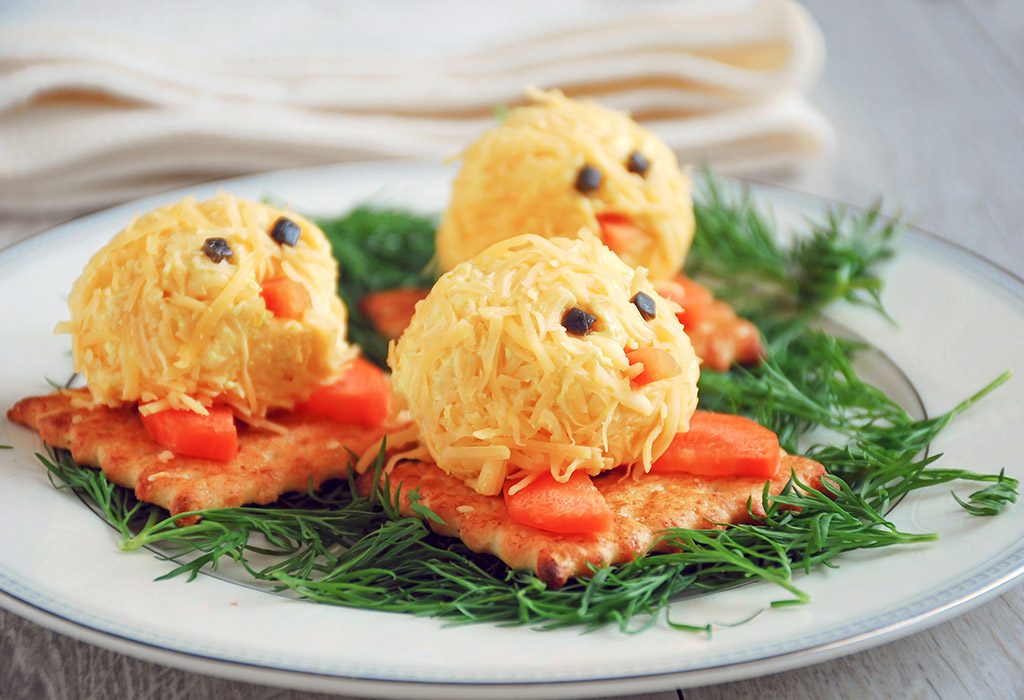 8. Carrot Dosas
Carrot dosa is a healthy, South Indian breakfast dish.
Ingredients
To make carrot dosa, you will need dosa batter, grated carrots, 1 small piece chopped ginger, a few chopped curry leaves, a few springs of coriander, finely chopped, ½ an onion, finely chopped, and salt to taste.
Method
Add the chopped carrots, curry leaves, ginger, coriander, and onions to the batter and mix well. Add salt if required. Heat a pan and add a teaspoon of oil. Add 1 ladle of the batter to the pan and spread into a flat circle. Cook until the edges are a golden brown. Flip the dosa and cook the other side for a few seconds. Place dosa on a plate and serve with tomato chutney.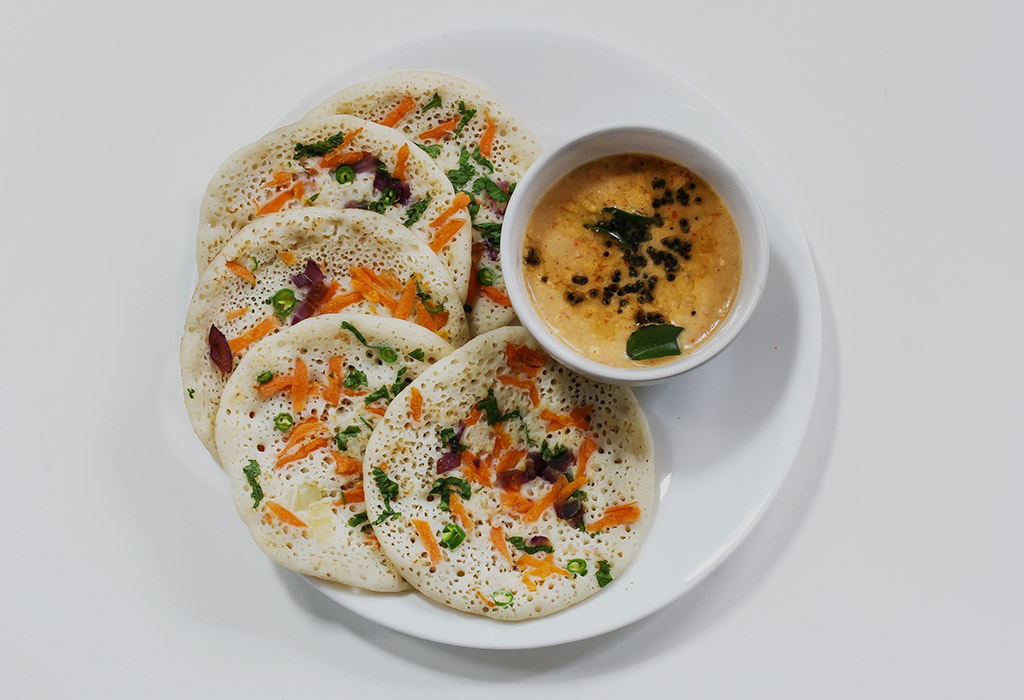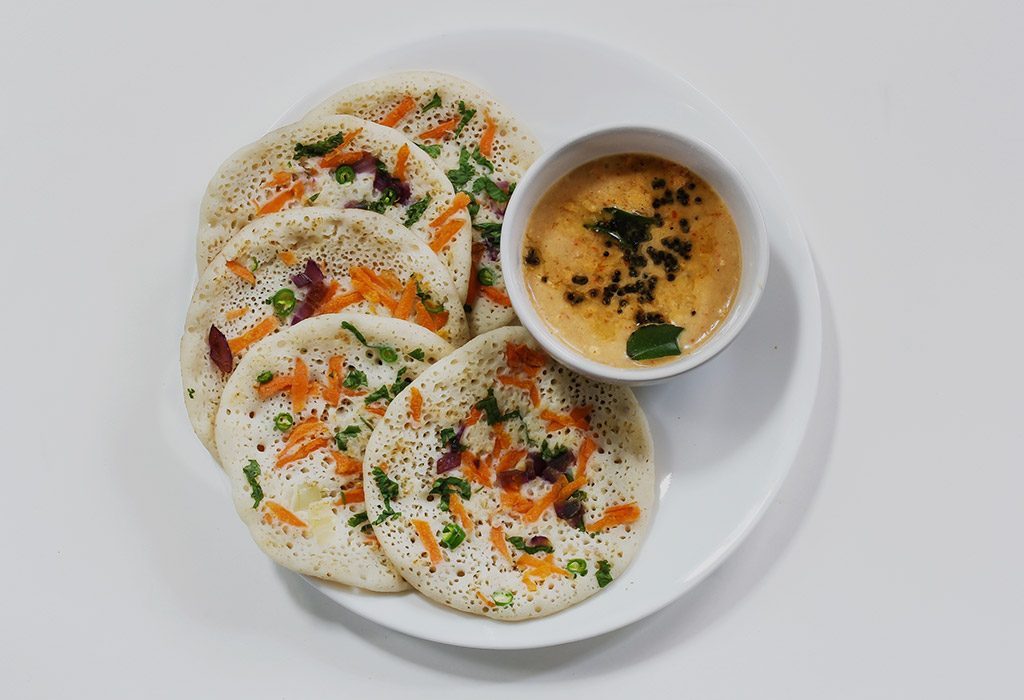 9. Carrot And Cheese Sticks
This is a great snack for kids, and you can give it to them in those between-meal times when they want something to munch on.
Ingredients
You need ½ cup grated carrots, 2/3 cup grated cheese, 1 cup flour, 50 g butter, 4 tablespoons water.
Method
Preheat the oven to 190 degrees C and line a baking tray with paper. Mix butter and flour together until it looks like breadcrumbs. Add a few drops of water at a time to make it into a smooth dough. Combine carrots and cheese into the dough. Place the dough on a surface and roll it flat. Cut this into sticks 5 cm long and 1 cm wide. Put them on a tray and bake for 15 minutes. Cool and serve!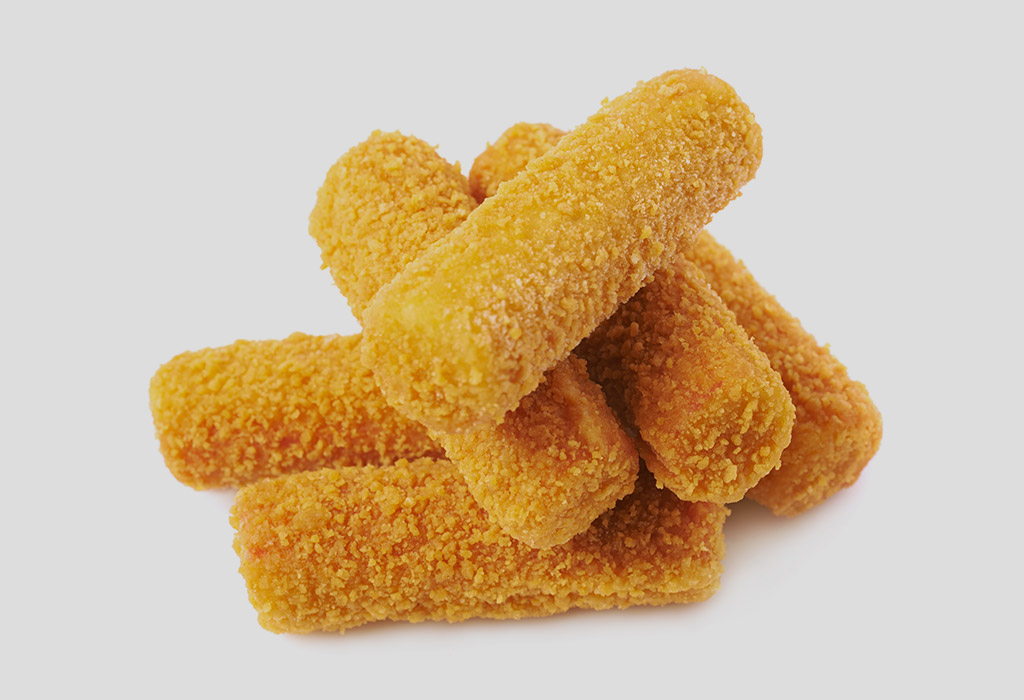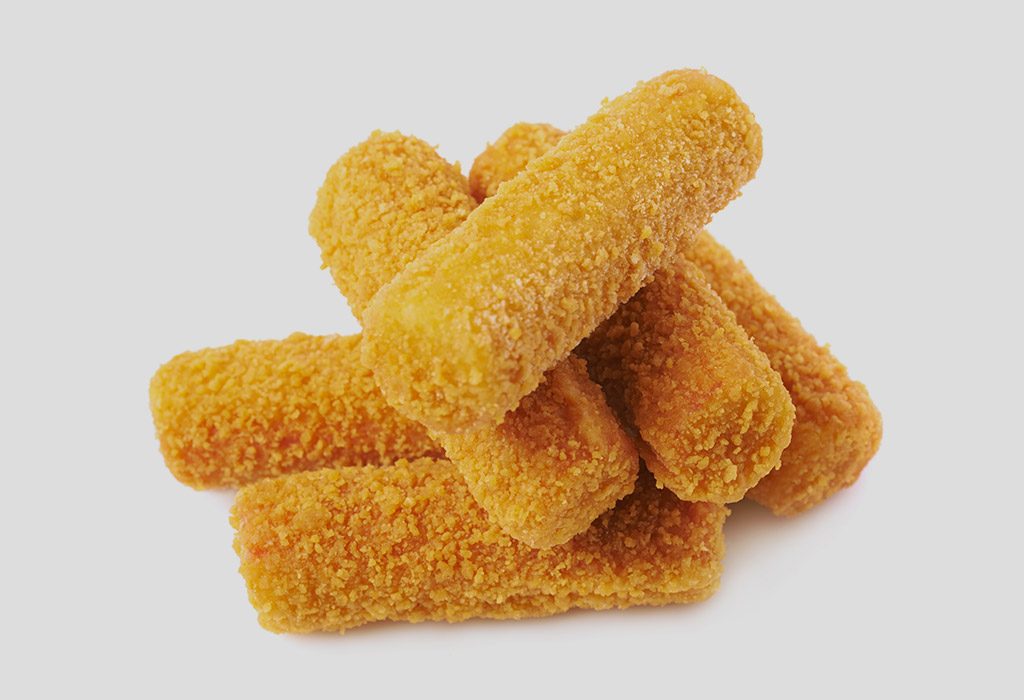 10. Carrot Cake
This carrot cake kids recipe is scrumptious and very easy to make.
Ingredients
You need 400 g grated carrots, 400 g flour, 4 eggs, 1 teaspoon baking powder, 300 ml olive oil, 250 g sugar, 150 g desiccated coconut, 6 teaspoons cinnamon powder, 2 teaspoons soda bicarbonate, 1 cup raisins, 120 ml water.
Method
Preheat oven to 170 degrees C. Add all the ingredients into a food processor except raisins. Mix well, adding water as required making it a batter that has an ice cream-like consistency. Add the raisins. Put it in a cake tin and bake for 45 minutes. Cool and serve!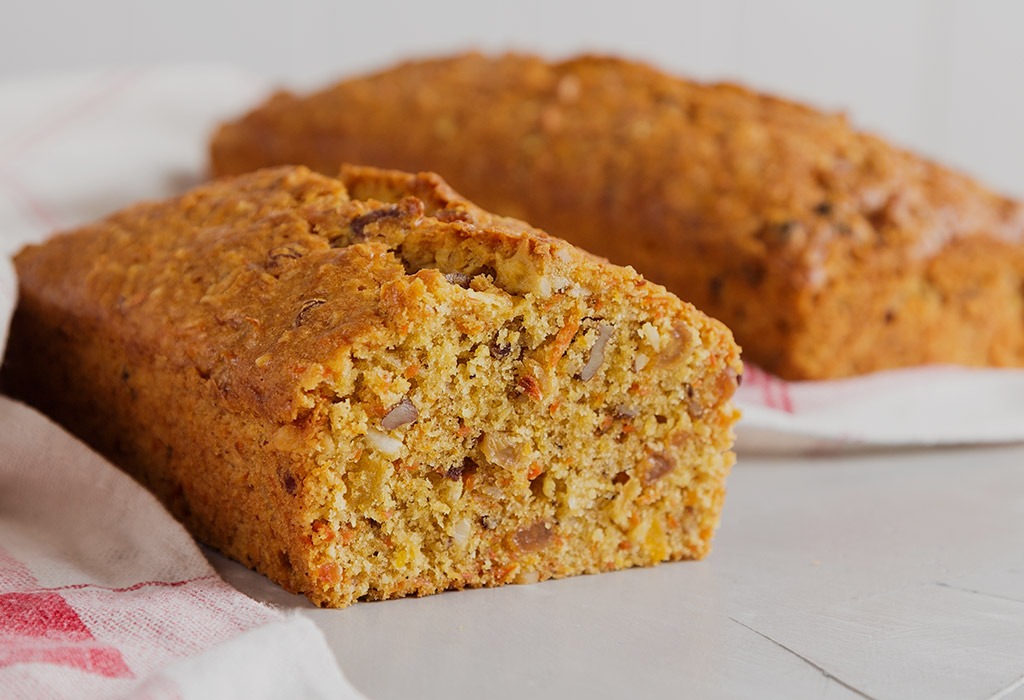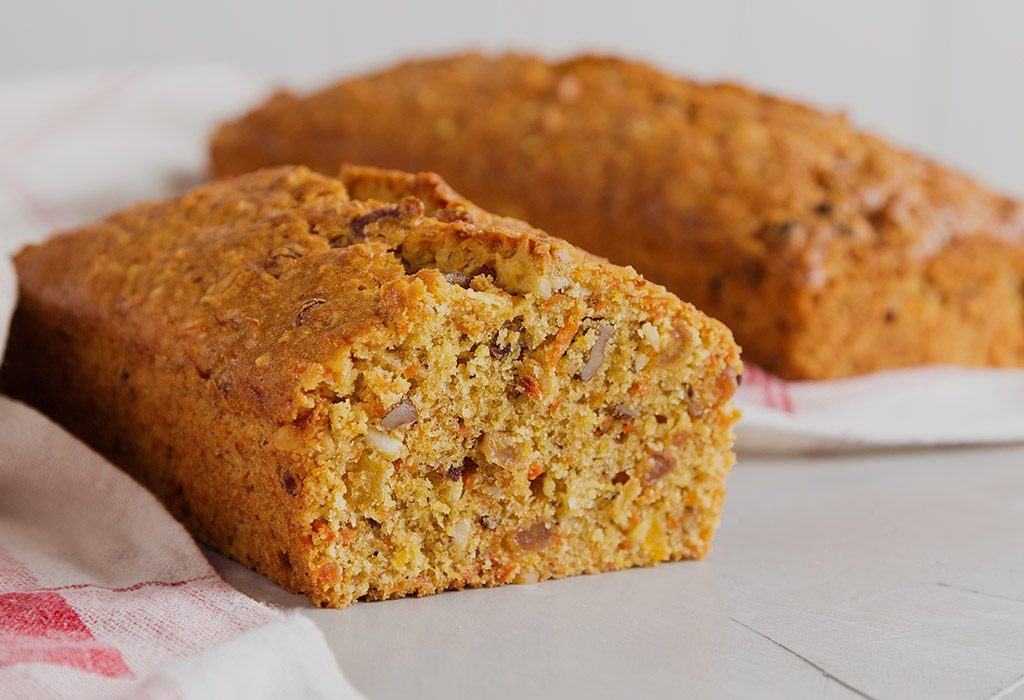 Try these healthy and tasty carrot recipes to get your fussy toddlers to eat. Carrots can be used in both sweet and savoury dishes to make delicious food that young children will love!
Also Read: Delicious Mango Recipes for Children