Mango for Kids – Health Benefits and Delicious Recipes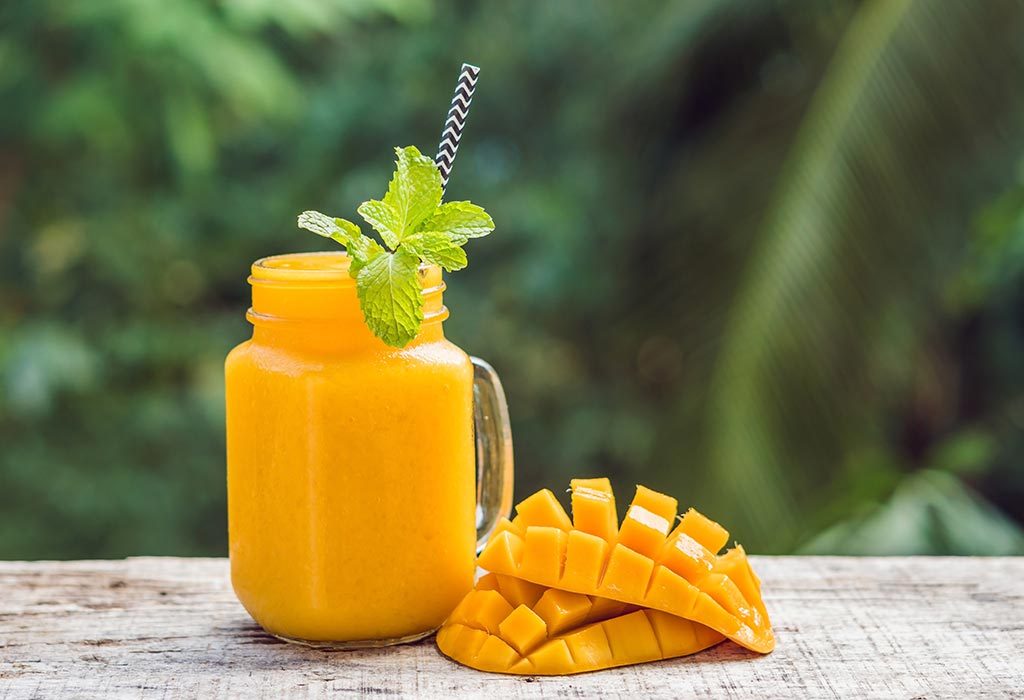 In this Article
Mangoes are loved by all, be it kids or adults. The juicy mango is the best retreat from the hot summers for adults and kids alike. This fruit not only hydrates the body, but its rich taste has the power to soothe the taste buds. Also, the health benefits associated with mangoes can't be ignored. Whether you eat it or gulp down in the form of mango shake, either way, it tastes delicious.
Benefits of Mango for Children
Is mango good for kids? The answer is yes. It is a powerhouse of nutrients, minerals, and vitamins. Moreover, it has antioxidant properties that make it the best choice to eat it in summers. To get an insight into more of its benefits, read on.
1. Enhanced Vision
Owing to the fact that kids are in a development stage, giving them food that enhances their vision becomes necessary. And, what could be better than a juicy mango? Kids are picky and may refuse to eat vegetables, but they will never refuse mango, which is rich in vitamin A. This source of vitamin A can help in averting night blindness, softening of the cornea, and reducing the aridness in the eyes.
2. Sharpened Memory
Mangoes are rich in glutamine acid, which acts as a memory booster. When you include mangoes in your kid's daily diet, you ensure that they stay active and pick on the learning skills quickly.
3. Improves Health of the Skin
All parents want their child's skin to be soft and smooth. But the secret behind it is keeping your kid hydrated. Eating mangoes can make a child's skin healthy and radiant. Applying mango pulp also unclogs blocked pores.
4. Reduces Chances of Anaemia
Mangoes are rich in iron, and iron is a necessary mineral that helps boost the production of red blood cells. Therefore, serving your kids mangoes can help reduce the chances of developing anaemia, where the blood lacks the right amount of red blood cells.
5. Promotes Healthy Weight
Kids require the right amount of nutrients and vitamins to gain healthy weight. If your child is not gaining adequate weight, you can include mango in his diet. You can give him mango shake regularly, it tastes good and will also help kids to stay strong and healthy.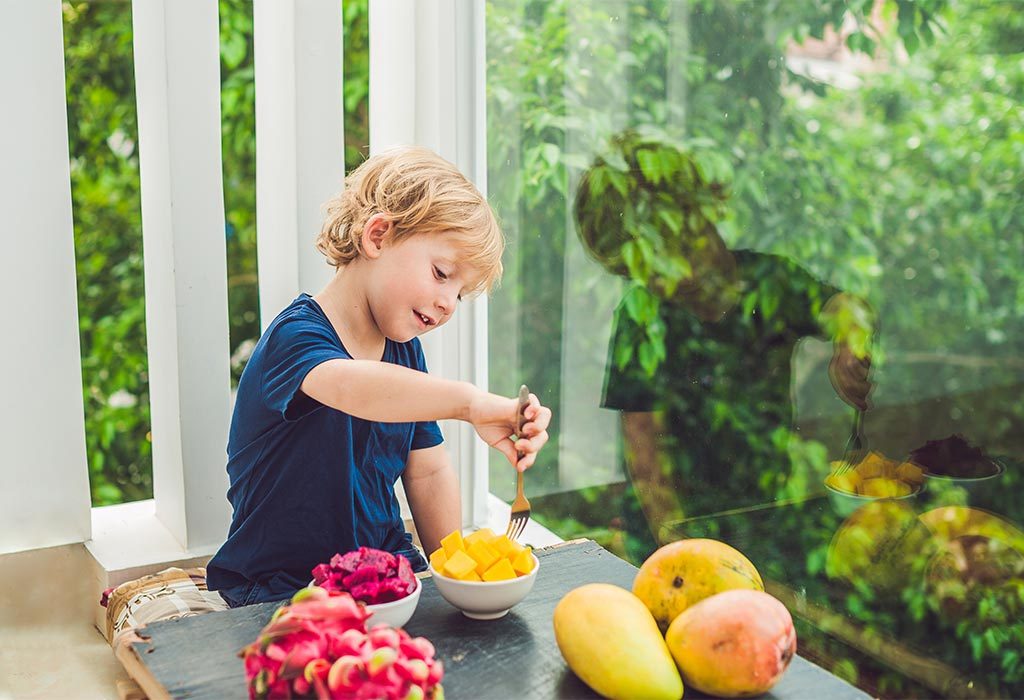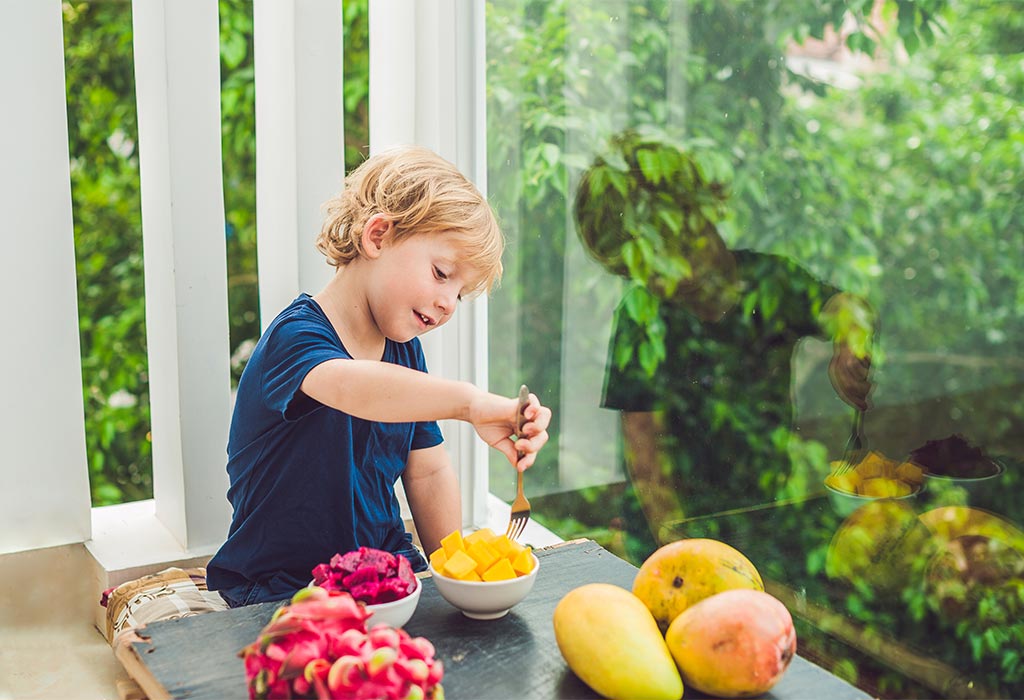 6. Boosts Digestion
Mangoes are known to be a rich source of digestive enzymes that, in turn, help in breaking down of proteins. This boosted process further leads to better digestion in kids. Also, as an added benefit, mangoes thwart acidity or other digestive disorders that occur commonly in kids.
7. Averts the Risk of Cancer
Mangoes are found to be rich in pectin, the dietary fibre that reduces the chances of developing cancer associated with the gastrointestinal tracts. Including mangoes in the regular diet plan of your kids thus becomes essential as it will keep them away from serious diseases such as cancer.
8. Enhances Immunity
Mangoes are a rich source of vitamin A and C. Also, mangoes are a good source of different types of carotenoids that help in maintaining a healthy immune system. The antioxidant properties help in preventing the microbial attacks, thus automatically boosting immunity gradually,
Easy Mango Recipes for Kids
Wondering how to add the nutritious mango to your kid's diet? Read the following mango recipes for kids to get some ideas.
1. Mango Shake
Mango shake not only hydrates the body but also tastes delicious.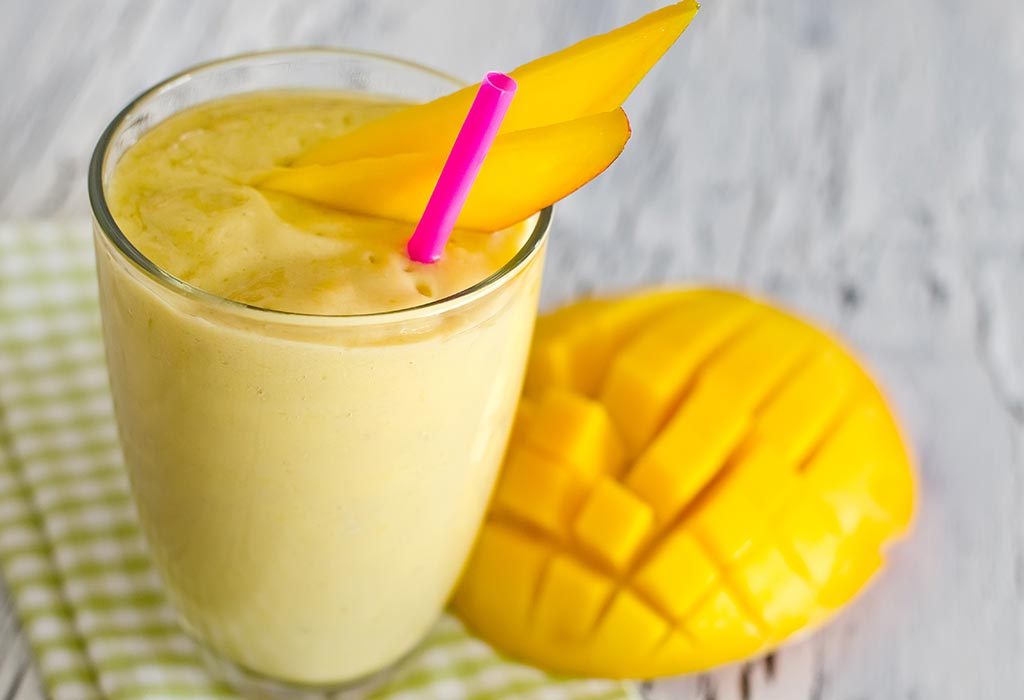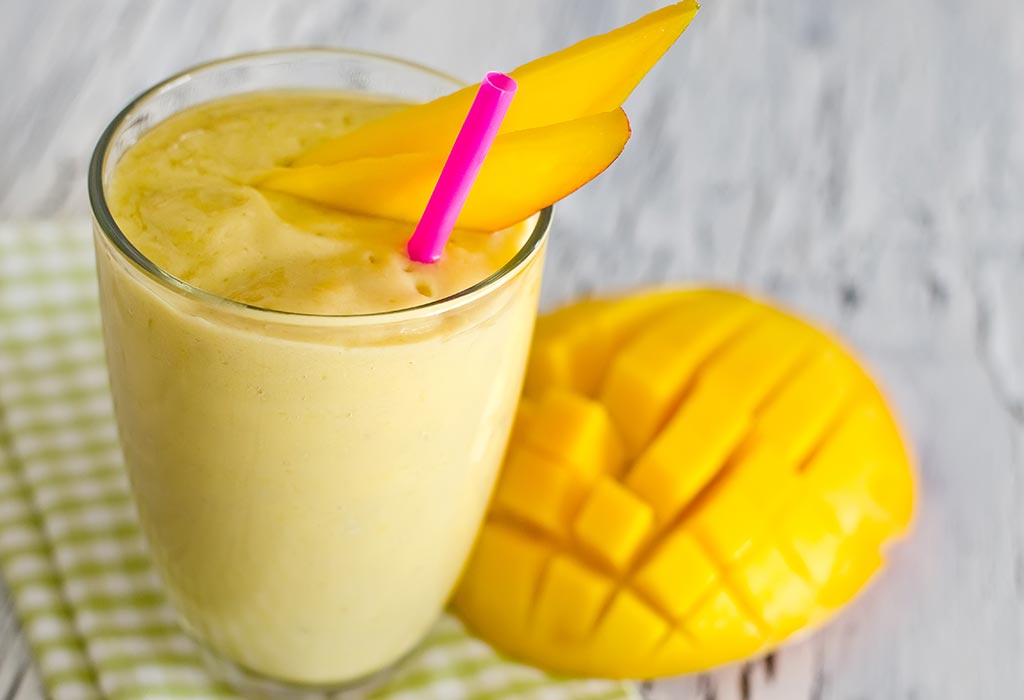 Ingredients
Finely cut fresh mango
Sugar to taste
A glass full of milk
Ice cubes, if necessary
Method
Mix the finely cut mango, sugar, and milk in a big bowl.
Use a blender to blend it well.
Keep blending until it turns into a smooth liquid.
Add ice cubes if needed, and serve it chilled to your kids.
2. Mango Grape Smoothie
This mango smoothie for kids is a blend of grapes and mangoes and can do miracles. Not only will it taste good, but it offers the best of health benefits.
Ingredients
1 chopped mango
2 cups green grapes
1 tablespoon of lemon juice
½ a cup of water
Sugar to taste
2 peppermint leaves
Method
Mix the mangos and grapes in a bowl, and blend them well till the mixture turns into a viscous liquid form.
In another bowl, add the lemon juice, water, sugar, and peppermint, and mix well.
Pour the mango mix into a glass and top it with the mixture of sugar and peppermint.
Add ice cubes if needed, and serve to your kids.
3. Mango Cake
The sweetness and the flavour of mangoes in a cake make it the best recipe to experiment with.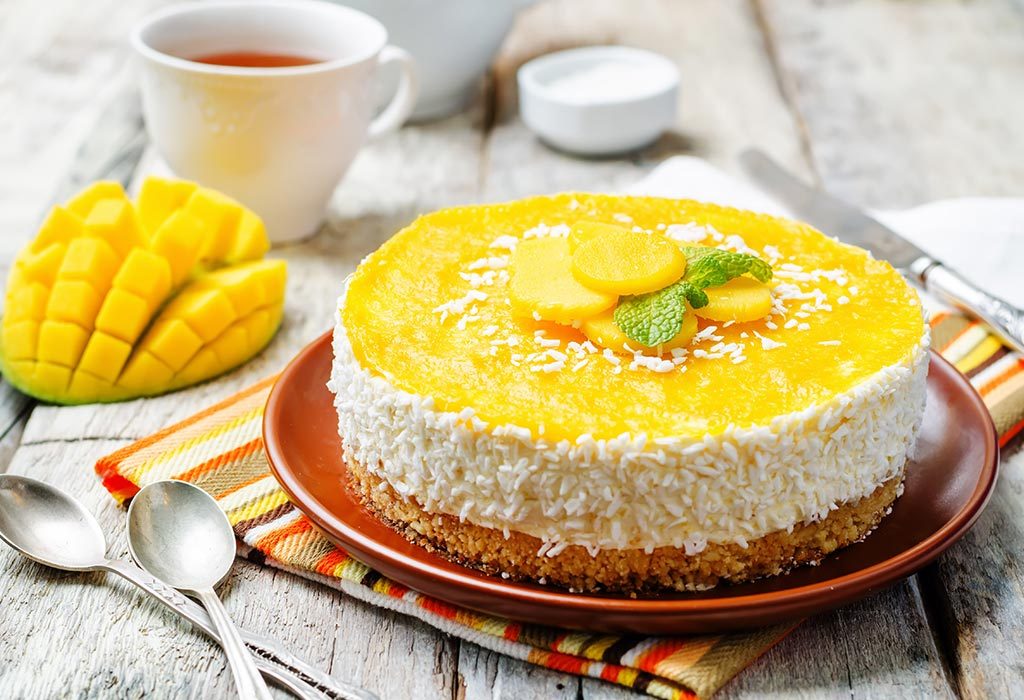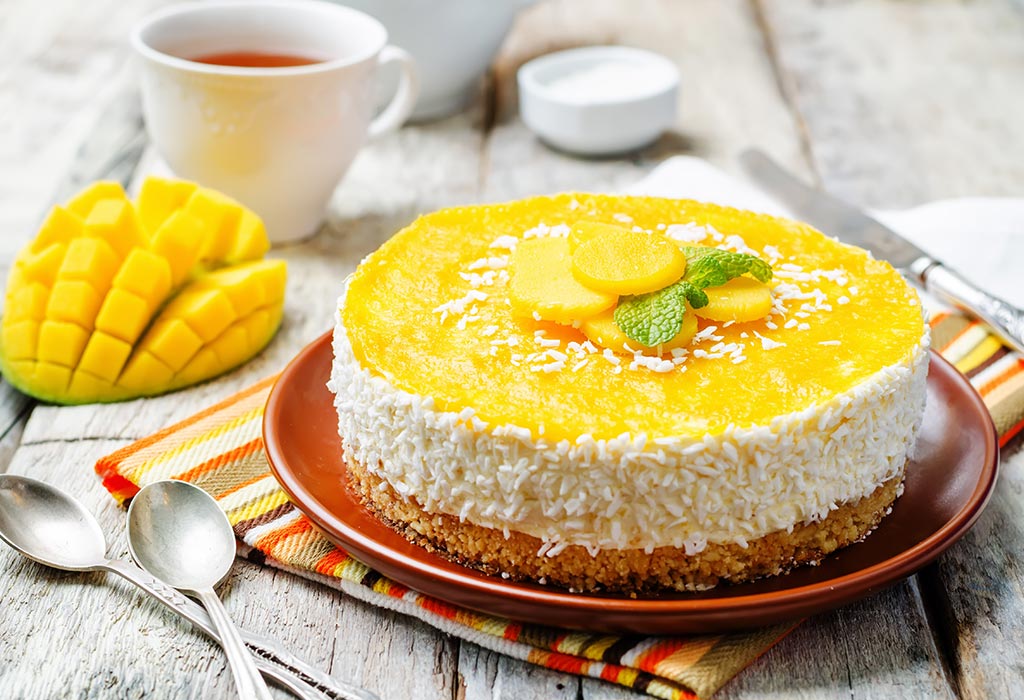 Ingredients
1 cup flour
Sugar to taste
½ cup fresh cream
1 tablespoon of butter
1 tablespoon baking powder
2 pasteurised eggs
2 mangoes
Method
Extract the mango pulp, and keep it aside in a deep bowl.
Add sugar and whipped cream to the mango pulp and beat it well with a blender.
Add the eggs to the mixture and beat it well.
Now add the baking powder and the flour and mix it well till your get a cake batter.
Pour the mixture into a well-greased, oven-safe bowl.
Bake the mixture for about 10 minutes.
Check after the oven beeps, and if the cake is not set, bake it for another 4-5 minutes.
Let it cool once ready, and serve it to your kids.
4. Mango and Yogurt Mix Popsicles
This is a must-try mango dish for kids as they would enjoy it wholeheartedly for its rich taste.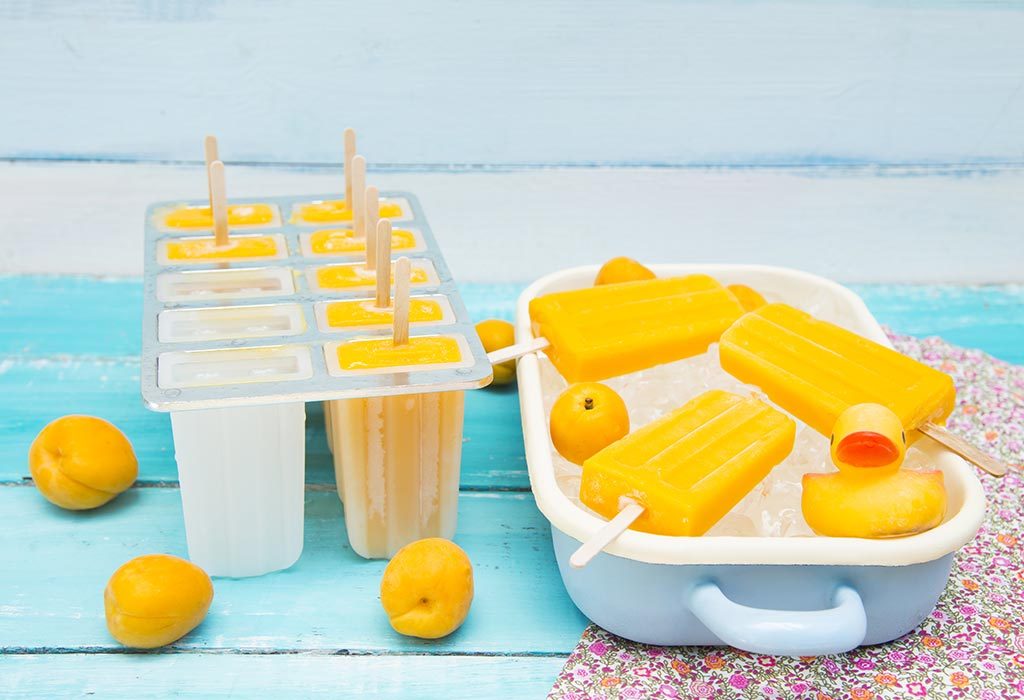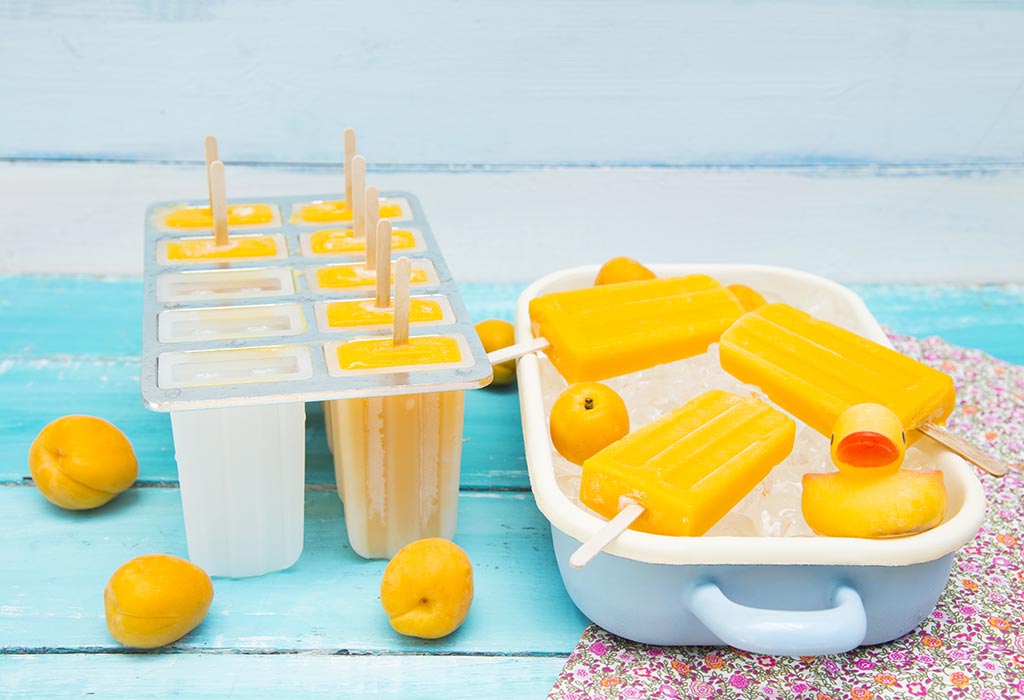 Ingredients
1 cup of yoghurt
1 cup of chopped mango
Sugar to taste
½ a tablespoon of vanilla essence
Method
Mix everything in a bowl and blend it well till it forms a smooth paste.
Fill the plastic popsicle moulds with the blended paste.
Keep the filled moulds in the freezer and leave it overnight.
Insert ice-cream sticks through it when you notice that the popsicle has started to become firm.
Freeze for another few hours, and serve it to your kids when they come back from school.
Also Read: Healthy Fruits and Vegetables for Children
5. Sumptuous Mango Salad
This one is the easiest mango snack for kids. This recipe requires minimum effort, but provides the best results.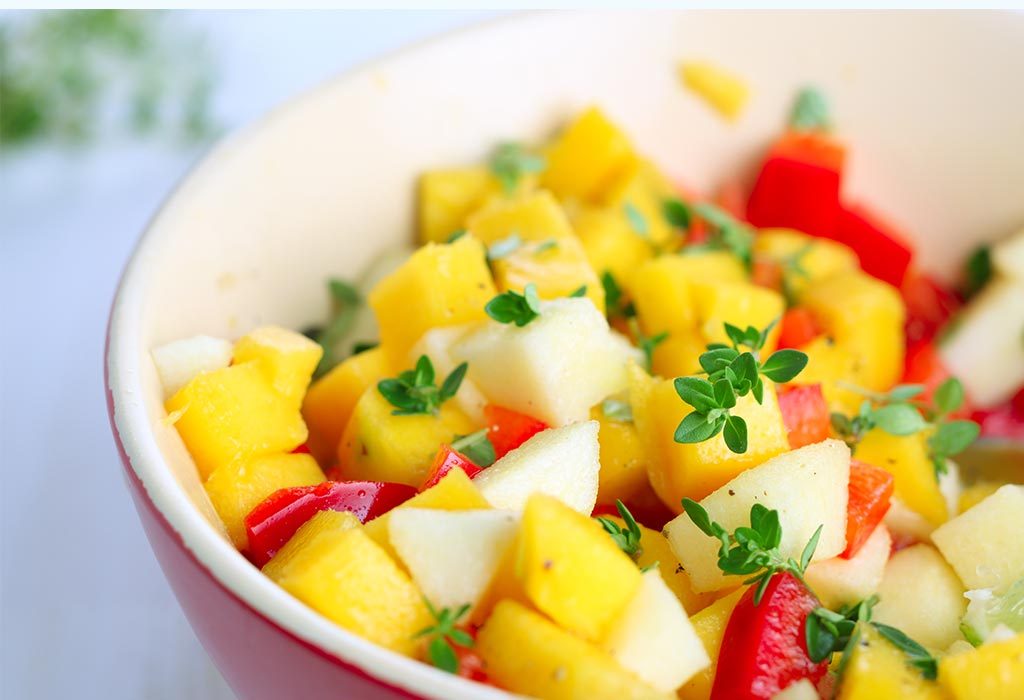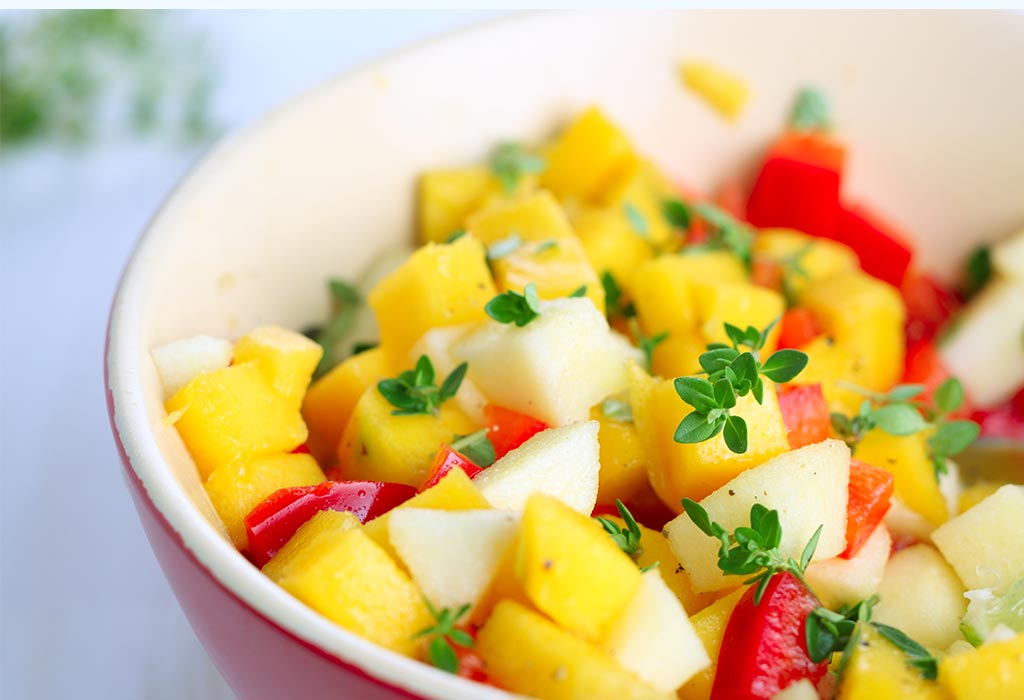 Ingredients
2-3 fresh and peeled mangoes
A lemon
Salt to taste
A pinch of cayenne pepper
Chilli powder (optional)
Method
Chop the mangoes and place them in a deep bowl.
Mix together the salt, cayenne pepper, chilli powder, and lemon in another bowl.
Now mix the prepared spice mixture with the mangoes and serve it to your kid.
Now that you know all about the health benefits of mangoes, why don't you try these recipes? Adding mango to your little one's diet will give him all of its nutrition and help in healthy development. Mangoes are an absolute must in the summer, so make sure you get your kids to eat mangoes regularly.
Also Read: Health Benefits of Apples for Kids