10 Adorable Baby Shower Ideas for Girls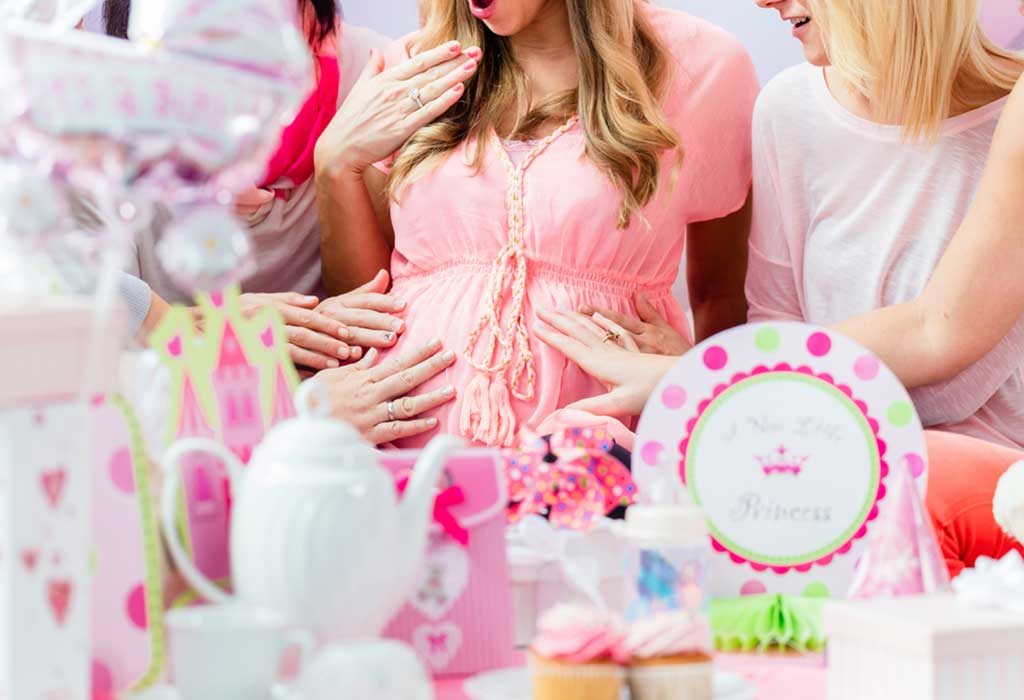 In this Article
Having a new baby can sometimes be quite stressful. There are several things to bear in mind and a lot of planning to do. A baby shower can provide some much-needed fun with friends. With lovely decorations and lots of presents to open, every mom-to-be looks forward to baby showers.
If you are planning a baby shower for a friend or relative who has a baby girl on the way, we have some lovely ideas that you can consider. With a bit of careful planning and creativity, you can plan a gorgeous shower for your loved one.
Beautiful Baby Shower Themes and Ideas for Girls
You will need to think about so many things when you are planning the theme for the shower. Colour schemes, decorations, centrepieces, and so much more to consider. Here are a few unique girl baby shower themes:
1. Elephant-Themed Baby Shower for Girl
You can have an unforgettable baby shower with this adorable Elephant Theme. Make sure to go for bright colours, such as orange with grey and white. Polka dots, balloons and a cake with an elephant design will surely win the day. To bring the theme together, you can even add your elephant design to your invitations.
2. Woodland Girl Baby Shower
There is nothing more adorable than a woodland theme for a little baby girl. Make sure to create an ambience that resembles the woods. If you can, grab some fresh logs, twine and mason jars to use for the decor. You can offer treats that resemble little hedgehog shaped cookies and a trail mix that is filled with mixed nuts and sweets.
3. Cactus-Themed Baby Shower
Believe it or not, there is so much you can do with a cactus theme. You can make cookies shaped like cacti, serve cocktails or mocktails made with cactus juice and have your party favours as little potted cacti. The centrepiece can be a handcrafted cactus candle holder.
4. Pastel Shades Girl Baby Shower
This theme is simple yet elegant and charming. Soft pastels are great girl colours for a baby shower. Have some banners in pastel colours, along with balloons, and a pastel-coloured invitation. Ensure that the cake you order or bake has only pastel colours that go with the theme.
5. Cafe-Themed Baby Shower For Girl
This theme celebrates the mom and caters to her cravings. Set up a coffee bar that holds the mom's favourite cafe snacks such as sandwiches, cakes, and pastries. Make sure you have decaf available. You can add a coffee machine, milk foaming tools, to-go paper cups and go all out with the different types of coffee flavours if you really want to make the place smell and feel like a café. Also, get a little creative with the menu. "Baby Smile Bagel", "Drool-Worthy Doughnuts", etc. on a chalkboard with have the guests and the mom-to-be feeling elated with your idea.
6. Princess Theme Baby Shower
For this theme, think pink and gold. What shade of pink to use is purely your choice, but match it gold and glitter, and you are all set. Don't forget sparkly crowns when you plan for the decor and the luxurious spread! To make the mom feel like a queen, you can even have a large throne for her to sit on and feel like royalty.
7. Flower-Themed Girl Baby Shower
Going with a floral theme is a great way to show that there is a blooming baby on the way. Flowers are beautiful, and there are so many ways you can make this work. Once you choose your colour scheme, you should pick your flowers to match. A flower arc to go above the main table that holds the cake and snacks can make a huge impact and add those feminine tones to the room.
8. Mother Earth Inspired Baby Shower For Girls
If your mom to be is environmentally conscious, this is a great theme to go with. You can create a magical mother earth theme by using lovely green leaves, flowers, wood and have the mom-to-be wear all white. To make her feel really special, make a flower crown for her.
9. Swan-Inspired Girl Baby Shower
Swans are always associated with princesses as they symbolise elegance. Having a Swan Princess theme will be a perfect choice for the soon-to-be mother. Your centrepiece should be a pretty, crowned swan, and you can have a pink and white colour scheme. Go a step ahead by decorating the invitation cards with swans patterns as well. If it is possible to have your desserts shaped like swans, your baby shower will really be an unforgettable Swan Princess Party.
10. Nautical Pink Baby Shower
With this fun theme, you can set the to-be-mom and the soon-to-arrive daughter on a new adventure together. You will need to have some seafaring motifs and a few sea animal prints to get the party started. This is an adventurous and out-of-the-box summer baby shower theme for a girl child.
You can prepare the invitation along the same lines, and get a pretty captain's hat for the mom to wear. Ensure you have themed snacks, too, with safe seafood options that the to-be-mom can eat, or simply other snacks that are shaped like anchors, whales and ships. It will be a fun party that everyone will remember.
Throwing a themed baby shower for girls can be a fun idea. When deciding which one to pick, think about what the to-be mom's interests are and what is feasible to put together. Let your creative juices flow, have fun, and eventually, you will be able to pull off something that is personal and meaningful.
Also Read:

Winter Wonderland Baby Shower Ideas
Impressive Co-Ed Baby Shower Ideas
Amazing Disney Themed Baby Shower Ideas
?>