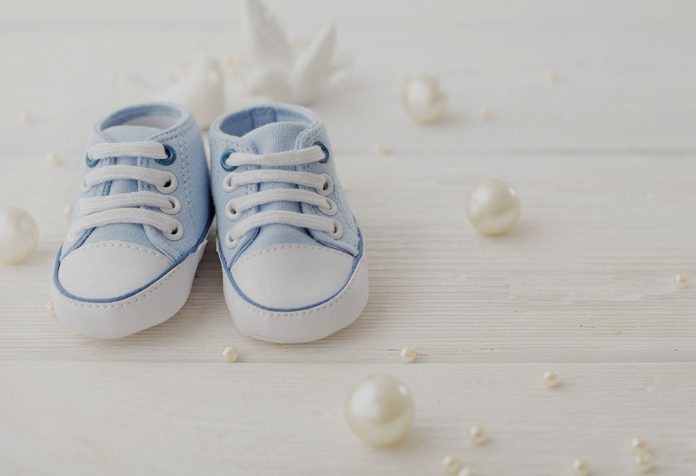 As parents, you may be too eager to adorn your little one's feet with a smart and trendy pair of shoes. But you're also going to be super curious about what age your baby can start wearing shoes and what kind of shoes your baby can wear. Well, look no further – your questions are answered here.
When to Buy Baby's First Shoes?
So, when do babies need shoes or when can you put shoes on a baby? If that is the question that may be popping in your head, then we suggest that you wait at least until the time your baby is ready to walk outdoors. When your baby is learning to walk, you must let him go barefoot. This is because going barefoot can help your baby gather coordination and balance his steps better.

Should Pre-Walkers Wear Shoes?
If you are wondering whether babies should wear shoes while learning how to walk, the answer is that it's not highly recommended for young babies. You may make them wear shoes to protect their feet from injury, but it may be better to let your baby roam about barefoot. So, what baby shoes are best when learning to walk? Well, it will be a good idea to make your baby wear soft-sole shoes, which may provide flexibility, comfort, and breathability to your baby's feet.
Can Wearing Shoes Develop Strong Ankles in Babies?
There is no proof that states that wearing shoes may help your baby develop stronger ankles; in fact, their ankles are quite strong and sturdy and don't really need support. However, shoes are great for providing protection to your baby's feet from any kind of injury or from cold floors in the winter months. This doesn't mean you strap on his shoes as soon as he starts walking around the house though; you wouldn't make him wear mittens while he crawls around the house all the time, now would you! A young baby needs to feel the surface beneath him when he begins walking.

Popular Shoe Styles for Baby Girl and Baby Boy
There are separate varieties of baby shoes available for girls and boys. Following are some of the styles that you may choose from:
Shoe Styles for Baby Boys-
Here are some shoe styles for your little rock star that you may choose from:
Moccasins
Boots (ideal for cold weathers)
Walking sneakers (available with Velcro, laces or snaps options)
Slip-on shoes (for pre-walkers)
Shoe Styles for Baby Girls-
Here are some shoe styles that you may choose from for your little princess:
Slip-on shoes (for pre-walkers)
Booties or boots
Mary Janes
Moccasins
Walking sneakers (available with Velcro, laces or snaps options)
Sandals with ankle straps

Baby Shoe Sizes by Age
Every child grows differently, and, thus, may have a different shoe size. Here we have some generic shoe sizes for babies of a certain age group:
Your 0 to 3-months-old baby may need size 1 shoe.
Your 3 to 6-months-old baby may require size 2 shoe.
At 6 to 9 months of age, your baby may need size 2.5 or 3 shoes.
Your 9 to 12-months-old toddler may require size 3.5 or 4 shoes.
Your 12 to an 18 month kid may need size 4.5 or 5 shoes.
At 18 to 24 months of age, your kid may require size 5.5 or 6 shoes.
Tips for Buying Shoes for Babies
Tips that you may consider while buying shoes for your little munchkin:
Do not make your baby wear shoes as soon as he begins walking as this may hamper with this balance and coordination. He needs to feel everything under his feet to be able to balance better.
Look for the signs that may tell you that your baby is ready to walk (this may happen somewhere from 7 to 18 months of age). As soon as you register that your baby is moving unaided, you may make the transition from pre-walking shoes to walking shoes.
It is important that you choose the right type of shoe that provides ample support to your baby's feet. Get anti-slip, flexible sole, and lightweight shoes for your baby.
You should buy shoes that may allow your baby's feet to breathe; therefore, synthetic materials should be avoided. You should opt for good quality mesh or leather shoes for your baby.

You should pay heed to the fit of the shoe too. It should neither be too tight or loose and should fit perfectly.
Babies grow very quickly, and, thus, they may need to change shoes too. Therefore, you should be able to establish when your baby may need to move up a size.
Choose the shoe fasteners properly for your baby. There are straps, Velcro and laces to choose from.
Lastly, your baby's comfort holds more priority than his appearance, so pick up a shoe for its comfort and not its looks.
You may opt for hard-soled shoes when your baby is comfortable walking without any support and when you plan to take your baby outdoors for a walk.
Warning Signs to Look Out for
Babies are delicate and so are their feet. Though you may make them wear shoes when they may start walking, look out for following warning signs, which may indicate some problem:
If your baby's feet appear inwards or outwards.
If your baby shows the sign of deformed toes, where one toe may curl under another toe.
If your baby's nails may show any kind of discolouration or inflammation.
If your baby may have any kind of lumps, redness, soreness on the toes, ankles or any other part of the foot.
If you have any concerns or queries regarding picking up the right kind of shoes for your baby, you may seek your doctor's help for the same.
Also Read: Signs That Your Baby Will Walk Soon