Types of Child Car Seat and Other Restraints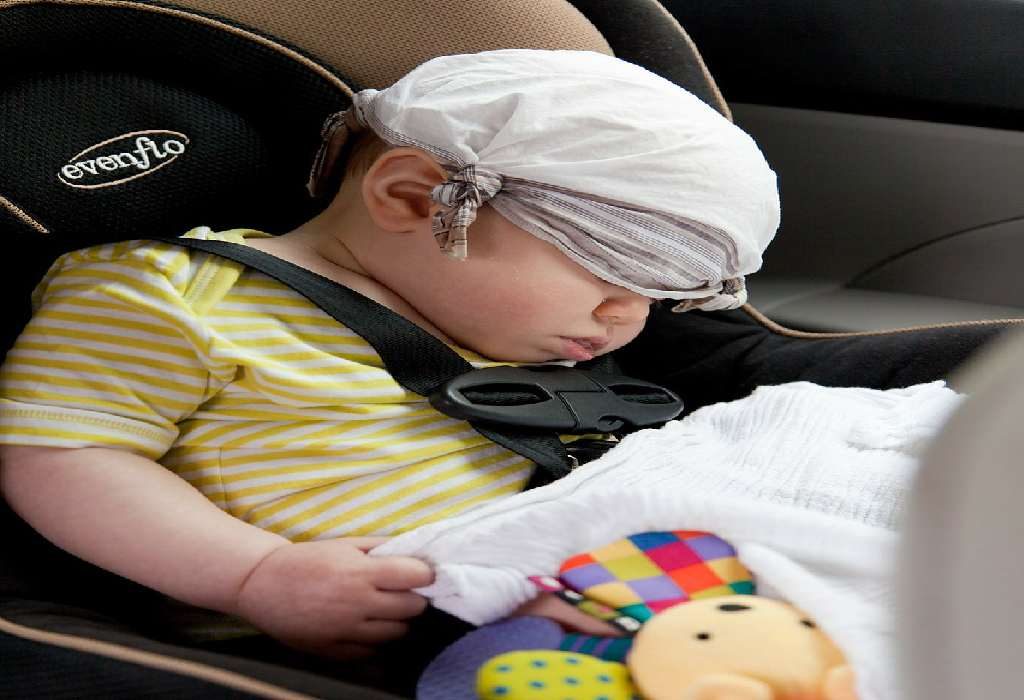 Parents must use a child car seat and other restraints as a childproofing measure while travelling with the little ones. Using child safety equipments will ensure that infants and toddlers are protected and controlled inside a vehicle. Here is a mini guide to types of child restraints and how to choose the right one.
Car crashes are known to cause many injuries and deaths across the globe, and children seem to be the most susceptible of all. The sole reason for same being that parents generally prefer holding their children in arms instead of following appropriate childproofing measures while travelling. Adult seat belts aren't the right child safety equipment as they are not designed to hold the infants or toddlers securely. To evade such a situation, child car seats and other restraints are of primary significance.
A child restraint is a device such as, a car seat or booster seat with a seat belt, used to control and protect a child travelling in a motor vehicle. Some safety seats offer an all- in- one key with the seat being converted as your child grows whereas a few others require to be bought new everytime, as the child ages. There are usually 3 types of child car seats and restraints used for travel safety of infants and toddlers.
Rearward Facing Child Restraint (Infant Seats)
Infant seats are used for children from birth till one year or those who have surpassed 10 kg weight or measure more than 50 cm in height. A rearward facing car seat is designed for a car with rear row because this is the position which can safely support and protect the developing head and neck muscles of an infant. Moreover, since these seats are shaped like a basket along with an easy to carry handle, an infant can be lifted along with the seat from the car without disturbing him or her, and can be taken along while walking too. A few varieties also function as rockers or chairs or can be easily converted to a forward facing restraint when child outgrows this stage.
Forward Facing Child Restraint (Toddler Seats)
As the baby gets more than a year old or weighs heavier, he/she should be transitioned to forward facing child restraint or commonly known as a toddler seat. In this child safety equipment, a child stays protected from the risk of being thrown forward in the car. This is because a forward facing child restraint comes with a durable and sturdy three point strap design that also has belts which can be adjusted to accommodate and comfortably secure the position of the toddler. An important safety feature of a toddler seat is the heavy padding that cushions a child's neck against injuries caused by car crashes, collisions, bumps or sudden brakes. When you are buying a toddler seat, you can opt for the one which can be converted into a booster seat as the child crosses the toddler stages.
Booster Seats
Booster seats are the ideal child restraints for children who are 3 years and above or those who haven't yet reached the adult height. These seats do not have any harness system; rather they can be latched directly to the car's seatbelt. They raise the child's height in such a way that the cross belt of the adult car seat does not friction with the child's neck. It is usually advisable to keep a child secured in a booster seat while travelling till they are as tall as an average adult.
Choosing The Right Travel Safety Seat
Consider following points while buying childproofing safety equipment for babies:
It must be the right size as per the age, height and weight of the child.
It must be properly adjusted, fastened and correctly fitted to the vehicle.
Children in the age group of 4-12 months are the safest in the rear facing restraints as long as they still fit in that.
While buying an infant car seat, make sure that it is well-cushioned, comfortable and provides strong support to the baby's wobbly head and neck. Ideally, you should first see if the baby fits snugly and safely in the car seat and also whether the seat fits in the back of your car as well.
If the baby's head touches the top of the seat, then it means that you need to buy one size bigger.
It should meet the approved child safety standards as applicable.
Using Safety Seats Properly and Safely
Unfortunately, there are no governing laws regarding child car safety in India. However, here are some tips to follow for correct and safe usage.
Browse through the instruction manual carefully.
Secure the baby in a comfortable yet firm position in the car seat.
Strap the child in such a way that there is a space to insert two fingers between the harness and the baby's chest.
All belts should strictly run across the body as mentioned in the manual or else it can hamper with the child's safety.
Infant seats should be kept reclined at an angle of 45 degree.
Replace the car seat with a new one as soon as it wears out or the child outgrows it.
Ensuring child safety while travelling is the safest and cheapest insurance policy parents can have for their babies.
?>