Top 10 Classic Country Songs About Kids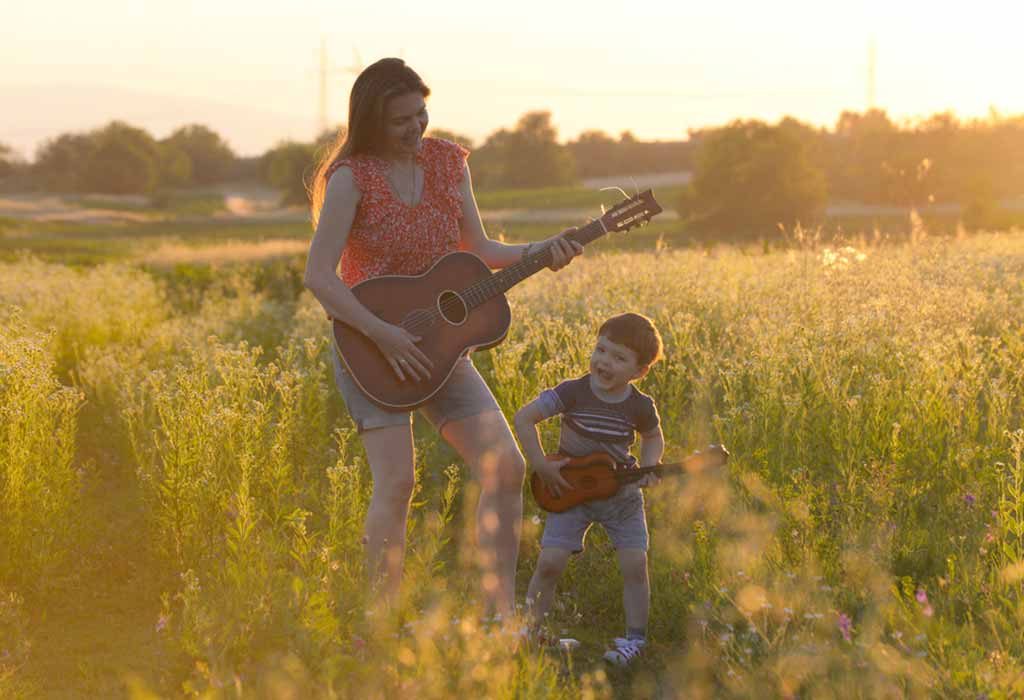 In this Article
Listening to music and dancing to the songs is extremely beneficial for children; it improves their physical and mental wellbeing. Catchy and upbeat tunes can get kids up on their feet instantly. That's one reason why country music, which is a form of music that originated in the United States, has gained popularity all across the world. If you're looking for classic country songs about kids, you'll find this article helpful. Here, we bring you a host of the most popular country songs about kids that your children can listen to and enjoy.
Collection of Best Country Songs About Children
Music has been known to accelerate physical health, socio-emotional development and cognitive skills in children. Toddlers love to dance to the tune of music that encourages language and memorisation through repetition. Not only is it a resource that can channelise the excess energy of hyperactive kids, but it can also calm them down to do more creative activities. Music acts as therapy and can be used to improve self-expression, behaviour and communication in kids. Country songs appropriate for kids evoke happy thoughts that can, in fact, keep you and your child going all day.
Country songs about kids often relate to the same fears, hopes and dreams that parents have for their children. Artists have also created songs that consider the struggles and rewards of parenthood. Whether it is for their solid beat, fun lyrics or sing-along aspects, many country songs appeal to the sensitivities of children and their parents. They certainly need to be passed on to the new generation for them to become their childhood anthem.
1. Mr. Mom by Lonestar
About the Song: The hummable, sing-along tune, easy to remember lyrics (Barney, Pampers, sweet potatoes, crayons), and the cartoon music video of this country song is sure to bring a smile to your kid's face.
2. Life Is a Highway by Rascal Flatts
About the Song: This song from the album 'Mad Mad World' is also a soundtrack of the movie Cars. The main theme of this song highlights the hardships that we humans must undergo and yet keep going until we all reach our destinations.
3. Coal Miner's Daughter by Loretta Lynn
About the Song: In this classic country song, a girl talks about how proud she is to be a coal miner's daughter and how hard her father and mother struggled to make sure she and her siblings had a comfortable life.
4. You Can't Lose Me by Faith Hill
About the Song: Released in 1996, from the album, 'It Matters to Me', this song peaked at No.6 on the Hot Country Songs Chart. The music video features Faith with girls of all ages dressed in white, celebrating their femininity on the beach. The beautiful and meaningful song has been used to express the love of a mother towards her daughter.
5. The Dollar by Jamey Johnson
About the Song: If you're looking for country songs about little boys, then this one is just right for you. The son if about a young boy trying to understand why his father leaves for work every day. When his mother explains that dad gets paid for his time spent at work, he offers to give him a dollar's worth of change so that he can spend some time with him.
6. Help Pour Out the Rain (Lacey's Song) by Buddy Jewell
About the Song: This melodious song has adorable lyrics that highlight the wisdom of a child and her father's love for her. The narrator strikes an emotional chord with the listeners as the little girl asks her father what will happen when she dies and goes to heaven.
7. I Believe in You by Dolly Parton
About the Song: This song is Dolly Parton's first children's album. It will leave her young and old fans feeling inspired to take on the world. The upbeat, energetic music will make listeners want to move while learning some valuable life lessons.
8. I Heard the Bells on Christmas Day by Johnny Cash
About the Song: An adaptation of a Henry Wadsworth Longfellow's poem from 1863, this song catches the despair of hearing Christmas. Recorded as a part of the album 'The Christmas Spirit' in 1963, this powerful song will remain one your child will remember for a long time.
9. My Little Girl by Tim McGraw
About the Song: This wonderful song was first featured on 'Tim McGraw Reflected: Greatest Hits Vol.2' and the movie Flicka. It chronicles the timeline of a daughter's life from the day she was born till her father gives her away to another man. Some of the best lines of this song can bring listeners to tears.
10. Boy by Lee Brice
About the Song: The tender country tune of this country soundtrack takes kids outdoors where they can learn a lot of life lessons, which they may not learn at school. The singer here makes sure that his sons treat people right while growing up in a man's world.
The southern way of life has a long tradition of upholding strong family ties and bonds of friendship, which are reflected in country music. The most unforgettable and heart-warming country songs provide an emotional connection that would make your kids relate to them as a part of their childhood. So, get your little cowboy or cowgirl bopping, wiggling and giggling to some foot-tapping numbers and enjoy the best years of childhood. Boots and hats not required, though!
Also Read:
Counting Songs for Kids
Party Songs for Children
Animal Songs for Children