Saint Patrick's Day Facts, History & Activities for Kids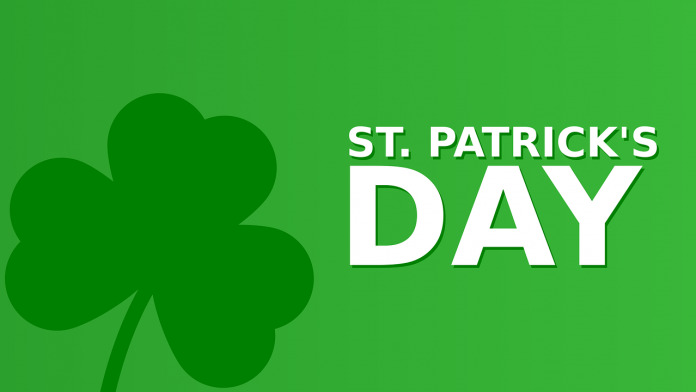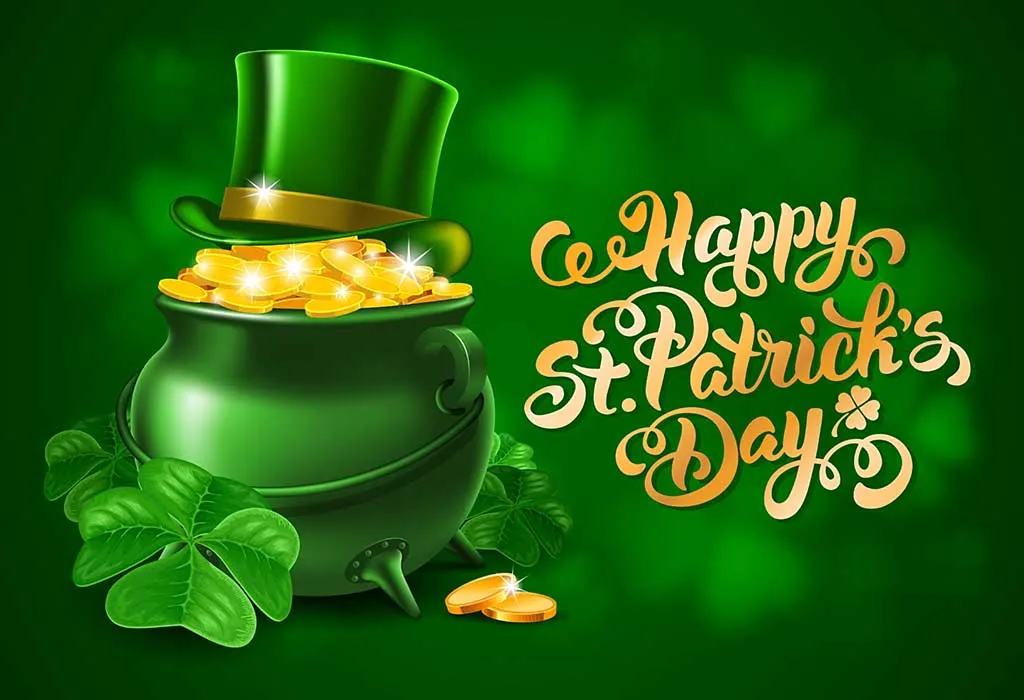 Saint Patrick's Day is celebrated on March 17 every year with much fervour and enthusiasm all over the world. Saint Patrick's day marks the death date of Saint Patrick, the patron saint of Ireland. This day is observed as a holiday in the Republic of Ireland. The celebrations include dancing, music, parades, food and various other kinds of merrymaking. If you want to teach your child about Saint Patrick's Day, then read on and help him learn everything there is about this great Irish festival.
Read this article to know about the history of this festival. Also, find out some amazing facts related to St. Patrick's Day. We have also covered some interesting activities related to this festival to keep your child engaged.
Who Was St. Patrick?
St. Patrick, the patron saint of Ireland was born in the late 4th century in the south of Hadrian's Wall in Britain, which was then a part of the Roman Empire. He was captivated by Irish pagan in his teens and then taken to Ireland, where he spent almost six years in captivity. During his time in captivity, he developed a keen interest in Irish religion. After he escaped and returned to Britain, he vowed to return to Ireland. After returning to Britain, he spent his time studying at monasteries and eventually, was ordained a priest and went on to become a bishop. After his ordainment, he was sent to Ireland on dual missions, which included being a minister to Christians who were already living in the country and to start converting the Irish people.
What Is St. Patrick's Day?
St. Patrick's Day was first made official as Christian feast day at the beginning of the 17th century and has been celebrated as a religious and cultural festival on March 17 every year. This day marks the death of the patron saint of Ireland Saint Patrick and it also commemorates the advent of Christianity in Ireland. The festival involves mass public gatherings and parades where people dress up in green attire.
Why Is Saint Patrick's Day Celebrated?
Saint Patrick gained popularity for bringing Christianity in Ireland in the fifth century. As stated earlier, St. Patrick's day is an annual feast day which commemorates the patron saint it is named after. The history of Saint Patrick revolves around a saint who led a regular life but became popular for his endeavours much later after his death, which was around the seventh century.
Saint Patrick returned to Ireland to convert the Irish to Christianity and by the time of his death, he had established churches, schools, and monasteries. It was on March 17 in 461 AD when the saint breathed his last, and this day holds great significance and importance for the Irish around the world. This day was then observed as Saint Patrick Day to commemorate the patron saint. However, according to a St. Patrick's story, the yearly celebrations started around the 17th century when a few people from Boston's wealthy Irish community welcomed Irish immigrants by throwing them a party. The Irish immigrants started observing the holiday in Boston in 1737 and the first St. Patrick's Day parade was held in New York City in 1766. From the solemn feasts to worldwide celebrations, this Irish festival has seen a remarkable increase in its popularity over the last few centuries.
Interesting Facts About St. Patrick's Day for Kids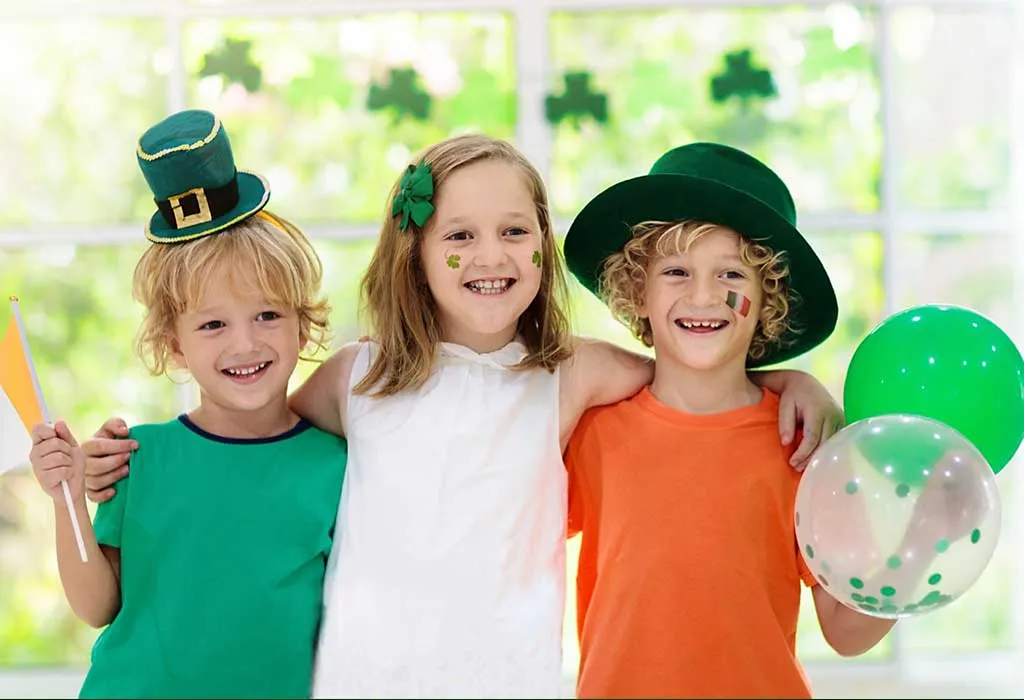 No doubt this Irish festival gets everyone excited, but there's so much more to it that people don't know of. Read on to learn some interesting stories and facts about this festival. Here's some amazing information about St Patrick's Day that you can share with your kids to get them all excited about this festival:
Everyone associates St. Patrick's Day with green colour but this festival was originally associated with blue colour. The change happened because Ireland is popularly known as 'The Emerald Isle'. The green Irish flag and the famous shamrock are associated with the festival are green in colour.
Saint Patrick was an Irish patron saint and he made his mark by introducing Christianity to Ireland, but he was not Irish himself. Saint Patrick was born to Roman parents in the late 5th century.
The parade is one of the most celebrated and exciting parts of this festival but it was in the mid 18th century (the 1760s) when the first parade was held in New York.
Shamrock is associated with this festival, you know that. But do you know why? According to an Irish legend, the saint used the three-leafed plant as a metaphor for the Holy Trinity while introducing Christianity to Ireland.
People often confuse a four-leaf clover with shamrock (which has 3 leaves). Shamrock is easy to find, but the four-leafed clover isn't. The four-leafed clover is considered lucky as it is hard to find.
People from Chicago celebrate St. Patrick's Day like no one else. The city runs green on this day. Chicago River is turned green by dumping green dye into the river to celebrate this great Irish festival. This practice has been going on since 1962.
St. Patrick's Day Activities & Crafts for Kids
Getting your little one involved in fun activities and games is a great way to help him learn about this festival. Here are some interesting things to do on St.Patrick's Day that will help your kiddo learn about this exciting festival!
1. Take Your Child to the Parade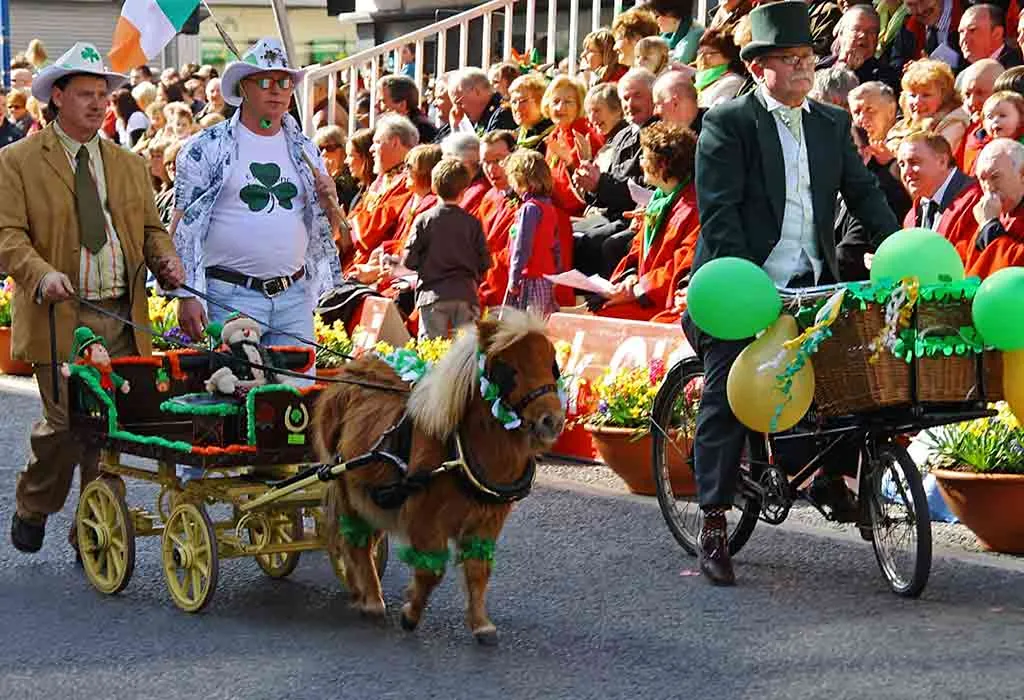 If you happen to be in a place that hosts St. Patrick's parade, then take him to show the parade. It is one of the best ways to give the actual feel of the festival to your kiddo. Get decked up and dress up your little one in green-coloured clothes, adorn a sassy green headgear, accessorize with funky shamrock-shaped necklaces and take your kiddo to the parade. Watch the spectacular Irish dancers, mesmerizing bagpipers and other performers perform in the parade.
2. Read Stories to Your Child
Most kids love listening to stories of the legends. If your child is fond of reading or listening to such inspirational stories, you can read stories about St. Patrick day to him. One of the best activities for preschoolers is involving them in the reading activity. You can get hold of an interesting book that talks about the legend of St. Patrick and other facts involving the festival such as why people started celebrating this important day, etc.
3. Play Treasure Hunt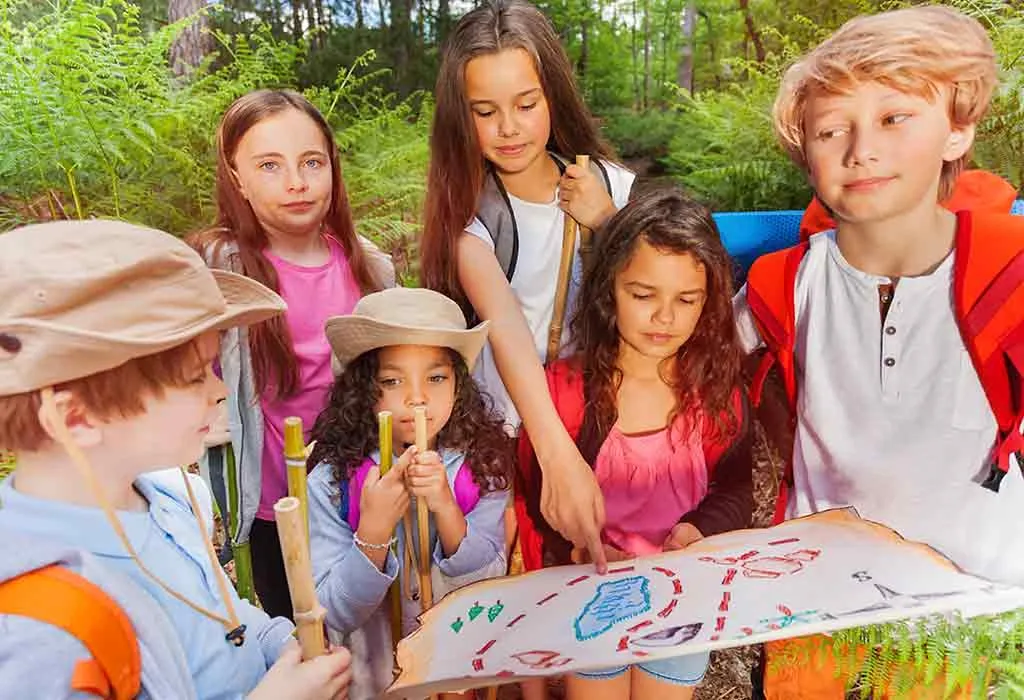 One of the most fun and interesting St. Patrick's day games and activities is playing treasure hunt. The game is best played in a big group. But you can ask other members of your family to play this game with your child. All you will need for this activity is a wooden box filled with goodies such as chocolates and candies as treasures. Cover the box with green paper to give it a festive feel. Wrap the goodies with clover printed paper. This game can be played both indoors and outdoors. Then hide the box somewhere in your house and make clues that lead the kids to the hidden treasure. Begin the game by giving the first clue to the kids that leads to another hidden clue and so on, until he or some other player finds the treasure.
4. Make Clover or Shamrock Necklaces
Whether or not you are going to attend the parade, you can always make clover necklaces and dress up your kiddo to let him have the real experience of the festival. All you need is green-coloured construction paper, glue, shimmer, yarn, and scissors. An incredibly exciting craft for toddlers, this activity can be done anywhere and anytime. Draw clover shapes on the construction paper and cut them with the help of a scissor. Punch a hole in the same place in each clover. Decorate with shimmer. After the shimmer dries up, take the yarn to string the clovers together to make a necklace.
6. Potato Stamps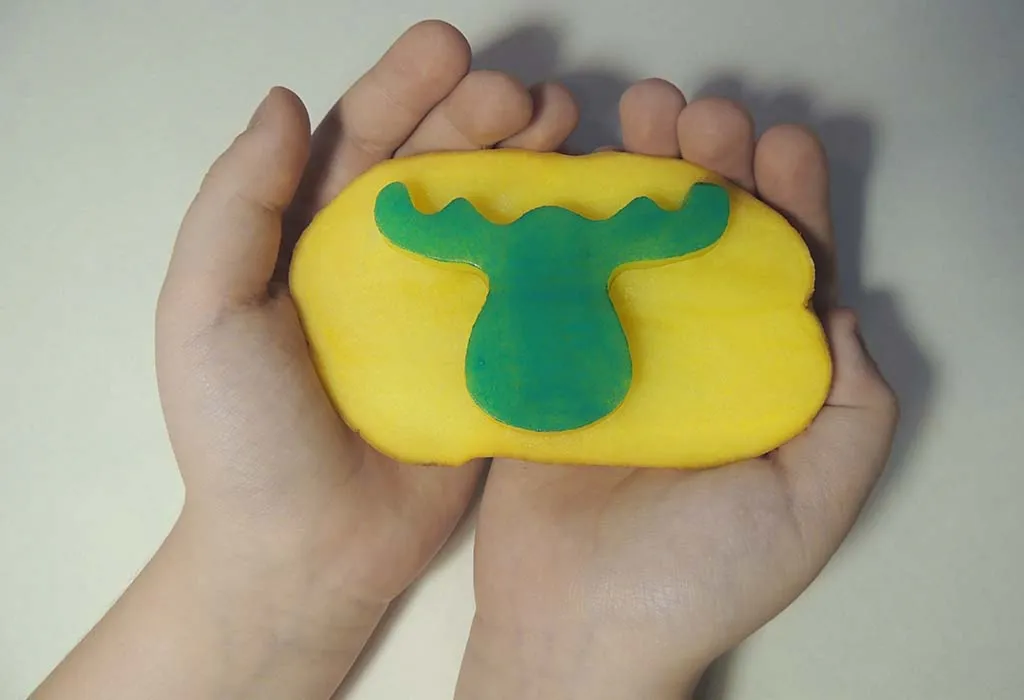 Let your child make a mark with potato stamps. All you need is a big potato, green paint, and white paper. Cut the potato in half and give it to your child. Guide your little one to use the starchy surface for the stamp. He can make the desired shapes, like the moon, a star, the sun, etc. Now, carve the background of the sketch away using a kitchen knife. Pour the green paint into a saucer and dip the surface of the potato stamp into the paint. For starters, you can guide your little munchkin on how to stamp and then let him stamp the shapes on his own on the paper.
6. Trap the Leprechaun
This is a very exciting game for young kids. Your child and his friends can play this game together. For this game. take a cardboard box, big enough for kids to crawl through it. Open the top and bottom flaps of the box and place them in on the ground to form a tunnel. Ask the kids to crawl and cross through the tunnel as you play the music. Then pause the music; when you pause, the kids in the front and the back of the box will close the flaps trapping the leprechaun inside the box. The game continues until one player is left, who will be the winner.
7. Leprechaun Hats
Here's a little fun craft project for your kids! They may need some help with cutting, but leave the decoration to their little hands. Take a paper plate and cut out a wide centre. Let your kids paint the paper plate boundary with green colour. Now, take a green sheet and form a cylinder that corresponds to the diameter of the centre of the paper plate. Help your kids tape the paper plate on the rim to the cylinder. Now that it looks like a hat, let your champs decorate it however they like!
Kid-Friendly St. Patrick's Day Recipes
No festival or celebration is complete without food, don't you agree? The same holds true for St. Patrick's day as well! So we bring you some yummy recipes that can help add more spark to this green festival. Try out some of these healthy and nutritious St. Patrick's Day yummy treats that you can whip for your kids:
1. Yummy Shamrock Cookies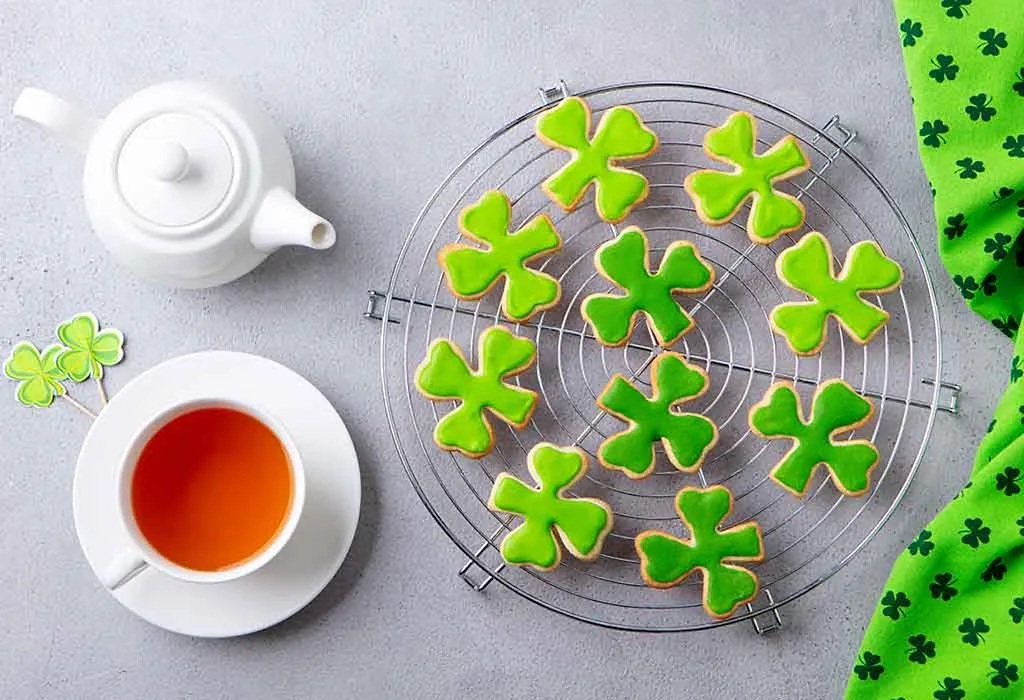 This delightful recipe will surely win over your little one's heart and it is practically made in very little time.
Ingredients
1 cup all-purpose flour
¾ cup shortening
¾ cup confectioner's sugar
1 egg (small)
½ teaspoon peppermint extract
½ teaspoon salt
Few drops of food-grade green colour
How to Prepare
Take the sugar and shortening in a large bowl and mix it until it turns fluffy.
Add an egg and beat well.
Next, add in the flour and salt slowly and keep mixing the ingredients.
Throw in the food colour and peppermint extract, mix well to make a dough.
Cover the dough and refrigerate it for an hour.
Roll the dough into ¼ inch thickness and cut cookies with a shamrock-shaped cutter.
Preheat the oven to 375 degrees and cook the cookies for roughly 10 to 12 minutes.
2. Popcorns with a Tint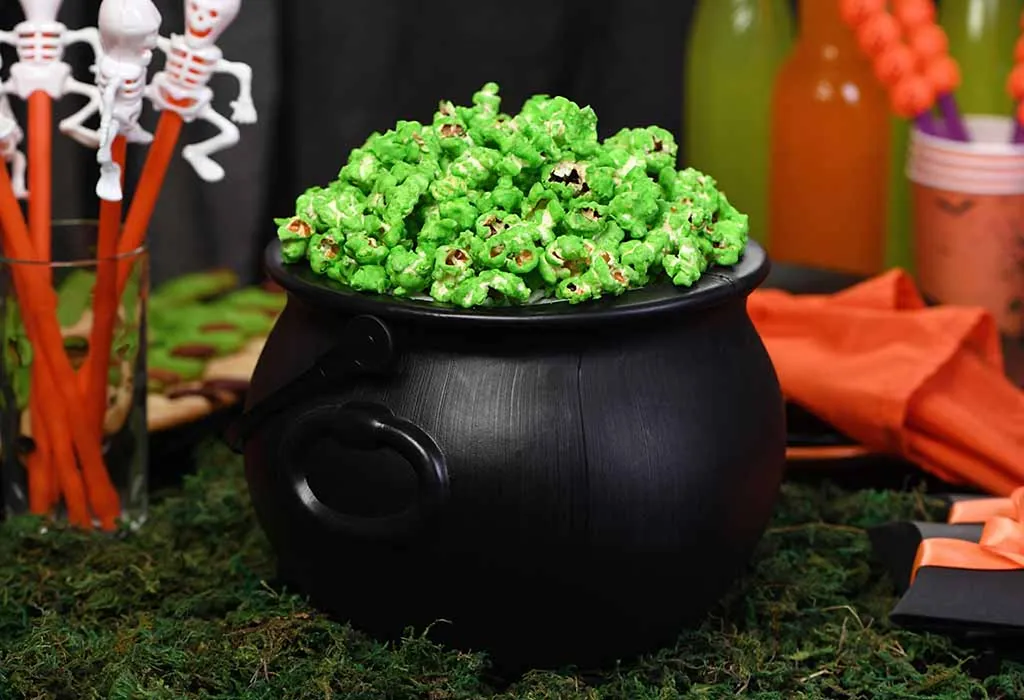 Kids love to eat crispy and crunchy popcorns and this yummy snacks recipe involves lending a sweet twist and vibrant colour to the popcorns.
Ingredients
Two quarts popped corn
¼ cup light corn syrup
½ cup of sugar
¼ cup brown sugar
¼ cup of water
¼ cup butter
½ teaspoon white vinegar
A pinch of salt
4 to 5 drops of food-grade green colour
How to Prepare
In a heavy-bottomed pan, take the sugar, corn syrup, water, salt, and vinegar.
Cook all these ingredients on medium flame, until the mixture thickens.
Remove the mixture from heat. Add in the food colour and butter, and give it a thorough mix.
Put the popcorns in a large roasting pan and keep them warm in the oven at 250 degrees.
Take out the warm popcorns and drizzle the sweet mixture on them. Toss them gently.
Store the popcorns in an airtight container after cooling.
3. Pistachio Marshmallow Delight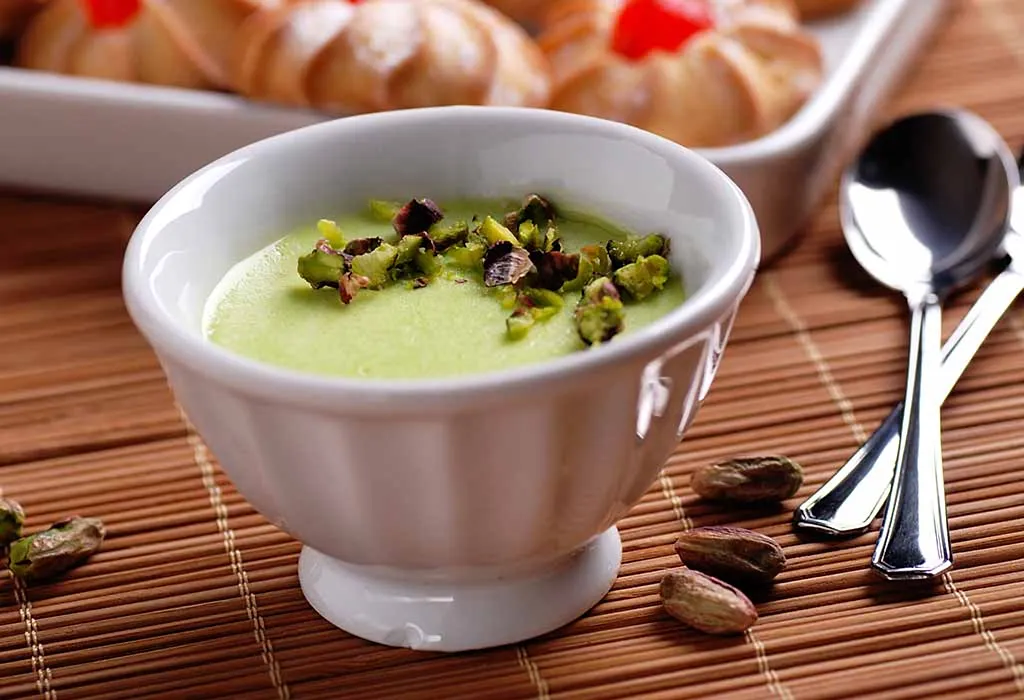 One of the tastiest and easiest desserts that you can make on St Patrick's day for your little one. For this sweet delight, you will need just a handful of ingredients.
Ingredients
1 carton of whipped cream topping (16 ounces)
3 cups marshmallows (miniature ones)
1 can non-drained pineapple slices (20 ounces)
1 packet of instant pistachio pudding mix ( 3.4 ounces)
Few drops of green food colour (optional)
Mixed nuts, finely sliced
How to Prepare
In a large bowl, take the pistachio pudding mix, whipped cream topping and a few drops of green food colour. Fold in all these ingredients with a spatula.
Add in the marshmallows and pineapple slices to the mixture and mix well.
Transfer the contents to the serving dish. Cover with the cling foil and refrigerate for a minimum of 2 hours before serving.
Garnish with finely sliced nuts and serve.
4. Easy Homemade Guacamole
The sheer mention of the word guacamole may make most of us think that it is a tedious recipe. However, with this simple and easy to understand recipe, you can whip this exotic dip and use this easy dinner recipe to make your dinner more nutritious for your munchkin.
Ingredients
3 to 4 medium-sized ripe avocados
1 medium-sized onion, finely chopped
1 to 2 cloves of garlic, finely minced
1 to 2 tablespoons of lemon juice
2 medium-sized tomatoes, deseed and finely chopped
1 tablespoon cilantro, finely chopped
Salt, as per taste
¼ cup homemade mayonnaise, optional
How to Prepare
Peel and roughly chop the ripened avocados and take out the pulp in a large bowl.
Mash the avocado pulp with a spoon.
Add in the chopped onions, tomatoes, minced garlic cloves, and cilantro. Mix well.
Add the lemon juice, salt, and homemade mayonnaise into the vegetable mix and give a thorough mix.
You can replace lemon juice with lime or orange juice to add a twist to the flavour.
Keep the guacamole in the refrigerator and use it as desired.
5. Leprechaun Lime Drink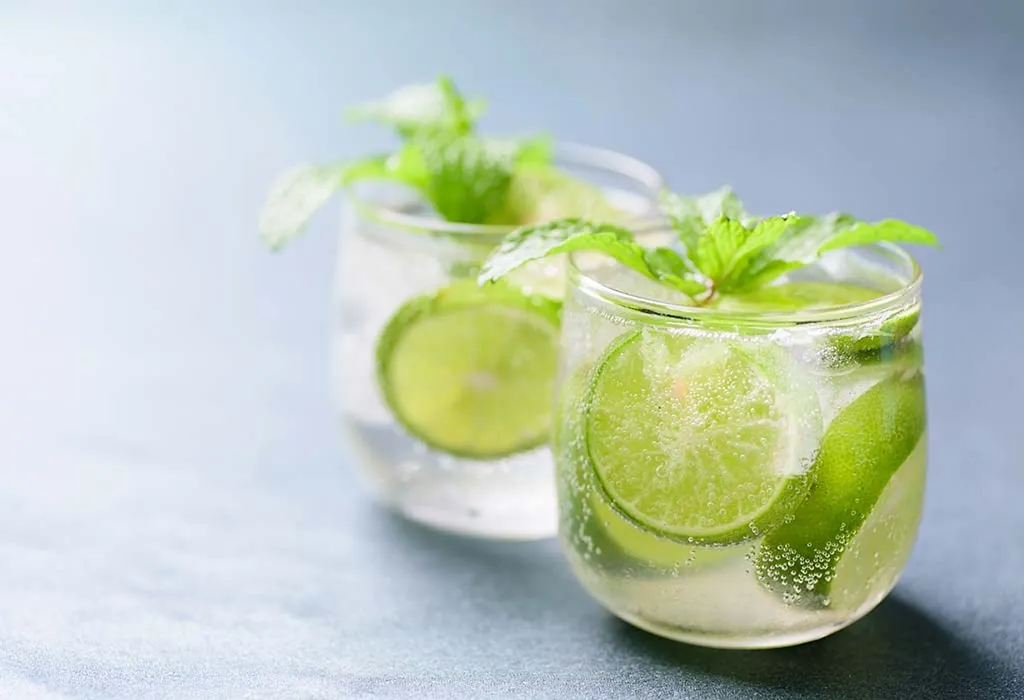 This sweet and sour lime drink with a refreshing twist will surely win over your little munchkin's heart! And what's the best part? It can be made in a blink of an eye!
Ingredients
1-quart lime sherbet or lime crush
1/2 cup of softened limeade concentrate
2 tablespoons sugar
2 cans (12 ounces each) of lemon-lime soda
1-2 cups of crushed ice
Lemon slices and strips of lime/lemon peel
How to Prepare
Take a large bowl and beat sherbet, limeade, and sugar until blended.
Add soda and ice. Stir well.
Top it with lemon slices and lime peel, and serve cold!
6. Creamy Cucumbers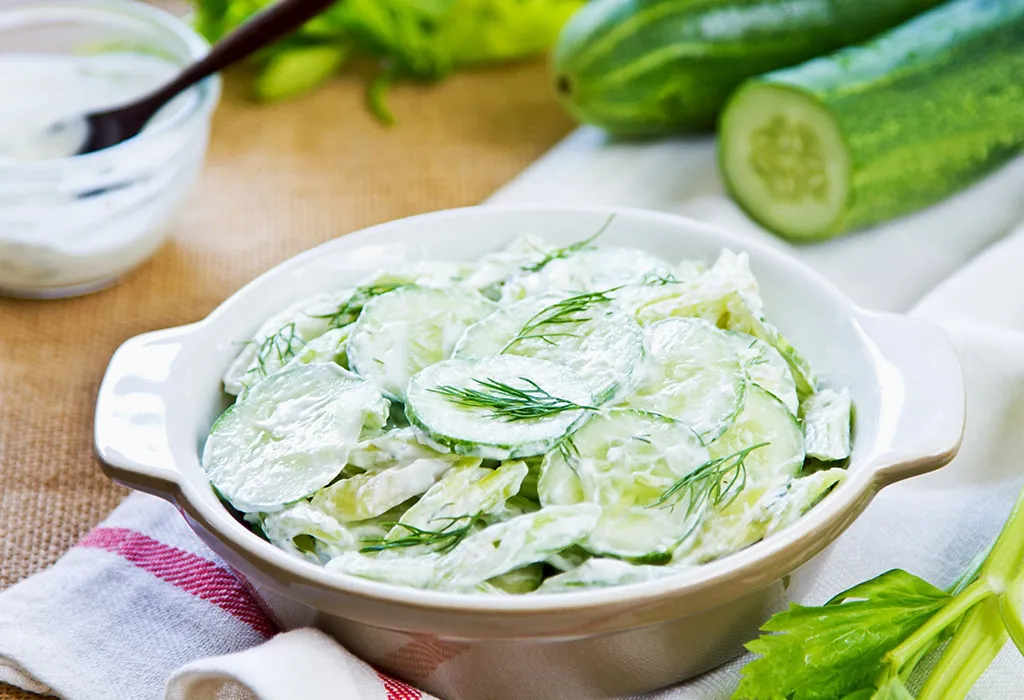 Try this super yummy and light salad recipe using only cucumbers and onions! This salad recipe is so tasty that your kid will forget he is eating vegetables.
Ingredients
1/2 cup of sour cream
3 tablespoons white vinegar
1 tablespoon sugar
Pepper (to taste)
4 medium cucumbers, peeled and thinly sliced
1 small onion, thinly sliced and separated into rings
How to Prepare
Take a large bowl and add sour cream, vinegar, sugar, and pepper.
Whisk it all until blended.
Add cucumbers and onion to the creamy mixture and toss to coat them well.
Cover the salad and refrigerate for at least two hours. Serve it cold!
Now you know everything there is to know about this great festival plus you have the recipes for some delicious dishes that you can make on St. Patrick's Day. Celebrate St. Patrick's Day with your child by sharing some interesting information and facts about this festival. And don't forget to enjoy yummy treats. Happy Saint Patrick's Day!
Also Read:
St. Patrick's Day Quotes, Wishes & Messages
Amazing St. Patrick's Day Crafts For Toddlers & Kids