Republic Day Pasta Bracelet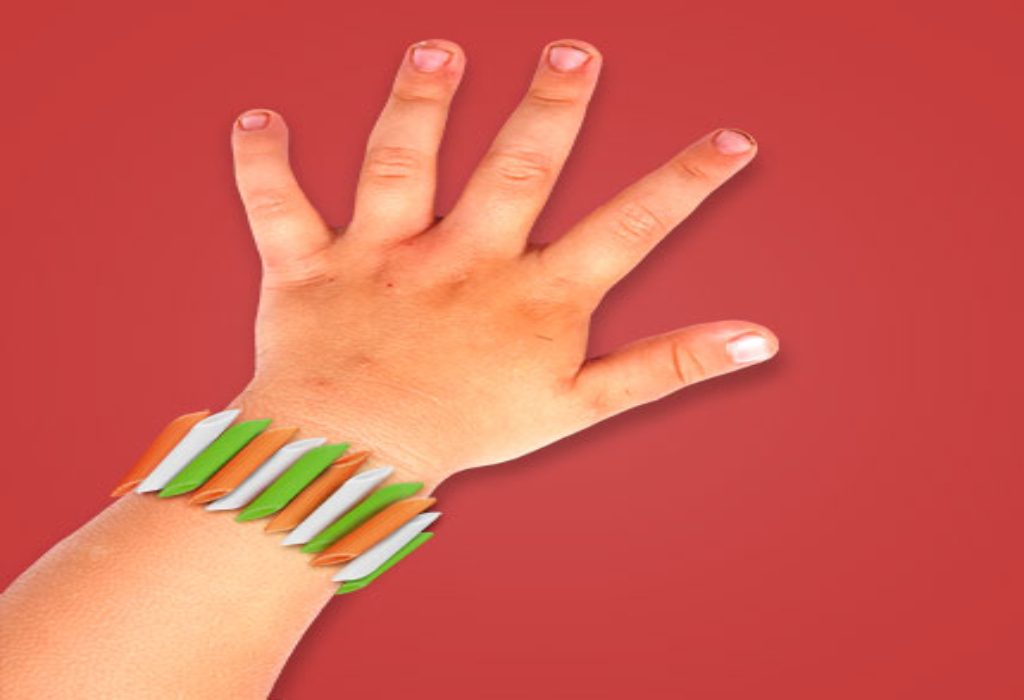 A fun craft activity that will help you talk to your child about republic day in an interesting way. So, let the feeling of patriotism develop in your child while you help him make this Tri-color pasta bracelet and flaunt it on this Republic day.
Material Required
Black felt
Dry pasta – tube shaped
Watercolors or markers (Saffron, white, green)
Yarn
Safety scissors
Fabric glue
Hole punch
Instructions
Help your child gather all the required material.
Take approx. 15 pastas to make the bracelet. Help your child paint these pastas with saffron, white, and green colors. Allow them the paint to dry.
Cut the black felt in a rectangular shape such that it exactly covers the wrist of your child. Let him decide the width of this bracelet as per his wish.
Hold the cut out felt and punch a hole at each end, about a half an inch from the edge.
Use the fabric glue to stick the painted pastas to the felt. Allow it to dry.
Cut a piece of yarn about 8 inches long. This will be used to tie the bracelet around your child's wrist, so keep it long enough to form a bow.
When the pasta is secured onto the felt, thread the piece of yarn through the holes, make your child put it around his wrist and tie the strings to hold the bracelet in place.
Do not miss to tell your child about the importance of Republic day while you both sit together to make this wonderful tri-color bracelet!
Also Read:
Teach Your Kids About Republic Day
Republic Day – Easy Homemade Sweet Dishes
Tips for Preparing the Republic Day Speech for Kids