Rava Dosa Recipe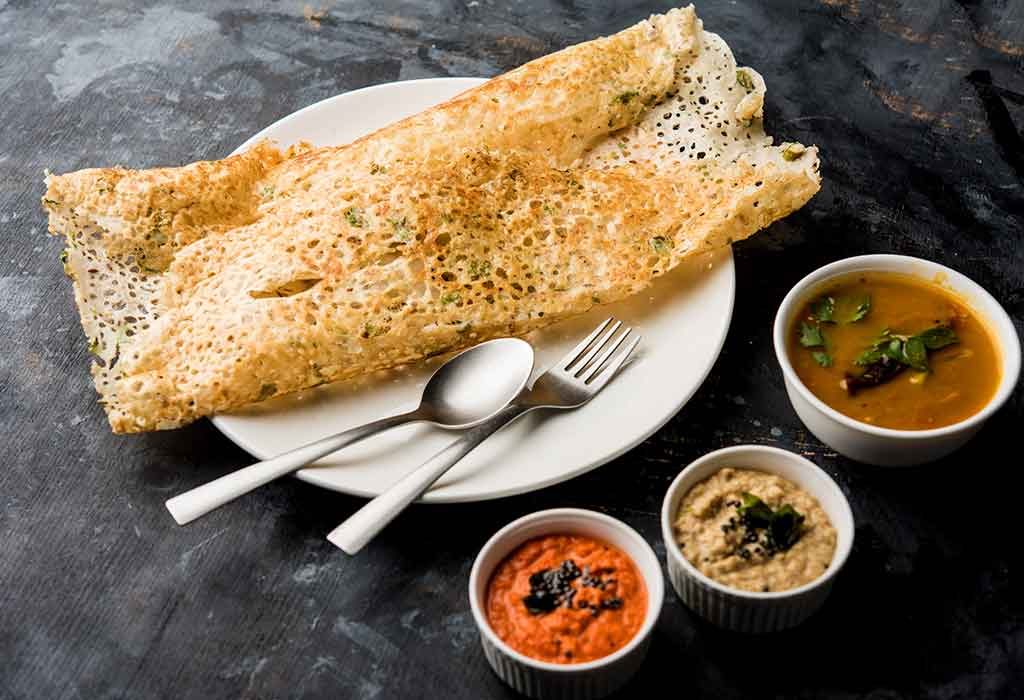 In this Article
An easy crispy dosa made with Rava (semolina), rice flour and all-purpose flour (maida) this Rava Dosa for toddlers is a delight for kids and adults alike. The dish is simple as it does not need any fermentation or grinding of soaked rice and lentils. A great way to introduce dosa's to your baby, make this dish in no time and serve it with chutney or sauce.
Cooking Time
| | |
| --- | --- |
| Type | Time (hh:mm:ss) |
| Preparation Time | 00:15:00 |
| Cook Time | 00:25:00 |
| Total Time | 00:40:00 |
Cooking Method
Gas, Blender or Mixer Jar
Type of Meal
Vegetarian
Suitable For
Toddlers older than 22 months of age
Meal Schedule
Snacks, Lunch or Dinner.
Recipe Type
Main Dish
Ingredients
| | |
| --- | --- |
| Type | Quantity |
| Rava or sooji or semolina | 1.5 cups |
| Rice flour | 1.5 cups |
| All-purpose flour or Maida | ¼ cup |
| Green chillies finely chopped | 1-2 |
| Ginger finely chopped | ½ inch |
| Onion finely chopped | 1 |
| Curry Leaves finely chopped | 8-10 |
| Coriander leaves | 1-2 tablespoons |
| Crushed black pepper | ½ teaspoon |
| Cumin Seeds | ½ teaspoon |
| Water | 2-2.5 cups |
| Salt | As per taste |
| Oil or ghee | As required for cooking |
Instructions
Follow this step-by-step direction to learn how to make Rava Dosa for your little munchkin:
Take the unroasted rava, rice flour and maida in a vessel or bowl.
Add the green chillies, chopped ginger and onions.
Add the curry leaves, cumin seeds, crushed peppercorns and salt.
Add 2-2.5 cups water. Add the water slowly depending on the quality of the rava or rice flour.
Whisk until smooth in a blender without any lumps. The batter has to be free-flowing and thin.
If the batter becomes of a thick consistency, then add water accordingly. If you happen to add a lot of water and it becomes too runny or thin, then add rice flour.
Cover the vessel and let the dosa batter rest for about 25-30 minutes. Once the batter rests, the rava and the other flours will sink to the bottom, and the water will float on the top.
Take a tawa and heat it. Spread some oil on the tawa and mix the batter well before preparing the dosas.
With a ladle pour the dosa. Start pouring from the edges and move to the centre.
If you find any gaps then fill it in with some batter lightly.
Cook the dosa on a medium flame.
Once you see the top side getting cooked, spread some oil on the sides.
Spread oil all over the dosa with an oil pourer or spoon.
Cook until the base is golden brown and flip it over and cook for a few more seconds.
Serve hot with chutney or a sauce of your choice.
Recipe Tips
Follow these additional tips for homemade Rava Dosa baby food recipe:
The dosas will become crisp if you cook it more.
The flours will settle down at the bottom of the bowl, and you will have to stir the batter continuously while preparing the dosas.
Pour the batter from a greater height as it will give the pore effect to the dosa.
Rava dosa takes longer to cook than the normal dosa. Cook it on a medium flame.
Use a heavy-bottomed tawa or pan so that the Rava dosa will not stick to the bottom.
Nutrition Information (Per 100 Grams)
| | |
| --- | --- |
| Type | Value |
| Calories | 93 Kcal |
| Carbohydrates | 15 gm |
| Protein | 1 gm |
| Fat | 2 gm |
| Sodium | 26 mg |
| Potassium | 32 mg |
Health Benefits
Read below to know the health benefits of this easy Rava Dosa recipe:
Rava or semolina is a good source of iron and magnesium. These minerals help to support the production of red blood cells.
Semolina is known to boost energy and also keep the bones healthy.
The zinc, phosphorous and magnesium content helps to strengthen the nervous system.
Onions are a rich source of folate and also powerful antioxidants.
Buying Guide
Keep the below in mind when buying ingredients for Rava Dosa:
Buy rava or semolina in sealed form. Check the expiry date on the packaging. Always buy unroasted rava.
Buy rice flour in sealed form and check the expiry date.
Buy all-purpose flour or maida in sealed form and check the expiry date.
You could choose to buy organic rava, rice flour and maida.
Buy fresh onions and chop them before you make the batter.
Rava Dosa is an excellent snack for your kids. It is a simple and easy dish because it does not require any fermentation and can be whipped up in a matter of a few minutes. The combination of rava, rice flour and maida makes it a lip-smacking delight for your kids.