Puppet Making for Kids – 10 Easy Puppet Craft Ideas
In this Article
When parents are trying to come up with craft ideas for their children, many often wonder how to make puppets for kids that would be simple as well as interesting for them. Our vision of puppets is those that we see at the local fair or in television programmes, which are performed by experts. Sure, the same can be purchased from any store for a steep price. But your child can have the fun of playing around with a puppet, which is pretty much customized for him. It also opens up his mind to the world of imagination and creating puppets by himself, too.
DIY Puppet Crafts Ideas for Children
Figuring out how you can help your children make puppets the easy way may itself be difficult. But the techniques are quite simple after all. We've put together a list of some DIY puppet ideas that you can craft together with your kids.
1. Making Finger Puppets Using Paper
Many kids learn to use their fingers as walking human beings or animals. Just add puppets to those and you're ready to go.
What You Will Need
Child-friendly scissors
Crayons
Glue
Cardboard paper
How to Make
Draw shapes of animals on the cardboard paper, leaving enough space at the bottom for the fingers to become the legs. For certain animals, such as an elephant, you can leave space for a finger to be the trunk as well.
Use the scissors to cut them out properly. Once done, let your child use the crayons to paint them in the manner of his choosing. Adding creative flairs will make them create to look at as well.
Now, cut out holes where the fingers should go and slide the fingers there to start puppeteering them around.
2. Making Hand Puppets From Socks
When putting together hand puppets for kids, making them from old socks or even new ones isn't as difficult as it seems.
What You Will Need
Old socks
Balls of wool in different colours
Buttons
Glue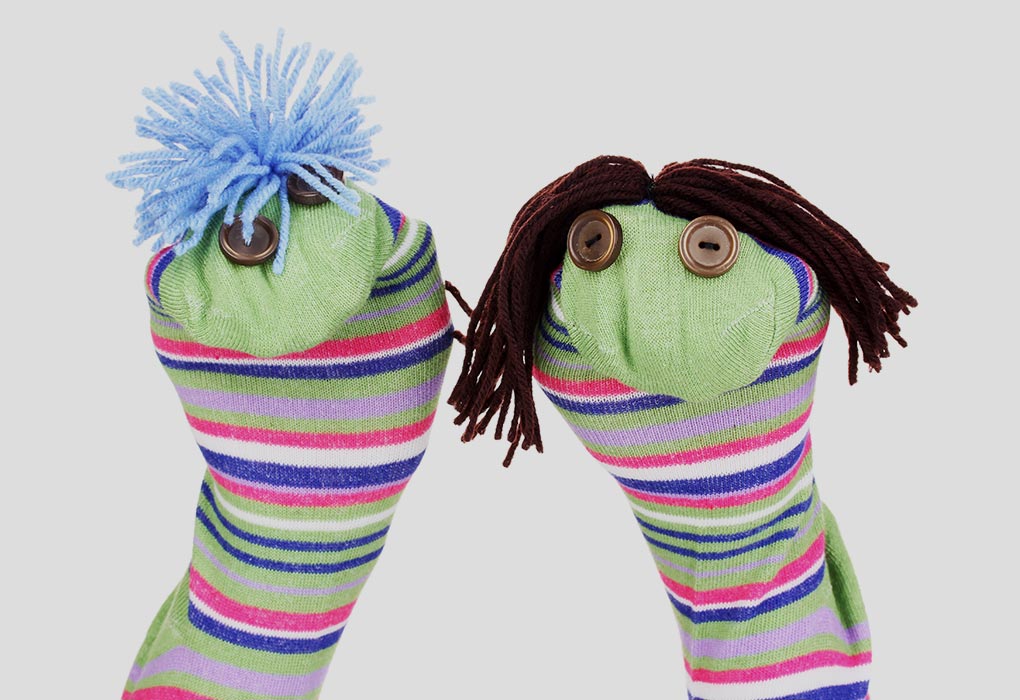 How to Make
Stuff the sock with old newspapers to create a full body. This will make it easier to decorate the sock.
Use wool strands in short pieces as hair. Mix up colours to create some wacky characters.
Let the buttons act either as eyes or as actual buttons, depending on how the character is going to be. Glue them appropriately with the hair.
Remove all the newspaper and snug the sock over your hand. Bob the head around and your puppet is ready.
3. Using Rubber Gloves For Finger Puppets
Some easy finger puppets for kids can also be made from old or used rubber gloves lying around the house. These can add a zany style to playing with puppets as well.
What You Will Need
Old rubber gloves
Child-friendly scissors
Wool
Sequins
Paints
How to Make
Using the scissors, cut the fingers from the rubber gloves and wear them individually on yours.
Let your child go nuts with decorating each finger. Use colours to decorate each finger, add hair with wool, and adding some jazz by glueing old sequins.
4. Creating Puppets With Some Yarn
These are slightly difficult to put together. But once you do, these can be a great addition to your puppet collection.
What You Will Need
Pieces of fabric
A ball of yarn
Sticks or toothpicks
Marker
Buttons
Glue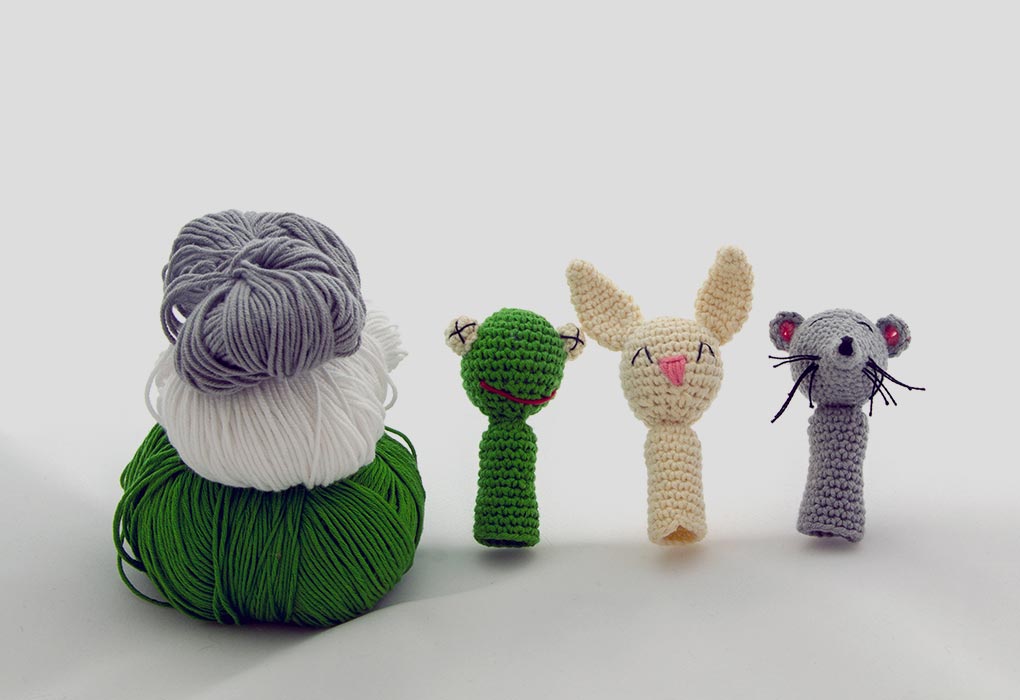 How to Make
Use some cotton wool to create a large ball and wrap some fabric around it. This becomes the head of the puppet.
Now glue this head on the yarn, which would be the body. Extra yarn can be used to create some hair on the head.
Glue the buttons to create the eyes and use the marker to add further detail to the body.
Once done, poke a stick in the centre of the puppet's body. This can be used to control the puppet.
5. Using Animal Pictures As Stick Puppets
The easiest way to make stick puppets for kids is this. In just a matter of few minutes, your puppets would be ready for your little one to play around with.
What You Will Need
Pictures or drawings of various animals
Child-friendly scissors
Straws or sticks
How to Make
Print the pictures of animals on paper and stick the paper on a large piece of cardboard.
Cut out the animals with scissors and place them one on a side.
Now, pick an animal and glue it onto a straw or a stick. Repeat with all the animals.
Your stick puppets are ready to go. The same can be done with cartoon characters, too.
6. Making Movable Puppets With Strings
Yet another slightly complex technique to put together a puppet; but it is guaranteed to give your little one a wonderful time once it is ready.
What You Will Need
Used toilet paper tubes
Strings
Glue
Whitepaper
Paints
Scissors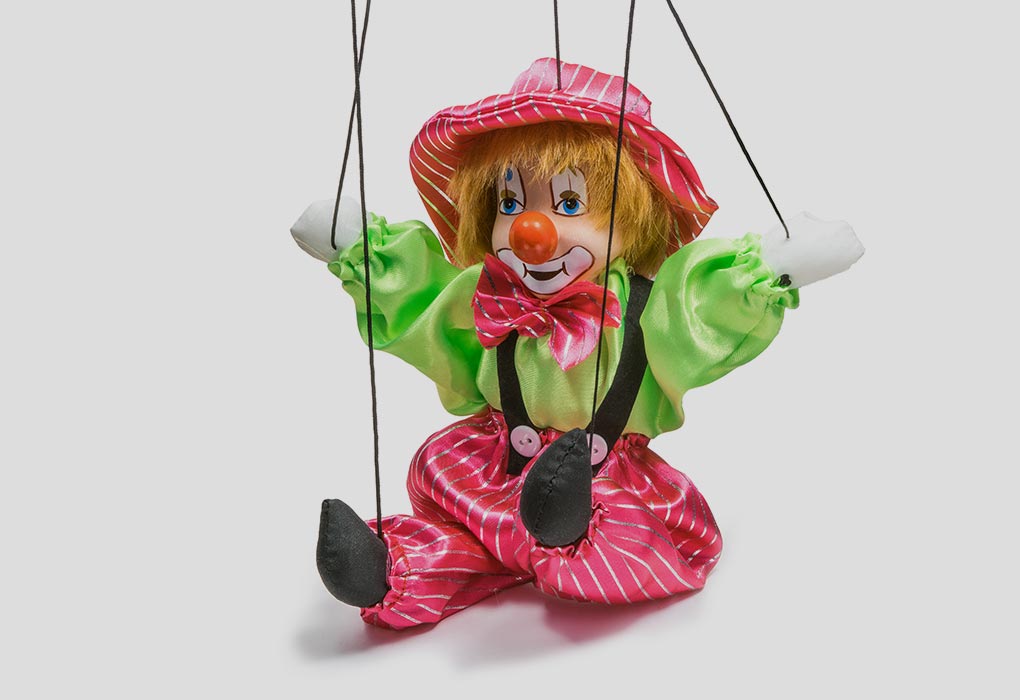 How to Make
Begin by making two holes on both sides of the toilet paper rolls. This is where the strings will go through to control the puppet.
Now put one end of the string through one hole and pull it out of the other. Do it in such a manner that there is an equal length of string on each side.
Repeat the same with the remaining tubes. Once that is done, make one tube as the body. Tie two tubes to the front of that tube, making them the limbs of the puppet. Tie two more tubes at the other end of the central tube, making them the feet of the puppet.
Use white paper to wrap around the tubes or paint them in the manner of your choice to decorate the puppet as an animal or a cartoon. Use the strings to move the appropriate limbs and bring your puppet to life.
7. Making Hand Puppets Using Fabric Material
Your kid's hands are extremely expressive in their manner of moving. Using fabric hand puppets can add to the fun of that.
What You Will Need
Fabric cloth of different colours
Permanent marker
Glue
How to Make
Decide the kind of puppet you want to make. Then use one colour of fabric to sketch out the body, and the other for the head.
Cut the shapes out of the fabric and glue them together. Make sure that the bases of the fabric are large enough for the hand to slide into.
Now stick additional pieces of fabric on these to create ears, hands, eyes, and other shapes to decorate the puppet.
Let them dry fully and then start playing around with it.
8. Making Puppets Out Of Empty Boxes
Not all puppets have to look exactly like their characters. A few of those can be made using simple boxes, too.
What You Will Need
Child-friendly scissors
Paints
Buttons
Wool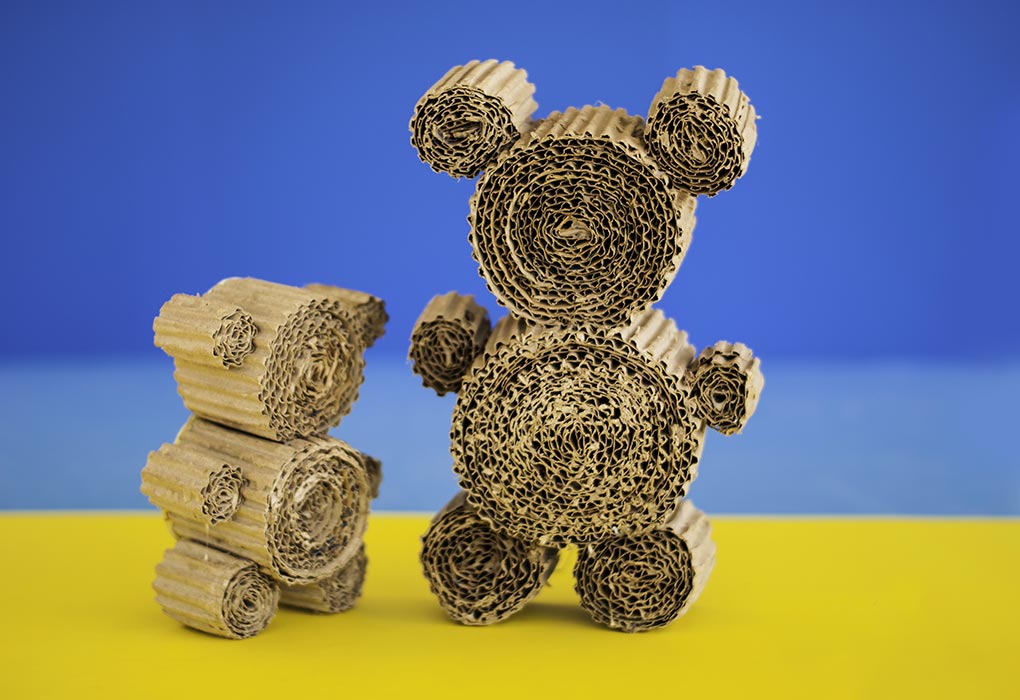 How to Make
Begin by sketching a line right along the front and all the way to the back, exactly in the centre. Then cut along this line. This will allow the box puppet to open its mouth and speak.
Then colour the box and using the wool to give it hair and buttons for eyes. Cut a small opening near the top of the box, where your kid can put his hands and operate the puppet.
9. Making Puppets Out Of Paper Bags
Not many puppets can be made with such simple items, and these paper bag puppets can turn out to be quite adorable.
What You Will Need
Paper bag
Cardboard paper
Glue
Marker
How to Make
Draw a cartoony face on the cardboard paper.
Flatten the paper bag and place it on a table with the bottom flap upwards. Stick the face on the base of the paper bag.
Now simply slide your hand inside the paper bag and let the puppet do its talking by itself. This puppet is quite a delight for young kids.
10. Using Popsicle Sticks To Make Simple Puppets
Tiny infants can have the time of their lives with a large collection of simple puppets like these.
What You Will Need
Popsicle sticks
Glue
Paints
Buttons
How to Make
Use paints and markers to decorate the Popsicle sticks in a variety of ways. Make animals, humans, or any colourful characters that you can.
Glue buttons or any other items that might make noise or look interesting.
Hand it to your toddler and let him play around with those.
The task of animal puppet making for kids might seem to be overwhelming at first. But children don't need world-class toys to play around with and be engaged. Simple ideas like these can be quick to put together and bring some long-lasting fun.
Also Read: Best Paper Cup Craft Ideas for Children