Popular Preschool Graduation Songs To Make The Day More Special!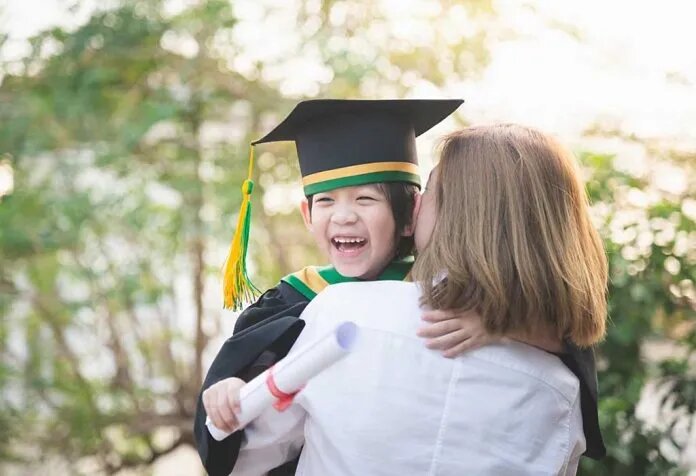 In this Article
What we associate most with images of graduation is the beautiful lineup of impeccably dressed students with their mortarboard hats and cape with their degrees rolled up in their hands. Similarly, a graduation ceremony is equally exciting for those little preschoolers who are itching to make it to the next level of their academic journey! A graduation ceremony for preschoolers will fill their hearts with confidence and make their parents proud to see them taking those leaps towards a successful academic trajectory.
30 Best Graduation Songs for Preschoolers
Songs are a great way to reinforce what children have learnt- practising following directions, swinging to rhythm and expressing themselves. So here is our collection of 30 graduation songs for preschool graduation that will help set the atmosphere for an exciting day.
1. I Will Remember You by Amy Gran
The song is about remembering people who have played a significant role in our lives. It symbolises relationships and is perfect for a graduation ceremony where both students and teachers will reminisce about their years together.
2. May There Always Be Sunshine by Dr. Jean
With soulful lyrics and a lilting melody, the song is all about positivity and maintaining an optimistic attitude.
3. Don't Forget to Remember by The Bee Gees
The song is a country ballet and a soothing tune for children and parents. The lyrics and harmony are all about celebrating and equally about the achievement.
https://www.youtube.com/watch?v=uBZCyuLuMEU
4. Thank You by Patty Shukla
A perfect song to sing along with the end-of-year songs for kindergarten, and it is all about thanking staff, teachers and parents. The song is the ideal way to end the ceremony on a happy note!
5. One Small Voice by Jack Hartmann
One of the best end-of-the-year songs for preschoolers to sing, it also has a video with sign language for kids to follow too. Tiny voices will relate to this song which has gestures that will melt the audience's heart.
6. What I Am – Sesame Street with Will.i.am
Which kid does not like Sesame Street? Will.i.am sings this song with some of the Sesame Street characters with an underlying message about being the best person one can be.
7. (I Had) The Time of My Life by Bill Medley
The song summarises the whole experience- relationships, learning and friendships of children during their years at preschool. One of the best friendship songs for preschool graduation.
8. We're moving up to Kindergarten by The Orchard Enterprises
Lasting under two minutes, an upbeat preschool graduation song celebrates children's achievements and is a great way to start the ceremony. It is also perfect for kids to get that feeling of accomplishment as they march forward to kindergarten or primary school.
9. Boom Chicka Boom by The Learning Station
A peppy number, this is a fun call-and-response song which is great for little ones. If you are getting the kids to sing it themselves, it is easy to memorise too!
10. With a Little Help from My Friends by The Beatles
A fun and upbeat version of the classic by The Beatles, this song will be loved by kids and parents alike. The song is a strong message about friendship and will cement a strong feeling about building and maintaining relationships.
11. My Generation by The Who
A rock and roll song, the tune became a cult classic. The song is supposed to have encapsulated the angst of teenagers. Well, it could suit the mood for a graduation ceremony with tiny tots cheering at their achievement and also anxious to move forward.
12. Teach Your Children by Crosby, Stills, Nash and Young
With a very relaxing, bittersweet melody- the song gets parents to stop and reflect. It is a great song to celebrate education and reminds one of what matters in life.
13. Can't Stop The Feeling a Graduation Parody
It has been adapted for a graduation ceremony, a very familiar song from the Trolls. All you need to do is replace the word "Mila" with your school name.
14. The Bare Necessities by Phil Harris and Bruce Reitherman
Baloo's famous song, the Bear in Jungle Book, is a tune that will instantly get one on their toes. But this Disney song could be a perfect background song for the little tots to line up for their ceremony. It also has an important message about finding joy in the little things in life.
15. The Times They are A-Changin' by Bob Dylan
Bob Dylan reminded us of how times change, and all that remains are pleasant memories with this song. This song is perfect for tiny tots taking their next steps forwards while cherishing that big bag of memories from the past.
16. Time in a Bottle by Jim Croce
The song is a dreamy tune that reminds us about cherishing and treasuring moments in life. It is excellent to make a lasting impression on parents and emphasises this milestone's importance.
17. Easy Goodbye Song by Dream English Kids
If you want a simple ceremony performed to perfection by kids, this is the best choice. With simple sign language included in the song, kids can easily learn it.
18. Remember Me by Bo Bice
Bo Bice has given us lyrics to make sure that no one forgets us and we remain indelible in the hearts of our loved ones. As tiny tots make their way to kindergarten, they will fill hearts with this song.
19. You've Got a Friend in Me by Randy Newman
This song from Toy Story is something that children love and will love to sing along to. This could be played as a tribute to their enthusiastic spirit and the friendships they have made in school.
20. I'm B-I-G by Wayne Potash
Parents and teachers will bring those tissues out with this one. It takes one through the many phases of a child's life. "Look at me, I've grown some more! B-I-G, I'm big!!".
21. It's Hard to Say Goodbye to Yesterday by Boyz II Men
Who likes goodbyes? This song reminds us of that as your tiny tots wave their goodbyes and thank one and all for helping them take their tiny steps in their academic sojourn.
22. Preschool Graduation Song by Young Music Company
A peppy tune by the music company. All you need to do is change the name of your preschool, and your little ones will be singing; thank you from the bottom of their hearts.
23. Each of Us Is a Flower by Charlotte Diamond
Charlotte has encapsulated how each one is special in this song. The little ones will be made to feel special with this song as it recognises their traits and talents.
24. Good Luck, Goodbye by Bubble Education
This song is universal, with its lyrics just aiming at "moving on" in a generic sense. Suitable for all ages and occasions, it could be ideal for your function.
25. Whenever You Remember by Carrie Underwood
This song is a reminder of how one will be remembered. The piece is perfect, with kids recognised for their specific traits and achievements.
26. Graduation Day by Freddie Shoehorn
This song talks about everything learnt during the year and bowing down to the gracious past. It is a tribute by kids to teachers, parents and all other support staff.
27. Circle of Life by Elton John
Another Disney classic, the song reminds us of life as something that comes as a full circle. Kids will love it as they relate it to "The Lion King", and the father-son duo in the movie pictures the song.
28. High Hopes by Frank Sinatra
A ballad composed to acknowledge hopes, dreams and aspirations, this song is a perfect pick for rising stars who have lots to accomplish going forward.
29. These Are Special Times by Christina Aguilera
This note is an ode to the times kids spend in preschool. It is a revisit of the times they have spent and how it is special not just to them but to everyone connected to them.
30. Make It Happen by Mariah Carey
An inspirational song, it is a pep song for kids to go ahead and make things happen for them in future. It is a reminder of what they can achieve and what they can be in future.
Children learn a lot in the school year, and every school has a unique way of celebrating this. These songs are not just suited for graduation but also for programs which are a closing celebration for teachers, parents and loved ones.
FAQs
1. Which Are the Most Common Graduation Songs for Kindergarteners?
Most young children like fun and upbeat tunes that they can easily sing along to at this age. The best kindergarten graduation songs include I will remember you, May it happen, Each of us is a flower and Circle of life. These songs are short and whimsically composed.
2. What Are Some Fun Graduation Songs for Preschoolers?
Create a playlist of adorable and easy songs for preschool graduations to play for your child in the days and weeks before the actual day to help them become thrilled. With some help from my friends, Graduation day and Preschool Graduation are a few entertaining and peppy graduation songs your child will enjoy singing along to.
Also Read:
Preschool Learning Guide
Benefits and Importance of Early Childhood Education
Guide on Online Education for Preschoolers