Paneer Aloo Palak Paratha Recipe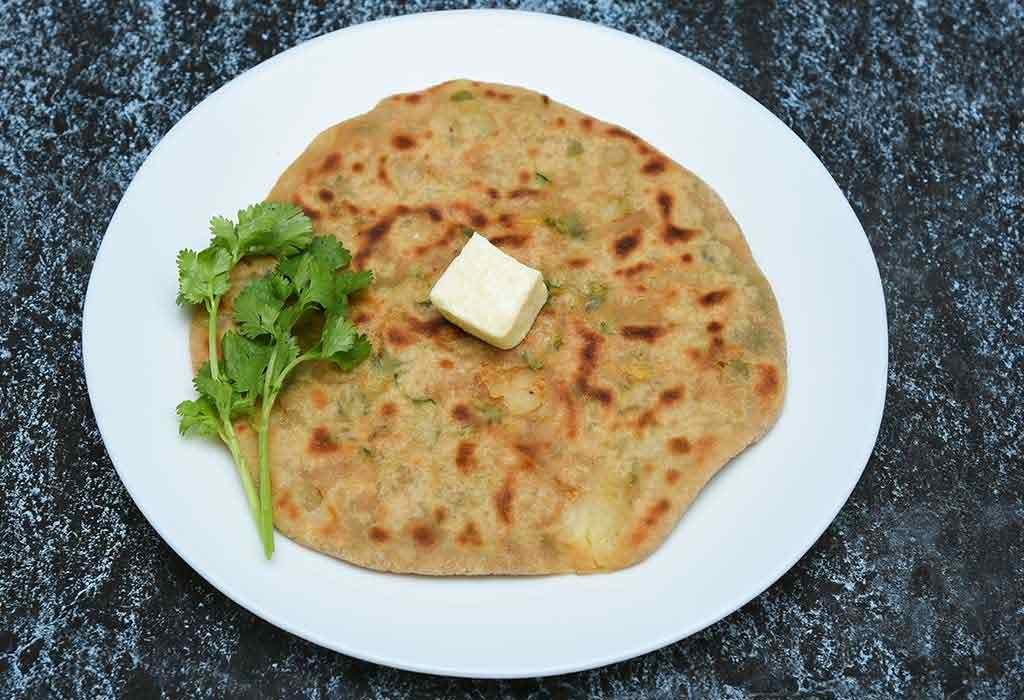 In this Article
Stuffed parathas are an all-time favorite in an Indian household. Paneer aloo palak paratha is wholesome and easy to make. Add little herbs and veggies to make it tastier and healthier. Loaded with proteins of palak, paneer, and aloo, these parathas are soft and fluffy. Cut them into triangular shapes and serve it with some ketchup or sauce, and your child will enjoy eating it. Paneer aloo palak paratha for babies add the necessary nutrients to their diet. The paneer adds nutrition and taste to these, along with the nutrition of palak. The parathas are sufficient for daily vitamin requirements of your baby.
Cooking Time
| | |
| --- | --- |
| Type | Time (hh:mm:ss) |
| Preparation Time | 00:25:00 |
| Cook Time | 00:30:00 |
| Total Time | 00:55:00 |
Cooking Method
Gas Stove
Type of Meal
Vegetarian
Suitable For
Babies above 18 months of age
Meal Schedule
Breakfast, lunch or dinner.
Recipe Type
Main dish
Ingredients
| | |
| --- | --- |
| Ingredients | Quantity and Volume |
| Wheat Flour | 2 cup |
| Grated Cottage Cheese (Paneer) | ½ cup |
| Chopped Spinach (Palak) | ½ cup |
| Boiled potatoes (Aloo) | ½ cup |
| Oil | ½ Tbsp |
| Salt | As per taste |
| Garam Masala | 1 tsp |
| Cumin powder | 1 tsp |
| Coriander powder | 1 tsp |
| Fenugreek leaves (dried) | 1 tsp |
Instructions
Parathas are traditional Indian food, and they are easy to make. If you are searching for information on how to make paneer aloo palak paratha, read on. These are our step by step directions for preparing these stuffed parathas.
For the dough, combine wheat flour, salt, and oil in a bowl.
Knead it into a soft dough, while adding water in between.
Divide it into equal portions.
Mix paneer, palak, and aloo along with all herbs and spices into a bowl.
Divide this mixture into equal parts as well.
Take one part of the dough and roll it in a circular shape.
Put one portion of the filling mixture into the dough and fold the edges.
Seal it and roll again. Use a little flour while doing so.
Cook on Tava using oil or butter. Ensure that you cook the paratha on medium flame.
Cook till brown spots appear on both the sides of your paratha.
Serve it with dahi or homemade chutney.
Recipe Tips
Cooking these stuffed parathas is not tricky. However, we suggest you follow these tips during the preparation of simple paneer, aloo palak paratha recipe.
The dough should be kneaded adequately for required consistency.
Wash the paneer with water before grating.
The spinach needs to be washed thoroughly with water.
After adding the filling mixture to the dough, seal the edges properly.
Cook the paratha from both sides only on medium flame.
Nutrition Information (Per 100 Grams)
| | |
| --- | --- |
| Nutrient | Value |
| Energy | 210 kCal |
| Protein | 5.8 g |
| Carbohydrates | 23.8 g |
| Fibre | 2.6 g |
| Fat | 10.5 g |
| Cholesterol | 0 mg |
| Vitamin A | 880.9 mcg |
| Vitamin B1 (Thiamine) | 0.1 mg |
| Vitamin B2 (Riboflavin) | 0.1 mg |
| Vitamin B3 (Niacin) | 1.2 mg |
| Vitamin C | 8.9 mg |
| Vitamin E | 0.4 mg |
| Folic Acid (Vitamin B9) | 25.7 mcg |
| Calcium | 95.9 mg |
| Iron | 1.6 mg |
| Magnesium | 38.5 mg |
| Phosphorus | 120.8 mg |
| Sodium | 15.9 mg |
| Potassium | 107.9 mg |
| Zinc | 0.5 mg |
Health Benefits
This homemade paneer aloo palak baby food recipe offers the following health benefits:
The iron content of spinach is suitable for your baby's immune system.
Spinach aids in boosting the haemoglobin level in the body.
If your child is anaemic, these parathas are an excellent remedy.
Vitamin A in the paratha supports bone health and improves eyesight.
Potassium will help in proper metabolism. Also, it enhances the muscles of the baby.
Buying Guide
Prefer whole wheat flour or multi-grain flour for the paratha.
Make the paneer for the filling at your home. Avoid buying it from the market.
Go for organic vegetables and herbs for your kitchen.
While buying vegetables, choose fresh ones, especially spinach.
Ensure that the paratha is evenly cooked on both sides. Please do not overdo it.
Instead of oil, you can make homemade ghee and use it while cooking.
These paneer aloo palak parathas will be ideal for introducing your baby to Indian food. Tasty and wholesome, you are assured that your child's appetite is satisfied. The adults in the family will love these nutritious parathas too. The added flavours of spices and herbs are enriching. You can serve it with any raita for enhancing the taste.