Palak-Paneer Paratha Recipe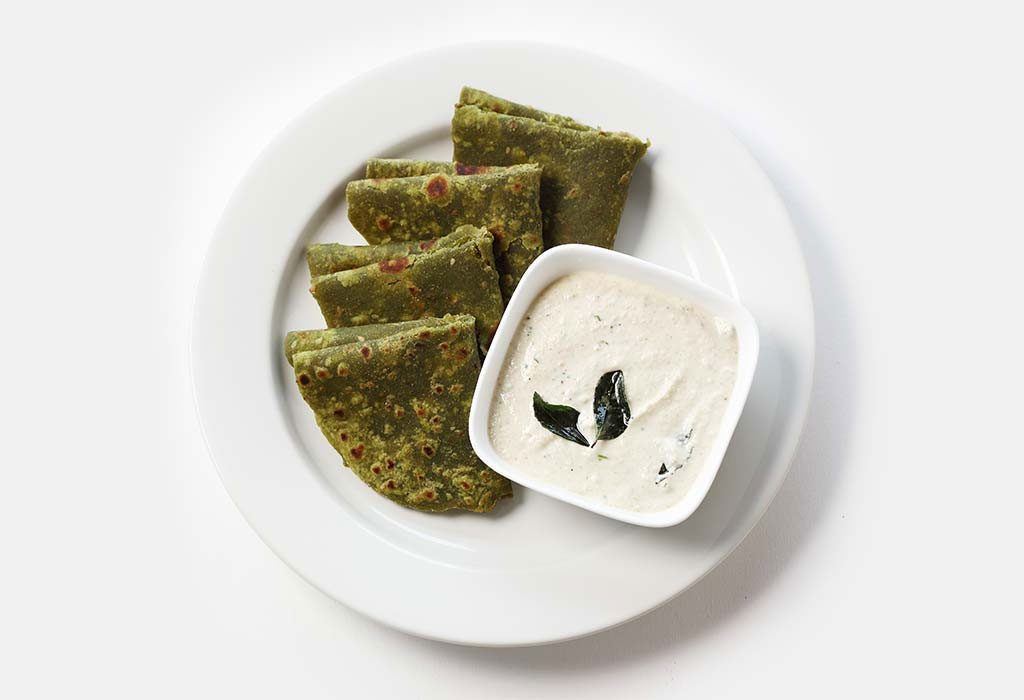 In this Article
Parathas are a powerhouse of nutrients and minerals and are a complete meal in themselves. As you prepare your baby to wean away from foods, introducing stuffed parathas is an idea that will surely work wonders. This easy Palak Paneer Paratha recipe packs the combination of fibre, proteins and vitamins with its ingredients of spinach and paneer.
Cooking Time
| | |
| --- | --- |
| Type | Time (hh:mm:ss) |
| Preparation Time | 00:20:00 |
| Cook Time | 00:30:00 |
| Total Time | 00:50:00 |
Cooking Method
Gas Stove
Type of Meal
Vegetarian
Suitable For
Toddlers above 18 months of age
Meal Schedule
Breakfast, Mid Morning Snack, Evening Snack, Lunch or Dinner.
Recipe Type
Main Dish
Ingredients
| | |
| --- | --- |
| Type | Quantity |
| Spinach (blanched and finely chopped) | 1 cup |
| Paneer (grated) | 1 cup |
| Whole wheat flour | 2 cups |
| Ginger (finely chopped) | 1 tbsp |
| Cumin seeds | 1 tbsp |
| Green chillies (finely chopped) | 1 tbsp |
| Turmeric powder | ¼ teaspoon |
| Red Chilli Powder (optional) | ¼ teaspoon |
| Coriander Powder | ¼ teaspoon |
| Onions (finely chopped) | 1 |
| Chaat masala | ½ teaspoon |
| Salt | As per taste |
| Ghee | 8-10 tbsp |
Instructions
If you are wondering how to make Palak Paneer Paratha, then follow this simple and easy step by step procedure to make it:
Add the salt to the wheat flour and knead it into a soft and pliable dough adding enough water.
Heat ghee in a pan. Saute the ginger and cumin seeds until they splutter. Add the spinach and saute for a few minutes.
Add the turmeric powder, coriander powder, chillies (optional) chaat masala and saute for 2-3 minutes.
Transfer this mixture into another bowl. Add the grated paneer, chopped onions and mix well.
Divide the dough into equal portions and roll each of them into rotis.
Spread the spinach mixture on one roti and cover it with another. Press the edges slightly to seal them and then roll into a paratha.
Heat a non-stick tawa for a minute. Once it is hot, place the parathas and cook for one minute. Flip over and apply ghee. Flip again and apply ghee to the other side too.
Recipe Tips
Some useful tips to make sure this Palak Paneer Paratha for babies:
Use whole wheat flour as it is easy to digest and also light on the stomach, making it a good meal option for babies.
You can eliminate the red chilli powder if you think that it will increase the spiciness for your baby. You could also reduce the number of green chillies and add just enough to enhance the taste.
Use home-made ghee and apply it liberally as your child will love the taste. Also, it will make the parathas soft.
Nutrition Information(Per 100 Grams)
| | |
| --- | --- |
| Type | Value |
| Calories | 1614 kCal |
| Carbohydrates | 224.9 gm |
| Protein | 65 gm |
| Fat | 50.5 gm |
| Niacin | 13 gm |
Health Benefits
If you are wondering about the health benefits about this home-made Palak Paneer Paratha recipe for your baby, then look no further:
Whole wheat flour is rich in riboflavin, folate, Vitamin B1, B3 and B5. It helps in digestion and keeps the tummy fuller for longer.
Spinach is an excellent source of Vitamin K, C, folate, magnesium, iron and Vitamin B2. It helps to bring oxygen to tissues in the body. It is also helpful for bone health. Spinach also contains a high amount of insoluble fibre that aids digestion.
Paneer is rich in protein, strengthens bones and teeth, improves digestion and is a rich source of folate.
Ginger and cumin seeds aid digestion.
Onions are rich sources of antioxidants and folic acid.
Buying Guide
A few things to keep in mind while picking up the ingredients for Palak Paneer Paratha for toddlers:
Spinach leaves must be fresh. Spinach is a winter vegetable, and it is best to make these parathas during winter. If you find the leaves wilted or have holes in them, discard them immediately.
Buy good quality whole wheat flour, preferably in sealed form. Loose quantities may be contaminated and adulterated.
You can choose to make paneer at home. Alternatively, you can use store-bought ones, but make sure to check the expiry date on the package.
Palak Paneer Parathas are an easy meal to rustle up and will bring a smile on your munchkin's face. It will soon become a staple appearance on your toddler's food table, on their demand!