Palak Pakodas Recipe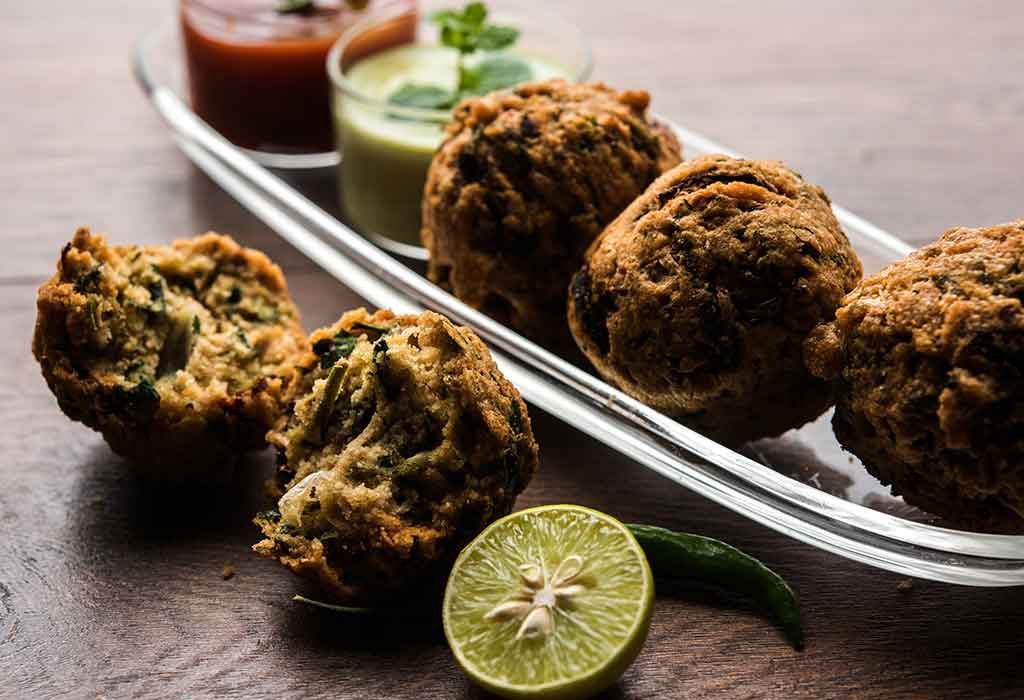 This easy palak pakoda (spinach fritters) recipe for babies is an excellent addition to the long list of food items that you have made for your little one. It is an interesting dish which combines the colours and flavours of spinach, onions, and various spices. Palak pakodas as therefore a favourite snack recipe among kids.
Cooking Time
| | |
| --- | --- |
| Type | Time (hh:mm:ss) |
| Preparation Time | 00:15:00 |
| Cook Time | 00:25:00 |
| Total Time | 00:40:00 |
Total Servings: 3-4
Suitable for: Any toddler above 20 months of age
Cooking Method: Gas stove, Induction or Microwave
Meal Schedule: Appetizer, Mid-day snack or Main Meal
Recipe Type: Appetizers, Snacks or Accompaniment to Main Meal
Ingredients
| | |
| --- | --- |
| Ingredients | Quantity & Volume |
| Chopped Spinach Leaves | 1 ½ cup |
| Chopped Onions | ¼ cup |
| Chopped Green Chillies (optional) | 1 ½ tsp |
| Chilli Powder (optional) | ½ tsp |
| Asafoetida | ¼ tsp |
| Turmeric Powder | ¼ tsp |
| Rice flour | 2 tbsp |
| Besan (gram flour) | ¾ cup |
| Baking Soda (optional) | A pinch |
| Salt | As per taste |
| Oil | Enough for deep frying |
| | |
| --- | --- |
| Water | As required to make the batter |
Instructions
Follow this step-by-step procedure to learn how to make palak pakodas for your baby:
Except for the oil and water, combine all the other ingredients in a mixing bowl.
Mix the ingredients well with your fingers.
Add some water to adjust the consistency of the batter. The batter should not too runny or too lumpy.
Heat oil in a deep pan or a kadhai.
Using a teaspoon, gently drop the batter on the hot oil.
Deep fry the pakodas (few at a time) on medium flame. Fry them until they turn golden brown.
Remove them from the oil and let them sit on an absorbent paper to remove the oil.
Recipe Tips
Follow these tips to get the homemade palak pakoda baby food recipe right:
Wash the spinach leaves in cold water. Spread them on a kitchen towel to soak the water. Then, chop them finely. You could also try using a food chopper to mince it.
Chop the onions finely.
Chopping the ingredients finely is essential to avoid choking hazards.
Fry the pakodas in sunflower oil, groundnut oil or refined oil. Do not re-use the oil in which you have fried the pakodas.
Adding the rice flour makes the pakodas crispier. If you want them slightly more soft and less crunchy, you can decrease the amount of rice flour.
Nutritional Facts
These nutritional facts are per 100 gram serving of palak pakodas
| | |
| --- | --- |
| Nutrient | Value |
| Total Calories | 339 kCal |
| Protein | 9.7 gm |
| Total Carbohydrates | 31.5 gms |
| Fat | 19.3 gms |
| Cholesterol | 0 mg |
| Sodium | 50.5 mg |
| Fibre | 7.3 gms |
Health Benefits
Homemade Palak Pakodas baby food recipe has its share of health benefits. A fried snack may not sound very appealing to you for your baby, but it does have its health benefits, and you can easily serve this once in a while to tickle you munchkin's taste buds.
Spinach is rich in folic acid and is a powerful antioxidant. It helps to keep the free radicals at bay.
Spinach is also rich in Vitamin B6, B9 and E that are essential for the healthy growth of the body.
Onions contain antioxidants and compounds that help fight inflammation. It also helps to strengthen the immune system.
Besan is rich in Vitamin B1 and B2 that helps increase the energy metabolism of the body.
Besan is made of chana dal, and therefore, loaded with protein.
Besan contains good fat and is helpful to aid in digestion.
Besan is an excellent source of minerals like iron, magnesium, copper, phosphorus and manganese.
Rich in folic acid, besan contains nutrients that increase the blood flow in the body.
The addition of ginger and green chillies is also medicinal. Ginger is good for digestion, and green chillies are a good source of iron.
Buying Guide
Make sure you follow the tips given below when buying ingredients to make this easy palak pakoda recipe.
Spinach is a winter vegetable, and it is best to make this dish during the winters.
Spinach leaves must not be dry and wilted. Ensure the leaves do not have holes in them as it indicates the presence of worms on it.
Buy besan in sealed packets available in supermarket shelves. Avoid buying besan in loose form as it may be adulterated.
Check the expiry date on the packaging to see if the besan is not outdated. Besan tends to rot and catch fungus if not stored properly.
Palak pakodas make for an excellent snack for kids. They are crunchy on the outside, soft on the inside and easy to bite. Mix the ingredients, fry them and serve them warm for your child to enjoy with some mint/ coriander chutney or ketchup. Your little one is sure to keep asking for more.