Baby Massage Oils – Which One Is Good for Your Child?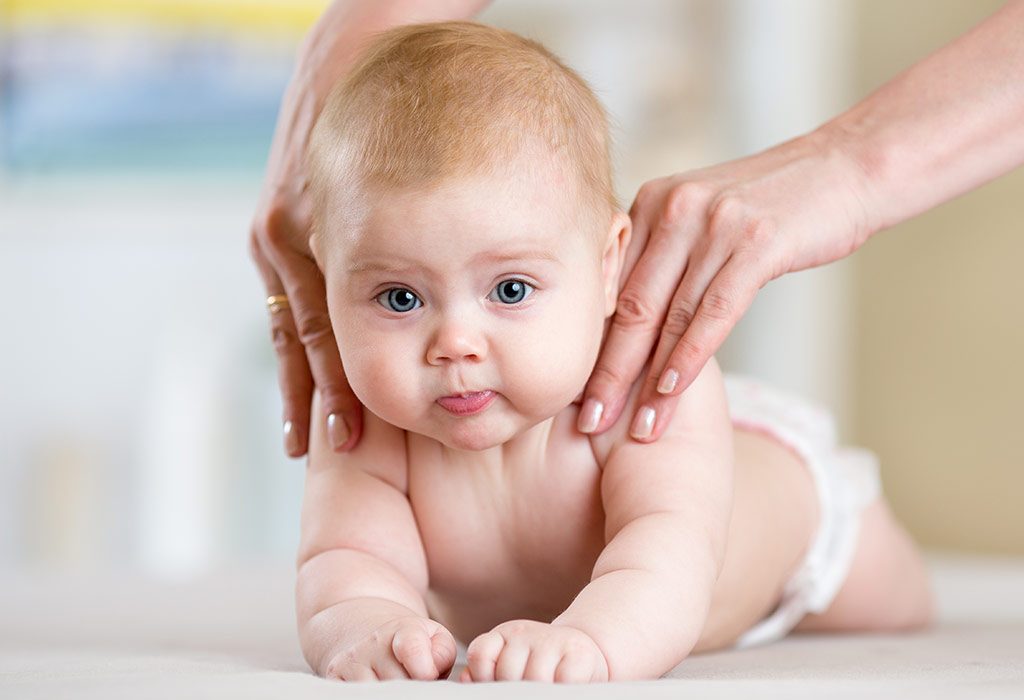 We've all heard that massaging your baby with oil is good for his development. But, have you ever wondered how these oils actually help the baby, and which ones are the most suitable for your baby's sensitive skin? If yes, then read on!
Benefits of an Oil Massage for Your Baby
There are various benefits of an oil massage for a newborn baby:
It makes your baby feel secure and safe, reduces crying, regulates breathing, and keeps him warm.
It improves blood circulation to the hands and legs.
Massages help make digestion and bowel movements easier. This is especially beneficial for colicky babies.
It relaxes your baby and makes him less anxious.
It can regulate the baby's sleeping pattern.
In premature babies, massages give amazing results. They have shown to boost weight gain, stabilise heart rate, and increase brain activity.
Which Are the Best Oils for Your Baby's Massage?
Although many types of oils are useful for your infant's skin, season-specific oils keep him happy all day long.
Oils That Are Good for Your Baby in Summer
1. Coconut Oil
Coconut oil should be used in summer as it has a cooling effect, is light in texture, and is easily absorbed into the skin. Being anti-fungal and anti-bacterial, you can rest assured that coconut oil is great for your baby's skin. You can use cold-pressed virgin coconut oil.
2. Sesame Oil
Sesame oil is light, and keeps your baby comfortable. This is the best baby massage oil that helps your little one develop strong bones.
Oils That Are Good for Your Baby in Winter
1. Mustard Oil
Mustard oil is very beneficial during the winter months. However, you should use mustard oil in combination with other carrier oils. A carrier oil is used to dilute a concentrated essential oil, so that it can be applied on the skin without the fear of side effects.
2. Olive Oil
Olive oil is a popular choice among mothers. However, don't use the oil if your baby has sensitive skin or has skin problems.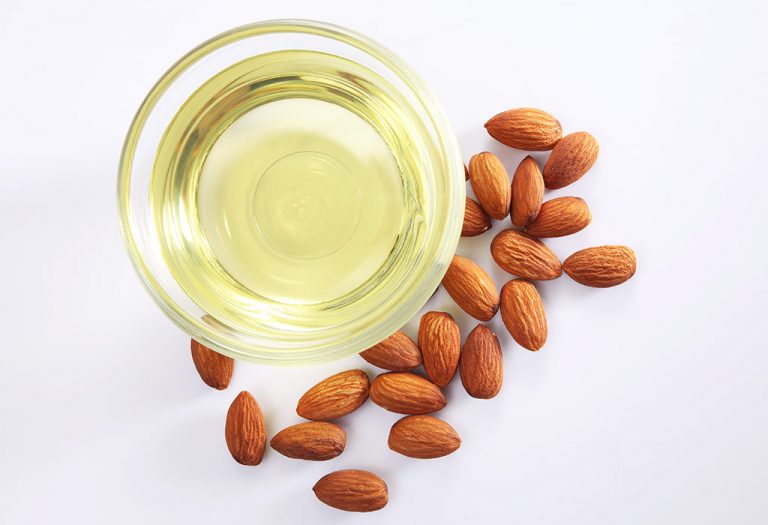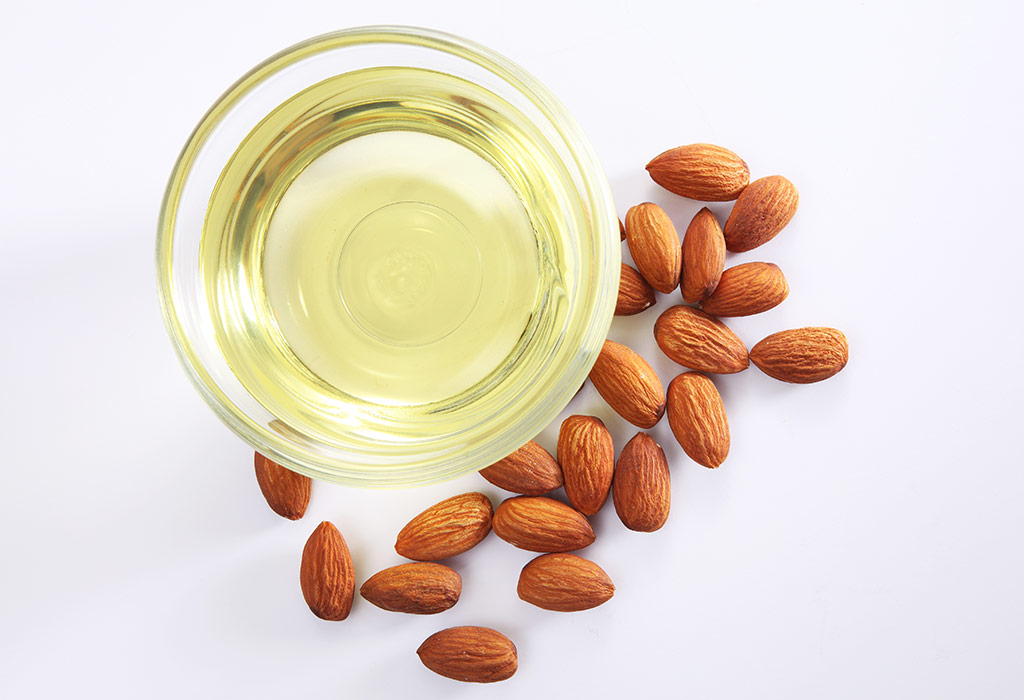 3. Almond Oil
Almond oil can be used in any season, as it's rich in vitamin E. It also smells great, and makes your baby's skin soft and supple. It is recommended that you use only pure almond oil for your baby's massage.
Which Massage Oils Can Be Used for Babies With Dry and Sensitive Skin?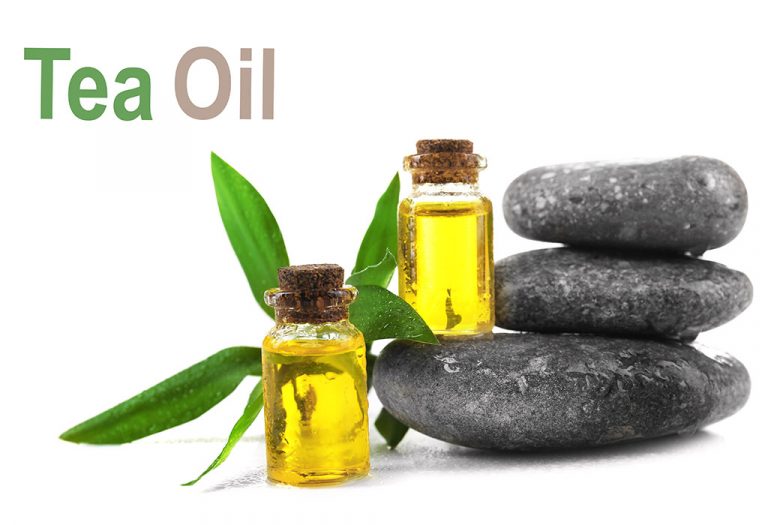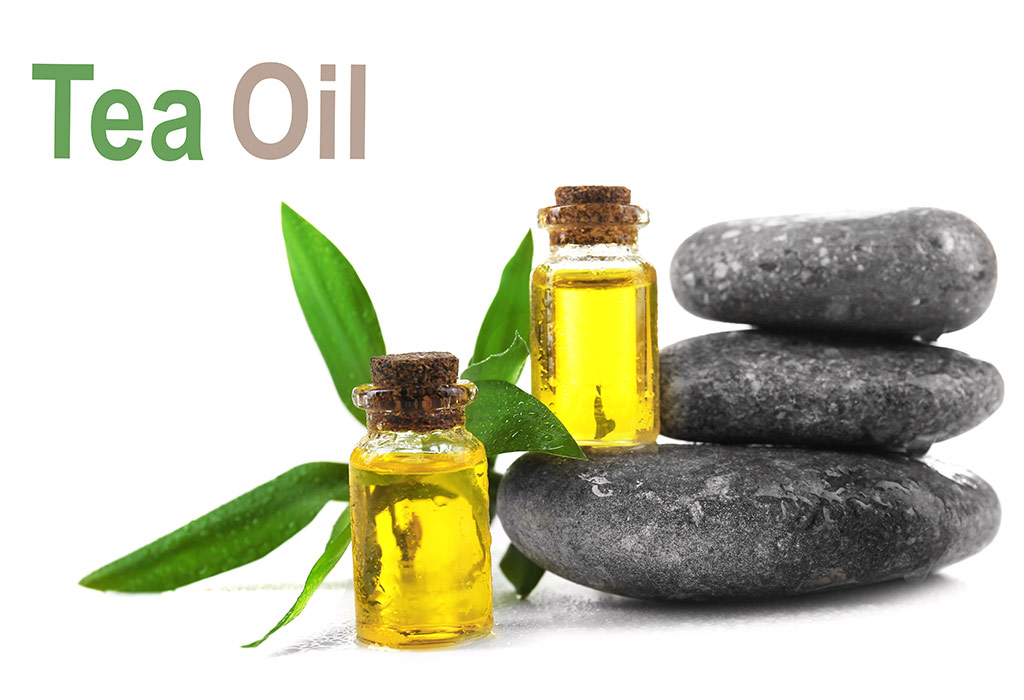 Any vegetable oil that is rich in polyunsaturated oils is the best oil for baby skin. These oils have a high content of linoleic acid, which is great for your baby. Some vegetable oils that fit this bill are:
1. Chamomile Oil
Chamomile is a good choice if your baby has sensitive skin or skin rashes. This oil can help with colic and ensure your baby gets sound sleep.
2. Tea Tree Oil
This natural oil is well-known for its antiseptic properties. You can mix a few drops of tea tree oil with a carrier oil, and use it on your baby's skin.
3. Calendula Oil
Calendula oil is also an essential oil that has a soothing effect on your baby's skin, with a mild smell that doesn't irritate your baby's nose.
For whichever oil you choose, do a patch test on your baby first. Apply a small amount of oil on your baby's skin, and observe how it reacts. If you don't see a reaction in three hours, then you can safely use that particular oil.
How to Choose the Right Oil for Your Baby's Massage
Follow these tips before you settle on a specific oil for your baby's massage time.
Ask your paediatrician for the oils that will suit your baby's skin type.
Use products specially formulated for babies. Products made for adults' skin aren't advisable for use, as they can cause harm to the baby's delicate skin.
Don't use oils that have a strong fragrance. Food-grade oils are the right choice, as they're safe even if your baby licks it off his skin.
Essential oils need to be diluted with a carrier oil before application.
Avoid using mineral oils for your baby's massage.
Which Oils Are Bad for Your Baby's Skin?
If your baby dry or sensitive skin or eczema, avoid using mustard oil, clarified butter, and olive oil. These oils are high in a substance called oleic acid. This substance is said to make the top layers of your baby's skin more permeable. This, in turn, makes the skin drier.
Things You Should Do Before Starting With a Massage
Creating a suitable environment is as important as the massage and the massage oil. This is how you can prep up the room before you start massaging your little one:
Shut the doors and windows. Put your pet, if any, in another room. Put your phone on silent mode.
Set the room temperature to around 24 degrees Celsius.
Play soft and relaxing music.
Lay your baby on a towel or changing mat.
Have at hand the massage oil bottle, hand towels, a change of clothes for both, and a diaper bag.
Tips to Keep in Mind While Massaging Your Baby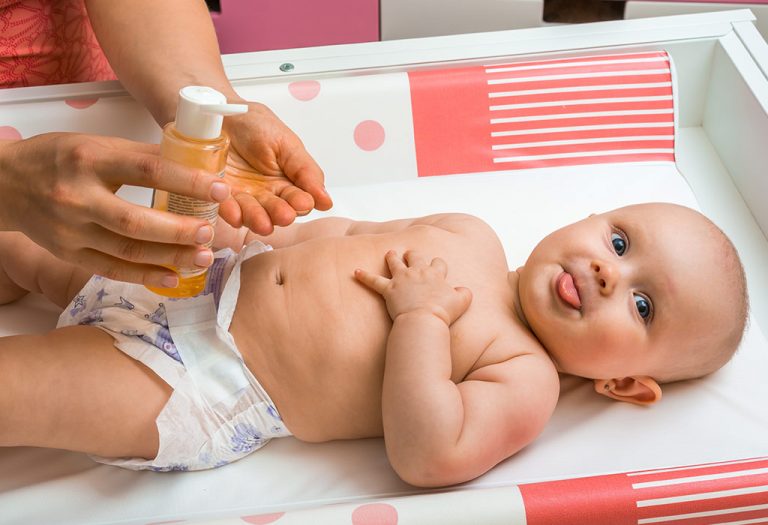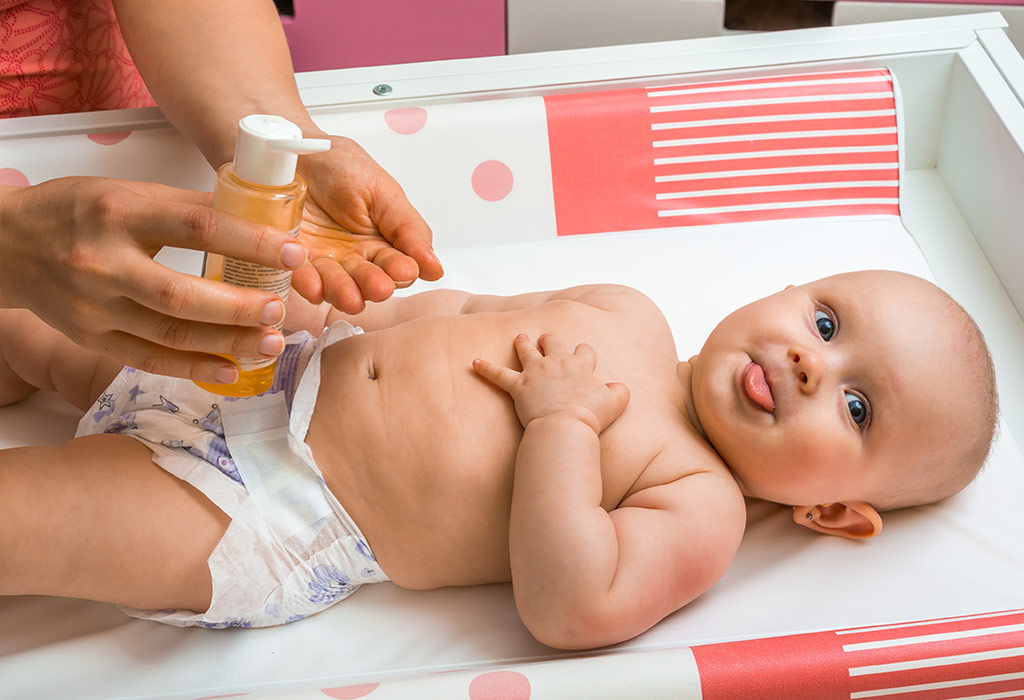 Here are a few points you should keep in mind while giving your infant a massage:
Most babies fall asleep after a massage, so ensure that massage time precedes nap time.
Massage your baby only if he likes it.
Don't apply too much pressure while massaging your baby.
Test the temperature of the oil before using it on your little one. The oil should be neither too cold nor too hot.
Ensure that your hands are warm, clean, and dry.
Use cold-pressed oils, as these are neither refined nor have any additives.
Learn the techniques for massaging your baby. You can ask a trusted elder in your family, or watch videos online on the same.
Avoid storing large quantities of oil, as it may turn rancid.
Check the expiry date on the oil bottle before buying it.
Do not put oil in the nose and ears.
FAQs
1. Can I Apply Oil on My Baby in Hot and Humid Weather?
You can give an oil massage in hot and humid weather, provided the oil is applied before bath time and rinsed off properly after. This will make the baby comfortable.
2. Should I Oil My Baby Before or After Bath?
In India, the traditional oil massage is followed by a bath. This works well for heavier oils that leave a thick residue that can be washed off.
Massaging your baby with oil is one of the oldest practices in India. There are many benefits of massaging your baby with oil; one of the best is that it is an unbeatable bonding experience with your baby. Babies crave their mother's touch, and this is the perfect opportunity to increase the health and development of your baby. Use oils according to season, and make sure you use pure oil, as your baby's skin is very delicate. Do not hesitate to talk to your doctor about any concerns you have, and get approvals from your doctor regarding the oil you choose.
Also Read: Essential Oils for Babies and Kids