Mango Yoghurt Recipe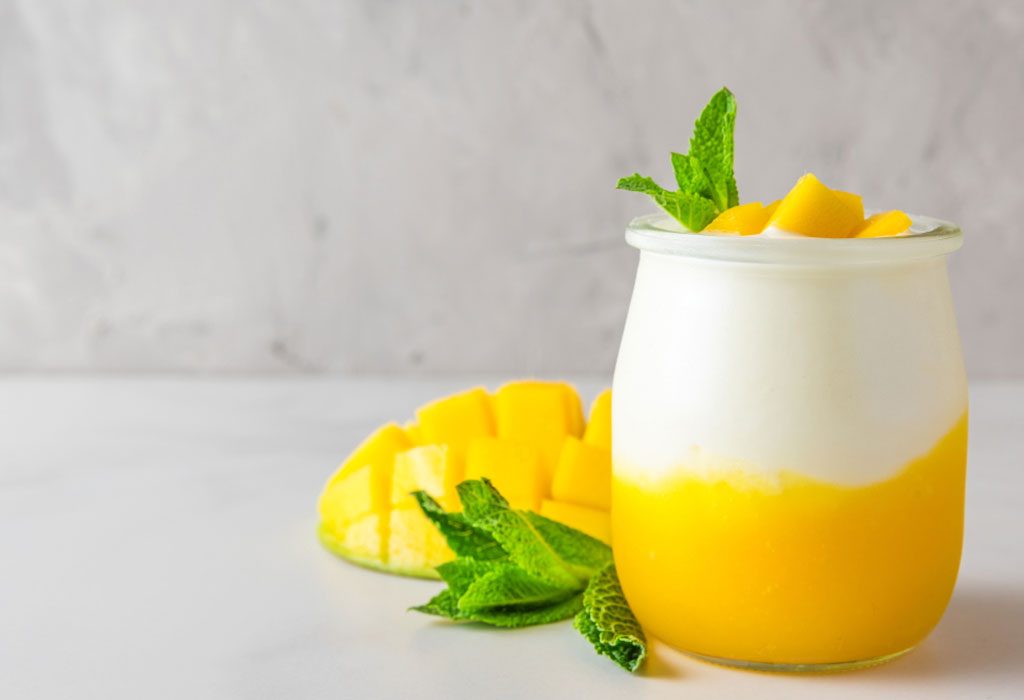 Yoghurt is very healthy and can help beat the sweltering heat of summers. A bowl of yoghurt can be very refreshing for kids. But if your child doesn't like to eat plain yoghurt, you can give it a twist by adding mangoes to it. Sweet and ripe mangoes can enhance the taste of yoghurt. If you want to know, how you can add the goodness of this summer fruit to yoghurt, learn here how to make mango yoghurt. Note down the recipe of mango yoghurt and give it a try the next time you want to treat your little munchkin and cheer him up.
Video: How to Make Mango Yoghurt for Babies and Toddlers (Suitable for Babies 12 Months of Age & above)
Cooking Time
| | |
| --- | --- |
| Type | Time (hh:mm:ss) |
| Preparation Time | 00:05:00 |
| Cook Time | 00:05:00 |
| Total Time | 00:10:00 |
Cooking Method
No gas involved
Type of Meal
Vegetarian (contains milk)
Suitable For
Babies above 12 months of age
Meal Schedule
Breakfast, mid-morning, or evening.
Recipe Type
Beverage
Ingredients
| | |
| --- | --- |
| Type | Quantity |
| Mangoes (chopped) | 2 small-sized |
| Milk | 2 tbsp |
| Sugar/honey | 1 teaspoon |
| Cardamom powder | 1/4th tsp |
| Saffron strands | 3-4 |
| Yoghurt | 2 cups |
| Almonds (chopped) | 5 |
Instructions
Follow this step-by-step guide to learn how to make mango yoghurt at home.
Take the yoghurt in a bowl and stir it well so that it is smooth.
Add the chopped mango pieces to the bowl of yoghurt and mix well.
Transfer the yoghurt and mango mixture to a blender and blend it. Add cardamom powder, honey, and almonds to it.
Blend again to get a smooth puree.
Shake the blender jar gently and pour it an air-tight glass. Refrigerate it for about 30 minutes to 1 hour.
Garnish with chopped almonds and saffron strands and give it to your child.
Recipe Tips
Follow the below tips to make sure you make the most delicious mango yoghurt.
When making mango yoghurt, choose Alphonso mangoes, which are known for their sweetness.
You can add chopped mango pieces stored in the freezer for about 20 minutes to the yoghurt before blending. Using chopped mangoes will help you make a thicker drink.
Don't add Ice-cream or ice-cubes as your baby might catch a cold.
For the best homemade mango yoghurt baby food recipe, use mangoes with less fibre and more flavour. Canned mango pulp or frozen mango cubes can be used if fresh mangoes are not available.
You can skip the sugar and honey if mangoes are sweet enough.
Cardamom assists in digestion and lends this drink a nice flavour, so don't forget to add it.
If you're using curd, make sure you use which is made from cow's milk as it is easily digestible.
Use fresh curd before it turns sour to ensure its soft taste and flavour.
Nutrition Information (Per 263 Grams or 1 Serving)
| | |
| --- | --- |
| Type | Value |
| Carbohydrates | 34grams |
| Calories | 66kcal |
| Calcium | 13% |
| Sodium | 66mg |
| Cholesterol | 16mg |
| Total Fat | 4.5 gram |
| Vitamin A | 22% |
| Potassium | 361mg |
| Sugar | 33gram |
| Vitamin C | 57% |
| Iron | 1.8% |
| Calcium | 13% |
| Manganese | 1.4% |
| Zinc | 0.3% |
| Phosphorus | 1.1% |
Health Benefits
Here are some of the amazing health benefits of mango yoghurt for babies:
Mangoes not only has an impressive taste but a great nutritional profile. Low in calories, mangoes are rich in vitamin C and can help boost immune strength of your child. The antioxidants in mangoes can protect your child from any chronic illness.
The dietary fibre and digestive enzyme present in mangoes can smoothen the digestion process.
The lactose in yoghurt can help keep gastric problems, diarrhoea, and stomach irritation at bay.
Power-packed with vital nutrients like Vitamin A, C, B-6, D, E, K, folate, and riboflavin, yoghurt can help in the overall growth and development of a child.
Buying Guide
Note down the tips given below while buying the ingredients required for making mango yoghurt for your little one.
Pick ripe mangoes that are yellow in colour and blemish-free.
Buy organic fruits that are free from harmful pesticides.
Check the 'use-by' date on the milk packet if you plan to make yoghurt at home.
Buy saffron only from established brands.
Choose unsweetened or unflavoured yoghurt.
There you go – you have a simple recipe for mango yoghurt, which you can make in a jiffy. So go ahead and buy some mangoes and try this delicious mango yoghurt recipe. Your little one is going to enjoy having it. You can make this summer party dessert once or twice a week for your little one whenever he craves for sweet