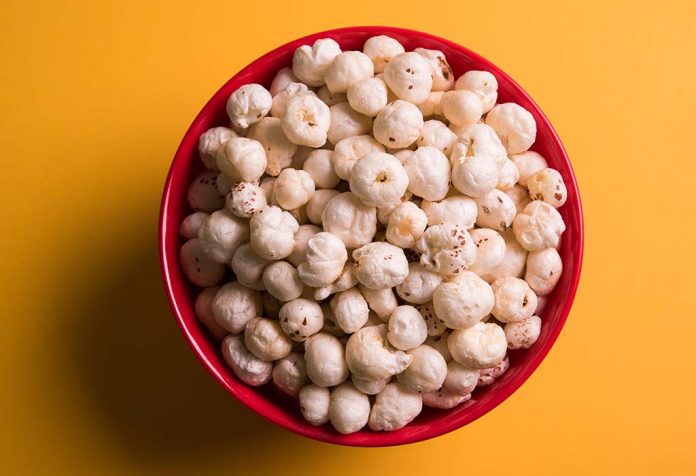 Fox nuts are highly nutritious, and in India, these seeds are popularly known as makhanas. These popped seeds are widely consumed during the fasting season or as a healthy snacking option. Being a calorie-dense food option, makhanas make you feel fuller and satiated within no time. Not many of you may know that these popped lotus seeds are not only an excellent dietary supplement for adults, but it is also an ideal food option for the growing babies. The versatile makhanas are readily available in supermarkets or grocery stores. And you can use these nutritious seeds in various ways in your baby's diet too. Read this post to know how your baby can benefit from eating these nutritious seeds and also learn some easy recipes!
What are the Nutrients Present in Makhana?
Lotus seeds or makhanas are packed with many essential nutrients. The following table shows the nutritional content present in the makhanas:
| | |
| --- | --- |
| Nutrient | Value |
| Carbohydrates | 20 g |
| Protein | 5 g |
| Vitamin A | 15.9 IU |
| Vitamin B6 | 0.3 mg |
| Folate | 33 mcg |
| Iron | 1.2 mg |
| Calcium | 52 mg |
| Potassium | 430 mg |
| Phosphorus | 198 mg |
| Total Omega-3 fatty acids | 32 mg |
| Total Omega-6 fatty acids | 340 mg |
The values mentioned above are approx nutritional content present in a cup of makhana or 32 grams makhana.
Table Source: https://nutritiondata.self.com/facts/nut-and-seed-products/3065/2
When Can Makhanas Be Introduced to Infants?
Makhana or fox nuts for babies are amongst one of the healthiest food options, and these seeds can be introduced anytime after six months of age. It is a good idea to start with smaller amounts; for example, a spoonful of makhana powder can be given for three to four days. Once your baby gets comfortable with it and exhibits no signs of allergy or other issues, you can slowly increase the number of makhanas in your baby's diet. Older babies, who are comfortable with chewing their food, can be given roasted seeds because lotus seeds for toddlers are a great finger food option. No doubt makhanas are great for babies and toddlers but do not give these seeds in large amounts to babies. These seeds are known to increase the body heat and thus should be carefully given during summer months too.
What are the Benefits of Makhana for Babies?
In Indian culture, makhanas or Phool makhanas have been in use for the longest time, and it has great relevance in the Ayurveda too. Here are some makhana benefits for toddlers and babies:
Lotus seeds are power-packed with the goodness of calcium and thus great for the development of your growing baby's bones and teeth.
These yummy seeds are gluten-free, which makes them one of the safest foods for babies. This is because gluten-free food is less likely to cause allergies in babies.
Being a rich source of protein, these seeds are ideal food supplement for babies as it helps in strengthening baby's muscles and bones.
Makhanas are loaded with antioxidant properties, which are great for maintaining good health for babies, and it also protects them from severe health conditions.
These seeds contain ample amounts of fibre and thus help in keeping your baby's digestive system in place.
Makhanas are also beneficial for maintaining great kidney health.
These seeds are calorie-dense and thus make your baby feel satiated and satisfied. Thus it may prove to be one of the ideal food options during travels.
Tips to Select and Store Makhana
Every mommy wants to offer the best things to her baby and whenever you are planning to buy and store this wonder food for your baby, here are some tips that may come handy:
Prefer organic seeds rather than non-organic ones. This is because organic seeds are grown without any chemicals and thus a better and healthier option for your baby.
Always check for the expiry date and buy smaller packets.
Any moisture may spoil the makhanas, therefore, always store them in a clean airtight container.
Make sure you cut the makhanas and check for any worms, before giving it your baby.
Always exercise moderation while giving these seeds to your baby.
Makhana Food Recipes for Infants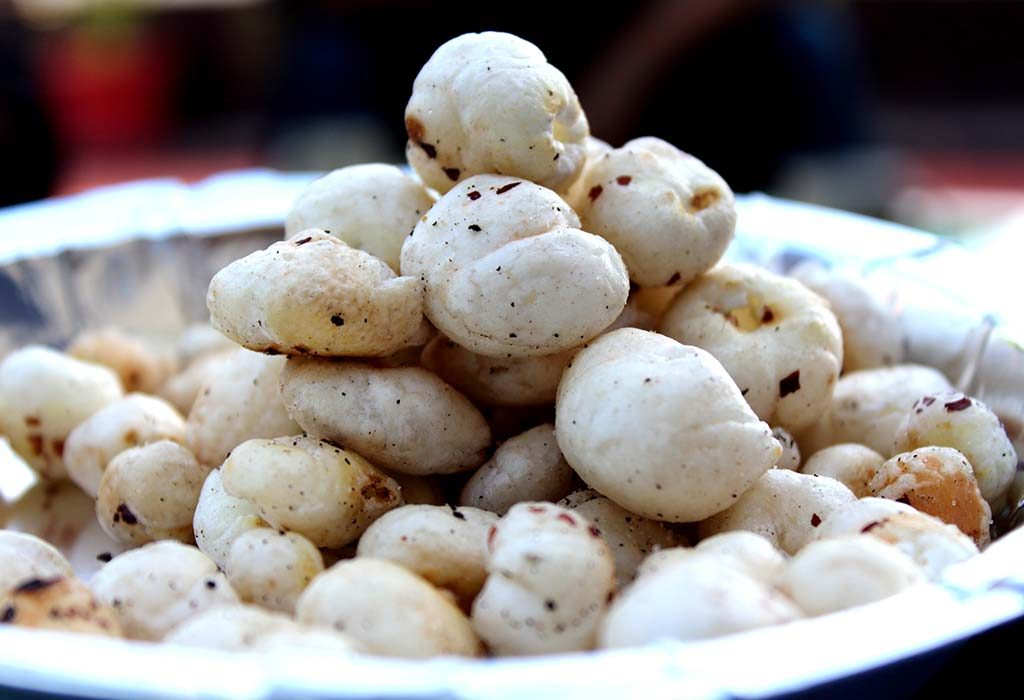 You can introduce this super food in your baby's diet in various ways. We shall be discussing some simple and easy recipes that your little munchkin may relish and enjoy. Following are some makhana or fox nut recipes for babies that you can try:
1. Fox Nut Cereal Powder
This cereal powder is easy to make and it a great food option for your baby, especially when you are travelling or you are running short of time.
Ingredients
1 cup makhana seeds
4 to 5 cashew nuts
¼ teaspoon cardamom seeds
Procedure
Cut the makhanas into half to check for any worms.
Dry roast these seeds in a heavy bottomed pan until they turn crispy.
Roast the cashew nuts on low heat.
Let the makhanas and cashew nuts cool down.
Put all the ingredients in a mixture and turn into a fine powder.
Sieve the powder and store it in an airtight jar.
Servings
Makes ½ cup cereal powder
2. Makhana Porridge
You can use the ready to use cereal powder to make makhana porridge for babies or try out the following recipe.
Ingredients
½ cup makhanas
1 teaspoon ghee
¾ cup water
Organic sugar, fruit puree or dates syrup (as per choice)
Procedure
Cut the lotus seeds and keep aside.
Heat ghee in a shallow pan and roast makhanas for 2 to 3 minutes.
Add water and cook until makhanas turn mushy and gooey.
Add any sweetener to for a sweet taste.
For a smoother texture, the makhana kheer or porridge can be churned in a mixture.
Servings
Serves 1
3. Yummy Roasted Makhanas
This is a great finger food option for babies who are more than eight months old or babies who can chew solid food comfortably.
Ingredients
2 cups lotus seeds or makhana
2 teaspoons desi ghee or any other oil you wish to use
½ teaspoon turmeric powder
½ teaspoon cumin powder
¼ teaspoon pepper powder
Salt to taste
Procedure
Chop the makhanas into smaller pieces.
Take a heavy bottomed pan and heat one teaspoon ghee in it.
Add the chopped makhanas and roast on low flame for a few minutes or until they turn crispy.
In a separate pan, heat one teaspoon ghee and add turmeric powder, cumin powder and pepper powder and cook for a few seconds.
Add roasted makhanas into the spice mix and add salt. Mix well.
Let the roasted makhanas cool down before you transfer the contents into a clean airtight jar.
Use clean hands or clean spoon to scoop out makhanas from the jar. Do not put the unused or uneaten makhanas back in the jar.
Servings
Serves 1
These are some easy recipes that you can make for your little one and introduce the goodness and nutrition of the makhanas. However, before you add any new food in your baby's diet, you should seek your doctor's advice. When you start new foods, try one spoon on the first day, two spoons on the second day, and so on until you are sure the baby can eat it without having any allergic reactions.
Also Read:
Eating Asparagus for Infants
Consuming Tofu for Babies
Eating Butternut Squash for Infants