What You Need to Know About Breastfeeding If You Have Tested Positive for COVID-19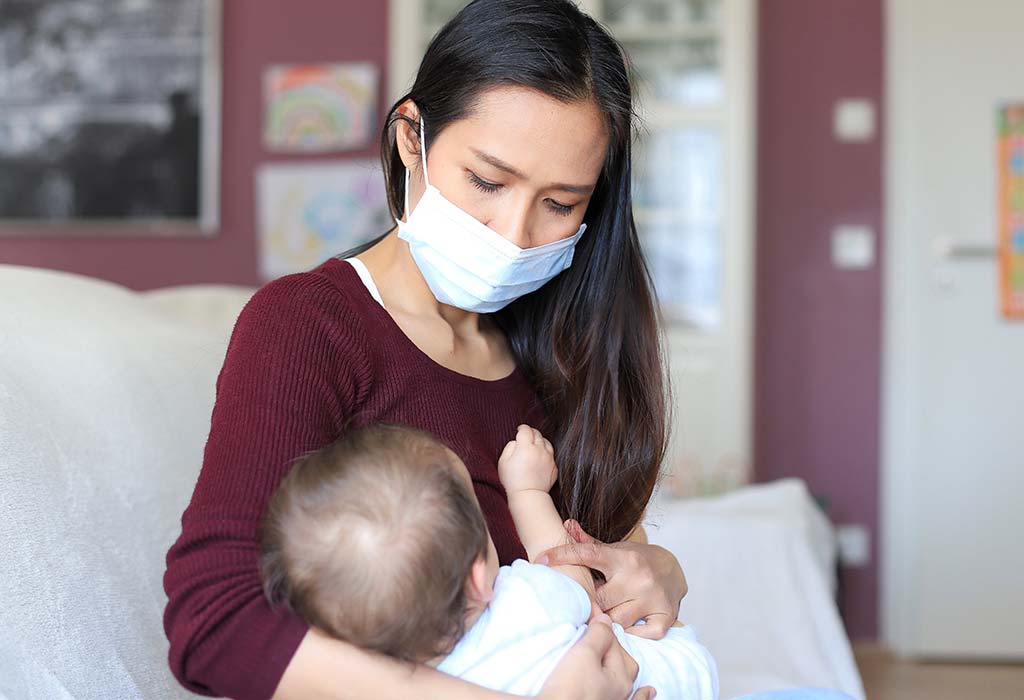 Since the identification of the SARS-CoV-2 (the virus that causes COVID-19 disease) in December 2019 and the resultant pandemic, it has been a stressful time for everyone. The novelty of SARS-CoV-2 has raised some serious concerns among breastfeeding mothers regarding their vulnerability and whether there's a chance that they could transmit the infection to their babies while breastfeeding.
This article aims at answering all the queries and doubts surrounding breastfeeding, especially if you've been declared COVID-19–positive.
Is It 'Safe' to Breastfeed If You Have Tested Positive for COVID-19?
SARS-CoV-2 spreads through close contact between people when the infected person sneezes, coughs, or talks. So far, this virus has not been found in breast milk. The World Health Organization (WHO), Centers for Disease Control and Prevention (CDC), the Academy of Breastfeeding Medicine, and the American Academy of Pediatrics (AAP) all recommend that even if the mother tests positive for COVID-19, she should continue breastfeeding her baby.
For babies in the neonatal intensive care unit (NICU), their mother's milk is all the more important as it helps the baby's underdeveloped immune system fight against all types of infections.
Breastfeeding has been shown to be safe when a mother has other viral illnesses such as influenza. That is because breast milk has the important and one-of-a-kind antibodies that help prevent the baby from becoming sick with COVID-19.
Benefits of Breastfeeding Through a Pandemic
Breastfeeding is great for babies. It protects them from several infections. Infants who are breastfed are generally less likely to contract severe respiratory problems when they get sick. Breastfeeding is great for the mother, too. The hormones released in the mother's body during breastfeeding help promote wellness and in relieving stress and anxiety.
There are several other benefits too. Since breast milk is readily available, it doesn't have to be purchased! This is really important during public health emergencies when it becomes more challenging to purchase formula and other feeding supplies.
Best Breastfeeding Practices for COVID-19–Positive Mothers
Practise good respiratory hygiene, including while feeding your baby. If you have respiratory symptoms like breathlessness, use a medical mask while breastfeeding your baby and every time you are within six feet of him.
Wash your hands thoroughly with handwash, or soap or use a good sanitiser before and after breastfeeding your baby.
Routinely disinfect and clean your home, especially frequently touched surfaces. This is because, according to the Centers for Disease Control and Prevention (CDC), the COVID-19 virus is known to stay active on objects or surfaces too.
Suppose you are severely ill with COVID-19 or unwell from other complications that prevent you from taking care of your infant or continuing to breastfeed him directly. In that case, you can express your breast milk to safely provide it to your infant.
Suppose you are too unwell or feel weak to breastfeed or express breast milk. In that case, you can explore the possibility of relactation, i.e. restarting breastfeeding after some gap, using donor human milk, or wet nursing (having another woman breastfeeding or taking care of your child).
If You Are COVID-19–Positive and Choose to Express Breast Milk
Use your own breast pump (one that hasn't been shared with anyone else), if possible.
Wear a mask at all times, even while expressing breast milk.
Wash your hands thoroughly with soap and water for at least 20 seconds before you touch the breast pump or bottle parts and before expressing breast milk.
Follow the instructions given on the breast pump packaging for proper pump cleaning after each use. Clean every part of the pump that comes into contact with breast milk.
You can consider having a healthy caregiver who does not have COVID-19, is living in the same home, and is not at increased risk for severe illness from COVID-19 to feed the expressed breast milk to your baby. Ensure that the caregiver wears a mask when caring for your baby for the entire duration you are in isolation and throughout their own quarantine period after you complete isolation.
FAQs
1. Can I stay in the same room with my baby if I have been tested positive for COVID-19?
If you and your family members choose to keep your baby in the same room with you, try to keep a suitable distance from your baby when possible. Always wear a mask and wash your hands whenever you are in direct contact with your baby. Continue taking all these precautions until you have no longer have a fever, at least for 24 hours, and without taking any fever medicines, for a minimum of ten days since your COVID-19 symptoms first started, and all the symptoms have improved. If you tested positive for COVID-19 but have no symptoms, it is recommended to wait until at least ten days after you get the positive test result.
2. How can I maintain my milk supply if I am COVID-19–positive?
Hand expressing breast milk is especially helpful in the first few days after your baby's birth to get the milk supply going. Frequent pumping (or breastfeeding if you have opted to breastfeed directly and are following the strict precautions mentioned above) should align with your baby's feeding demands. Ask your paediatrician or a lactation consultant for help with getting your infant to latch on again once you restart breastfeeding. Do not hesitate to reach out for help if you have difficulties with feeding, low milk supply, nipple pain, or other breastfeeding concerns.
3. How can I protect my baby from COVID-19 infection?
Wash your hands frequently with soap and water for at least 20 seconds. You can even use a hand sanitiser if soap and water aren't available. Avoid touching your eyes, mouth, or nose with unwashed hands. If you feel unwell, take extra precaution to cough or sneeze into a tissue or your elbow. Make sure that everyone in your home avoids close contact with anyone showing respiratory symptoms such as coughing, sneezing or people with probable COVID-19.
Your breastmilk is the best nutrition you could offer your baby and can protect against several illnesses. If you are sick, you (or someone else) can give your infant expressed breast milk. You can also check with local healthcare facilities about donated breastmilk, just in case. You can talk to your doctor to help decide if you should continue to breastfeed. While this may be a difficult time, try to stay optimistic and reduce stress as much as possible. This involves getting enough sleep, eating healthy, and exercising regularly.​ ​
Also Read:
A Complete List of Things to Stock Up For Babies During the Coronavirus Outbreak
How to Protect Your Child During the Second Wave of COVID-19
Is it Safe to Get a COVID-19 Vaccine During Pregnancy or Breastfeeding?