Good Friday 2023 – Beautiful Wishes, Quotes, and Messages
Good Friday commemorates the crucifixion of Jesus Christ and His death. This holy day is observed preceding Easter Sunday, and is spent fasting and reflecting on the sacrifice Jesus Christ made for His fellow humans. This year, as you observe the day with complete devotion, send some of these Good Friday messages to remind your loved ones about the importance of the day.
21 Good Friday Wishes for Your Loved Ones
These Good Friday wishes are great to be shared with family and friends on this holy occasion: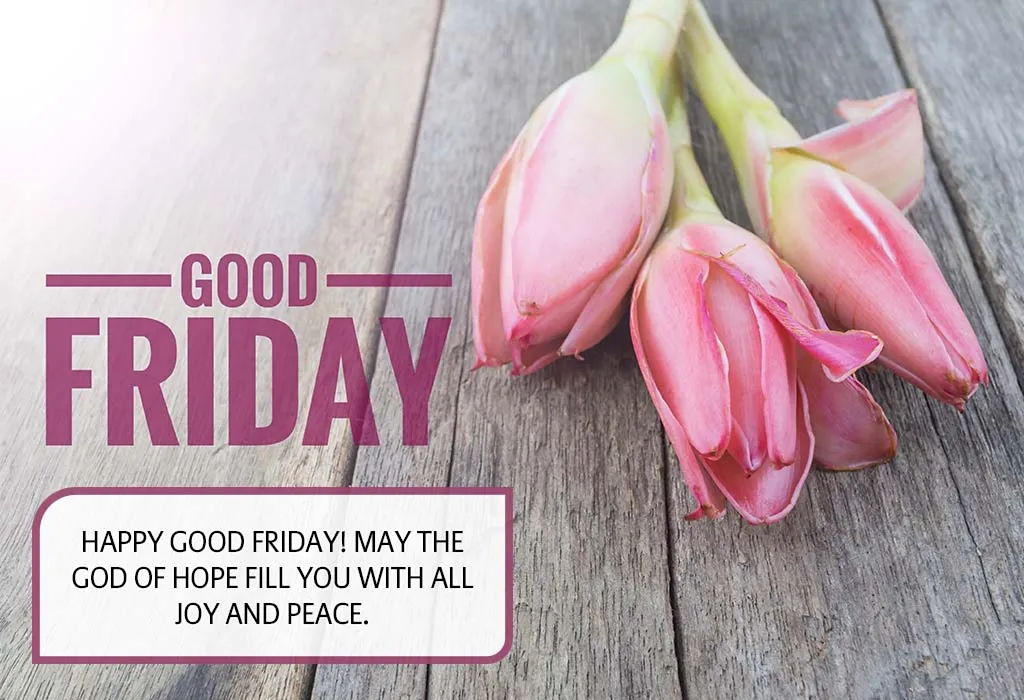 May the Almighty shower you and your loved ones with the choicest blessings. Sending warm wishes on Good Friday to you!
Praying that the Lord holds you in His love and blesses you with His grace on this holy day and always.
May this Good Friday bring peace and prosperity in your life. May the Holy Spirit shield you from any danger, and may the Lord light your way up, now and always.
May, on this holy day, we start with fasting and prayers so that we can bring God's mercy and forgiveness to all mankind. May we all pray together, and may the Lord bless us all!
Praying and hoping that the blessings of God are always upon us on this Good Friday!
Good Friday marks the slaying of our Jesus, the unblemished lamb, the perfect sacrifice. He took our guilt and blamed upon Himself.
May the God of hope fill you with all joy and peace. Wishing you all a Happy Good Friday!
We who are enlisted to be fellow workers with God know that death did not have the last word, that Good Friday was not the end of the story.
You are blessed to be given another chance to live. Make use of it and be a blessing, just like Jesus Christ is to us. Have a Good Friday!
Life is a maybe, Death is for sure. Sin is the cause, Christ is the cure! Happy Good Friday!
Thinking of you on Good Friday and praying that the Lord keeps you in His loving care always. Happy Good Friday!
On this holy day, may His light guide your path, may His love grace your heart, and may His sacrifice strengthen your soul! Good Friday!
He bore it all in silence because He held us dear. May He receive our regards, may our prayers be answered. Have a Good Friday!
May the loving kindness of the high God be with you as you take the time to revere His name this Good Friday.
Take a promise to love, forgive, and live a life full of peace on this Good Friday. Have a blessed Good Friday!
I wish the Lord will keep you in his loving care now and always. Happy Good Friday!
May God give you mercy and forgiveness. May He shower you with love and His Blessings. Wishing a very Happy Good Friday to you!
May the Lord shine his blessings upon you on this holy day. May He always keep you in his loving care. Have a blessed Good Friday!
Good Friday is beautiful because it reminds us that we matter to the great Lord. Have a divine Good Friday with your family and loved ones!
May your faith in God bring peace to your heart and new hope in your lives. May God always bless you! Have a Blessed Good Friday!
I wish the Lord will keep you in his loving care now and always.-Happy Good Friday All
20 Good Friday Quotes for Friends and Family
Share these quotes on Good Friday with your loved ones to highlight the significance of the holy day: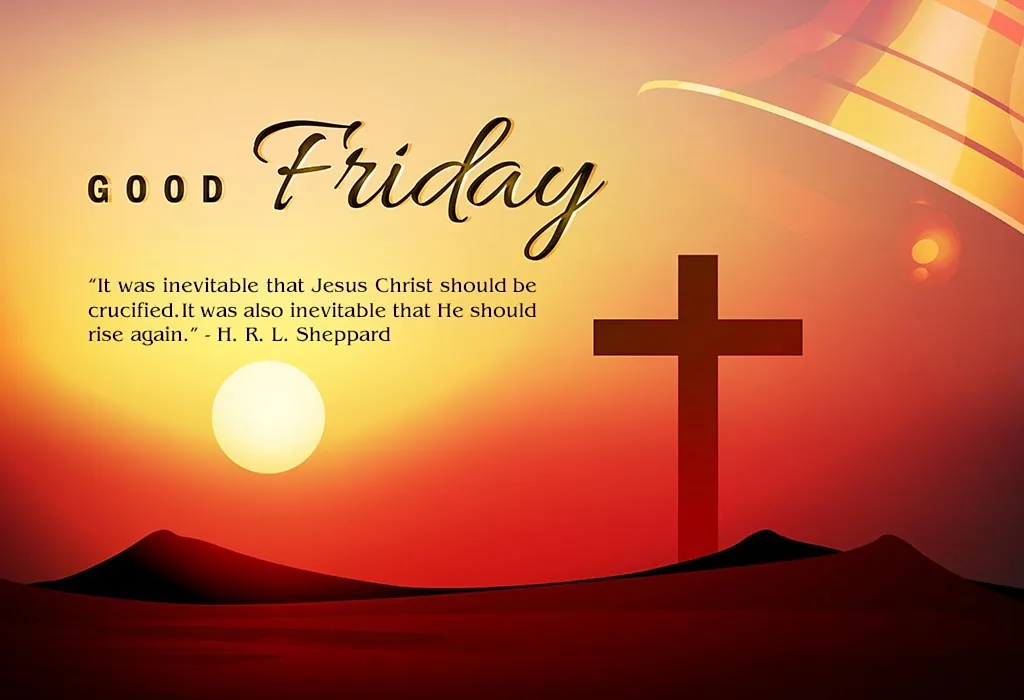 No pain, no palm; no thorns, no throne; no gall, no glory; no cross, no crown. – William Penn
All of heaven is interested in the cross of Christ, hell afraid of it, while men are the only ones to ignore its meaning. – Oswald Chambers
God proved his love on the cross. When Christ hung, and bled, and died, it was God saying to the world I Love You! – Billy Graham
The dripping blood our only drink, The bloody flesh our only food: In spite of which we like to think, That we are sound, substantial flesh and blood. Again, in spite of that, we call this Friday good. – T.S. Eliot
Exalt the Cross! God has hung the destiny of the race upon it. Other things we may do in the realm of ethics, and on the lines of philanthropic reforms; but our main duty converges into setting that one glorious beacon of salvation, Calvary's Cross, before the gaze of every immortal soul. – Theodore Ledyard Cuyler
Good Friday is the mirror held up by Jesus so that we can see ourselves in all our stark reality, and then it turns us to that cross and to his eyes and we hear these words, "Father, forgive them for they know not what they do". That's us! – Anonymous
What is good about Good Friday? Why isn't it called Bad Friday? Because out of the appallingly bad came what was inexpressibly good. And the good trumps the bad, because though the bad was temporary, the good is eternal. – Randy Alcorn
Good Friday and Easter free us to think about other things far beyond our own personal fate, about the ultimate meaning of all life, suffering, and events; and we lay hold of a great hope. – Dietrich Bonhoeffer
The Cross! There, and there only though the deist rave, and the atheist, if Earth bears so base a slave; There and there only, is the power to save. – William Cowper
Good Friday is a day of sorrow mingled with joy. It is a time to grieve over the sin of man and to meditate and rejoice upon God's love in giving His only Son for the redemption of sin. – David Katski
Practice mercy and forgiveness throughout as a lesson that symbolises the love shown through his crucifixion. – Unarine Ramaru
Good Friday is a day of hope. It is a day where we look forward to a brighter tomorrow. Many things have happened to change the course of our lives, but it has not shaken our faith. – Rev Dr Peola Hicks
Unless there is a Good Friday in your life, there can be no Easter Sunday. – Fulton J. Sheen
We do not attach any intrinsic value to the Cross; this would be sinful and idolatrous. Our veneration is referred to Him, who died upon it. – James Gibbons
He drained the cup of God's wrath bone dry, leaving not a drop for us to drink. – Richard Allen Bodey
The Cross was the manifestation of Divine love without reserve or limit; but it was also the expression of man's unutterable malignity. – Sir Robert Anderson
Christmas and Easter can be subjects for poetry, but Good Friday, like Auschwitz, cannot. The reality is so horrible it is not surprising that people should have found it a stumbling block to faith. ― W.H. Auden
Our Lord has written the promise of the resurrection, not in books alone but in every leaf in springtime. – Martin Luther
It was inevitable that Jesus Christ should be crucified. It was also inevitable that He should rise again. – H. R. L. Sheppard
If Christ is God, He cannot sin, and if suffering was a sin in and by itself, He could not have suffered and died for us. However, since He took the most horrific death to redeem us, He showed us in fact that suffering and pain have great power. – E.A. Bucchianeri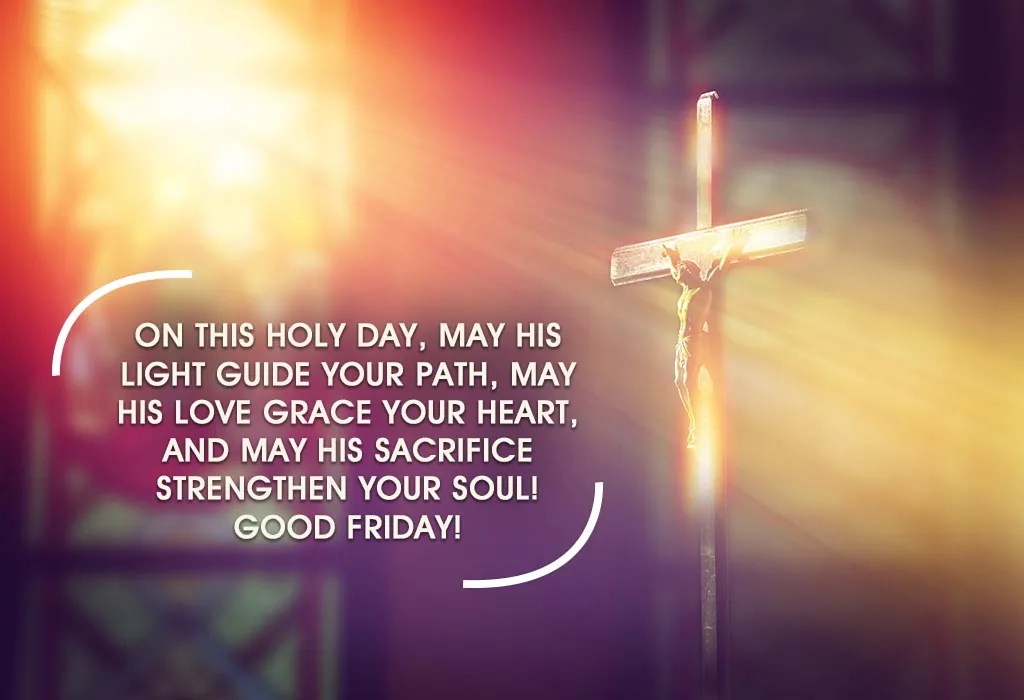 A small text message can bring people closer. By sending these Good Friday wishes and quotes to your loved ones, you can assure them that you are thinking about them on this holy day, and that you care for them deeply!