60 Lovely Fatherhood Quotes and Sayings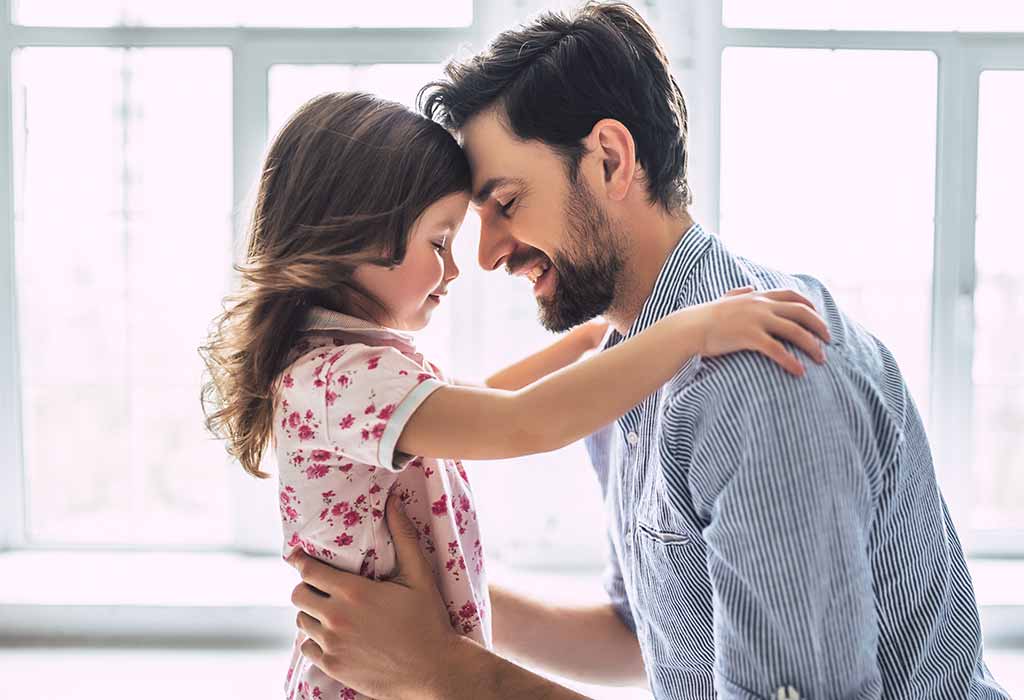 In this Article
Anyone can father a child, but it takes an entire lifetime to become a dad. Fathers play an essential role in every child's life that significantly shapes a
child's personality
. Fathers are the pillars in the development of a child's emotional well-being. They lay down the rules and enforce them so that their children learn to differentiate between right and wrong. Children feel the most secure around a father that helps develop inner growth and strength. Best quotes about fatherhood can make us feel inspired by their hard work and achievements despite the adversities and challenges that they might have encountered. Be it
Father's Day
, Birthday, or no particular occasion, it is only apt to ponder some of the best fatherhood quotes funny to cheer them up and make them feel special by adding a positive thought to their day.
60 Beautiful Quotes About Fatherhood
Studies suggest that fathers of previous generations saw a sense of purpose in providing financial support for their families and providing discipline to their children. Some acted as leaders and role models for their families. In today's generation, the role of a father has evolved from a distant bread earner to a more holistic recognition that they are equal co-parents. Their participation in bringing up a child has considerably increased. They are more involved in driving positive behaviors, promoting health, and teaching skills like confidence and resilience that impact a child's future. Their unconditional love and care teach kids to be affectionate, supportive and take care of everyone else by setting the best example as a caretaker, teacher, and friend. Fatherhood quotes inspirational teach us to respect our fathers and make sure we take good care of them in their old age. From waltzing for a dance, baking a cook, going fishing, singing silly songs, or playing baseball together, many moments make up our childhood memories with our dads. However close or far we may be from our fathers, his influence in our lives is rather long and powerful. Great quotes on fatherhood help recognize the labor of those involved fathers who toil their entire lives, make personal sacrifices, rise above their ambitions, and bring us joy. So it is important to celebrate his loving presence with some of the best quotes about fatherhood that will provide excellent prompts for reflection and honor his contribution to enriching our lives.
"One father is more than a hundred schoolmasters." – George Herbert
"My father gave me the greatest gift anyone could give another person, he believed in me." – Jim Valvano
"I hope I can be as good of a father to my son as my dad was to me." – Calvin Johnson
"A good father is one of the most unsung, unpraised, unnoticed, and yet one of the most valuable assets in our society." – Billy Graham
"I cannot think of any need in childhood as strong as the need for a father's protection." – Sigmund Freud
"It is a wise father that knows his own child." – William Shakespeare
"You don't raise heroes, you raise sons. And if you treat them like sons, they'll turn out to be heroes, even if it's just in your own eyes." – Walter M. Schirra, Sr.
"The nature of impending fatherhood is that you are doing something that you're unqualified to do, and then you become qualified while doing it." – John Green.
"That is the thankless position of the father in the family-the provider for all, and the enemy of all." – J.August Strindberg
"Having children is like living in a frat house. Nobody sleeps, everything's broken, and there's a lot of throwing up." – Ray Ramana
"Any fool can have a child. That doesn't make you a father. It's the courage to raise a child that makes you a father." – Barack Obama
"I have found the very best way to advise your children is to find out what they want to do and advise them to do it." – Harry S. Truman
"It is easier to build strong children than to repair broken men." – Frederick Douglas
"I was selfish before. Everyone is. But when you have kids, they become your main priority." – David Beckham
"To a father growing old, nothing is dearer than a daughter." – Euripides
"It doesn't matter who my father was; it matters who I remember he was." – Anne Sexton
"A wise son maketh a glad father: but a foolish son is the heaviness of his mother." – Proverbs 10:1
"We think our fathers fools, so wise we grow. Our wiser sons, no doubt will think us so." – Alexander Pope
"And, ye fathers – provoke not your children to wrath: but bring them up in the nurture and admonition of the Lord." – Ephesians 6:4
"Father! – To God himself we cannot give a holier name." – William Wordsworth
"A man knows when he is growing old because he begins to look like his father." – Gabriel García Márquez
"To be a successful father . . . there's one absolute rule: when you have a kid, don't look at it for the first two years." – Ernest Hemingway
"Happy is the father whose child finds his attempts to amuse it, amusing." – Robert Lynd
"It is much easier to become a father than to be one." – Kent Nerburn
"Fathers, like mothers, are not born. Men grow into fathers – and fathering is a very important stage in their development." – David M. Gottesman
"It is easier for a father to have children than for children to have a real father." – Pope John XXIII
"To her, the name of father was another name for love." – Fanny Fern
"A father is a man who expects his son to be as good a man as he meant to be." – Frank A. Clark
"A father is always making his baby into a little woman. And when she is a woman he turns her back again." – Enid Bagnold
"My father didn't tell me how to live. He lived and let me watch him do it." – Clarence Budington Kelland
"He adopted a role called being a father so that his child would have something mythical and infinitely important: a protector." – Tom Wolfe
"Anyone who tells you fatherhood is the greatest thing that can happen to you, they are understating it." – Mike Myers
"Every father should remember one day his son will follow his example, not his advice." – Charles Kettering
"Being a father is the most important role I will ever play and if I don't do this well, no other thing I do really matters." – Michael Josephson
"By the time a man realizes that maybe his father was right, he usually has a son who thinks he's wrong." – Charles Wadsworth
"One of the greatest tragedies of life is that fathers and sons can love each other deeply without ever getting to know each other. Get to know each other." – Michael Josephson
"The words that a father speaks to his children in the privacy of home are not heard by the world, but, as in whispering—galleries, they are clearly heard at the end and by posterity." – Jean Paul Richter
"The most important thing a father can do for his children is to love their mother." – Theodore Hesburgh
"My daddy, he was somewhere between God and John Wayne." – Hank Williams, Jr.
"Being a great father is like shaving. No matter how good you shaved today, you have to do it again tomorrow." – Reed Markham
"My father used to play with my brother and me in the yard. Mother would come out and say, "You're tearing up the grass." "We're not raising grass," Dad would reply. "We're raising boys." – Harmon Killebrew
"Noble fathers have noble children." – Euripides
"The quality of a father can be seen in the goals, dreams, and aspirations he sets not only for himself but for his family." – Reed Markham
"Fathering is not something perfect men do, but something that perfects the man." – Frank Pittman
"Of all the titles I've been privileged to have, 'Dad' has been always the best." – Ken Norton
"I love my mother and father. The older I get, the more I value everything that they gave me." – Liev Schreiber
"My father taught me you have to believe in yourself and run on your own track." – Jennifer Grey
"The heart of a father is the masterpiece of nature." – Antoine François Prévost
"He was all iron outside, but all father within." – Hall Caine, The Manxman
"Life doesn't come with an instruction book — that's why we have fathers." – H. Jackson Browne
"Father of fathers, make me one, A fit example for a son." – Douglas Malloch
"Every dad, if he takes time out of his busy life to reflect upon his fatherhood, can learn ways to become an even better dad." – Jack Baker
"Fatherhood is the best thing that could happen to me, and I'm just glad I can share my voice." – Dwayne Wade
"I'm a big fan of fatherhood, and I'm a big fan of my family." – Jaime Camil
"Fatherhood is a joy. I feel very lucky to have a family. It gives you a perspective on things." – David Harewood
"Fatherhood is an honour, and men should be strong enough to step up the plate." -Karamo Brown
"If there is any immortality to be had among us human beings, it is certainly only in the love that we leave behind. Fathers like mine don't ever die." – Leo Buscaglia
"Son, there are times a man has to do things he doesn't like to, in order to protect his family." – Ralph Moody
"His values embraced family, revealed in the social mingling of the kitchen, and above all, welcomed the loving disorder of children." – John Cole
"My father had taught me—mostly by example—that if a man wanted to be in charge of his life, he had to be in charge of his problems." – Stephen King
Most cultures worldwide have recognized fatherhood's importance, which brings some fantastic and foundational building blocks for strengthening a family, a child's development, beliefs, relationships, and overall growth. Thus, no matter how busy you get, you must remember to make his day with short quotes about fatherhood to express your love and gratitude for him.
Also Read:
Tips on How to Be a Good Father
Importance of a Father in a Child's Life
Why Every Father Is a True Hero of Your Life