32 Heart-touching Mother and Son Poems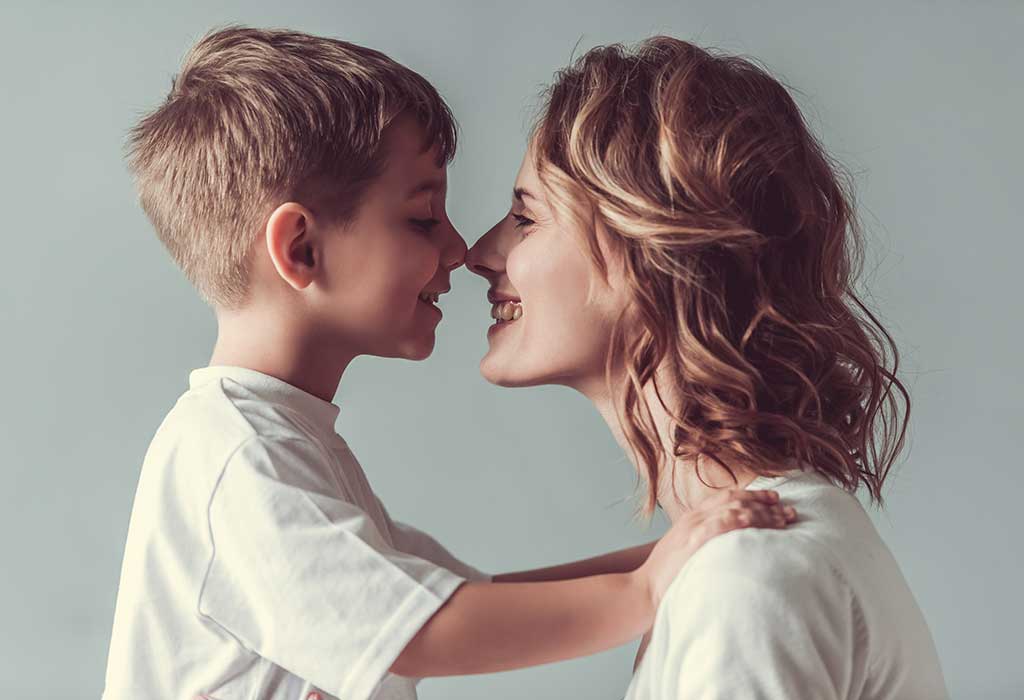 In this Article
A mother is so important to a child, and no bond in the world can be as special as the bond between mother and son. It is well-known that mothers and sons often share a one-of-a-kind, deep bond that transcends understanding. This type of emotion can be very hard to put into words, which is why people have had to get creative and write poetry to try to express those feelings of deep and pure love. In this article, we have covered some mother and son poems for you that have a beautiful meaning attached to them. Let's read!
32 Awesome Poems About Mother and Son Relationship

The following are a selection of mother-son poems from both viewpoints, where the poet has artfully put into words how they feel about this sacred bond.
1. To My Son by Alicia Daly
A poem expressing a mother's love for her son cannot be shorter and sweeter than this.
A mother's love is deep.
The more you grow, the more I weep.
You act all grown
But know you'll never be alone
For you are my son,
And a mother's love is never done.
2. The Precious Smile by Paarth Wassan
This poem describes how a mother's smile can make a child feel.
The smile that gives me warmth, love, affection,
The smile that contents me,
The smile that is a combination of care and friendliness,
The smile that refills the confidence to achieve,
The smile that brings a twinkle in eyes,
The smile that is adorable, satisfactory, affectionate,
Yes! It's my MOM's smile that is the most precious one for me!
3. Springtime Fun by Bill Baker
Here, the poet reminisces about the fun days when he played in the stream near his house.
Trickling water in the brook,
Smiling faces take a look.
Little fish are everywhere,
Bare feet giving them a scare.
Splashing water on each other,
Standing near my smiling mother.
It's such fun here in the stream,
Just like in my springtime dream.
Mother's happy standing there,
Sunlight showing through her hair.
If she's join us as we play,
It would perfect this springtime day.
4. I'd Choose You Again, Son by Kelly Roper
This is one of the sweetest poems from a mother to her son as it speaks of the heart of mothers with adopted sons.
I may not be your mother by birth,
But you're my true son in my heart.
I chose to create this bond with you,
And no one can tear it apart.
I couldn't love you more even if
I had carried you in my womb.
My heart's bursting at the seams with love,
And there simply isn't any more room.
I bless the woman who have your life
And let you come to our family.
If I had to do it all over,
I'd choose you again as the son for me.
5. Guiding Light Mom by Karl and Joanna Fuchs
This poem explains how a mother means everything to her child.
Mom, from the time I was really young,
I realized I had someone… you,
who always cared,
who always protected me,
who was always there for me no matter what.
You taught me right from wrong,
and pushed me to do the right thing,
even when it was hard to do.
You took care of me when I was sick,
and your love helped make me well.
You had rules,
and I learned that when I obeyed them,
my life was simpler, better, richer.
You were and are the guiding light of my life.
My heart is filled with love for you,
my teacher, my friend, my mother.
6. A Mother Knows Her Son by Michele Meleen
This is one of the most touching poems from a mother to her son as she lovingly watches over her son throughout his life.
My dear, sweet boy
I've seen it all
From your first kicks
To your first kiss.
You might think right now
You know it all,
But I've seen more of you
Than you ever knew.
A mother knows her son
Better than anyone ever could
Because I gave you life
And help you shine your light.
7. Tribute to Mother by John Greenleaf Whittier
This poem is the account of a grown-up man who, looking back, is grateful to his gentle mother for loving him enough to discipline him.
A picture memory brings to me,
I look across the years and see
Myself beside my mother's knee.
I feel her gentle hand restrain
My selfish moods, and know again
A child's blind sense of wrong and pain.
But wiser now,
A man grey grown,
My childhood's needs are better known.
My mother's chastening love I own.
8. Son, I Owe All My Gray Hairs to You by Kelly Roper
Kelly Roper shares a few hilarious memories as she accounts for her grey hairs in this entertaining poem.
I had brown hair when you were born,
But that didn't last very long.
I owe my grey hairs to you, my boy,
And I'll remind you how I got each one.
Those grey hairs at my temples
All came out from the time you went fishing
In your daddy's expensive saltwater tank,
And some of those fish are still missing.
Those grey hairs along my hairline
Are not highlights I got from my beautician
They appeared when you tore through the neighbour's garden
Like you were on a search and destroy mission.
That smattering of grey you see
Growing right out of my crown
Is a souvenir I got from that wedding
Where you hurled on the bride's fancy gown.
They say grey hair is a mom's badge of honour,
And that may very well be true,
But I wouldn't trade them for all the world,
If it meant one less second with you.
9. We Go Together Like Mother and Son by Michele Meleen
In this cute poem, Michele Meleen highlights how the bond between a mother and her son goes together like peanut butter and jelly.
Peanut butter and jelly,
Moon and star,
These iconic pairings
Can't compare to what we are.
We go together like mother and son.
A match made in heaven
We'll stick together
Whether you're seven or eleven!
When two things fit
Like the Earth and the Sun,
They can only be mother and son.
10. Mother and Son by Rose Falcone
Rose Falcone explores the feelings of helplessness of a mother to protect her son from the world. She remains faithful in her love for him in any way she can.
My son
I am here
I cannot protect you
From the world
My son
I am here
I can only love you
No matter what
My son I am here
My love unconditional
On this you can rely
My son
I am here
To guide you and to teach you
And now you must fly
My son
I am here
Life can be difficult
I hear your cry
My son
I am here
Changes are painful
Never forget who you are
My son
I am here
Maintain the faith
In yourself and in God
My son
I am here
Self-acceptance is yours
Do not fear
My son
I am here
11. For My Son on Mother's Day by Kelly Roper
Here the mother believes that the best thing about Mother's Day and being a mother is her beautiful son.
You're the reason I'm a mother,
And it's a job I truly love.
And every morning when I wake,
I thank the good Lord above,
For giving me such a wonderful son
Who fills my heart with joy.
This might be my day, but I want you to know
I'm so glad that you're my boy.
12. I Love You Son by Michele Meleen
Michele Meleen gets creative in this poem where she expresses her love for her son.
I love you son
Like no one else
Only you and I
Verified love personified
Every single
Moment I'm with
You, I feel that I love
Sensing you feel it too
Only a mother's love
Nourishes your soul.
13. Mother to Son by Langston Hughes
Langston Hughes shows a bit of tough love in this poem, sharing good advice from life experience.
Well, son, I'll tell you:
Life for me ain't been no crystal stair.
It's had tacks in it,
And splinters,
And boards torn up,
And places with no carpet on the floor-
Bare.
But all the time
I'se been a-climbin' on,
And reachin' landin's,
And turnin' corners,
And sometimes goin' in the dark
Where there ain't been no light.
So boy, don't you turn back.
Don't you set down on the steps
'Cause you finds it's kinder hard.
Don't you fall now-
For I'se still goin', honey,
I'se still climbin',
And life for me ain't been no crystal stair.
14. Wishes for My Son by Michele Meleen
Michele Meleen shares her wishes for her son, something that all mothers can relate to.
If wishes were like seeds,
On a dandelion in the yard,
I blow mine out on a breeze
For Mother Nature to safeguard.
I'd wish for my son
To be happy and free
Like the bright burning sun
Or a bird in a tree.
I'd wish for my son
To feel safe and loved
Like man when life had begun
And the angels up above.
15. Sonnets Are Full of Love by Christina Rossetti
This love poem is a wonderful way of honoring a loving mother.
Sonnets are full of love, and this my tome
Has many sonnets: so here now shall be
One sonnet more, a love sonnet, from me
To her whose heart is my heart's quiet home,
To my first love, my mother, on whose knee,
I learnt love-lore that is not troublesome;
Whose service is my special dignity,
And she my loadstar while I go and come.
And so because you love me, and because
I love you, Mother, I have woven a wreath
Of rhymes wherewith to crown your honoured name:
In you not fourscore years can dim the flame
Of love, whose blessed glow transcends the laws
Of time and change and mortal life and death.
16. Mother O' Mine by Rudyard Kipling
This is one of the son-to-mother poems that speak of loving and loyal mothers.
If I were hanged on the highest hill,
Mother o'mine, O mother o'mine!
I know whose love would follow me still,
Mother o'mine, O mother o'mine!
If I were drowned in the deepest sea,
Mother o'mine, O mother o'mine!
I know whose tears would come down to me,
Mother o'mine, O mother o'mine!
If I were damned of body and soul,
I know whose prayers would make me whole,
Mother o'mine, O mother o'mine!
17. Morning Song by Sylvia Plath
Here, Sylvia Plath wrote about a mother's first morning with her baby boy.
Love set you going like a fat gold watch.
The midwife slapped your foot-soles, and your bald cry
Took its place among the elements.
Our voices echo, magnifying your arrival. New statue.
In a drafty museum, your nakedness
Shadows our safety. We stand round blankly as walls.
I'm no more your mother
Than the cloud that distils a mirror to reflect its own slow
Effacement at the wind's hand.
All night your moth-breath
Flickers among the flat pink roses. I wake to listen:
A far sea moves in my ear.
One cry, and I stumble from bed, cow-heavy and floral
In my Victorian nightgown.
Your mouth opens clean as a cat's. The window square.
Whitens and swallows its dull stars. And now you try
Your handful of notes;
The clear vowels rise like balloons.
18. I Love You Mom by Marcus Moore
Marcus Moore shares what his mother means to him – something that all sons feel about their beloved mothers.
My mother is so special to me, she's more than just a friend.
Whenever I need her, she will always give me a hand.
She loves me, even from when I was a child
Even 'til this day and beyond, she said I'll always be wild.
She supported me and guided me in all that I tried.
She does what she can to get me through pain, suffering and cries.
Times, the good and the bad, she helped me through it all.
She had confidence and believed in me and told me to stand tall.
She helped me through my struggles in life when my father wasn't there,
Whenever I needed her, she was always there
My mom is the greatest person I know, God made my mother special, you see,
There's nothing in this world that she wouldn't do for me.
She helps me to succeed even when it wasn't an option,
She does all that she can,
Raising a young boy into a man.
To you mom, I want to say thank you for all that you do,
and most importantly… I love you.
19. Super Mom by Joanna Fuchs
This poem echoes the loving sentiments that a child has for their mother.
Mom, you're a wonderful mother,
So gentle, yet so strong.
The many ways you show you care
Always make me feel I belong.
You're patient when I'm foolish;
You give guidance when I ask;
It seems you can do most anything;
You're the master of every task.
You're a dependable source of comfort;
You're my cushion when I fall.
You help in times of trouble;
You support me whenever I call.
I love you more than you know;
You have my total respect.
If I had my choice of mothers,
You'd be the one I'd select!
20. What "Mother" Means by Karl Fuchs
Karl Fuchs explains in his beautiful poem that the word mother has so much meaning for a word so simple.
"Mother" is such a simple word,
But to me there's meaning seldom heard.
For everything I am today,
My mother's love showed me the way.
I'll love my mother all my days,
For enriching my life in so many ways.
She set me straight and then set me free,
And that's what the word "Mother" means to me.
Thanks for being a wonderful mother, Mom!
21. Mommy, I Love You by Nicholas Gordon
This short poem shows the son's love for his mother. This mother and son poem can be a great pick for Mother's Day.
Mommy, I love you
For all that you do.
I'll kiss you and hug you
'Cause you love me, too.
You feed me and need me
To teach you to play,
So smile 'cause I love you
On this mother's day.
22. Mystery Mom by Joanna Fuchs
Joanna Fuchs wonders how a mother keeps loving her children and does so much for them each day.
Mom, your love is a mystery:
How can you do it all?
You're always there with the perfect fix
For my problems, big and small.
Your love protects me day after day,
So I'm fearless, safe and sound.
I feel that I can do anything
Whenever you're around.
Mom, your love is a mystery,
I haven't got a clue
Why you love me all time,
But I'm glad you do!
23. All You Are to Me by Jesse
Jesse writes this heartfelt poem to thank his mother for all she did for him. It is a beautiful poem about a son's strong bond with his mother.
Thank you, Mom…
For the love, strength and care
For in this world that is quite rare
For being my guardian and my guide
On those sad days when I cried
I'm proud of you because…
You never gave up hope when the times were hard
You kept going forward through it all, yard by yard
You have never let others change who you are
You have always shown me that you're my favorite star
You move through the unknown with strength
No matter how far the length
I would have never been here today,
Without your motherly advice
Without your ultimate sacrifice
Without the support I needed
I never would have succeeded
Without your unbounded love
I could never stay above
I just wanted you to know…
I will always stand by your side
I will give back and be your guide
I will fight for you in the hard times
Even if all I have are a few dimes
I will never lose my faith in you
My love for you is always true
I will always be there
On those days you are hurt and sad
And you feel everything is going bad
I will hold you in my arms and say
I'm glad to be with you here today,
When you feel you are alone
I will be your chaperone
So thank you, Mom,
I love you so much!
Never forget, the support and love I have for you will never diminish,
You are one of the strongest people I know,
So don't let anyone else's evil decisions or careless actions
Change who you are today.
You are better than all of them and stronger in every way.
From your son's heart.
24. From Kindergarten to Graduation by Kelly Roper
Kelly Roper shares another fond memory of her time with her son, highlighting the deep bond and the pride a mother has in her son.
I remember the sunshine that morning
When I took your little hand in mine.
Together we walked those few blocks to school
Where you went for the very first time.
I remember the unsure look on your face
As we entered the classroom door.
You tightened your grip on my hand because
You'd never been to school before.
I smiled at you to show it was okay,
And took you to meet your new teacher.
She told you it was going to be a great day,
But I don't think you really believed her.
I gave you a hug, we said our goodbyes,
And I walked toward the door to leave.
I looked back to see there were tears in your eyes,
And you wiped them away with your sleeve.
I worried the hours away that first day
Wondering how you were getting along.
Were you making friends, did you eat your lunch?
What if something had gone wrong?
The sad boy I left in the classroom
Wasn't the boy who met me at the school door.
You were grinning as you happily told me
You wouldn't be afraid of school anymore.
Now I'm here at your college graduation,
Remembering that long-ago day.
You've grown from a boy to an educated man,
And I'm prouder of you than I can say.
25. My Miracle Mother by Joanna Fuchs
Children can sometimes take their mothers for granted. Joanna Fuchs reflects on this issue and speaks of how mothers will never stop loving their children anyway.
Mom, I look at you
And see a walking miracle.
Your unfailing love without limit,
Your ability to soothe my every hurt,
The way you are on duty, unselfishly,
Every hour, every day,
Makes me so grateful
That I am yours, and you are mine.
With open arms and open heart,
With enduring patience and inner strength,
You gave so much for me,
Sometimes at your expense.
You are my teacher,
My comforter, my encourager,
Appreciating all, forgiving all.
Sometimes I took you for granted, Mom,
But I don't now, and I never will again.
I know that everything I am today
Related to you and your loving care.
I gaze in wonder
As I watch you being you-
My miracle, my mother.
26. To My Son on His Wedding Day by Kelly Roper
This poems of a mother's love for her son by Kelly Roper shares every mother's advice on her son's wedding day.
When I watch you on the altar today
As you take vows with your new wife,
Just know my heart's so filled with love,
As you embark on a brand new life.
Remember the lessons I've taught you
About respect, honour and faithfulness.
These virtues will guide and sustain you,
And ensure your marriage will be the best.
27. Wonderful Mother by Pat O'Reilly
Pat O'Reilly uses fantastical imagery in this poem to try to put to words how wonderful a mother is to her son.
God made a wonderful mother,
A mother who never grows old;
He made her smile of the sunshine,
And He moulded her heart of pure gold;
In her eyes He placed bright shining stars,
In her cheeks fair roses you see;
God made a wonderful mother,
And He gave that dear mother to me.
28. Ah Mother and Son by Peter S. Quinn
This mother-and-son poem dives deep into the bond that they share.
Ah mother and son
Going through the forest of life,
In their times going on
In life's work and strife.
Not much time for each dreaming
For time flowers are falling,
And sunsets glow beaming
As the winter is calling.
Ah mother my day
I long just to be with you,
For you are my way
To follow and get through.
Ah son I love you
You are me all inside,
When the times are blue
And winter nights abide
Ah together we go
Through the forest of rain,
Falling leaves they glow
With their sorrow and pain.
But we are still here
Within all our dreams,
Our souls are everywhere
Like water that streams.
29. Mother, Summer, I by Philip Larkin
Philip Larkin uses seasons to symbolize the different times of his life with his mother. The good times are loved and longed for, but the seasons of life always change.
My mother, who hates thunder storms,
Holds up each summer day and shakes
It out suspiciously, lest swarms
Of grape-dark clouds are lurking there;
But when the August weather breaks
And rains begin, and brittle frost
Sharpens the bird-abandoned air,
Her worried summer look is lost,
And I her son, though summer-born
And summer-loving, none the less
Am easier when the leaves are gone
Too often summer days appear
Emblems of perfect happiness
I can't confront: I must await
A time less bold, less rich, less clear:
An autumn more appropriate.
30. A True Angel by George W. Zellars
George W. Zellars explains what a mother is and how she is nothing less than an angel on earth.
A mother is special; she's more than a friend.
Whenever you need her, she'll give you a hand.
She'll lead you and guide you in all that you do,
Try all that she can just to see you get through.
Good times and bad times, she's there for it all.
Say head up, be proud, and always stand tall.
She'll love you through quarrels and even big fights,
Or heart-to-heart chats on cold lonely nights.
My mother's the greatest that I've ever known.
I think God made my mother like He'd make His own.
A praiser, a helper, an encourager too,
Nothing in this world that she wouldn't do.
To help us succeed, she does all that she can,
Raised a young boy now into a man.
I want to say thank you for all that you do.
Please always know, Mom, that I love you.
31. The Mother's Son by Rudyard Kipling
Another beautiful mother-son poem.
I have a dream– a dreadful dream–
A dream that is never done.
I watch a man out his mind,
And he's my Mother's Son
They pushes him into a Mental Home,
And that is like the grave:
For they do not let you sleep upstairs,
And you aren't allowed to shave.
And it was not disease or crime
Which got him landed there,
But because they laid on My Mother's Son
More than a man could bear
What with noise and fear of death,
Waking, and wounds, and cold,
They filled the Cup for My Mother's Son
Fuller than it could hold.
They broke his body and his mind
And yet they made him live,
And They asked more of My Mother's Son
Than any man could give.
For just because he had not died,
Nor been discharged nor sick,
They dragged it out with My Mother's Son
Longer than he could stick….
And no one knows when he'll get well —
So, there he'll have to be:
And, 'spite of the beard in the looking-glass,
I know that man is me!
32. To My Mother by Edgar Allan Poe
Poe describes the mother-son relationship so beautifully in this poem.
Because I feel that, in the Heavens above,
The angels, whispering to one another,
Can find, among their burning terms of love,
None so devotional as that of "Mother,"
Therefore by that dear name I long have called you—
You who are more than mother unto me,
And fill my heart of hearts, where Death installed you
In setting my Virginia's spirit free.
My mother—my own mother, who died early,
Was but the mother of myself; but you
Are mother to the one I loved so dearly,
And thus are dearer than the mother I knew
By that infinity with which my wife
Was dearer to my soul than its soul-life.
FAQs
1. How Do Mom and Son Poems Help Express the Relationship Between Mother and her Son?
Mom and son's poems articulate emotions that words often struggle to convey. They encapsulate the depth of love, sacrifice, and connection, providing a tangible expression of the profound bond between a mother and her son.
2. Which Themes Are Expressed in Mother Son Poems?
Mother-son poems often explore themes of love, sacrifice, nurturing, guidance, growth, and the enduring, unbreakable bond between a mother and her son. They also touch on gratitude and the passage of time.
3. How to Write a Mother Son Poem?
To write a mother-son poem, reflect on your unique bond, choose a theme, select a poetic form, use vivid imagery, incorporate personal details, and express sincere emotions. Revise, seek feedback if desired, and finalize.
If you cannot find the words yourself, sharing a short mother and son poems that expresses the love and bond between mother and son is the next best thing.
Also Read: