11 Unique Activities You and Your Child Should Try Together This Year!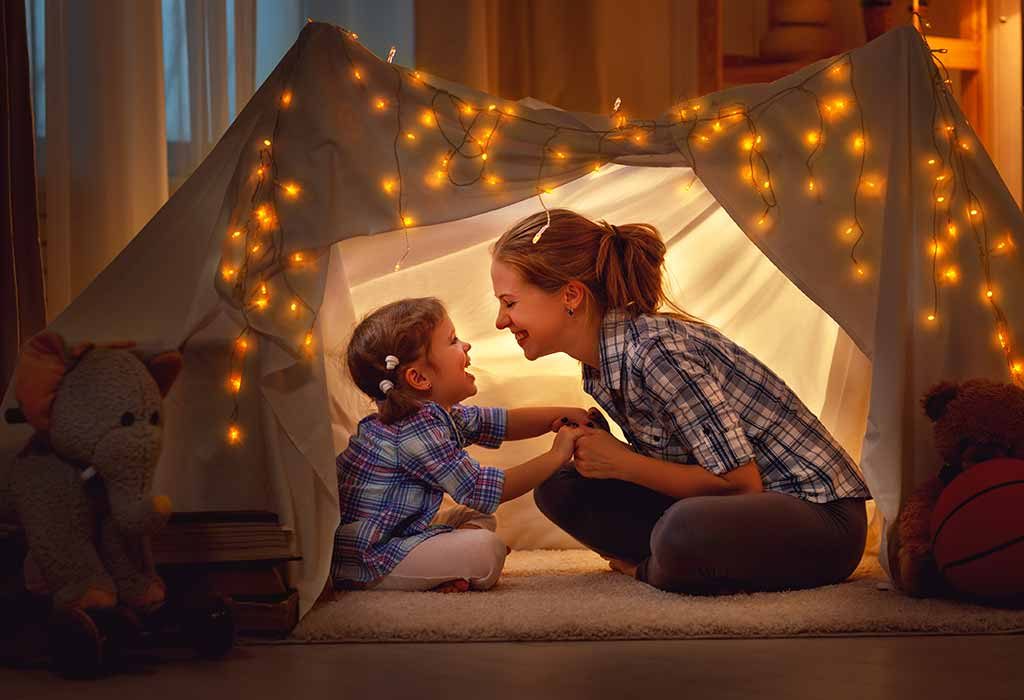 In this Article
Be it toys, books or games, children often outgrow stuff. They rarely hold on to something tangible. But there's one thing that every child preserves and cherishes – memories. So, from this year on, start making memories with your child; for someday, he will look back at these days with a smile! Perform these unique activities with your child and make sure your child makes the most of each one of these!
11 Unique Activities to Do with Your Child
Here's a list of awesome activities that you and your child should do together this year. These activities are super easy to perform, and, not to mention – a lot of fun!
1. Plan a Road Trip
Most families prefer travelling by air for comfort and convenience, also because travelling with children can be quite a task. But in all fairness, there's nothing better than driving down to explore a new destination. This year, plan a road trip and give your child the opportunity to be amidst nature. Let him experience what driving through a valley feels like, the thrill of witnessing a chain of mountains lined up one after the other, or what it is to drive through a forest with nothing but greenery on both sides. Trust us, hitting the road with your child is one of the best ways to bond with him. Besides, traces of these scenic visuals are bound to stay with him for a very long time.
2. Invent a Family Recipe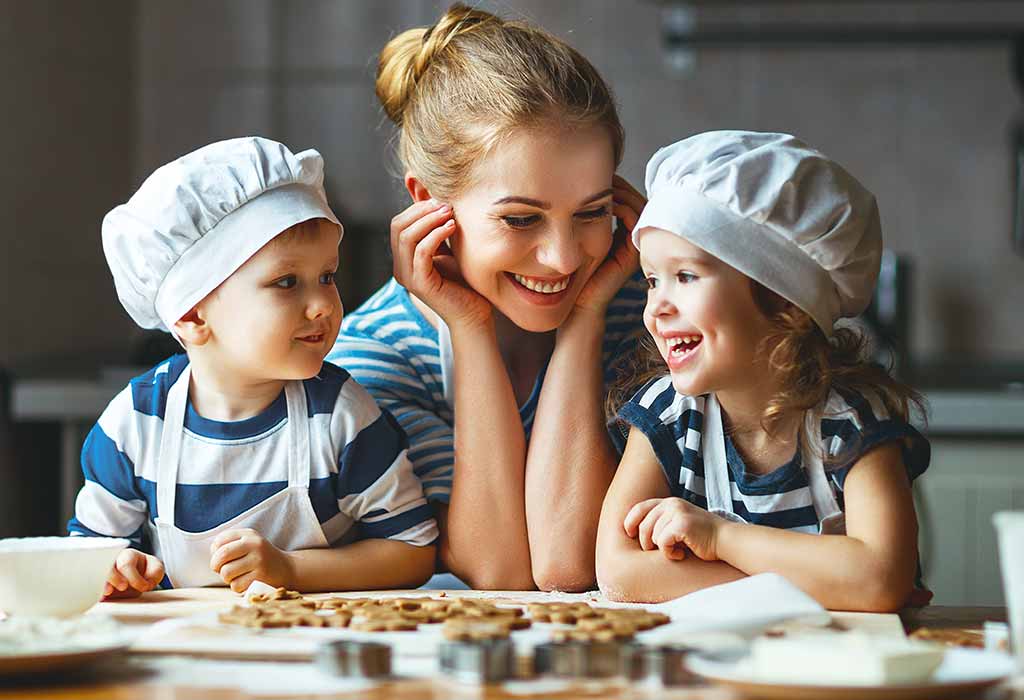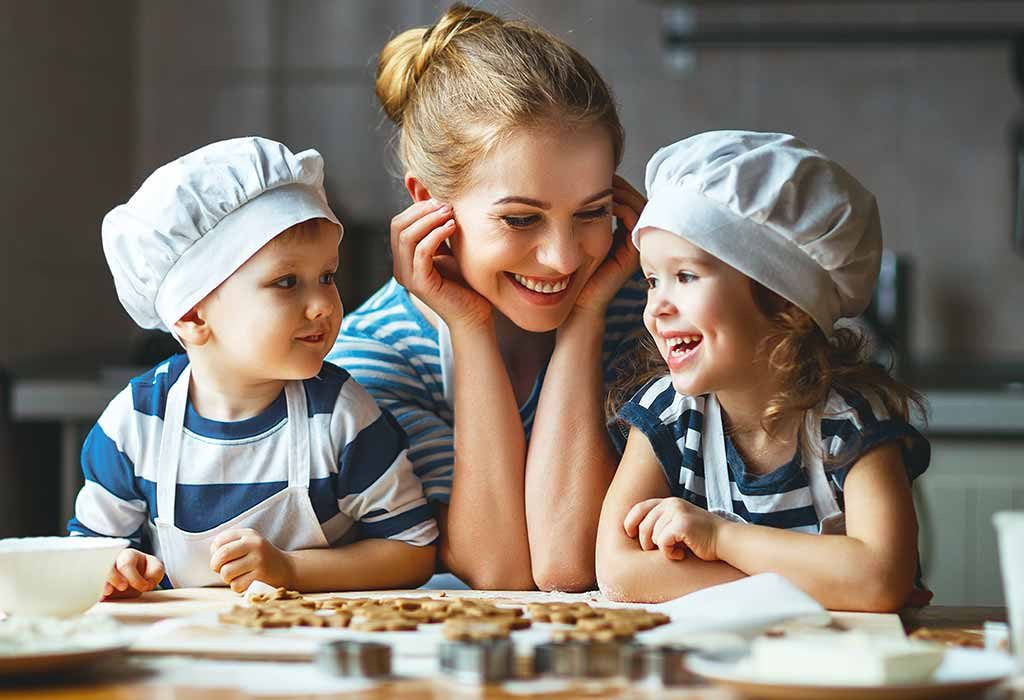 We often taste these fantastic dishes that actually turn out to be old, often secret, family recipes. That's something you could invent with your child. Whether it is a simple sandwich with a twist or a complicated (yet delicious) dessert, there's nothing like the joy of creating something new. Ask your child to name his favourite food (pizza, ice-cream or pudding), and sit with him to develop a recipe of your own. Make sure you add a health angle to these recipes by substituting the unhealthy stuff with healthy foods. It could be something entirely new – just mix four ingredients, and there you have it! Give this family recipe a name and make it often so that your child is well acquainted with the taste. Children often have a blast when cooking; plus, you'll get something meaningful out of it.
3. Volunteer for Social Work
Kindness is one quality that every human must possess, and childhood is the right time to inculcate this value in your child. If you want your child to grow up to be sensitive and kind towards other humans, animals and nature, you must take up social work with him. There are plenty of ways for youngsters to contribute to society. It could be anything from offering to help the poor, participating in a gardening club or trash cleanups. Not only is volunteering a fun activity, but your child will learn a lot out of social work. You can genuinely mould your little one's personality and the way he looks at others. By offering to help others, you'll end up spending more time with your child. If not every day, at least make it a point to volunteer once a week to reinforce the concept in his young mind. Besides, this is an excellent way for him to make some friends (and memories).
4. Take up a Sport Together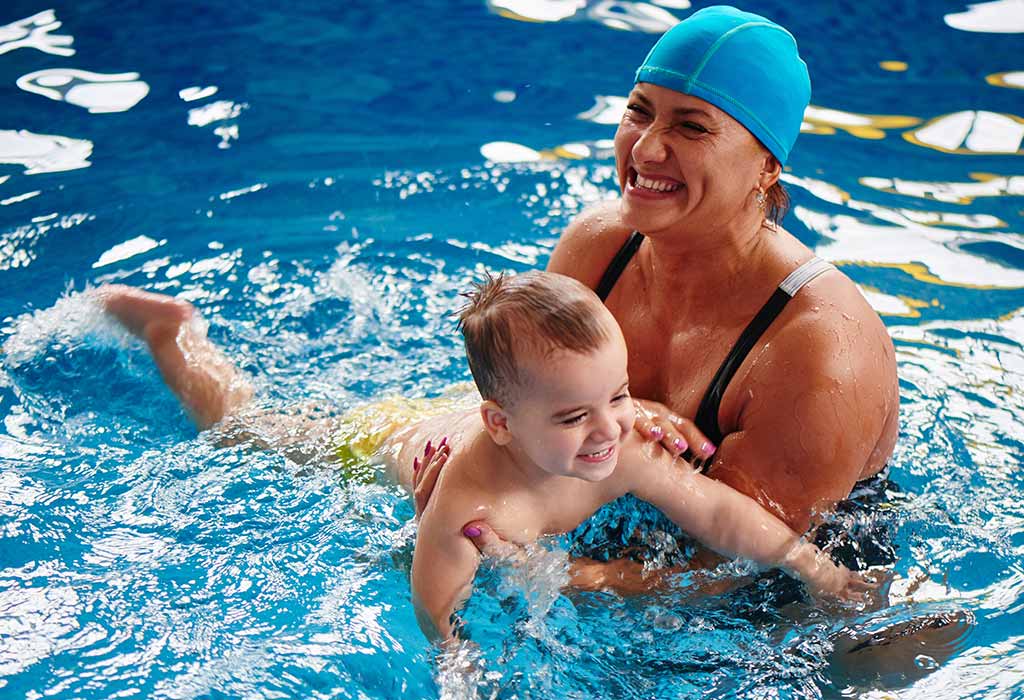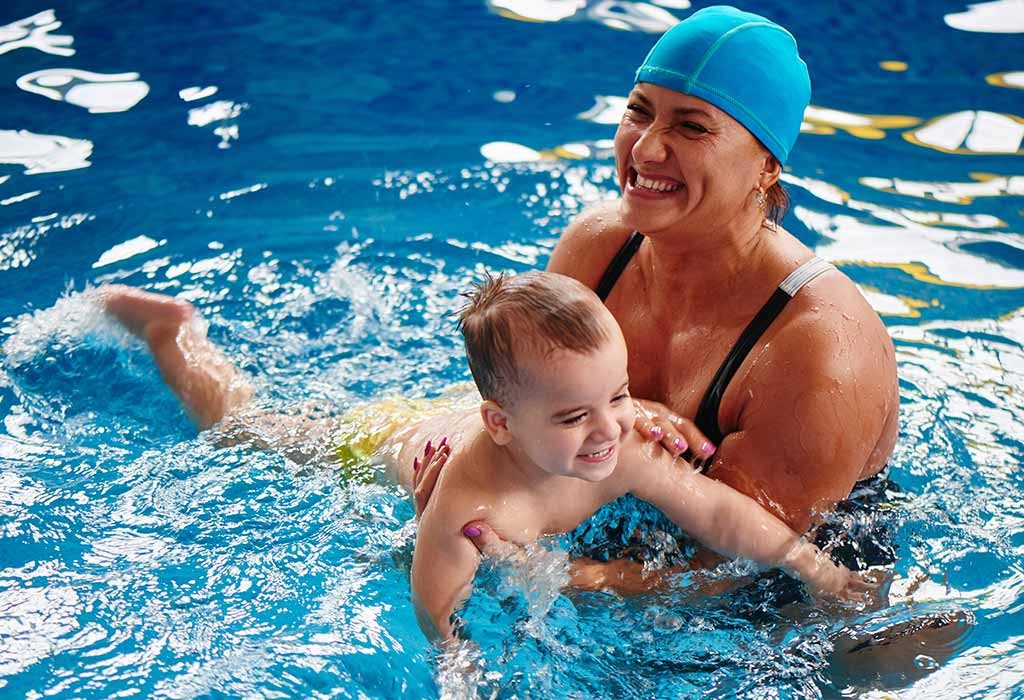 Instead of pushing your child to take up a sport, be his best pal and team up with him. Pick something unique like swimming, golf or horse riding (something that suits your interests and that of your child), and think of it as a hobby. It's best to pick something that neither of you already knows. This way, it'll be an entirely new experience for you and your child. Plus, you'll learn quite a lot together. Your child will have a blast learning something new, and the fact that you'll be right there doing the same thing will help him get over his fear of failure. Taking up a sport is another good way to bond with your child, And trust us, your little one will look forward to these days and make some lovely memories all along.
5. Visit an Army Base
We often educate our children about the armed forces of the country and the tremendous work they do in securing the borders. But visiting an army base and talking to the soldiers/officers is a whole new experience altogether! Your child will get some meaningful insights into what it's like to be in the armed forces. You along with your child can tour the area, look at their machinery and listen to their stories. Also, a visit like this will help your child understand the difference between the Army, Navy & the Air Force, and the kind of work they do on various fronts. Visiting an army base can turn out to be a fun trip for both you and your child!
6. Have a Backyard Campfire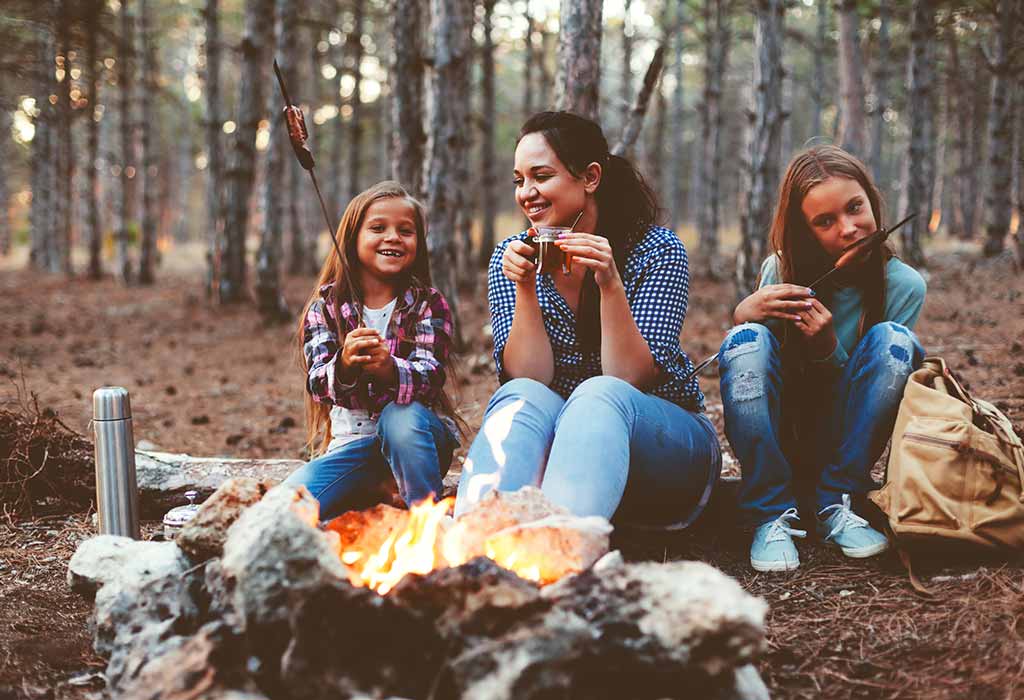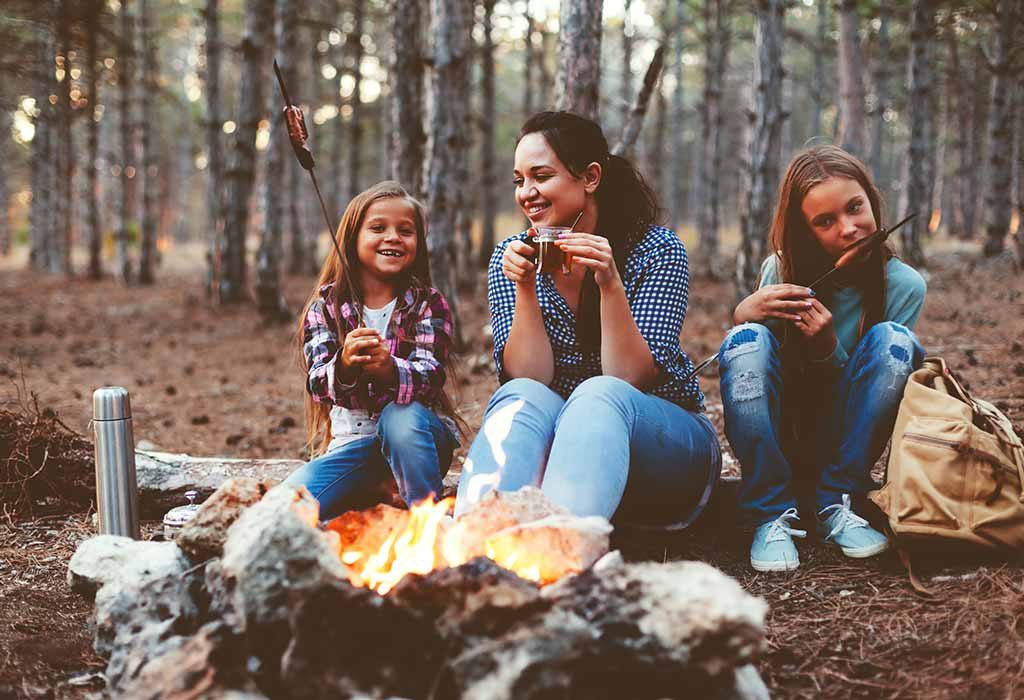 Winters have started to become cooler by the year, and just the thought of bonfires seems comforting in this chill. Children thoroughly enjoy campfires with their cousins, friends and family. Very few Indian families consider the idea of cosying up around a campfire and roasting some marshmallows while sipping on hot chocolate, solely because the whole idea seems too western! Well then, give it an Indian touch by setting up a griller outdoors on a chilly night and grill some potatoes and tangdi kebabs! Your child will have a blast, especially when there's a large group of people, especially close relatives or family friends. To make it memorable, you can plan some games where everyone can participate and contribute. This way, your child will not only create memories for life but will also learn social etiquette.
7. Serve Food at a Nursing Home
Children learn a lot when they visit an orphanage or a nursing home, with kindness being one of the essential values. If you and your child haven't attended a nursing home already, make it a point to visit one this year. And don't just visit! Seek your child's help to prepare some delicious food and serve it to the people residing there. Spending half a day with the people will make your child feel special, and no doubt, they love being around children and families. Listening to their stories and sharing your experiences with them is something every child should experience. Not only will you bond with your child, but your child will also leave with a lot of lessons.
8. Check out an Activity Box

source: https://www.instagram.com/firstcryintellikit/
No matter how many games you get for your little one, he will outgrow them in no time! Skip the regular games and toys, and get your little one an activity box – these are packed with fun and engaging activities for children, including worksheets, visually appealing storybooks, and DIY activities that will entertain and educate your child. These activity boxes come with subscription plans, so you get numerous activities based on a unique theme every month. The FirstCry Intellikit is one you should definitely try – it's a learning program that ensures your child develops all 8 forms of intelligence (yes, there are 8, and yes, your child has them!) and the right skills while having fun. It is super engaging; toddlers love the activities that come along in these boxes! Besides, it will give you just what you need to bond with your child and spend some quality time together. To get your hands on the Intellikit, check out http://www.firstcry.com/intellikit
9. Stargaze
The night sky is full of adventures, stories and curiosities, and gazing at the sky is one of the many ways to raise a thoughtful, introspective child. But stargazing is not possible in crowded cities full of air & light pollution. It's best to escape the city and head to the mountains, or a desert or any place where pollution is minimum and scenic beauty is abundant. On a clear night, pick a spot, spread out a mat, and simply lie and watch the stars. Trust us, your child will have a blast on that night. You could carry some space gear like child telescopes, and space-related snacks like star cookies to set the mood. There's so much your child can learn by looking at the stars and the colours of the sky. You could teach him about constellations too!
10. Paint a Wall of the House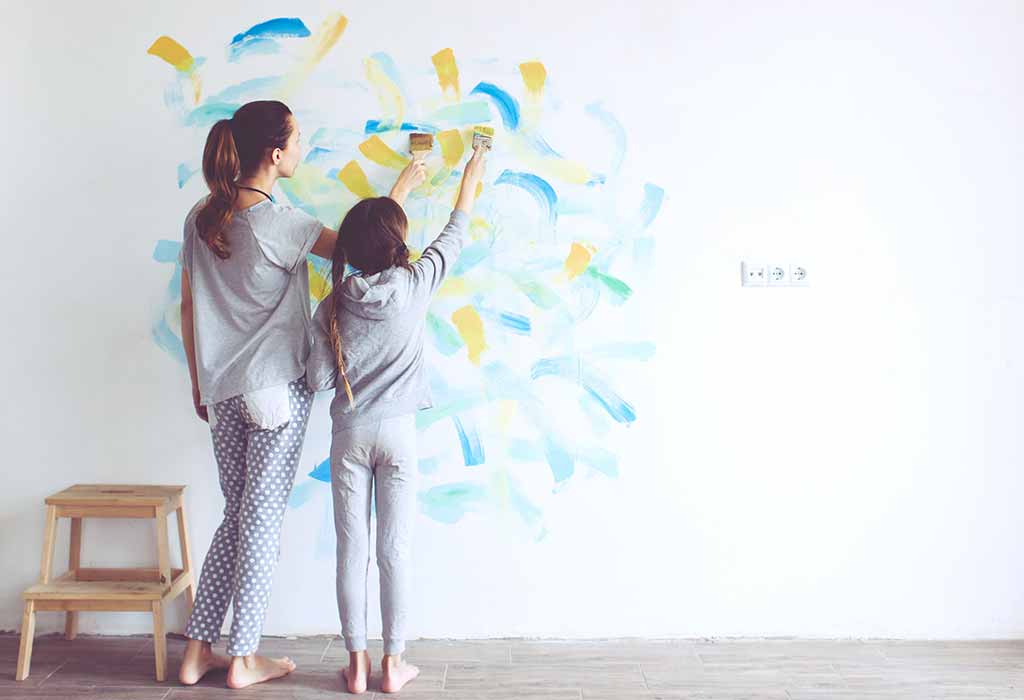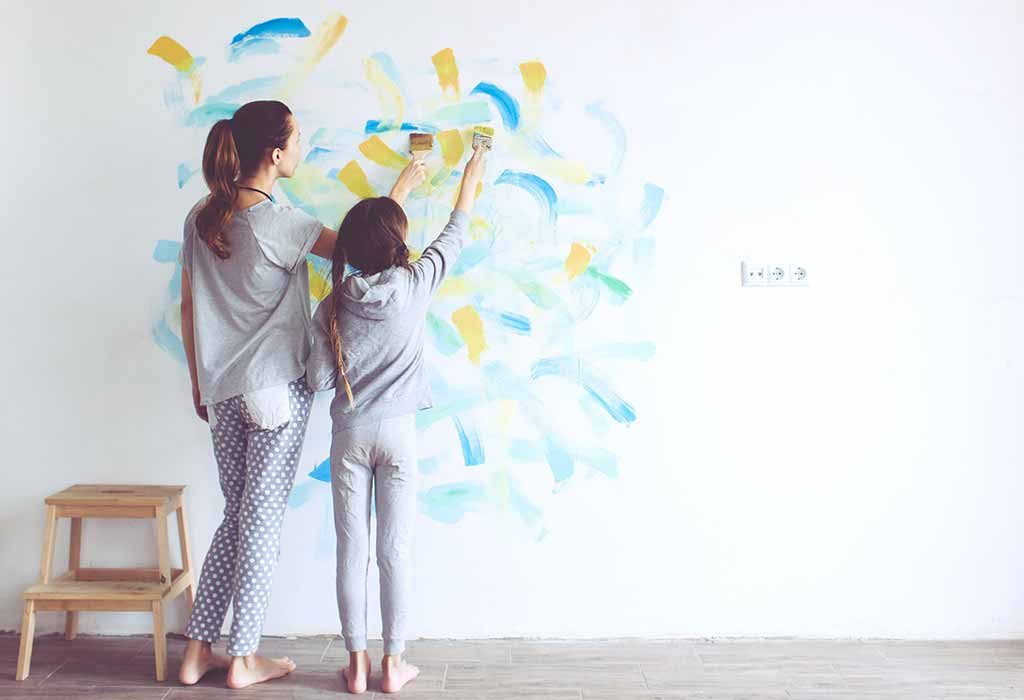 Every child has a creative edge and exploring his as well as your creativity can really turn out to be a fun activity. Take out a day to paint a wall of the house with your child. It's no rocket science- get some easy lessons off YouTube and get started. Pick a colour or a variety of shades based on the look that you have in mind. You can get started with the top of the wall while your child covers the bottom. When done, decorate the wall with tiny butterflies cutouts, birds or anything your child likes. This activity means an entire day of fun with your child. In the case of older children, you can opt for texture painting with slightly complex procedures.
11. Chalk out a Storybook
Somehow, children are born with the art of storytelling, which is why creating a short, fun story is a piece of cake. To make it fun and engaging, you can take it up a notch. Sit with your child and chalk down an entire character universe. Keep a few blank sheets of paper handy and create these characters. Give them names and define their roles. You along with your child can come up with a story around these characters and create a comic book. There's so much to do in this activity, right from selecting a name for the book to inking down characters. It's not a one-day activity- you can easily stretch it for a week or even a month. Sit with your child for an hour every day and encourage him to fire up his brain cells. When done, you can laminate the book and preserve it as a token for your child to remember when he grows up!
Now that you have quite some activities in mind, why wait? Go ahead, try these unique activities with your child and make some memories. Trust us, your child will learn something new from each activity, and you'll get more than enough opportunities to bond with him!
Also Read:
Disney Movies from The 90s are Making a Comeback on the Big Screen in 2019
Best Creative Activities for Children
Bunch of Activities That Can Teach a 7-Year-Old Kid Some Vital Information