Exciting Escape Room Ideas For Kids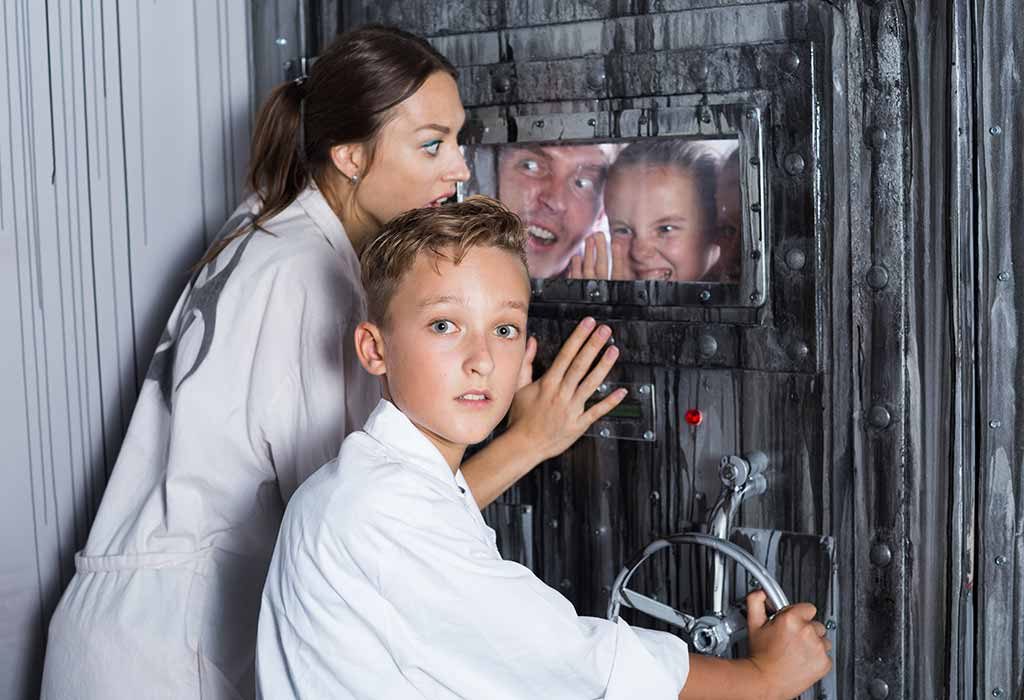 Have you been bored with the same old activities such as playing board games with your kids and looking for some exciting and unique options to have some great family time together? You can try one of the latest rages that the younger lot is crazy about, well, we are talking about Escape Room! Let's get you acquainted with some exciting and thrilling kid-friendly escape room ideas that can get your kids' brain juices flowing, read on to know more!
What Is an Escape Room?
Before we share some mind-boggling escape room for children ideas with you, you need to understand the concept that we are talking about! The idea of the game originated in Japan, and the Escape Room is a real-life version of the video game 'Escape the Room'. The real-life version involves all the players to be in a single room and solve different puzzles that are created from the various elements present in the room. The puzzles and mysteries need to be solved in a stipulated time period to get out of the room. The setting usually involves using fictional locations such as prison cells, space stations, wonderlands, pirate ships, etc. for the added mystery element to the game. The game is also played at various levels ranging from easy to difficult. These games are great for building family bonding, team spirit, and they also add some rollicking fun and thrill to the birthday parties!
How Does It Work?
Every escape room has its own set of mysteries and puzzles that need to be solved to reach the next level or find your way out of the room. These mysteries can be anything from putting the pieces of puzzles together, finding the keys, or decoding messages written in secret codes or language to get a clue. For instance, decoding the first puzzle will give you a hint for the second puzzle, and solving the second puzzle will provide you with access to puzzle three and so on until you are able to get out of the room or reach the next level. Where some rooms are designed with strict time frames to solve each puzzle, others are more generic and don't impose such restrictions.
How Do Escape Rooms Create a Family Bonding Experience?
Playing any kind of games or sports is a wonderful way to bond with your family members and escape rooms also provide an excellent opportunity to do so, and here's why:
1. Communication
The escape room games for kids are a great way of communicating with the family members. All the members are required to search for clues that will be used for solving puzzles. This makes them talk, think, and work together to crack the puzzles and thus opens up the channel of communication.
2. Quality Time
When you all are together in a room where there are no external distractions such as mobile phones, television, and other such factors that can disturb your family time, you are bound to have a wonderful time. The escape room allows you to spend time in each other's company trying to solve some exciting mysteries and puzzles. This can be an exhilarating and fulfilling experience for all the family members.
3. Better Bonding
The escape room puzzles for kids are not like a stroll in a park, it may require some serious thinking and planning to solve various kinds of puzzles, and for that everyone needs to work in sync with each other. Where one may be good at reasoning, others can be a masters in mathematical skills, and working together on puzzles can make them easier to crack. Working together like this is an excellent way of building better bonds amongst family members.
Creative Escape Room Ideas for Kids
Here are some interesting and exciting escape room ideas that you can try for your kids:
1. Look for objects in the images
Based on what theme you choose to work around for the escape room, you can place different posters, photos, or other images related to the theme to sneak in a clue. Let the kids find the clue in the picture that leads them to other clues.
2. Make a labyrinth maze
Add a little twist to the same old maze fun by adding letters within the maze. Only the letters on the correct path will make complete sense and will act as the clue.
3. Pop the balloon
Another exciting idea to hunt for clues is by hiding them in balloons! Inflate few balloons and slide the clue in one of the balloons. The kids will have a gala time popping them to find the one that has a clue in it.
4. Thread the landmines
Make a minefield on the floor that needs to be crossed blindfolded by one of the team members while others give the instructions. The clue should be handed over only when the minefield is crossed successfully.
5. Look into the mirror
Write the clue on a piece of paper that can only be read if placed in front of the mirror!
6. Arrange different objects in a pattern
Arrange simple objects in the room in a pattern that hints towards the clue. This may seem easy, but until special attention is paid, it cannot be decoded. For example, arranging the cutlery to form a word!
7. Rearrange the pieces of a picture
Take a picture and cut it into pieces. Hide them in different parts of the room. The kids need to find all the pieces to get a clue!
8. Invisible message
Write a message on a paper with lemon juice and paintbrush. The message cannot be read until placed over a burning candle.
9. The power of magnets
Hide a clue in something that can be attracted by a magnet. Place it anywhere in the room. Keep a long stick with a magnet fixed on it. Let the kids swipe it across the room to attract the clue!
10. The ghost message
Write a message on the mirror with the rubbing alcohol, and only when exposed to hot steam, the clue will be revealed.
Things to Consider While Designing an Escape Room for Kids
Here are some factors that you need to keep in mind while designing a DIY escape room for kids:
Location
The best scenario will be to have a separate room where you can create an escape room for the kids. However, if space is a constraint, you can use curtains, dividers, or boards to create a small space within the room itself to create the feeling of isolation for the players. And if you don't have any space, well, you can create all the puzzles and place the props in a box and take it anywhere you want, and that will be your mobile escape room!
Theme
No matter how exciting or cool the puzzles are, if they aren't in sync with the theme or are one theme-based, well, the whole fun can be lost. Therefore, decide on one theme, such as escaping from a dragon in a dungeon or escaping from some notorious pirates, or something else to keep the fun and excitement escalating!
Timing
Time frame is critical in keeping the fun intact. The ideal time limit can be anywhere from 30 minutes to one hour. You can do a trial run to see that the puzzles aren't too hard or easy and can be completed in the given time.
Difficulty Level
Keep the difficulty level in mind while designing an escape room kids' party. If the puzzles are too complicated, the kids will soon get bored and lose their interest. Maintain the right balance between easy and difficult puzzles to keep the fun flowing!
Interest
Don't forget to keep in mind the interest of the child. If your child loves fairytales, you may want to design something around that. However, if your kid is a big fan of action and adventure, then working around that theme will keep your kids more interested and engrossed in playing the game.
Team and Group Size
Keep in mind the team and group size when designing an escape room birthday party for kids, whether it's for playdates or for playing with the family members. If there are going to be more adults in the team, the puzzles can be a tad bit tricky; however, if its only for kids them you got to keep them simple. Also, do not design the game for more than 4 to 6 people as it can not only get challenging to manage but can get very confusing for the players too.
What Happens If You Don't "Escape" in Time?
Whether you solve the mystery or not, the game will end in the stipulated period of time. You are expected to exit the escape room on the completion of the assigned time limit. If you manage to solve the puzzles and escape in time, don't forget to click pictures at the exit to brag about your intelligence and victory. But don't be disheartened if you couldn't finish it, take a picture, and come back to slay it next time!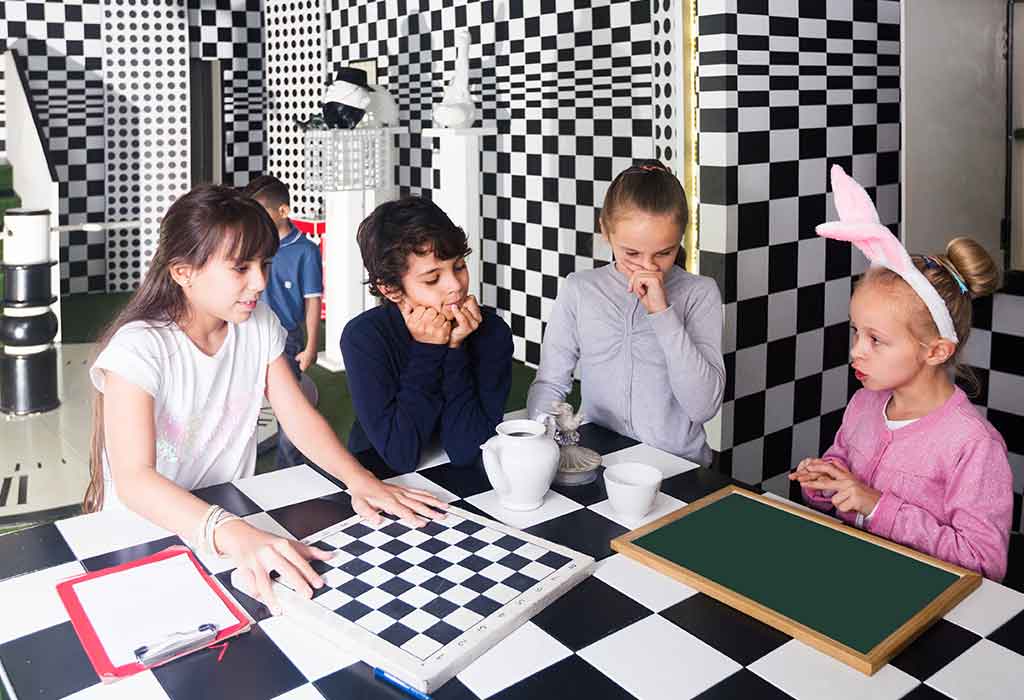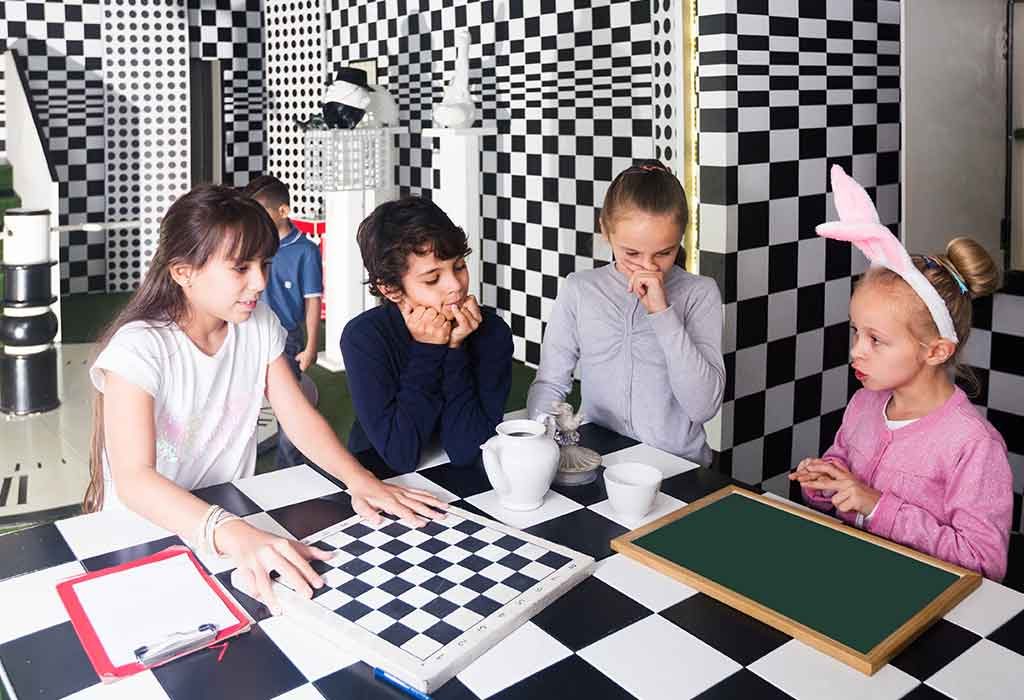 Tips For Enjoying Escape Room
Here are some tips that can make your kid enjoy the escape room experience to the hilt:
1. Give manageable tasks to children
The whole fun can dampen if the children are assigned to do the tasks that are not age-appropriate. Make sure you allocate tasks that they are comfortable and happy in performing.
2. Don't expect kids to be adults
Getting swayed by the emotions of playing a thrilling game can sometimes make you forget that kids are involved too. Do not forget that kids may not understand instructions like adults. Therefore, make them understand in a way and language that they can comprehend.
3. Be mentally prepared
Being mentally prepared to take on challenges and tasks in an escape room can increase the excitement quotient of the game. The kids should be told beforehand what they are expected to do inside. This makes them better prepared for the game and enjoy it better too!
4. Have oodles of fun
Make sure you explain to the kids that puzzle-solving is a part of the game, but one should not forget to have fun in doing so. As the main aim of the game is to have a great time, let the kids have a gala time-solving puzzles and mysteries, instead of worrying about getting on the next level.
Adding a personal touch by making your own version of DIY escape room games can be an enthralling experience for the kids. Try some of these ideas or add a twist of your own creativity and have loads of fun with your kiddos!
Also Read:
Innovative and Fun Brain Games for Children
Fun Indoor Games for Children
Best Charades Ideas and Games for Children